Can Walmart's Prime-Inspired Shipping Program Help it Compete with Amazon?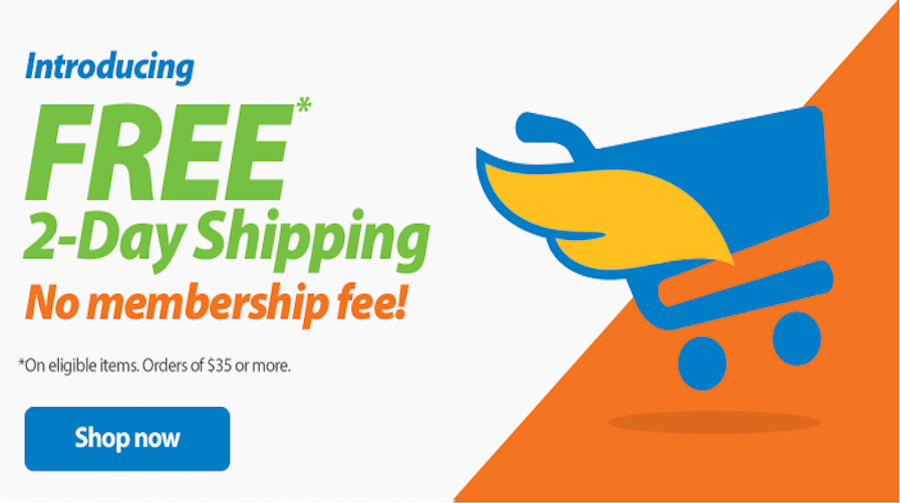 Walmart has tried this before. Just last year, the big box giant launched ShippingPass, a program that promised to provide free shipping with no minimums to members for $49/year, half of Amazon Prime's $99 annual fee. But ShippingPass failed to take off, and yesterday, Walmart ended that program and announced a new bid to keep up with Amazon: across the board free shipping for orders $35 and up. 
Some items will be eligible for free two-day shipping, but items that aren't will still ship for free in three to five days, provided the order total is more than $35. Eligible orders under $35 will still be shipped in two days for a flat rate of $5.99. According yesterday's release from Walmart:
"Walmart's free two-day shipping will be available on the items customers shop the most, including household essentials such as baby necessities, pet products, food, like cereal and peanut butter, cleaning supplies and beauty favorites, as well as top electronics and toys."
In a statement on Tuesday, President and CEO of Walmart, Marc Lore: "I couldn't be more excited. Two-day free shipping is the first of many moves we will be making to enhance the customer experience and accelerate growth."
Lore's statement underlines Walmart's drive towards innovation in 2017, as 2016 was not a great year for the mega-corporation. The store closed 154 retail locations over the course of the year, laying off nearly 16,000 sales associates. Still, Walmart has been making some headway in online sales, and this move towards free shipping is a sign of the times – although perhaps not exactly the one consumers are looking for.
Sure, everyone loves free, two-day shipping. But the key word there is FREE. While moving down the free shipping minimum from $50 to $35 is a step in the right direction, it's still a little high for casual shoppers. Amazon still wins in this respect, because while membership is $99/year, members get free shipping with no minimums on most items, which is key to securing impulse buys.
Plus, that $99 annual fee isn't exclusive to free shipping. Prime members also get access a top-quality streaming service, Prime-exclusive sales and deals, a growing library of free music, free (unlimited!) photo storage, one-hour and restaurant delivery with Prime Now, and much, much more.
If Walmart truly wants to compete with Amazon, they're going to need to do better than "free" shipping with a slightly lower minimum. From the looks of Lore's latest corporate blog post, they know this:
"This is just the beginning," said Lore. "Now that we've checked the two-day shipping box, my focus is on leveraging our unique assets and network to serve customers in innovative ways that only Walmart can. Stay tuned…you won't be waiting long."
What do you think of Walmart's new shipping policy? Sound off in the comments!