Back-To-School Spending is Growing, But You Don't Need to Overspend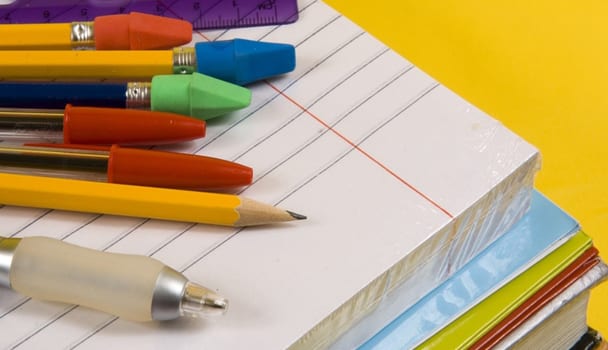 We're officially less than a month into summer, but back to school shopping season is just around the corner.
A recent poll of Brad's Deals shoppers found that 64 percent of consumers start their back-to-school shopping by by July, with nearly 20 percent of those having started back in June. That's major spending.

According to the National Retail Federation, back-to-school spending average $669.28 per family last year. That was an increase of 5 percent over 2013 ($634.78). Another 5 percent increase for 2015 would equal $702.44 in back-to-school spending this year.
Skip the Bundles
A trend that's popped up recently among back-to-school shoppers is the pre-packaged supply bundle. These bundles are offered by a number of companies - like School-Pak and SchoolKidz - and they're highly convenient. They give parents the option of purchasing a pre-packaged bundle of supplies that's determined by the classroom teacher and is waiting for the student on the first day of school. Some supply bundle companies also offer the option of shipping to the home.
Like anything convenient - a $3 Vitamin Water I once bought at a gas station comes to mind - school supply bundles are heavily marked up.
Bundles usually come with the essentials—pens, pencils, folders—and whatever else might be required, like a calculator or highlighters.
Let's use a bundle from Armstrong Elementary in Reston, VA for example. The items included are listed below. The bundle sells for $89.
Scanning through the list, there's nothing exclusive or highly specific in the bundle.
Nearly half of the kit can be found for $37.10 with Walmart's Backpack and School Supplies Bundle. The bundle comes with pencils, pens, a binder, a notebook, lined paper, index cards, and pocket folders. Better yet, there are different options available for each item (i.e. there are four styles of binders to select from).
Buying the Walmart bundle would leave a handful of items remaining on the official supply list, but for the most part, they aren't high-cost ones (a highlighter, tissues, and zipper bags). An added benefit of choosing the Walmart bundle is it includes a backpack—something the school's bundle doesn't have but many students will need.
Buying in Bulk? Look Online
For the remaining supplies on the list, look to traditional office supply retailers' online stores. Office Depot currently has a handful of lucrative online promotions going, like this offer for $25 off an order of $125 and $35 off of $175. Office Depot is also offering free shipping on orders of over $50 until August 31st, a number that you'll likely surpass if you're buying post-its and highlighters for several kids.
One perceived advantage of bundling programs is they have the exact supplies approved by teachers. In reality, school supplies are fairly universal. Has anyone ever failed 8th grade for showing up on the first day of class with 4 highlighters instead of 6? No, and for this reason parents should seek the best deals even if they're not for the items precisely listed by the teacher.
Also, teachers looking to stock up on classroom supplies should look to online retailers like Academic Superstore and the Scholastic Store. They both offer highly competitive pricing on in-demand classroom items.
School-Related Tech is Trending Upward
Forty-one percent of respondents to our poll indicated their school supply list included a tech item, which is up significantly from 34 percent in 2014. Interestingly, 52 percent of respondents said they'll be buying back-to-school tech regardless of whether it's on their required list. Tablets and computers were among the most popular items mentioned, as a robust 60 percent said they'll be buying one or the other.
Some deals on tablets and laptops to keep an eye on:
Buy Shared Supplies in Bulk
Due to budget gaps, many schools require students to provide supplies to be used by the entire school or classroom, like tissues and printer paper. For example, if every student in a given class is required to bring 2 reems of printer paper, a good strategy is to collaborate with three or four other parents and buy in bulk from an office supply store. Doing this at Office Depot's online store will also net you free shipping if the order is over $50, which means the more parents in on the collaboration, the better.
One final note on school supply bundle programs is they aren't all bad. Some programs work as a fundraiser an give back to schools. However, this is usually done on a per-school basis, so you should inquire with your school's PTA on whether bundles are helping raise money or simply making money off parents who value convenience. And, in the case that your school's bundle service does give back, be sure to check how much. If it's only a small percentage, you can likely do more good for the school by shopping around, buying select items in bulk, and donating extra supplies to the school.
Related Coupons: