The 10 Best Deals to Buy in September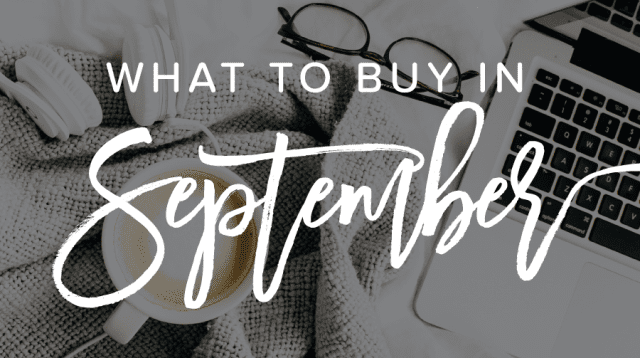 The kids are back in school, the temps have taken a tolerable dip, and everything's starting to come up pumpkin spice. As if September wasn't already one of our faves, it's also one of the best months for scoring bargains on summer's leftovers and with plenty of warm weather days ahead.
Patio Furniture, Grills, and Yard Tools
Labor Day sales will be in full swing at the beginning of the month, just in time for your three-day holiday weekend barbeque. Now is a good time to find discounts on outdoor goodies like dining sets, grills, garden tools, and lawn mowers.
Find More: Patio, Lawn and Garden Deals
Plants
Nurseries are eager to clear out their remaining inventory and fall is an ideal time to plant trees, perennials, and shrubs. And because the retailers are dealing with perishable items, they may be willing to negotiate the price.
Find More: Gardening Deals
Bicycles
Peak bike-riding season has passed, but that doesn't mean the streets are too covered with snow to take a few more rides this month. With retailers wanting the bikes out of their stores to make room for winter sports gear, it's an ideal time to grab new bikes for yourself. It's also a great way to get a jump start on some holiday shopping.
Find More: Sports, Fitness & Camping Deals
Summer Apparel and Shoes
Another case of retailers clearing out summer inventory. Buy next summer's swim suit and sandals and stock up on t-shirts and shorts.
Find more: Apparel Deals for Women, Men, and Children
Mattresses
While Presidents Day sales in February are a good time to buy a new mattress, Labor Day sales are nothing to sneeze at either. Looking for a new look to go with the new mattress? Check out the tail end of the back to college sales, which often has sales on sheets and other bedding.
Find More: Mattress Deals
Older Apple Devices
Every September, Apple holds an event to announce the next generation of its iPhones, iPads and other devices - and the prices on last year's models immediately get slashed.
Find More: Apple Deals
Laptops
It's back-to-school time, which means discounted laptops. The target demographic is students and teachers - anyone with a school ID and an education discount - but there's no reason rest of us can't also snag a deal here. Take advantage of the Apple Education Discount if you can, and definitely consider going with a refurbished device.
Find More: Laptop Deals
Small Televisions
Another benefit of back-to-school sales available to everyone is the deals on small televisions. These small screens fit nicely into dorm rooms, but also into bedrooms and home offices.
Find More: TV Deals
Airfare
If you're planning to head home for Thanksgiving, book your flights this month. With summer vacations ended and the holiday mad rush not yet started, this month can be a sweet spot for finding cheap airfare.
Emirates: Early Savings on Economy Fares
Find More: Flight Deals
New Cars
In the market for a new ride? The new 2020 car models are starting to hit dealerships, so finding a bargain on a 2019 model will be much easier — and cheaper.
Bonus deal: National Coffee Day!
Mark your calendars for September 29, when National Coffee Day will bring on a spate of free coffee deals at your local cafes, donut shops, and convenience stores.
What else?
There are plenty more deals than the categories we've listed. Check out our comprehensive collection of shopping guides for the latest deals on whatever you're looking for.
What do you buy in September? Tell us in the comments below!