7 Critical Things To Do When Your Identity Is Stolen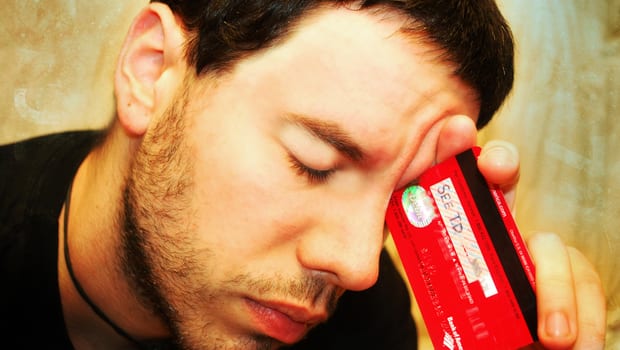 Identity theft incidents have reached 9.9 million per year, according to the Federal Trade Commission. We've covered How To Protect Your Credit on the blog, but regardless of how careful you've been, identity theft can happen to anyone. Realizing you have become a victim of identity theft can feel overwhelming, stressful, and violating. In addition to the emotional turmoil, it can be devastating to your money, credit and financial future.
If you've become an identity theft victim, don't panic. The best thing to do is to react quick and efficiently. Here are 7 steps to deal with identity theft:
Step 1: Place a fraud alert on your credit reports.
Call one of the three national credit reporting companies, Equifax, Experian, or TransUnion (information below), to ask for an initial fraud alert on your credit report. This makes it more difficult for the thief to open a new account in your name. Anyone trying to view your credit report will need to verify your identity before gaining accessing it.
Confirm that the company you called will also be contacting the other two credit reporting companies to alert them as well. You'll also want to be sure they have your correct address and phone number on file so they can contact you to confirm your identity, to update you, and to send any correspondence. It's free to put an alert on your report, it lasts for 90 days, and you can renew it after that if needed. Start a phone log to keep track of conversations regarding your identity theft you're with the date, time, and notes from the call. This will help you keep track of your progress, and you'll also be able to reference it if needed for future conversations.
Equifax (800) 525-6285
Experian (888) 397-3742
TransUnion (800) 680-7289
Step 2: Order a copy of your credit report from each credit bureau.
Request a free credit report from each of the three credit reporting companies I mentioned above. When you request it, you can ask that only the last four digits of your social security number be shown on the report to ensure further safety. Carefully review these documents to see if there are errors on your actual accounts or also if there are accounts listed that you did not open. Also review that your contact information is correct. Don't forget to look at errors in preliminary information such as spelling of name, birthdate, address, and employer information. You will want to note these errors for disputing them to the credit reporting companies (Step 3) and alerting any affected businesses (Step 5).
Step 3: Dispute any errors to the credit reporting companies.
Once you know the errors on your report, it's time to tell the reporting companies. Write a letter to each of the three agencies. When you send the letter, mail it certified so you can track it and confirm that your letters where received. Make a copy for your own records before you send it. Here is what to include in your letter:
Your full name, address, and phone number
The date you are writing the letter
Explain that you are a victim of identity theft
List every item that is incorrect on your credit report (including the company or business name, account number, and any other information associated with the errors)
Ask that these disputed items be investigated and removed from your report
Include your credit report with the incorrect information highlighted or circled
Include any documents that could also support your case
Step 4: Change your passwords.
Change your PIN number to your bank account debit cards or any other card that requires a PIN. Avoid birthdays, anniversaries, or any other predictable, easy-to-guess number. Log onto all of your accounts, and change your passwords. The Federal Trade Commission recommends not using the same password for accounts and making passwords at least 10 characters with a mix of upper and lowercase letters, numbers, and symbols. Check out our post How to Create a Secure Password You Can Actually Remember for more tips.
Step 5: File an Identity Theft Report.
Creating an official Identity Theft Report can help with getting the fraudulent information removed from your account, receiving an extended fraud alert on your credit report, stopping a company from collecting debts that aren't yours, and with dealing with these fraudulent actions going into debt collection.
First, submit a report with the FTC online, called an Identity Theft Affidavit. Print out this document when you complete it. Make a copy for your records. Second, take your printed document to file a police report. Bring government-issued ID with a photo and proof of your address (a pay stub or utility bill). Ask for a copy of your police report along with the report number.
Step 6: Contact any companies and businesses directly.
If you have fraudulent activity on actual accounts you have opened, call the business directly. Ask to speak to the fraud department and have them flag your account. Request the specific address for the fraud department so you can send an official letter asking for any fraudulent charges to be removed. In your letter, include your full name, account number, address and phone number. Just like when you wrote to the credit reporting agencies, explain you are a victim of identity theft, list all fraudulent items and errors on that specific account, and request they be removed. You can submit your credit report and past statements with incorrect information circled or highlighted and your official Identity Theft Report. Don't forget to send any letter certified to be able to confirm it's been received.
If you see new accounts or loans on your credit report that were opened by the thief, call the company's fraud department to alert them. Same as above, send a certified letter asking for any fraudulent purchases to be removed. With both, make copies of the letters for your records. Close the account immediately.
Besides calling the fraud department and sending a certified letter, ask what their specific process is for disputing a charge or account. Each company is different and may request a specific form to be completed.
Step 7: Continue to monitor your credit.
Be vigilant about checking your credit and reviewing your monthly statements. Keep in mind that it isn't just credit cards that are effected with identity theft. Thieves can use your information to open utility accounts, cell phones, buy a car, and apply for loans.
Related coupons: