What's It Like To Be A Cashier On Black Friday?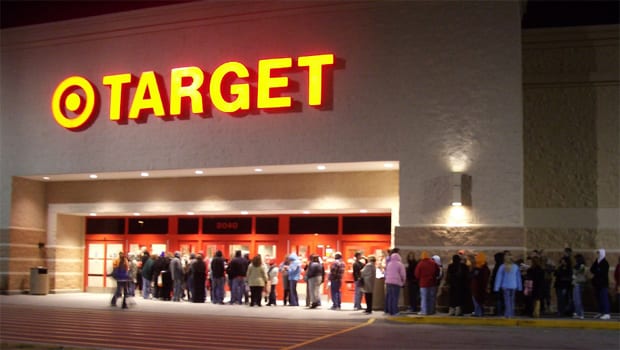 I put on my Batsuit: the red polo, khakis, and name tag while the turkey was still turning in my stomach. It was my first time working Target's opening shift on Black Friday.
There were already 200+ shoppers spilling out from the entrance of the Glenview, Illinois strip mall upon my arrival. The tents and sleeping bags I'd envisioned were missing. Clearly their love of soggy stuffing was stronger than their affinity for TV deals. Fifteen minutes later it was pep talk time. If we Red-Shirts got ten customers to open RedCards, we got a hug. For my three year anniversary I got a Target logo laden "lunch bucket."
"Slow down!" my comrades called out to the 300 plus shoppers pouring through the sliding doors at midnight. They were sprinting towards the marked-down flat-screens and video game consoles, uninhibited by my coworkers' pleas. Something was missing: these weren't the vicious, cold, deal-seeking demons I day-dreamed about. No one was maced.
Among the manic runners was a social gathering: family and friends embracing just hours post pumpkin pie. While my hands scanned the customer's finds, I was met with smiling strangers' "Happy Holidays! and "How was your Thanksgiving's?"
I learned that there are many different kinds of Black Friday Shoppers: from the teenage boys buying PS3's for resale, to the mother and daughter duo scooping up twenty-five sets of towels. Some people were there simply for the fun of it, like the group of tweens bearing armfuls of microwavable cups of Kraft Mac & Cheese. They weren't even on sale and we have carts. While most early bird BF shoppers left with TV's, XBoxes, KitchenAids, Dysons, iPods, and toys, only Mom-Mom (my Grams) and great aunt Esther came this early to buy terry cloth slippers.
The place cleared out at 2. Twelve cashiers stood motionless in their lanes like orphaned puppies at a kill shelter. There was still six hours left in my shift. I made it through thanks to the Target brand cereal and milk I scarfed during my 15-minute 3AM break. Around 5, we were treated to a Panera catered spread of bagels, muffins, pastries, and egg soufflés. It was better than any anniversary! Chanukah come early!
Along with the rising sun came the end of my shift. I was one of the few cashiers who opened more than one RedCard. I walked out unhugged, but fulfilled. As I hung my Batsuit, leaving behind my Red-Shirt alter-ego, I was left with a feeling that no piece of clothing or money saved on a TV or an iPod could buy.
-Joseph Wulfsohn, guest blogger/filmmaker
Related coupons: