Will Amazon's 1-Hour Delivery Service Be In Your City Soon?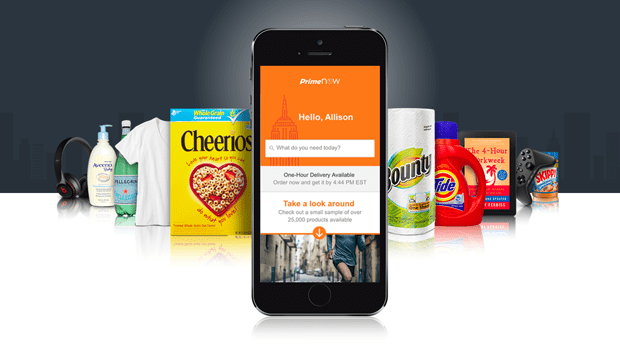 Amazon's Prime Now service offers 1-hour delivery on select items, and over the last few months Amazon has been quietly rolling it out in new cities.
Try looking online for a list of cities and zip codes where Prime Now is available and you probably won't find it. You can enter your zip code to see if it's offered in your neighborhood yet, or enter random zip codes if you like, but that's about all you can do without some serious sleuthing. (As of 5/28/15, this is no longer an issue.)
However, with new cities seemingly coming online every few weeks now, we thought it was a good time to round up everything we know about Prime Now so far.
What is Prime Now?
"There are times when you can't make it to the store and other times when you simply don't want to go. There are so many reasons to skip the trip and now Prime members in Manhattan can get the items they need delivered in an hour or less," said Dave Clark, Amazon's senior vice president of worldwide operations in a December 2014 press release announcing service in Manhattan.
Prime Now is a same-day delivery service available to Prime subscribers on select household items. According to a 5/28/15 press release, Amazon is offering same-day delivery to Prime members for $5.99 per order and non-members for $8.99. There is also an additional cost of $0.99 per item in your order, and that doesn't include a tip for your delivery driver (see our notes on that below). Fees can add up very fast, making it an unattractive option for small, inexpensive items.
However, Amazon offers Prime members free same-day shipping on orders totaling $35 or more, so it can a pretty good option for more expensive purchases.
It's important to note that not only are you expected to tip your delivery driver, but that you must do it through the Prime Now smartphone app. The drivers aren't supposed to accept cash - and that has upset a number of Prime Now users.
It's easy to imagine that Prime Now will integrate seamlessly with Amazon Dash, the little household stick-ups that let you press, say, a laundry detergent button on your washing machine, to automatically order a refill. However, that service is currently in beta and by invitation only.
Where is Prime Now available?
As of May 28, 2015, there are 14 cities on the list.
Atlanta
Austin
Baltimore
Boston
Dallas/Ft. Worth
Indianapolis
Los Angeles
Manhattan
Miami
New York City
Philadelphia
Phoenix
San Diego
San Francisco Bay Area
Seattle
Tampa Bay Area
Washington D.C.
In most cases, Prime Now is available only in select zip codes, so if you're in one of the cities listed above you'll need to check to see if Prime Now is in your neighborhood. Even if your zip code isn't included right now, new zip codes are added within these cities on a regular basis, so keep checking back.
In the same press release we mentioned above, Clark said, "Prime members in Manhattan are going to love this service and we cannot wait to roll out Prime Now to additional cities in 2015." In the first four months of 2015, Amazon added five cities and expanded the beta to include all of Manhattan. It's only May, so we're expecting to see several new cities added to the list before year end. (Fingers crossed for Chicago!)
You can download the Prime Now app for iOS or Android to be notified when Amazon makes it available in your neighborhood.
What are Prime Now's hours?
According to the updated info on Amazon, "Order by noon, and you'll get it by 9pm, seven days a week. Or order later in the day with Prime FREE One-Day to get free delivery tomorrow."
Will you give Prime Now a try when it comes to town? For those of you who have tried Prime Now, what was your experience like?
Originally published 5/13/15
Last updated 5/28/15