Where to Find Baby Yoda Toys and Merchandise on Sale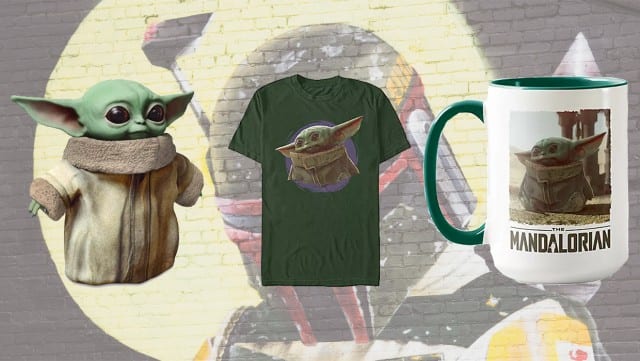 The alien toddler known as "Baby Yoda" broke the internet the moment it appeared on screen in The Mandalorian, the hit series that debuted on Disney+ last month. Here's everything you need to know about getting some Baby Yoda merchandise under the tree in time for Christmas.
As of right now, there isn't a lot of Baby Yoda merchandise out there. So did Disney just somehow miss the boat on this? Well, no. Disney knew exactly what kind of gold mine Baby Yoda would be. But his existence was a tightly held secret, one that was sure to leak if orders were placed with manufacturers ahead of his debut on screen. Disney decided to preserve the surprise for the audience.
Of course, that leaves fans with few licensed options heading into Christmas, but as our buddy Han Solo once put it, "Let's keep a little optimism here." In that spirit, we set out to find what's available, what to expect from forthcoming official merch, and how to get the best deal on all of it.
Best Baby Yoda preorder deal:
Exercise caution when buying from marketplace sellers.
"You will never find a more wretched hive of scum and villainy. We must be cautious."
There's so much black market Baby Yoda merchandise flooding the internet that the New York Post devoted an entire article to the phenomenon. These black market goods pop up in marketplaces where it can sometimes be difficult to tell the difference between goods sold by Amazon or Walmart and those from third party sellers. We have a few tips for how to protect yourself when buying on these sites:
Look for goods sold and shipped by Amazon or Walmart.

We trust Amazon and Walmart to be legitimate retailers from whom it's always safe to buy. Keep in mind that the availability of Prime shipping does not mean that Amazon is the seller. Here's what you're looking for: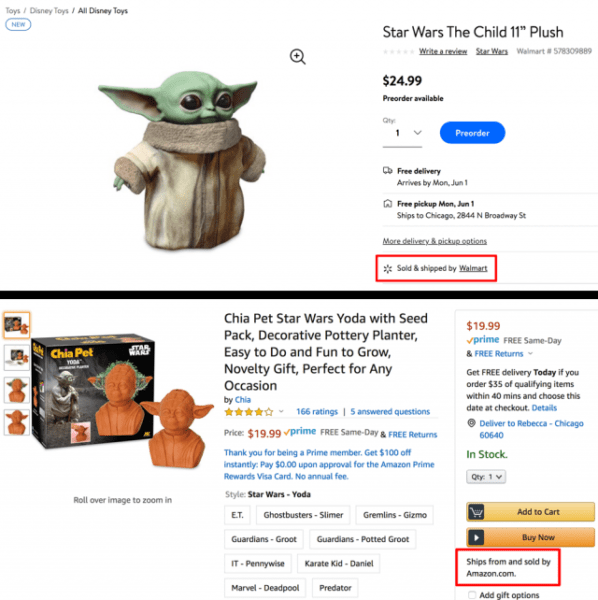 Verify marketplace sellers using Fakespot.

If you don't see that "Sold and Shipped by" labeling, grab the URL and run it through Fakespot, a free service that analyzes reviews to give you a heads up when something is off. In fact, Fakespot has been such a useful tool for our team that we're now official partners!
Check out the score on this Boba Fett backpack that's fulfilled by Amazon but sold by a third party: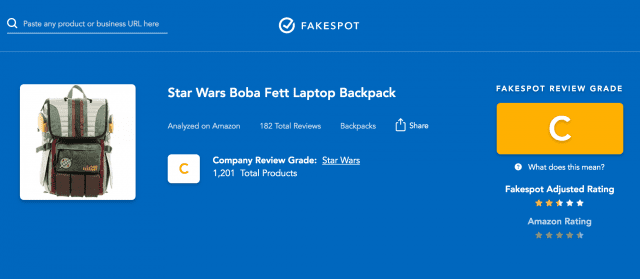 Overall, we'd say this item is probably safe to buy, but that you should take the reviews with a grain of salt.
Fakespot works with Amazon, Walmart, Best Buy, Sephora, Steam, TripAdvisor, and Yelp.
Turn to the artists and crafters.
"I see you have constructed a new lightsaber. Your skills are complete, indeed you are powerful as the Emperor has foreseen."
While it's not likely to be cheap, Etsy and Redbubble have got you covered with high quality fan art, clothing, Christmas ornaments, stickers, dolls, even Christmas stockings. If you want it to arrive by Christmas, pay close attention to the country of origin. That cute "Baby on Board" Baby Yoda car decal may not arrive in time if it's coming from Australia.
Check for shopDisney coupons.
"You will find only what you bring in."
Determined to stick to official licensed merchandise for The Mandalorian? Right now, it's mostly limited to Baby Yoda t-shirts and coffee mugs, but that won't be the case for long. Don't forget to check for a shopDisney coupon to possibly score an extra discount.
Keep an eye on stores that offer incentives.
"What good's a reward if you ain't around to use it?"
Whenever licensed Baby Yoda merchandise does finally arrive in stores, we're pretty sure we'll see it at major retailers. And if discounts are scarce, we recommend looking at Kohl's or Target. Why these two? At Target, REDcard members get an automatic 5% back on card purchases, plus 1% back via the Target Circle loyalty program. At Kohl's, wait for a Kohl's Cash promotion, then get $10 back in Kohl's Cash for every $50 you spend.
Set up a Baby Yoda Deal Alert.
"For my ally is the Force, and a powerful ally it is."
Our team is just as excited about Baby Yoda as the rest of the internet, so you can be certain we're going to post any deals we find. When you create a Deal Alert, you'll get an email notification as soon as we find any Baby Yoda deals worth sharing. Click the button below to get started.
Create a Deal Alert:
Baby Yoda Mandalorian Star Wars
Wait until after the holidays.
"Patience you must have, my young padawan."
Look, Baby Yoda is a gold mine for Disney, so you know they're not twiddling their thumbs here. The merch is coming.
"A T-shirt can be done in a week, because that's printing," Jim Silver, CEO of TTPM, an online toy review site, told CNBC. "An action figure can take six months. Plush is quicker, cut and sew is much quicker, maybe a couple months."
If you can wait, you'll eventually be spoilt for choice.
The Best Place to Preorder Baby Yoda Toys
Currently, several retailers are accepting pre-orders for a handful of Baby Yoda toys – just be prepared to wait until Spring or early Summer 2020 to get them. In the meantime, we're tracking preorder prices below. The options include a Baby Yoda plush and two Baby Yoda Funko POP! figures.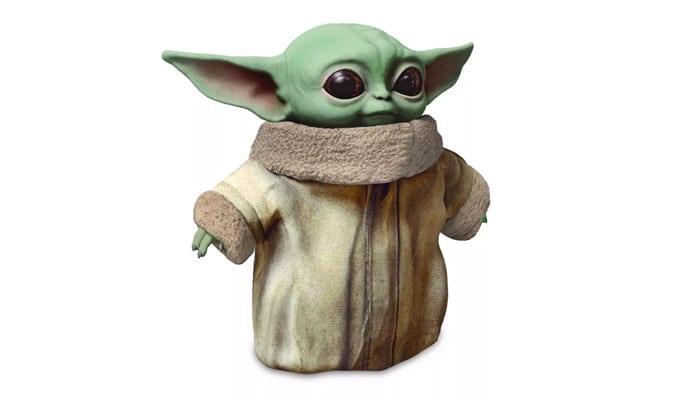 The Child Plush by Mattel
Expected release date: 4/1/20 to 5/25/20
List Price: $24.99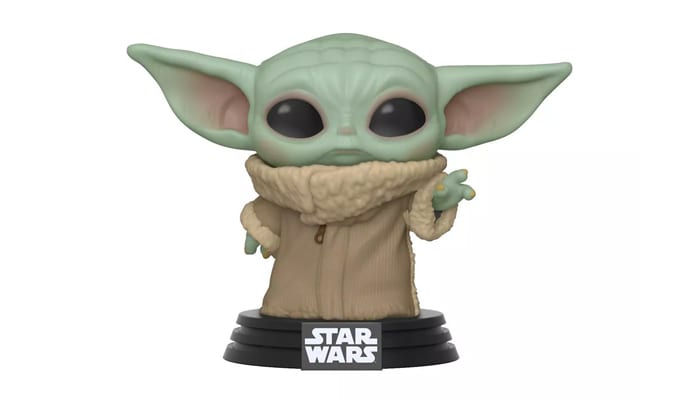 The Child Pop! Vinyl Bobble Head Figure by Funko
Expected release date: 5/13/20 to 5/20/20
List Price: $12.99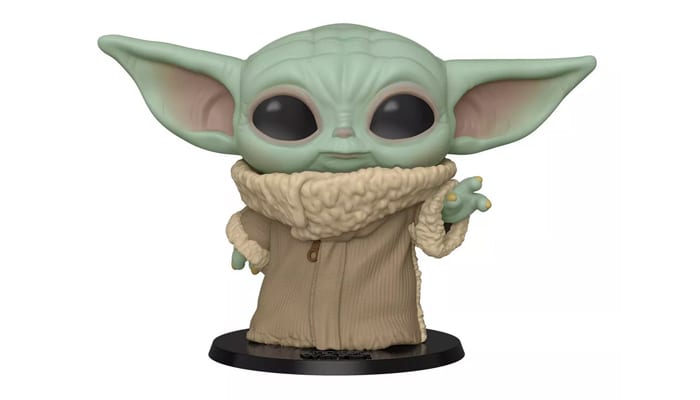 The Child Super Sized Pop! Vinyl Bobble Head Figure by Funko
Expected release date: 5/20/20 to 6/3/20
List Price: $29.99
My prediction: Next year's hot holiday toy will be a Furby-like interactive Baby Yoda doll, released just in time for Christmas 2020.
The Best Places to Look for Deals on The Mandalorian Merchandise
We know that approved merchandise is already showing up in these stores. Don't forget to check Brad's Deals for a promo code!