Why You Need To Buy $200 Gift Cards From Staples.com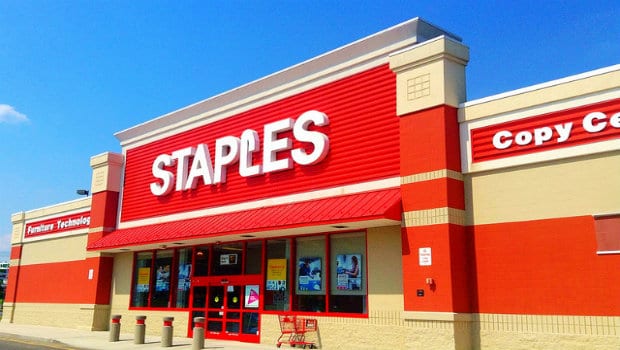 Recently, Staples started selling $200 Visa gift cards online at Staples.com. So what, they sell these in the stores, right? The difference is that you can purchase these cards online and earn valuable travel rewards in the process.
In fact, you can even come out a few dollars ahead in the end!
How this works:
Step 1: Sign up for the Staples Rewards program. You won't actually earn rewards directly from Staples for purchasing Visa gift cards, but you will receive free shipping on your order. It also saves time when you make repeat orders.
Step 2: Purchase the $200 Visa gift cards with your favorite rewards credit card.  Each $200 card will cost $206.95 after fees in your shopping cart.
Step 3: Spend the cards as you would normally spend any debit card.
Which credit card to use?
 Ink Plus. This card is a great option for several reasons. First, they are currently offering 70,000 Ultimate Rewards points to new applicants who spend $5,000 within three months of opening an account. Furthermore, cardholders earn five points per dollar spent at office supply stores such as Staples, on up to $50,000 spent annually. Ultimate Rewards points can be transferred to airline and hotel programs, used to book travel, or redeemed for cash back. There is a $95 annual fee for this card that is waived the first year.
American Express SimplyCash Business. This card offers 5% cash back at U.S. office supply stores on up to $25,000 spent annually. There is no annual fee for this card.
How much cash back and travel rewards can you earn?
If you use an Ink Plus Visa from Chase, you could earn the 1,033 points in Chase's Ultimate Rewards program. These points can be redeemed for $10.33 in cash back or converted to 1,033 points or miles with airlines and hotels. When used for premium class international travel, or luxury hotels, it is possible to receive as much as 4 cents per point in value, making the rewards worth about $40.
Using the American Express SimplyCash Business card would result in a net gain of $3.38 in cash back for each $200 Visa gift card purchased.
Finally, if you use your Starwood Preferred Guest card from American Express, you will earn just 207 points, but you will be closer to earning much more. This card offers new customers 10,000 Starpoints after their first purchase on the card and an additional 15,000 Starpoints after using the card to make $5,000 in purchases within the first six months of opening an account. Also, cardholders get Gold status in the Starwood program when they spend $30,000 on their card in a calendar year.  So using this card might not earn a lot of points, but it will get you close to reaching those threshold bonus.
What can you do with Visa debit cards that you can't do with a credit card?
You could use these Visa debit cards to make any purchase, and pocket the savings, but in fact, debit cards are more versatile than credit cards since they are accepted in more places. Here are some examples:
1. Use Visa debit cards where American Express isn't accepted. If you want to earn as many points as possible with your Starwood Preferred Guest card from American Express, but it isn't accepted everywhere you shop, you can always use a Visa debit card.
2. Use debit cards to pay bills with Evolve Money. This service offers free bill payment services to thousands of businesses, but only with a debit card, not a credit card. So you can use Visa debit cards to pay rent, utilities, and even to pay back home, car, or student loans.
3. Pay your taxes. By using a debit card, you can pay taxes by using one of the services authorized by the IRS. There is a processing fee of between $2.49 and $3.48 per payment, which is far less than the rates for credit card purchases. Nevertheless, this cancels the value of much of the points or miles earned, but still leaves you closer to reaching a spending threshold for a large bonus.