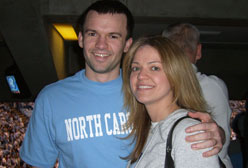 As a college student in 2001 I was shocked by the prices at the campus store and knew I could do better online. I printed out 10,000 flyers, posted them all over campus, and stood in front of the bookstore shouting "Don't waste your cash in the school store, visit my homepage and save money!" I loved the thrill of finding great deals, and friends and family members starting coming to me to help them make purchases. With so many people interested, I took a semester off, learned to code, and built my own website. I didn't have a business model but realized I could earn commissions by having people buy from other retailers through my site with the Amazon Associates Program. Because my first users were family and friends, I wanted to only post deals that were good enough to share with them - a policy that continues today. I operated my site alone for several years until it grew too large to manage by myself and became the Brad's Deals of today.
Competition for $10,000 in Awards
Recognizing that my experience was far from unique, Brad's Deals is pleased to announce the third annual Brad's Deals Scholarship Competition (formerly known as the Brad's Deals Scholarship) to recognize, encourage and reward students whose college experience is enabled by remarkable frugality, ingenuity, effort and thrift.
The five finalists each will receive a $2,000 scholarship for the 2014-2015 school year.
Scholarship requirements:
1) Write a 500 word essay explaining how your college experience is or will be enabled by remarkable frugality, ingenuity, effort or thrift.
Example: one of many other things I did at school was buy a router and wireless cards (they were cutting edge then!) and sell wireless internet access to others in my building.
You can also read about previous scholarship winners for an idea of the sort of smart shopping strategies that our scholarship judges like to see.
Applicants are encouraged to discuss topics such as:
student loans
other scholarships and grants
personal savings
working full or part time while in school
any other creative or remarkable approach to paying for college or saving money as a student
2) Break down your all-in educational costs (tuition, room, board, other) and how they are or will be paid.
Essays will be judged on the creativity of the money saving strategies described, along with the overall remarkableness of the author's experience paying for school in the spirit of thrift.
I wish all applicants the best of luck, and look forward to your entries.


How to apply:
Application Deadline:
June 15, 2014
Eligibility Requirements:
High school seniors and undergraduate students
U.S. citizen or permanent resident
Current enrollment
3.0 GPA
Not open to residents of Rhode Island or Tennessee.
Terms and Conditions:
Winner will be notified by email by July 14, 2014, and may also be contacted by phone or by mail.
By submitting an entry, you agree that all essays become property of Brad's Deals, LLC and BradsDeals.com and may be reused, repurposed or published.
Winners may be required to verify enrollment, GPA or submit the Student Aid Report (SAR) derived from your FAFSA.
Scholarship winners must submit a current photo and a signed publicity release granting BradsDeals.com and Brad's Deals, LLC permission to use his/her name and photo on its websites and in marketing materials including but not limited to press releases about the scholarship.
The BradsDeals Privacy Policy applies to all submissions. No contact details such as address, phone or email address, or financial information provided in the scholarship application will be disclosed or publicized without permission.
See our Scholarship Rules page for complete rules, terms and conditions.