Goodbye, Black Friday. Hello, Shopping Season!
Our experts track Black Friday sales every year, and we can show you how the most popular shopping day of the year turned into a much longer event.
---
Our team analyzes shopping data from Black Friday every year. We track the best deals⁠, of course, but we also track all the most popular advertisements. Here's what we found.
Black Friday is Now Holiday Shopping Season
We weren't the first to notice Black Friday sales starting before the actual day of the event, often earlier and earlier every year. It happened slowly—at least at first. Sales relied heavily on doorbusters, and the doorbusters would sell out quickly on the morning of Black Friday. Now, things have changed.
Here's an overview of how that happened.
Stores remained open on Thanksgiving
Black Friday sales started earlier in the week
Stores competed for earlier sales
Black Friday sales now encompass a whole holiday shopping season
Controversy Over Being Open on Thanksgiving
Several big box stores made headlines when they announced their intentions to remain open on Thanksgiving. What was once a time-honored tradition was cast aside, all because of the fervor around Black Friday. Stores like Walmart, Best Buy, Kohl's, and Macy's embraced this change and opened for business on Thanksgiving.
Black Friday Became The Week of Black Friday
For years, the biggest Black Friday sales online launched earlier during the week of Black Friday. We noticed this in 2016, 2017, 2018, and 2019. Stores commonly began sales on Monday or Tuesday, preceding even the Thanksgiving holiday. Those sales extended through the weekend. Some even overlapped Cyber Monday.
Black Friday Became The Month of November
Many national retailers changed their Thanksgiving store policies in 2020. Stores that once opened for the holiday (and to support early Black Friday sales), announced they would close on that day moving forward.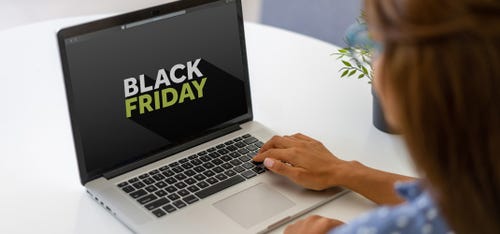 Expert Predictions for Black Friday 2022
While this coincided with the start of the pandemic, it also embraced another pattern. In recent years, several major online sellers launched their honest-to-goodness Black Friday sales (actual BF prices and everything) during the first week of November. What was once a single day had officially grown into a full month. With this change, stores no longer needed the single-day boost from Thanksgiving sales. Their Black Friday "events" drove sales earlier.
Black Friday Today
We're calling it. The original Black Friday is gone. It transformed into something new, something with similar eye-catching discounts and with much wider availability. Let's call this retail holiday what it really is: Holiday Shopping Season.
For confirmation, consider the rumored autumn Prime Day. If it turns out Amazon has an extra sale of that caliber in October, we can celebrate the official start to Shopping Season 2022.
Looking for more information about Black Friday 2022? We've got you covered. Sign up for the Brad's Deals newsletter or download the free mobile app on iOS or Android for all the best deals.