Want a $15 off $15 Target Coupon? Just Ask Google to Hook You Up.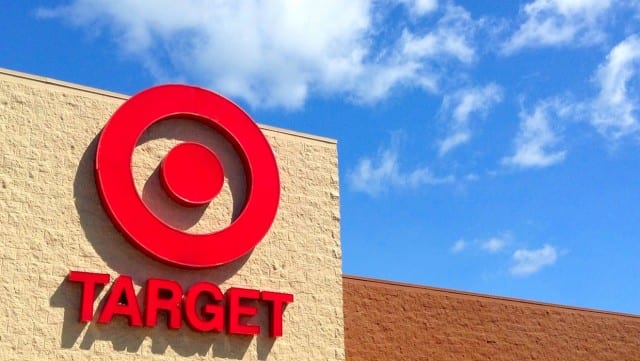 Have you ever seen a movie that takes place during Prohibition where the characters knock on a nondescript door, have to give a password, and then the door opens to reveal a speakeasy in full-on party mode? We've got the lowdown on a way to get a $15 off $15 Target coupon, and, well, it's kinda like that. 
Step 1: Set up a Google Assistant
To access this sweet Target discount, you'll need a device that works with Google Assistant. If you've got a Google Home or Google Home Mini, then you're already good, but don't worry about it if you don't – just download the free Google Assistant app for iOS or Android instead.
Step 2: Give the secret password
Now that you've got your Google Assistant ready to go, it's time to knock on the door and speak the magic words:
"OK Google, spring into Target."
That will prompt Google to present you with your $15 off $15 offer on Target orders placed through Google Express. Here's a screenshot of the exchange from my own test using the Google Assistant app on my phone: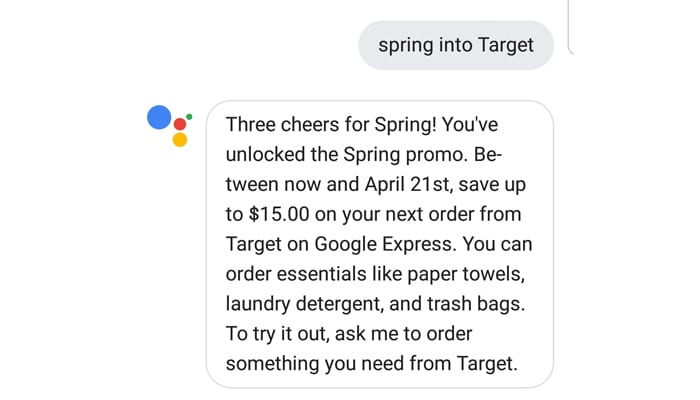 I received this email confirmation a few minutes later: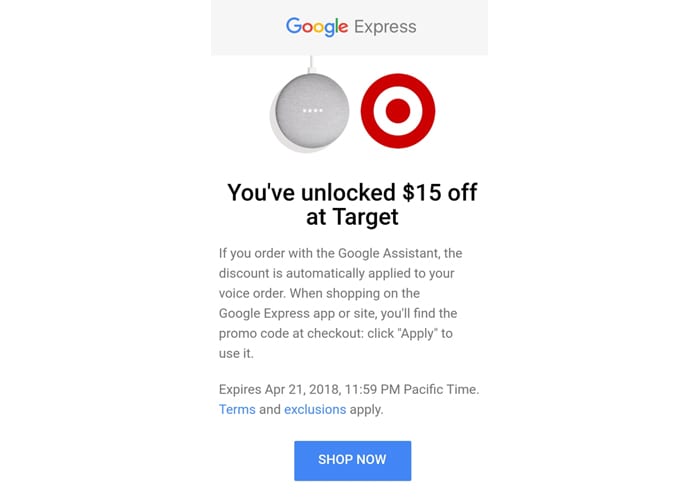 Step 3: Use your Google Assistant to place a Target order via Google Express
If you've never shopped by voice from Google Express before, don't worry – Google Assistant will walk you through the process. We suggest having a list handy before you try it so that you don't get flustered mid-order. Alternatively, you could just go to the Google Express website to order online.
And now, the fine print:
The catch is that you can't just walk into your local Target with this offer, nor is there a Target promo code you can enter at Target.com. The $15 off $15 offer is only available when you place a voice or web order from Target via Google Express.  It's also worth noting that you'll need to spend a minimum of $35 to qualify for free delivery.
Unfortunately, Google Express, and therefore this offer, is only available in the continental United States. Alaska and Hawaii are specifically called out, but it's safe to assume that includes island territories like Puerto Rico, U.S. Virgin Islands, and Guam. Sorry, friends, that's truly a bummer.
This Target discount offer expires on April 21, 2018.
P.S. If you've never used Google Express before, you can get 20% off (up to $20 savings) of your first order with code STOCKUP20. However, you can't stack that code with the $15 off $15 offer.