9 Cheap Alternatives to High-Cost Winter Essentials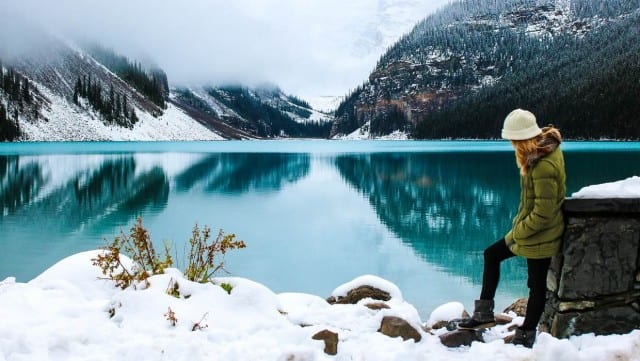 Well, it finally happened. After a lackluster start to the season, Old Man Winter upped his game this week, sending out a negative windchill and a nice dusting of snow to unprepared citizens across the nation. 
In light of winter's sudden arrival, you might be scrambling to get together some semblance of a practical cold-weather wardrobe. And if you're anything like me, you're lusting after exclusively high-end duds you'd have to sell your kidneys to afford. But while those North Face coats and UGG boots might seem worth it in the moment, there are much cheaper alternatives out there that will keep you warm, fashionable and free of invasive surgeries all winter long.
We took the liberty of scouring the web for the best low-price, high-warmth designer substitutes that look and feel just like the real thing.
Down Parkas: swap out The North Face for UNIQLO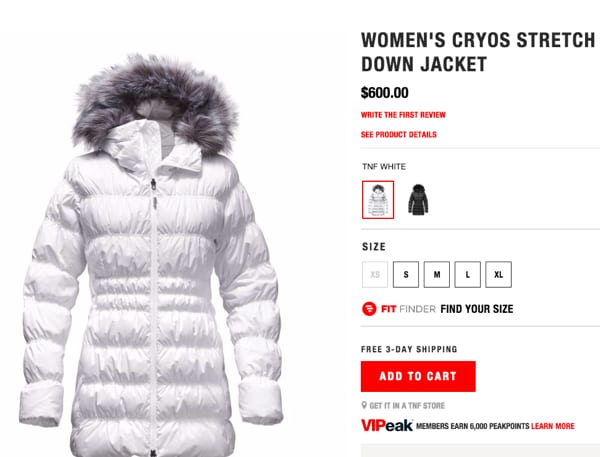 Everyone who lived through the polar vortex of 2014 will know a down parka is absolutely essential for staying warm when the temperature drops below zero. No one can deny that The North Face makes some high-quality down parkas, like this Cryos Stretch Down Jacket pictured above, but at $600 a pop, these cozy coats are out of reach for a lot of shoppers.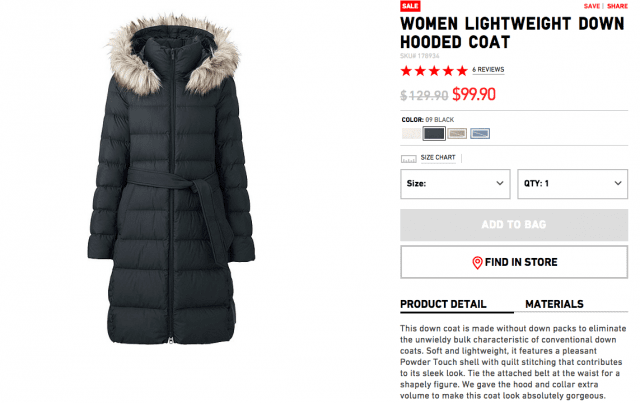 Luckily UNIQLO sells similar down parkas for just 19.90, and as the proud owner of a UNIQLO coat, I can say with authority that these coats are warm AND stylish. Plus, I have an extra $200 in my wallet to spend as I please.
Touch Screen Gloves: head to Walmart, not Nordstrom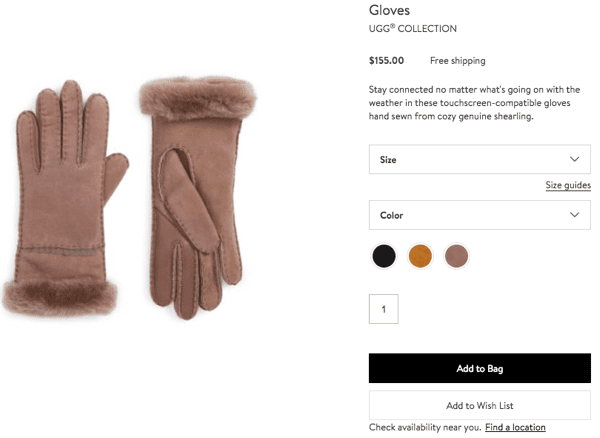 Responding to important texts and emails while on the go in the winter can be a real finger-freezer, but sometimes it just can't wait. The good news is it's 2017, and smartphone gloves are a thing now! The bad news is that it's easy to spend way too much on them, like this shearling pair from Nordstrom going for $155.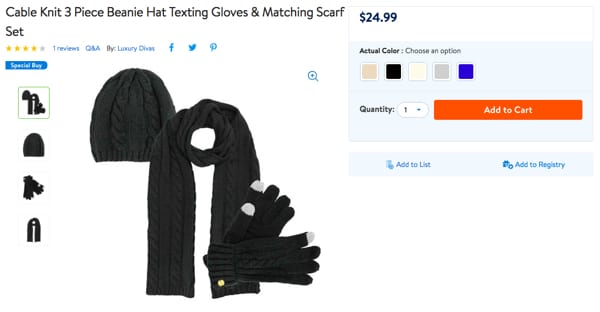 Unless you're physically addicted to cashmere, skip it and head to Walmart, where you can get a pair of perfectly good texting gloves for just $24.99, and score a matching hat and scarf as a bonus. I got a couple pairs of these bad boys as stocking stuffers this Christmas, and I wear them literally every day. I mean, they're cute, warm and it's easy to text when I'm wearing them — I don't see the point of spending more another version.
UGG boots: G by Guess knockoffs are quite convincing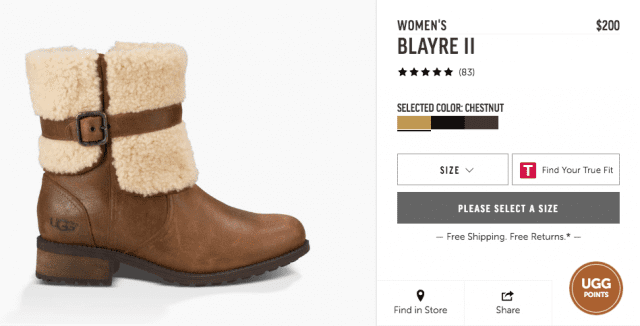 Although they've become a bit of a cliche in recent years, people are still buying UGG boots, and lots of them. And I see the appeal, I really do! I had a few pairs in high school and college that were super cozy and comfy, but the fact of the matter is they rarely held up against serious winter weather. So while I do like the style of the Blayre II UGG boots, I would never spend $200 on them.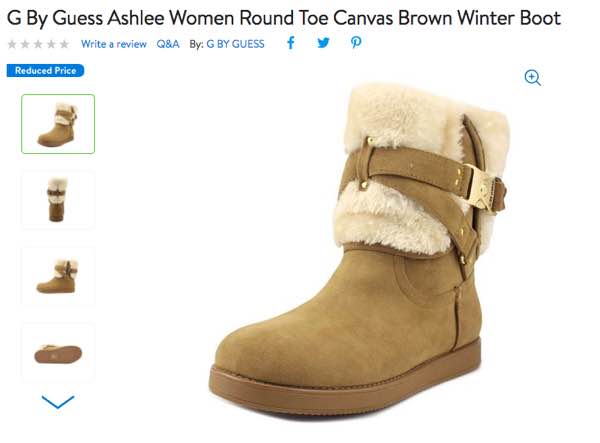 But if you must have UGG-like boots this season, save yourself some serious cash and opt for G By Guess Ashlee Women Round Toe Canvas Brown Winter Boots from Walmart, for just $23.99. They're nearly identical in style, and while they might not boast a real fur lining like UGGs do, they'll get the job done. Plus, you won't have to feel so guilty if you accidentally step into a slush puddle and ruin them; yay for cheap boots!
Knit Sweaters: trade in Banana Republic for Uniqlo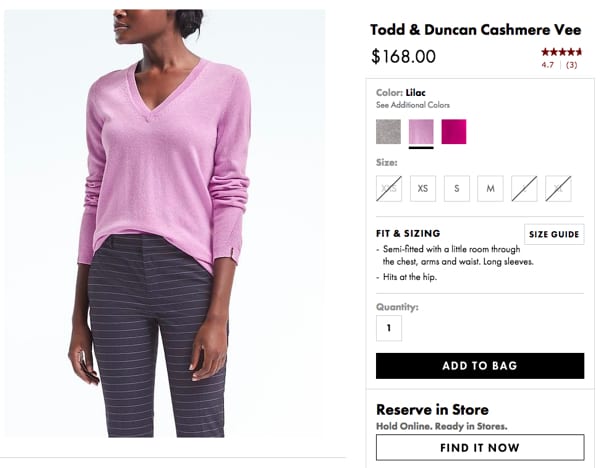 If you don't think a quality knit sweater is a winter weather must-have, you need to buy a one-way ticket to Florida and never look back. Seriously, byeee! Layering knits is key to staying toasty warm through even the most intense winter storms, but of course good quality wool sweaters can get pricey. This cashmere sweater from Banana Republic is adorable, but is it worth $168?
Obviously not. This extra-fine Merino wool knit version from Uniqlo is virtually the same sweater… except it's only $19.90. Let this be a lesson to you: when you see something cute that's above your price range, check places like Uniqlo, Forever 21 and Target for similar styles at serious discounts.
Frye Boots: if it's style you want, Kohl's has what you need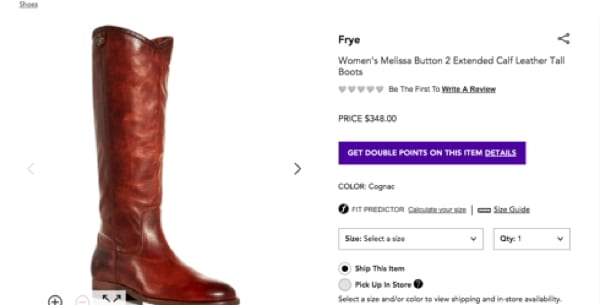 I will not deny my deep love/borderline obsession with Frye boots, but I will attest that they're out of the average Jane's price range. Take these Melissa Button Boots in Cognac at Bloomingdale's for example: they're nothing if not gorgeous — but at $348 they're not something I can purchase without saving up for a long while. That being said, Frye boots are an investment that will totally pay off in the end: my mom's best friend still has her pair from the 1970s, and has only had to replace the soles once. So you're looking for a shoe that will potentially outlive you, definitely splurge on Frye.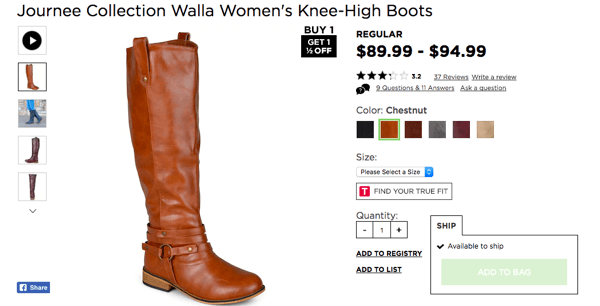 Then again, if you love the look of Frye boots but are the kind of person who switches up their footwear every season, you can get eerily similar styles for much lower prices at Kohl's. Check out these Journee Collection Walla Knee-High Boots and tell me they're not a close copy the Melissa Button Boots. Again, if you want long-lasting boots made of real leather, spring for Fryes, if you're looking for a quick style fix, Target and Kohl's are ready to welcome you with open arms.
Pocket Scarves: Try Target over Eileen Fisher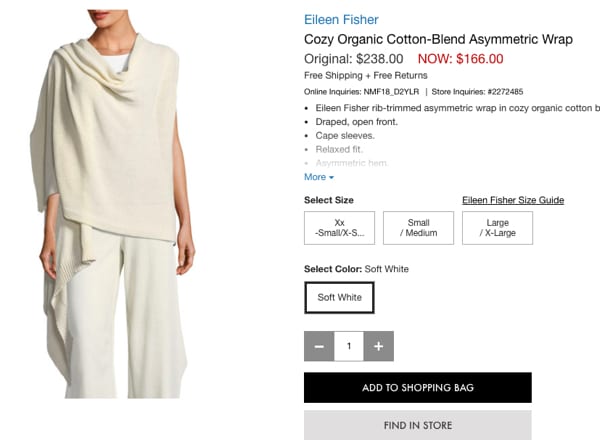 Who doesn't love a good cozy scarf? This cotton blend wrap from Eileen Fisher can keep your neck free of frostbite. While some winter apparel makes up for its expense with quality (see Frye boots above), scarves aren't something you should be spending over $30 on. This asymmetric scarf is pretty lux, but for $166 (on sale) at Neiman Marcus, I'm gonna have to pass …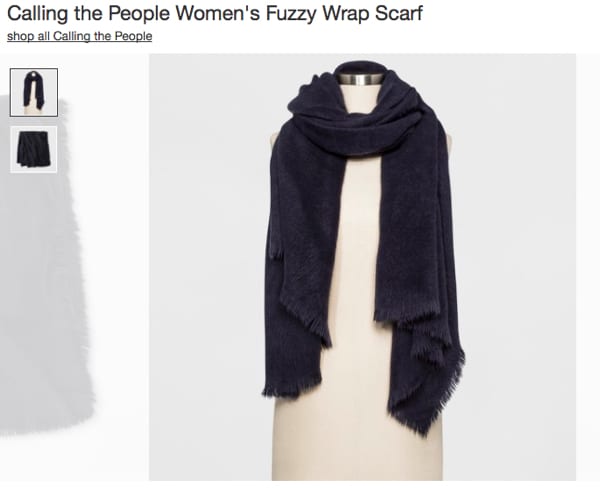 … Because, let's face it, for that kind of money I could get eight of these fuzzy wrap scarves from Target. At $19.99, they're a lot more affordable. And the texture is a lot cuter, too!
Wellington Boots: swap out Hunter boots for Target styles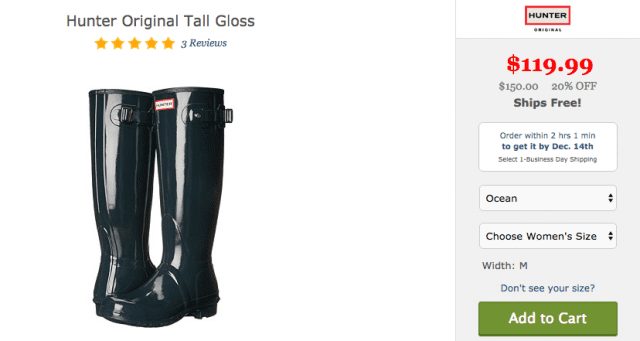 If you insist on wearing your new UGG boots through the cold slush, you should be aware that the best way to keep your feet warm and dry is to slip on a thick pair of socks and some rubber Wellington boots and go about your day. Hunter boots are the obvious choice here, but for $119.99 at Zappos, they shouldn't be your only option.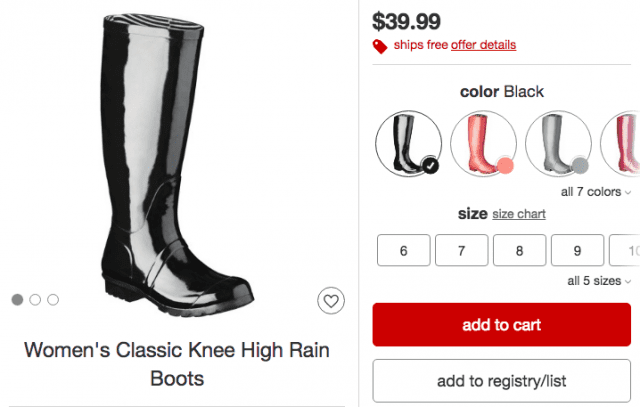 These $39.99 rain boots from Target may or may not be Hunter's long lost twins, and they'll certainly keep your feet dry during the next sleet storm you have to endure.
Beanies: don't splurge on unnecessary luxury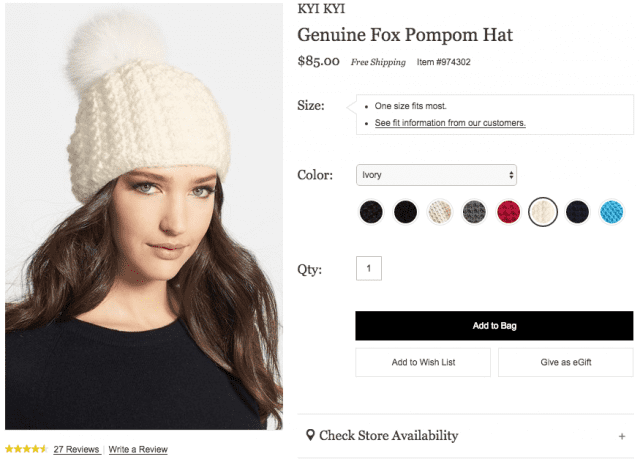 It might be possible to stay comfortably warm without a hat, but this isn't something I'll ever attempt. There are few things more upsetting than leaving home sans hat and realizing too late that your ears are in for a frostbitten death ride. Now beanies are all the rage, and while I'm sure the quality of this Kyi Kyi Genuine Fox Pompom Hat from Nordstrom is top-notch, it's certainly nowhere near worth the $85 price tag. Seriously, $85 for a hat?! OK, yes, the puffball on the top is real fur, but that soft, furry puff ball will never come into contact with your skin, and thus does you absolutely no good in the long run.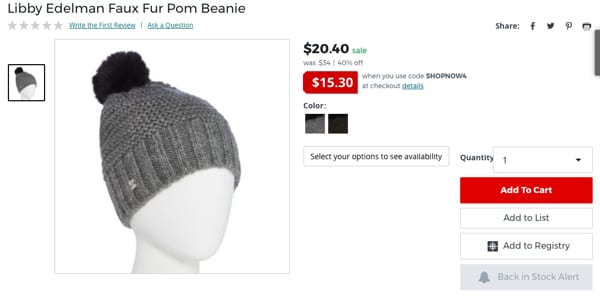 How about saving $65 and buying this nearly identical Faux Fur Pom Beanie from JCPenney for $20.40? If you want real fur, go outside and kill yourself a rabbit, there are thousands of them in the courtyard of my building.
Tights/Leggings: keep those legs warm for less at Tanga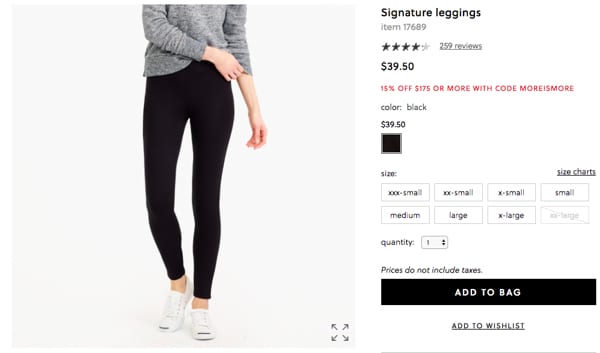 I'm a sundress kinda girl, so winter winds really cramp my style. I'll mix it up with a pair of jeans every now and again, but denim doesn't do much to keep the cold from infiltrating my legs. Thick tights are pretty much my only solace this time of year, but getting a quality pair on the cheap isn't easy. Take these fleece-lined leggings for $39.50 at J. Crew – I'm sure they're very warm, but spending $39.50 on leggings isn't a very solid life choice.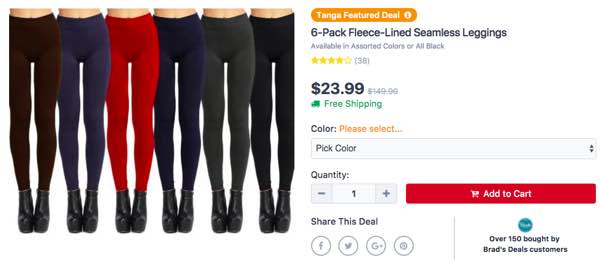 Try these fleece-lined leggings from Tanga instead. They come in at $23.99 for six pairs, less than the cost of a single pair at J. Crew! They're a godsend on blustery winter days, and having multiples to mix and match makes it easier on the laundry, too.
What are your winter weather essentials? Tell us in the comments which brands you think are worth splurging on, and which you're better off swapping out!
Related coupons: