The Best Black Friday Deals at Walmart in 2017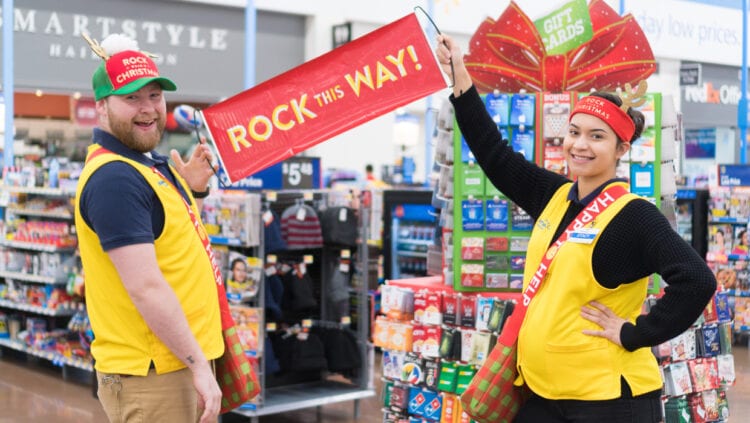 With a Walmart in every rural town dotting the American landscape, it's no wonder that the arrival of their Black Friday ad is such a big deal. Now that we have it, here's what you absolutely need to know about the most hotly anticipated Black Friday sale of the year.
When does the Walmart Black Friday sale start?
Walmart's Black Friday sale starts in-store at 6pm local time on Thursday 11/23, but you can get your Black Friday fix online beginning at 12:01am ET Thanksgiving morning.
Will all of Walmart's Black Friday deals be available online?
Most of the items in the Walmart Black Friday ad will be available online, but not all.
When will the store maps be released?
Page 2 of the ad notes that Walmart's Black Friday store maps will be available in the Walmart app on Friday 11/17.
Do I need to get a wristband for certain Black Friday deals this year?
Walmart has officially ditched the wristbands for 2017. When we reached out to Walmart to ask about wristbands, we were told, "The Walmart Buying Team bought deep on the top items and didn't believe customers need this process any longer."
That said, I would not assume that means you won't need to queue up early for the good stuff – they may have gone deeper than usual on inventory, but you don't want to show up fashionably late to find that they underestimated demand.
Should I pay cash or use a credit card for major electronics like televisions?
Our advice is that, given a choice, you use a credit card for big purchases that generally include a warranty. Not only will your credit card likely provide extra warranty coverage above and beyond what the manufacturer gives, but you'll be able to file a claim in the event the price drops on that item later and get a refund on the difference. Cash doesn't offer those benefits. The catch, of course, is that you must then pay off the entire balance of your credit card to avoid interest charges that would turn it from deal to dud. Check out our favorite credit cards for Black Friday shopping for more guidance.
Walmart Black Friday Ad: 2016 vs. 2017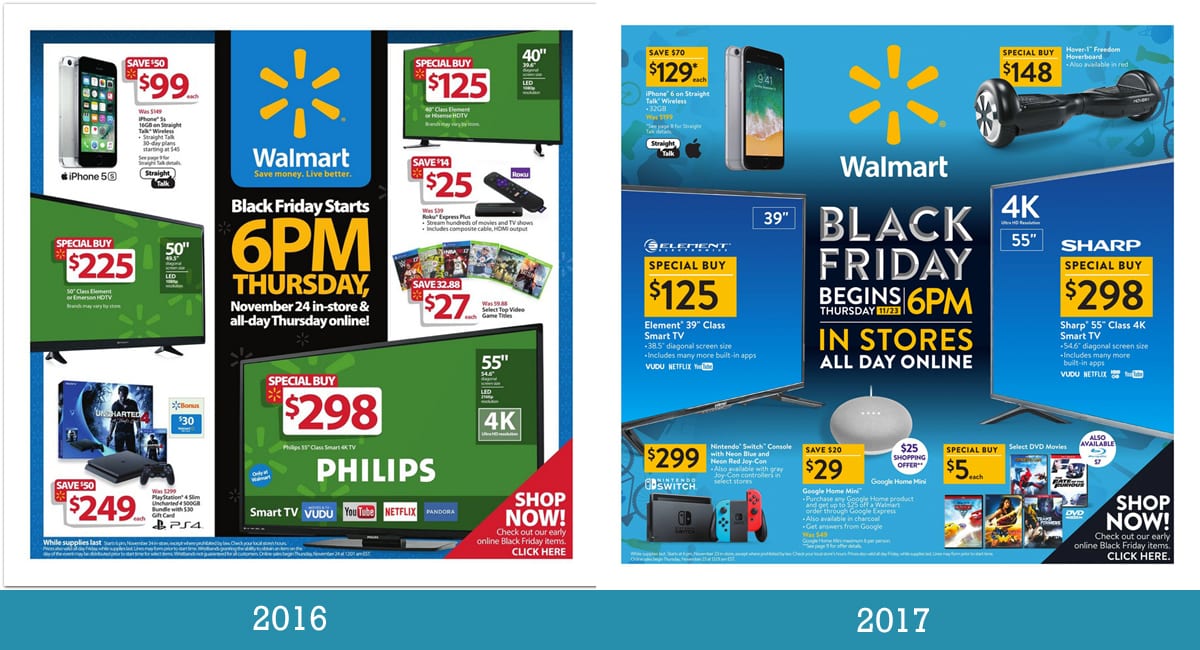 Walmart has upgraded the look and feel of its Black Friday ad, and frankly, we approve. The blue is thematically in sync with Walmart's logo and branding, and the changes are more sleek and modern while remaining recognizably Walmart.
But we're not doing this for the graphic design – we're here for the deals! On the two covers, we find bargain TVs at more or less the same size and price (we're not going to quibble on 39" vs. 40", it's close enough.) In the upper left corner is an older model iPhone on StraightTalk, one model newer and $30 more expensive than in 2016. Last year's PS4 bundle is replaced by the super hot Nintendo Switch, but notably lacks a discount – so if you were hoping for one, it looks like you're out of luck this year.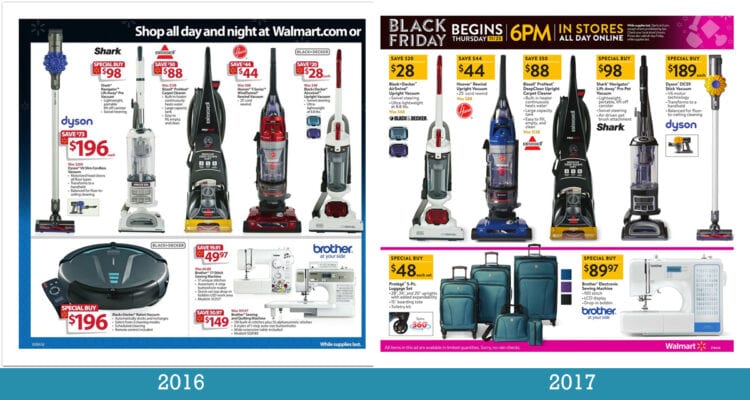 We always like to find interior pages that look remarkably similar to compare, and this year that honor goes to the vacuums. Take a look at the vacuums in the top row: There are no significant changes to the models or the prices for all but the Dyson. We also thought it was mildly amusing that the top of the two pages are mirror images of each other. What was arranged left to right last year is displayed in reverse order for 2017. There's also a sewing machine in the bottom right corner for both years' ads.
Some of Our Favorite Walmart Black Friday Deals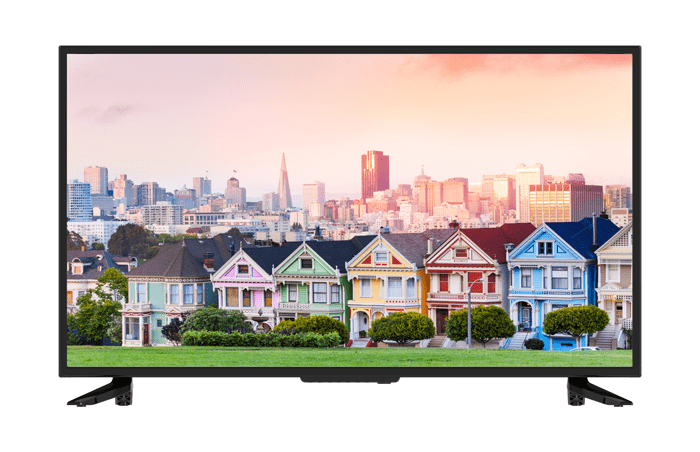 Element 39" Smart TV
Black Friday Price: $125 (Special Buy)
Black Friday shoppers are suckers for a bargain TV. There was a 40" Smart TV on last year's cover for the same price. Expect it to sell out quickly.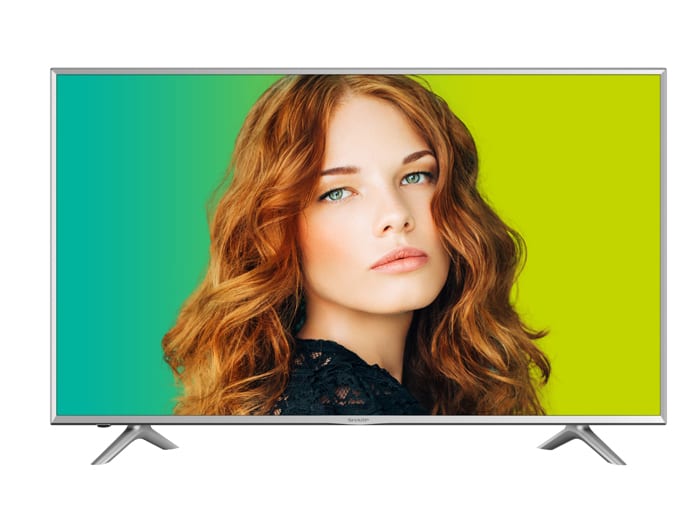 Sharp 55" 4K Smart TV
Black Friday Price: $298 (Special Buy)
This respectable 55" 4K Smart TV from Sharp is also attractively priced for Black Friday. We expect this to be the HDTV that everyone lines up early to get. Remember, the Walmart rep we spoke to promised plenty of inventory!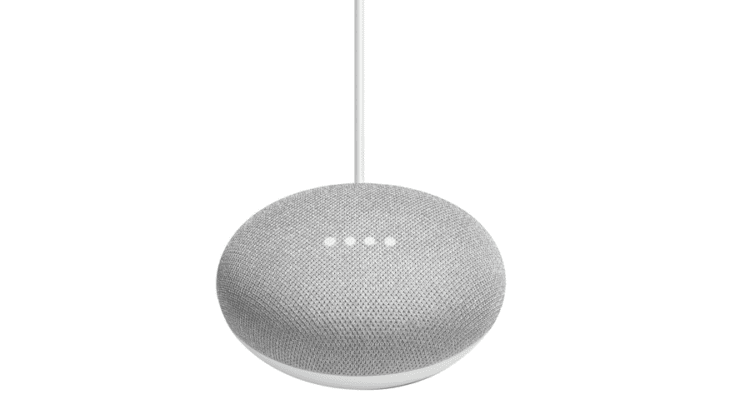 Google Home Mini
Black Friday Price: $29 (was $49)
Bonus: $25 Google Express credit
We've seen the Google Home Mini paired with $10 gift cards at Target and Best Buy, but Walmart hits it out of the park by pairing it with a $25 Google Express credit – effectively a Walmart gift card that you can spend using, you guessed it, your brand new Google Home Mini. The device + credit combo means it's practically free.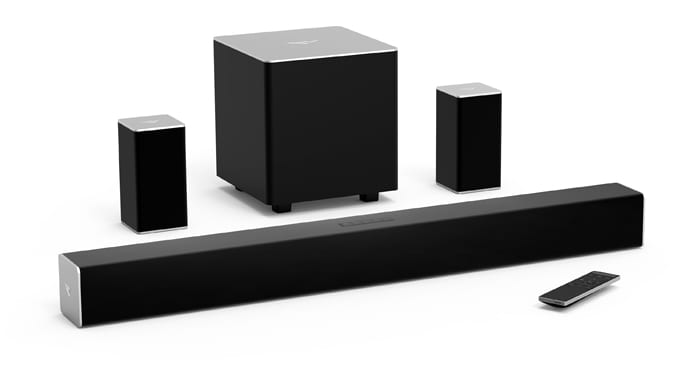 VIZIO 32" 5.1 Soundbar with Wireless Subwoofer
Black Friday Price: $139 (Special Buy)
If you've been in the market for a solid home audio solution for your TV, this is the deal you've been waiting for. The wireless subwoofer means you can position it wherever it's most convenient without worrying about tripping over cords.
Samsung 65" Curved 4K Smart TV (65MU6500)
Black Friday Price: $998 (was $1,298)
We deeply appreciate that Walmart's Black Friday sale features a large curved 4K TV from a top tier manufacturer for under $1,000.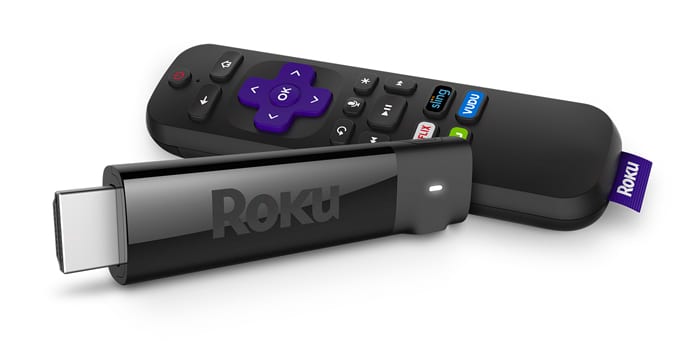 Roku 4K Streaming Stick
Black Friday Price: $48 (was $69)
Bonus: 1 free month DirecTV Now, 1 free month of Showtime, $5 VUDU Credit
Not only does the stick mean you can skip the set-top box, but it comes with freebies!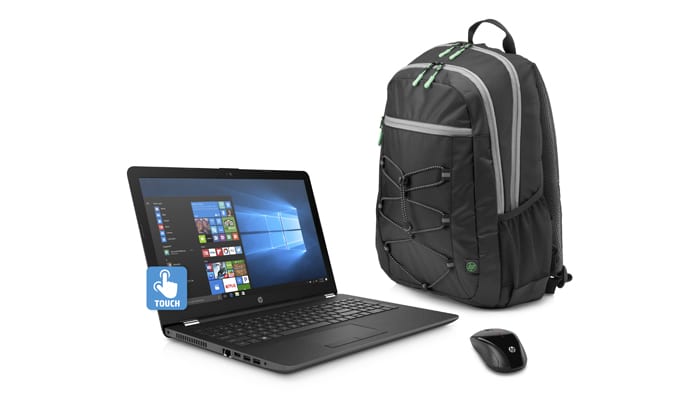 HP Touch Laptop Bundle 15.6" 8GB Memory 1TB HD with mouse and backpack
Black Friday Price: $399 (Special Buy)
This handsomely priced  HP Touch is a solid laptop with enough memory and storage to get work done. The fact that it comes with a mouse and a backpack are really just a bonus.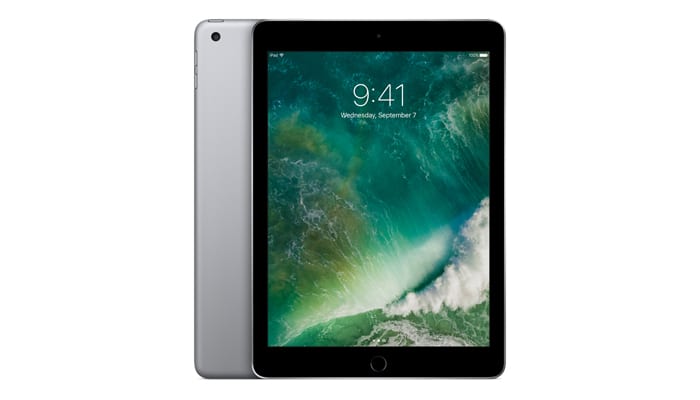 iPad 5th Gen 32GB WiFi Only
Black Friday Price: $249 (was $329)
The discounts on iPads are one of the reasons we all look forward to Black Friday. This one is pretty fantastic and worth lining up for.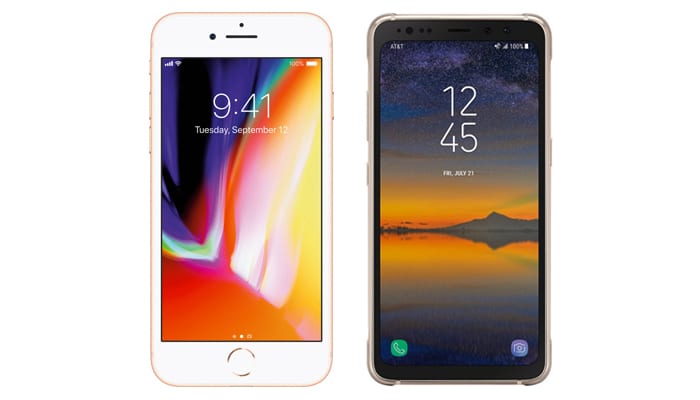 Apple iPhone 8 or 8 Plus
Samsung Note8, Galaxy S8, or Galaxy S8+
Black Friday Price: $0 down with qualified activation on AT&T or Verizon
Bonus: $300 Walmart Gift Card
Most of the major retailers are offering $0 down with a gift card for a new iPhone or Samsung phone, but only Walmart is offering a $300 gift card for the new iPhone 8 and 8 Plus (the next best offer is a $250 card at Target), and you can schedule an appointment to get it all done in an orderly fashion.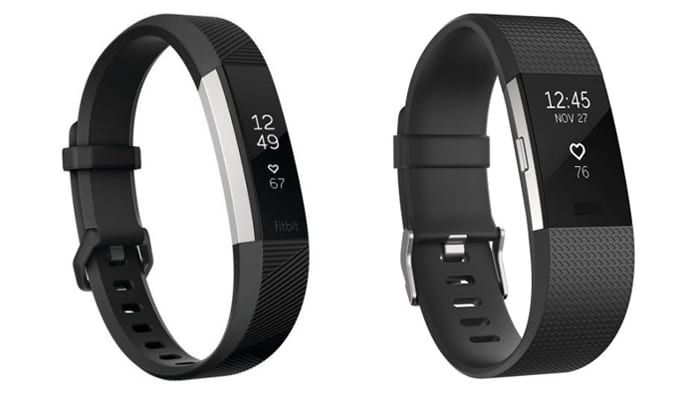 Fitbit Alta HR
Fitbit Charge 2
Black Friday Price: $99 (was $149)
Bonus: Fitbit Band (value: $29.95)
These super giftable Fitbits are $99 everywhere, but only Walmart is throwing in a bonus band worth $29.95 for free.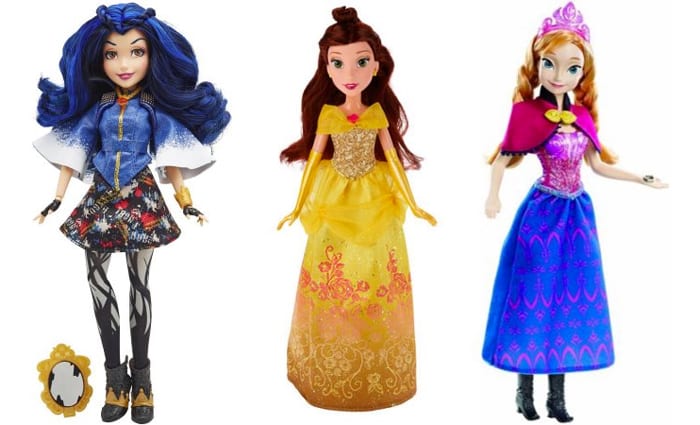 Disney Fashion Dolls (Frozen, Princess, or Descendants)
Black Friday Price: $4.94 ($19.88)
Disney fashion dolls are always a good choice for the little ones. It's nice to see The Descendants in the lineup this year – Evie is a fan favorite.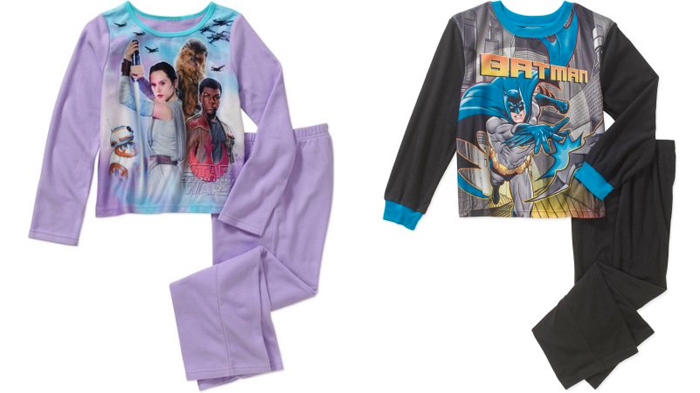 Boys or Girls Character Sleep Sets 
Black Friday Price: $4.75 (Special Buy)
These adorable, affordable character pajamas have made our list of top picks for a few years now. It's hard to find fault with the prices and selection.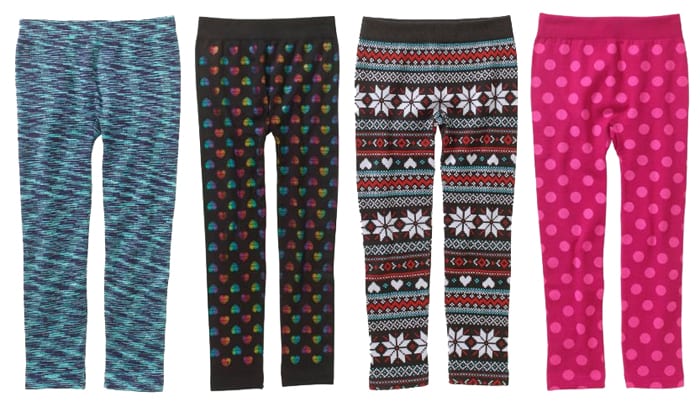 Girls Fleece-Lined Leggings 2-Pk
Black Friday Price: $4.75 (Special Buy)
What's better than fleece-lined leggings for $4.75? Two pairs of fleece-lined leggings for $4.75! Cute and cozy.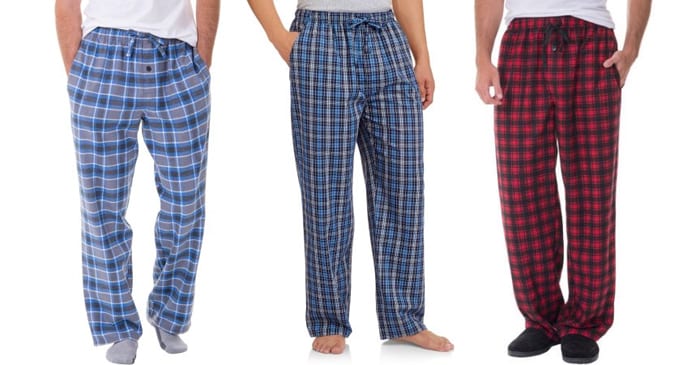 Fruit of the Loom Men's Sleep Pants
Black Friday Price: $4 (Special Buy)
When is the last time you paid $4 for any article of adult clothing? We really just can't argue with $4 sleep pants.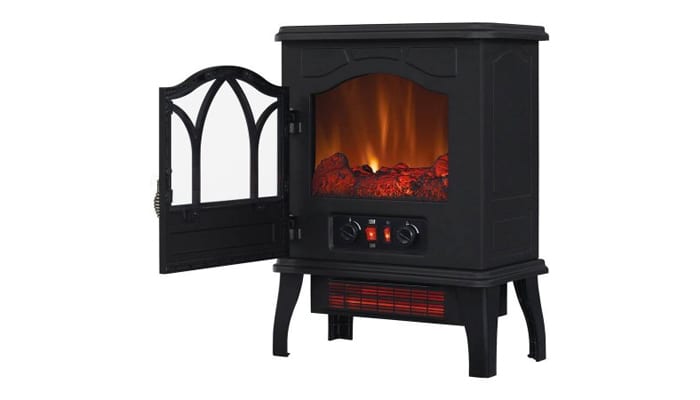 Infrared Quartz Electric Heater
Black Friday Price: $39 (was $67.82, list price $85)
If you need a little extra warmth this winter, check this out. The vintage stove look makes it about as pretty as a space heater can get. All of the ambiance of a fireplace with none of the smoke or fire tending, and at a price you can afford.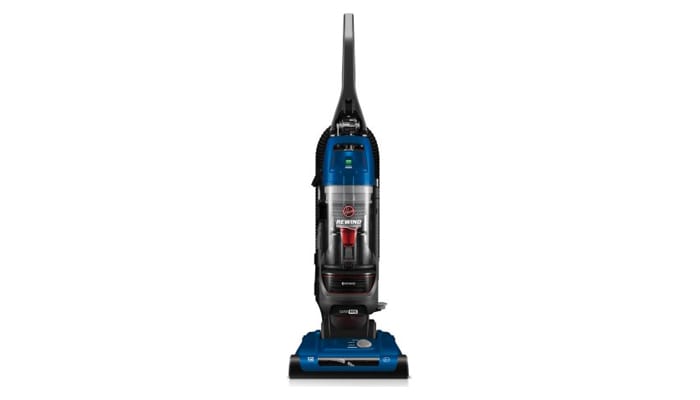 Hoover Rewind Upright Vacuum
Black Friday Price: $44 (was $88)
Sure this inexpensive vacuum was a repeat from last year, but it was a great deal then, too!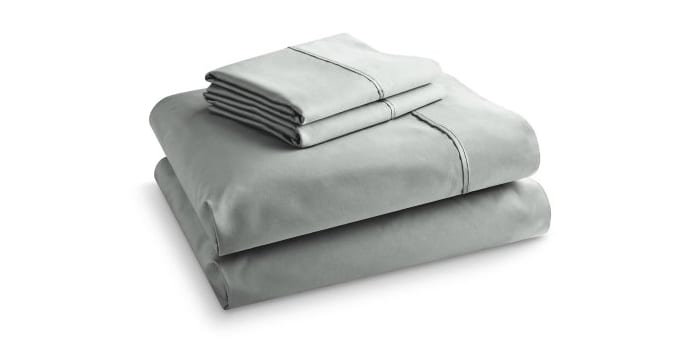 Hotel Style 1,100 TC Sheet Set
Black Friday Price: $24 (Special Buy)
This is easily the best price we've seen on 1,000+ thread count sheets for Black Friday 2017, which makes it a real contender for our round up of the top deals overall. (Stay tuned, it's coming soon!)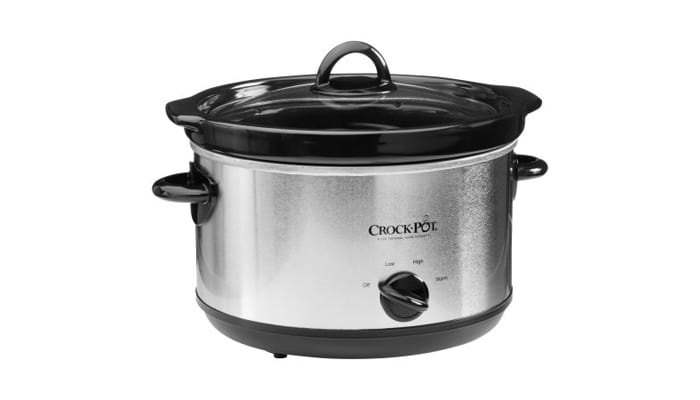 Crock-Pot 5-qt Slow Cooker
Black Friday Price: $9.88 (Special Buy)
It's impossible to understate the utility of a slow cooker. They use less energy than your stove. You can let them simmer all day while you're at work. They make fantastic soups, stews, applesauce, and I even use mine to dye yarn (with food-safe dyes, of course.) At this price, you can afford buy two.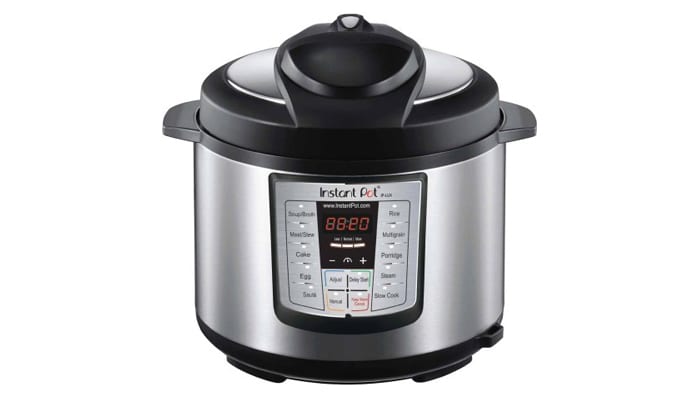 Instant Pot Lux 5-qt 6-in-1 Pressure Cooker
Black Friday Price: $49 (was $59)
Before you get super excited about a $49 Instant Pot, it's important to note that this is not the 7-in-1 model that you've been seeing everywhere this year. The Instant Pot Lux is smaller – 5 quarts instead of 6 – and doesn't include the yogurt-making function. The Lux normally sells for $59, so this is only a $10 discount. However, if you're cool with the smaller pot and don't have plans to make your own yogurt anytime soon, this is a solid deal and quite a bit less expensive than the DUO.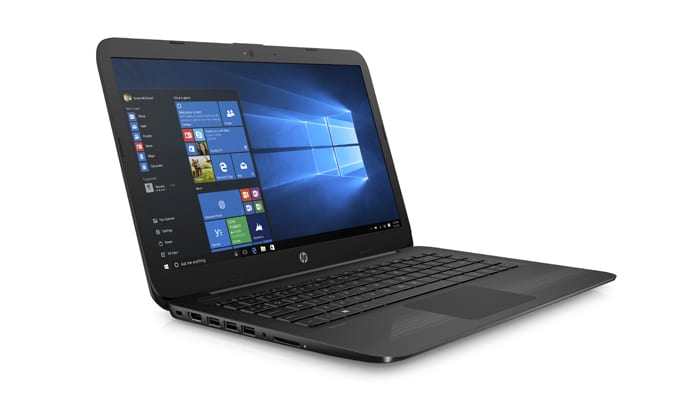 HP Stream Laptop 14" 4GB Memory 32GB
Black Friday Price: $179 (was $219)
With twice the memory and hard drive space of the bare bones bargain Chromebooks we've seen, the HP Stream Laptop at Walmart is very well priced for Black Friday.
Walmart deals you can shop right now:
Walmart Black Friday Sale: 25-50% Off!
RCA 50" 4K TV $300 Shipped
Oral-B 1000 Electric Toothbrush $20 AR