British Airways Status May Make Sense for Americans Frequent Flyers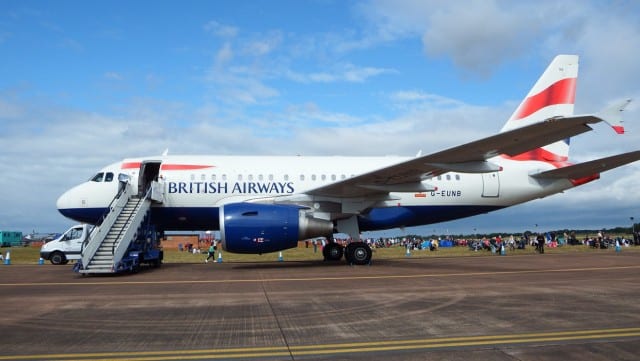 Editorial Disclaimer: Brad's Deals has partnered with CardRatings for our coverage of credit card products. Brad's Deals and CardRatings may receive a commission from card issuers. This content is not provided or commissioned by the issuer. Opinions expressed here are author's alone, not those of the issuer, and have not been reviewed, approved or otherwise endorsed by the issuer. This site may be compensated through the issuer's affiliate program. These user responses are not provided or commissioned by the bank advertiser. User responses have not been reviewed, approved or otherwise endorsed by the bank advertiser. It is not the bank advertiser's responsibility to ensure all posts and/or questions are answered. You can read our full advertiser disclosure:
click here
This summer, I decided I was fed up with my American Airlines AAdvantage status. Being a Phoenix-based flyer means I'm on American often, whether I like it or not. In the days before the merger with US Airways, a mid-tier Platinum member like myself would fly 50,000 miles a year with American and oneworld partners, and be rewarded with more-than-occasional upgrades. Luckily, there was a way to get most of my benefits of American status, with a lot more bonus benefits, through British Airways.
The Present State of American Status
American Airlines has added a new component to status-earning, the "Elite Qualifying Dollar," which puts a spend requirement on status earning. If I wanted to earn my same Platinum status, I would have to fly 50,000 miles (or 60 segments) and $6,000 in spend. On top of that, American is getting better at pricing and selling their first-class seats, so upgrades are fewer and farther between. What's a frequent traveler to do?
Enter: British Airways
American Airlines is a part of oneworld, which has 13 member airlines. Being a status member of any of those partners means some reciprocal benefits on American. So, if there was an airline that made equivalent status earning easier than American's, it was worth it to credit flights flown to the partner.
British Airways has three basic tiers of status: Bronze, Silver, and Gold. Each roughly maps to American's Gold, Platinum, and Executive Platinum status levels, with a few key differences.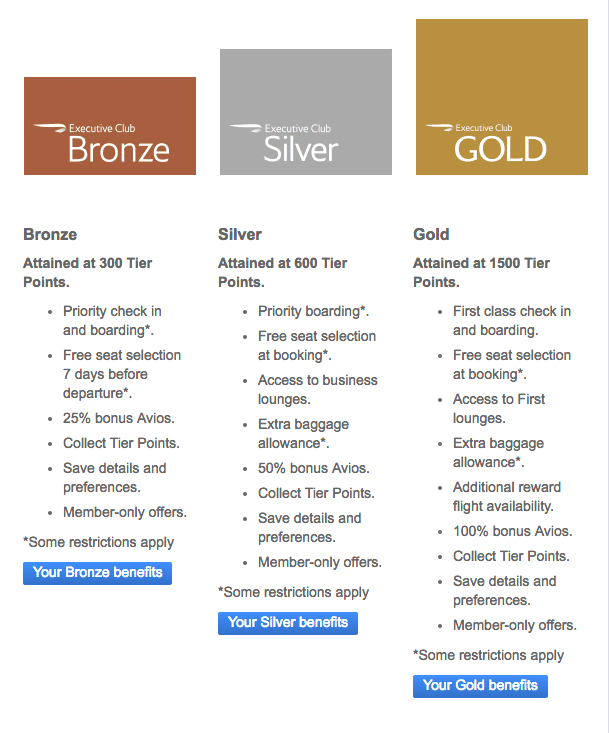 Similarities include free checked bags, free seat selection, and bonus Avios when flying on British Airways or some oneworld partners. You won't receive upgrades on American flights with British Airways status, which I decided was fine, since I wasn't getting upgraded with my current American status anyway.
The key part here, though, are the differences. First off, earning British Airways status involves tier points, which are roughly tied to the distance that you're flying and the class of travel. An economy seat on American over a normal distance in the US will earn you 5 tier points. A first class seat on the same flight will earn you 40 tier points! Longer flights earn you more points- a transatlantic flight, for example, earns you 140 tier points in business class. This isn't tied to any revenue component, so I made it my mission to find the cheapest business-class itinerary with the most segments and distance I could find. You also had to fly 4 segments on British Airways metal, which was easy enough on a European itinerary.
In exchange for earning 1500 tier points and achieving British Airways Gold status, I would get most of the benefits I already enjoyed with American Airlines, including Main Cabin Extra seats (now including free drinks!), plus being able to use ANY American or oneworld lounge for free, even on domestic itineraries. American frequent flyers enjoy no such privilege– they must be flying business or first class abroad to enjoy lounge access for free. On top of that, I would be able to use First Class Lounges across the network, no matter what class of travel I was in. I visit Los Angeles often, so I would be able to use the superb Qantas First Class lounge, complete with waiter service and full menu restaurant, for free, even with my hour flight back home to Phoenix.
I also found out that if I did not earn British Airways Gold again the next year, I would receive a "soft landing" down to British Airways Silver status, which still got me business lounge access and main cabin extra seats for another whole year. That means any money I spent flying was being used for two years' worth of status.
My Flights I Flew Just For Status
Thanks to the excellent Premium Fare Deals section of FlyerTalk, I found the opportunity for a mileage run that involved Phoenix! Unfortunately, it started in Bucharest, Romania, with Phoenix as the destination. Here's what my itinerary looked like:
That's Bucharest, Romania to London, then to Helsinki, Finland, then back to London, then to New York City, and finally to Phoenix. I would "layover" in Phoenix for a few weeks, and then fly back on the same route, in reverse. The cheapest dates were pricing out around $1,900, but I ended up paying about $2,200 for the trip. In exchange, I would earn 1040 tier points (enough for Silver status) and around 30,000 Avios for the trip, which I conservatively value at around $450, or 1.5 cents per Avios.
Keep in mind, this is all in business class, so I wouldn't have to pay for many meals on my trip, flights were comfortable, and I enjoyed lounge access while I was earning status.
For the rest of the tier points, I would gain a few through my regularly-planned American flying in the US. But, I was still a few tier points short. So, I found a cheap status-run from Los Angeles to Panama City, Panama, for $700. Much of this flight was paid for with "airline fee credits" from American Express cards that I hold. I would earn 9,066 Avios (valued at $136) plus 340 Avios that I needed for the status.
So, for under $3,000, I earned top-tier airline status for one year, and mid-tier status for another year after that. If you spent the same with American, you'd only have low-tier Gold status for one calendar year. I'll earn more Avios crediting to British Airways than I would with American Airlines, as they now award redeemable miles by how much you spend on a flight rather than the distance flown. I'll be able to enjoy First and Business Class lounges for free. And, I'll be able to enjoy most of the benefits of American status that I enjoyed before, without stressing about how much money I'm spending with an airline. To me, that's a win! Stay tuned for reviews of the flights on this crazy adventure.
Interested in dipping a toe into the world of points, miles, and elite travel tactics? Check out How to Use Points and Miles: A Beginner's Guide to get started.
Related deals: