My Experience Flying on American Airlines During the Pandemic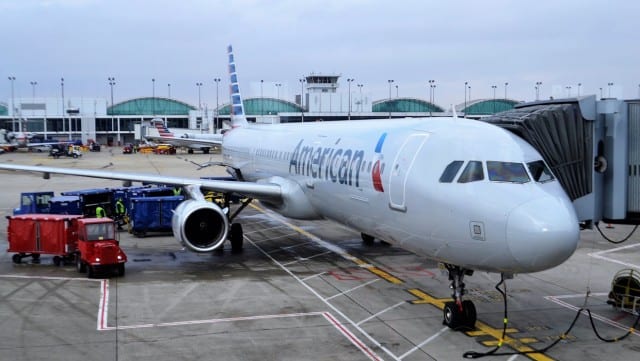 After spending an extended amount of time in Florida, avoiding the dry heat of July in Arizona, my wife and I needed flights home. As a holder of Executive Platinum status with American, I'm well-versed with the airline. Sadly, they are a necessary evil for an international flyer from Phoenix. With the airline having a distinctly different policy than Southwest when it comes to filling their planes during the pandemic, I was interested and nervous to see the results in practice. Here's a review of my flight from Miami to Phoenix in late July.
Flying American Airlines During the Coronavirus Pandemic
Booking the flight was easy enough. My wife and I had credits from a previously canceled flight on the airline. A quick call to my concierge line got the flight booked. It was a direct flight home to Phoenix from Miami for $170, which is pretty well priced. I value direct flights more than ever now, and while I did have a pleasant experience flying Southwest earlier in July, I couldn't get the same direct Southwest flight home out of Miami. JetBlue would have been a direct option from FLL, but my status benefits make flying American a more economical option.
With my status, I would have received free Main Cabin Extra seats at booking. Due to the pandemic, some strategic moves came into play when traveling as a twosome. I elected to book us in the bulkhead, with my wife in the window and myself on the aisle. That way, someone booking later would be discouraged to select the middle seat, which unfortunately isn't blocked on American, like it is on Southwest. We also received free checked bags, which was useful since we were carting golf clubs home from this trip.
The Airport Experience on American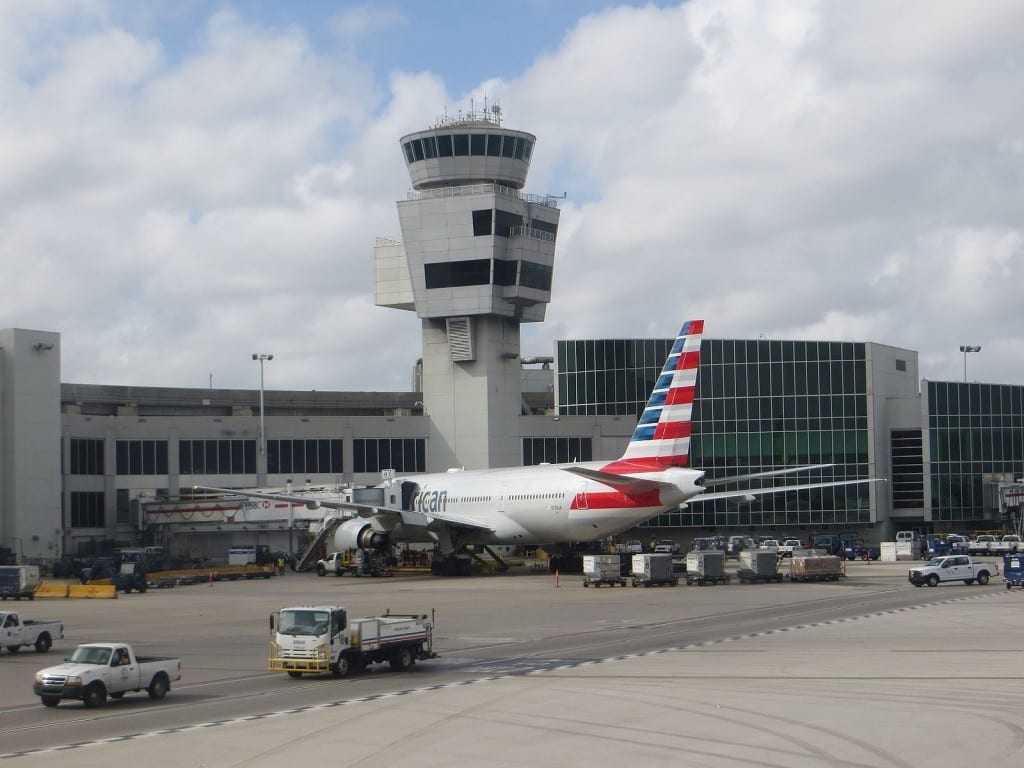 Before our flight, we had to return the rental car at Thrifty. Thankfully, they're located at the airport, connected by an automated tram to the main terminal, so it was a quick return. The tram also makes social distancing easier than taking a rental car shuttle.
The D Terminal was less busy than usual and most of the American Airlines check-in areas were closed, so we had a pretty long walk with our baggage to the Priority check-in. After a brief wait, an agent checked our bags and informed us that our upgrades weren't likely.
Normally, I'd be ecstatic flying American from Miami, because the airport is one of the best in the U.S. when it comes to lounge access. My American Express Platinum Card normally gets me access to the Centurion Lounge, but most airport lounges are temporarily closed due to the pandemic. There was one American lounge open at D-30, but I didn't have access with my current status. My Priority Pass card doesn't help much in terminal D, either.
We ended up waiting for our flight in the terminal, which was pretty empty at 9 PM on a Sunday. As an Executive Platinum, I could board with Group 2, which is right after First Class. This is where I think American Airlines is not doing as good of a job as Southwest. There was almost no attempt to social distance during the boarding procedures. Where Southwest limited boarding to ten people at a time, American's nine-group boarding procedure was completely the same as pre-pandemic trips. Luckily, we were the only passengers in Group 2, but we still had to hurry before they called Group 3 to keep our distance.
On the jet bridge, we made a conscious effort to stop 6 feet before the group ahead of us. And we appreciated that the group behind us did the same. On board, it was hard to give everyone space, but we did our best and found a place above our seats for our bags.
In Flight
American has severely limited on board contact, which is good for health, but noticeably different on a 4.5-hour flight than pre-pandemic. There was no in-flight beverage service. Instead, while boarding we received this bag containing water, Biscoff cookie, and hand sanitizer.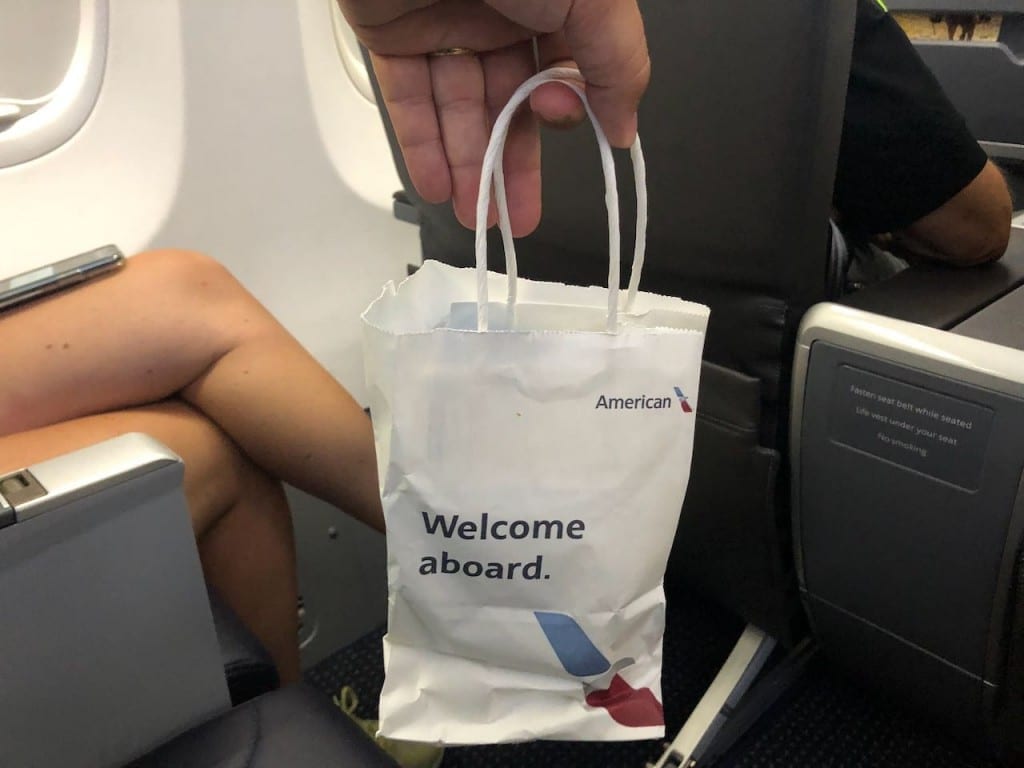 In First Class, it appeared that they received alcoholic drinks during their flight but no meals since our departure was after American's mealtimes.
No one ended up seated in the middle seat between my wife and me, which was great for such a long flight. Like most American flights, there were no seatback screens for entertainment, but we did have plugs to charge our devices.
Masks were required throughout the entire flight and I noticed everyone seemed to be following the rules, which was great. Frequent announcements were made and flight attendants made a check throughout the cabin before take-off to ensure mask compliance.
Overall
Our flight on American was uneventful, but I can't help but think about if American had sold the plane full and we had someone in our middle seat. This is where I think American is getting things wrong. Delta, Southwest, and JetBlue are limiting middle seats for the next few months to ensure consumer confidence that they're doing everything in their power for passenger safety. This makes me think twice about booking American for future flights, despite my holding top-tier status.