Frugal Living: What's the best deal you can get with $5?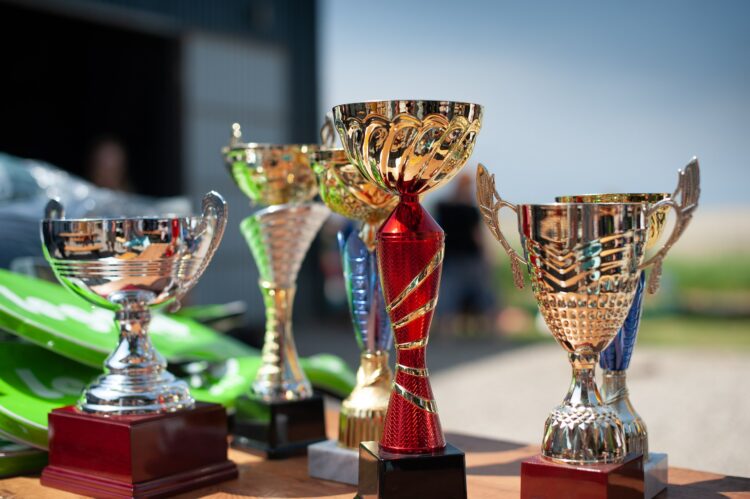 Jim hosts the first ever deal-hunting challenge on Frugal Living. We gave three guests five dollars (and a time limit of one week). In this episode, we learn what they found and you get to vote for a favorite! You can listen to Frugal Living with Jim Markus on Apple Podcasts, Spotify, Amazon, Anchor.fm, iHeartRadio, or anywhere you go to find podcasts.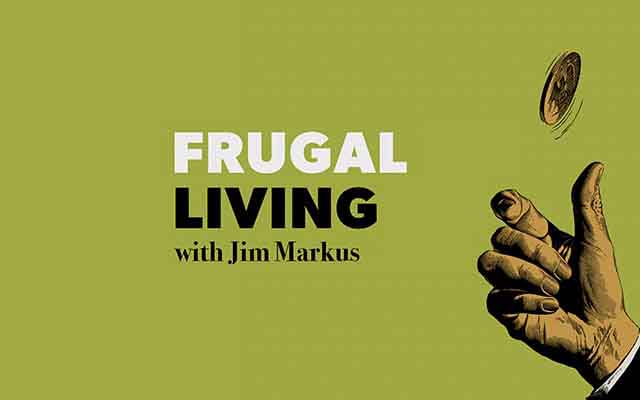 What's the best deal you can get for $5?
We talked to three guests for this episode. Christina Rivera spoke first. She used a cash-back program to score $30 worth of athletic wear with the $5 we gave her. Specifically, she chose these Nike Running Shorts and this Nike Headband. Total MRSP value: $36.
Things to consider with Christina's finds: Christina found a unique offer on a cash-back site. For a limited time, they said she could earn $25 by spending $25 at Nike. She maximized the savings by choosing discounted shorts (normally $30, on sale for just under $23), and she bumped her purchase a little higher with a snazzy headband. Nike offers free shipping when you log in with a free Nike+ account, so she didn't even have to pay extra for delivery. To get the cash back, she just needs to wait for the site to process her funds.
Our second guest, Lindsay Weekes, scored this Wireless Charging Pad for $5. . . and that included shipping! Total MSRP value: $10.
Things to consider with Lindsay's finds: Lindsay originally planned to shop at Kohl's to find a highly-discounted products with free store pickup. Instead, she spotted an eye-catching price at Brad's Deals. An editor, Mike, posted this wireless charging pad with a 50% discount (and free shipping). I still can't find this charger anywhere else for less than $10 when you factor in shipping.
Casey Runyan, the Vice President and Managing Editor at Brad's Deals, used pre-saved rewards at Target to nab CeraVe Face Wash, a 32-pack of Starface Hydro-Stars, and a bottle of Strengthening Nail Polish Remover. The MSRP value? $24.57.
Things to consider with Casey's finds: Target offers free store pickup, regardless of order size. So these products didn't need to have any extra costs once she placed the order. While these products weren't on sale when she found them, the method she used can be used for discounted products to save even more. She also didn't need to wait for a third-party company to reimburse her. . . and she qualified for a free $5 gift card with her purchase.
Ready to Decide Who Found the Best Deal?
Let us know who found the best deal on our Twitter poll, or leave a comment below. We will unveil the winner in a few weeks on the show.
Today's episode was sponsored by Aosom. Check out their site, or see what the editors at Brad's Deals found for more discounts.
Read a Transcript of This Episode
Jim:
Today's sponsor is Aosom. And I mean that literally. Aosom.com. They're known for low prices, U.S.-based customer support, and one of my favorites, free shipping with no minimum order size. Check out Aosom.com for discounts on home goods, patio furniture, pet supplies, and more. That's Aosom.com. Awesome. <music> This week on Frugal Living, we're doing our first ever no-holds-barred deal-hunting challenge. The challenge was simple. Find the best deal you can in a week. But there was a catch. We gave them $5 and they can't spend more than that. Some asked for more information, but we declined specifically to give any additional guidance. We wanted to see what they'd come up with. And we know this is a very low budget, but we figured, "Let's give it a try." I'm interested. What can you find for $5? After the show, be sure to check out the show notes. We'll have a link to our blog. And of course you can find Frugal Living on Instagram, Twitter, Facebook. And you can vote for the winner of this episode. Are you ready to see how they fared? First up: Christina Rivera. She's one of my coworkers, an editor at Brad's Deals, and a first-time guest on the show. You had $5 in a week. What was the best deal you found?
Christina:
Have you seen that episode of The Office where Dwight starts out with a thumbtack and he trades it up for a telescope?
Jim:
Yes.
Christina:
I took a Dwight thumbtack telescope approach to the challenge. So I wanted to take my five bucks and turn it into more money. So recently I've been getting really into these cashback apps that'll just reward you for shopping. And I found one. As a new sign up, they were doing this thing where if you spent $25 or more at Nike, they would give you $25 back. I thought by signing up I could get technically 30 bucks instead of five bucks. So what I did is I signed up for their program and shopped through their link and I bought basically $30 worth of Nike clothes for five bucks.
Jim:
That's crazy.
Christina:
So, I mean, I went a little bit over. They, kind of, got me on the taxes. I wasn't really thinking about the taxes. So I went over by, like, 75 cents.
Jim:
No, that's awesome. What specifically did you get?
Christina:
I got–Okay, so my husband never lets me buy athletic clothes 'cause I, kinda, have a problem with it. But I figured if it was free, he couldn't say anything. So I bought these Nike Pro shorts. They actually sell for about $30 and they were on sale for, like, 23. And I've been eyeing those. So I snagged those. And then I threw in, like, a headband for six bucks to, kinda, get the $30 threshold that I needed to get my money back.
Jim:
That's fantastic. So basically you walked outta here even. Like, with a bunch of stuff without ever having to pay.
Christina:
A bunch of stuff that I didn't have to pay for. I mean, I paid 75 cents, but I'm not too mad about it.
Jim:
Yeah. That's a pretty good find for 75 cents.
Christina:
I'd say!
Jim:
Is the cash back, like, money? Or is it, like, credit for them?
Christina:
Yeah, it's money! So the only thing is it's not, like, instant. They need to, like, verify your purchase, which they did. And then you have to wait a couple weeks to get your money back. So technically I'm still out for 25 bucks, but I do see it credited in my account. It just takes a while to, like, process. But I think I can get it back in either gift cards or just straight-up cash money. So I'm pretty excited about it.
Jim:
Ah, that's awesome. Do you have any guesses on what the other people did with their… I'm not gonna tell you, but I'd love to hear if you have any guesses on how they did theirs.
Christina:
I have no idea. I mean, they're so good at finding deals. Oh my goodness. I'm sure Casey found, like, a Gucci handbag for, like, five bucks shipped somewhere. So, that's basically my guess.
Jim:
Awesome. Honestly, I talked to Lindsay. She was, she said the same thing. She's like, "I didn't realize Casey was doing this."
Christina:
Yeah! Oh, she's the one to beat.
Jim:
Yeah, it seems like everyone has high expectations. It's only $5. It's too low to find, like, an easy deal.
Christina:
I know! I, I struggled this, with this one too, because well, like, a few weeks ago I bought something. Like, Dana had posted a deal, like, a Subscribe & Save deal on Amazon. It was, like, three Burt's Bees lotions for, like, two eighty-eight. And I have Prime. So it shipped for three bucks. So I was like, "Ooh, too bad this wasn't, like, three weeks ago. That was a pretty good deal."
Jim:
That was a really good deal. Yeah.
Christina:
Yeah. Subscribe & Save then was gonna be my, like, second go-to 'cause they have a lot of good deals where you can get a lot of stuff for cheap if you just, you know, cancel it right away. I'm all about the loophole.
Jim:
Next: Lindsay Weekes. Avid listeners might remember Lindsay from our episode Having a Kid is Expensive. I asked her all about shopping as a new parent and she shared a bunch of useful tips on that show. Here's what she found. So you had a week. You had $5. What was the best deal you found?
Lindsay:
Okay. Well I have to say that when you said the challenge, automatically where I thought I would go is to Kohl's because if you've earned Kohl's Cash you can get an extra $10. And I thought I could use $10 plus the five and they have a lot of great things for kids. And so I could've gotten, you know, leggings and stuff. And it just so happened that during that week there was not a Kohl's Cash redemption time. So I thought, "Eh." And all of a sudden I was working and Mike posted a wireless charger for phones from AT&T for $5. And so that's what I bought. And I have to say, I don't know if it's gonna be any good, but I just thought for a guest room, just having a charger where people can use it. Like, I don't really care if it's the best quality. So that's what I bought. And it was originally priced at $10. It was discounted 50%. So it was discounted to $5. It's just a basic black wireless charger with a cable. And so I thought, if nothing else, I'll pop it in our guest room. And that way, when people come over, they can use a wireless charger.
Jim:
Very cool. So you got something that'll help people who stay with you. It's useful. And you found it in a week for $5, which is pretty impressive.
Lindsay:
Yeah, it was funny because I wasn't even going there in my mind. I was thinking, you know, something for kids, I was thinking leggings. And then it just popped up and I was like, "This is perfect." Because we run through so many chargers, you know, just having an extra charger around I just thought was great. And honestly, I don't know much about the specs. I don't know how it's–it hasn't arrived yet. So I'm not really sure. I haven't had a chance to test it out, but I was pretty excited. I thought it was a good deal, 50% off. And quite frankly, I didn't even know you could get a charger, a wireless charger, for that quote, unquote cheap. But it's still live on the site too. So feel free to go there and buy one yourself.
Jim:
That's awesome. We're not looking at the picture of it right now. What does this thing look like? You say it's a wireless charger. You plug it into the wall and then you put your phone on it?
Lindsay:
Yep. The specs look like almost… Imagine a piece, a regular piece of bread, like, a slice of bread. It looks sort of square like that, almost like a piece of Wonder bread, let's say, only it's black. And then there's a wire that charges into the wall. I think the specs said something about 10 watts, but I am not a tech person, so I don't know anything about that. But I can assume because one of our tech editors posted it, it's a good enough quality. And it's actually done really well on the site. A lot of people have bought it. So I'm just one of many who got this deal.
Jim:
Awesome. Well, I'm going to definitely then follow up with you in a couple of weeks, once you've gotten it and once you've had a chance to use it. And I wanna know how it worked.
Lindsay:
Yeah. I'm excited. I think actually it might even be arriving today. So I think it's supposed to arrive the 22nd through the 24th, something like that. So pretty excited. Funny thing is, without this I probably never would've bought it. But because that $5 was, you know, on my radar, I saw it and bought it.
Jim:
Our final contestant was famously the very first guest we ever had on Frugal Living, Casey Runyan. She's the vice president and managing editor at Brad's Deals. And she's an absolute genius at deal hunting. You had $5 in a week. What did you do? What was the best deal you found?
Casey:
So I took that $5 and Target has this running promotion that they frequently run. Sometimes it's $5 with 25 on health and beauty. Sometimes it's $10 on 30 with health and beauty. So I had $20 in Target gift cards already. So I combined that with your $5 and I purchased some more health and beauty stuff. I got some nail polish remover, some CeraVe hydrating face wash, and some pimple patches. And because of the timing of this, I was able to, with $25, I got an additional $5 gift card.
Jim:
You basically broke even on this.
Casey:
Yeah. And I came out of it with $25 worth of stuff.
Jim:
So the $25 worth of health and beauty products, were any of those on sale? Or did you just go, "You know what, let's price all of these."
Casey:
Actually, a lot of this stuff is just, kind of, this is the price for it. You know, like, and these are products that I, that I use regularly and they are themselves affordable. And, you know, you're not gonna find a better price except for very rarely. So there're things that I normally buy at retail. But, you know, using hacks like these is another way of maximizing. Like, I time all of my health and beauty orders around those gift card promotions. And by the way, I, like, earned and redeemed within the same period and earned again. You know, and if I have a bigger order as I really do appreciate bubble baths, and so I need, like, salts and bubbles and stuff to, you know, accompany my experience. And I'll divide my order so that I get multiple gift cards. Also Target loves to overload their boxes and they're really heavy with the bubble bath. So I almost prefer the smaller order, slightly smaller, so they're not, like, falling all over the place and spilling out of the box.
Jim:
No, that's incredible. So by just being who you are, you had already earned a bunch of rewards.
Casey:
So I've got $5 just sitting there waiting for my next purchase. And I also got this stuff that I need and use and is valuable to me.
Jim:
Incredible.
Casey:
You know, I know that going in with the, the gift card balance maybe, sort of, feels like overkill or–But, like, but the thing is that was something that I just had by nature of how I shop. I always, kind of, have these Target gift cards sitting on my account and it's a great way to save on stuff that doesn't really go on sale.
Jim:
Totally. Yeah. Like, places like Kohl's have Kohl's Cash that you can, kind of, like, hoard for Kohl's Cash redemption periods. Like, there's just a lot of places do this in unique ways, but I love that you chose Target. It's huge. What a place to save. Like, when you're earning rewards at Target, you can spend that on all sorts of stuff that you can use every day.
Casey:
Right. And it doesn't even have to be on the health and beauty. I did it in this case because I was, like, I wanted to get that $5 back. But it doesn't have to be. It is, like, I mean, if you're thinking about five on 25, that is effectively a 20% discount. And when it's 10 on 30, that's a 33% discount. And if those are on things that don't–'cause there are things that just don't go on sale. Right? I mean, that's just a fact of life. And so if you can get a discount on those, that's actually a very meaningful discount because you're, you're getting something that is very hard to get to. Oh, and I also, by the way, I used my Target RedCard. So I did also save 5% overall, you know, on everything.
Jim:
Man, the discounts just keep coming. I just wanna clarify, you didn't get any advanced knowledge of this. You heard about this at the same time as everyone else. Like, there's no way you could have, given the time you heard, gained $20.
Casey:
Yeah, no. I think that this was from… There's definitely a promotion in December that I took advantage of. And then I did a double order that was a 10 with 30. And then there was a double order with a five for 25. And when I realized that I had $20 in there and it was another, you know, earning period for this promotion and I could get to 25 with your $5 and earn another $5 gift card. I was like, "Oh, this, I, I have to do this."
Jim:
Perfect. It just, it's meant to be.
Casey:
Yeah. Oh, and my other thing, I didn't wanna have to go shopping. I didn't wanna have to go to a store. And obviously, you know, that does start to limit things.
Jim:
My strategy, which I didn't wanna share with any of you 'cause I wanted to see if any of you would do it. I would've hit an estate sale. That's the only place I can think of. Like, $5 is nothing. But I think I can get, like, like a dining room chair, you know, maybe if I wait until the last day of an estate sale.
Casey:
Yeah. I used to be a big thrifter. And, you know, I, I am somebody, I love to look up, like, the maker's marks on things. I look at the tags and figure out their provenance. And I've definitely gotten things like, you know, a silver-plated, sort of, decorative plate. And, like, looked up the maker's mark and, and did some research and found identical items selling on eBay for $60. And I, I spent $2 on it. Or, you know, a vintage coat. Actually, I remember this one. It was $1.50. And I looked it up and this coat was literally from the sixties and is, was, like, a, sort of, fancy party coat that you would wear, you know, like, going for, like, a night out.
Jim:
That's incredible. I mean, what a find.
Casey:
There's a show in the UK, Antiques Road Trip. And it's basically, they give these antiques, sort of, experts an amount of money and send them to, like, all of the, you know, antique stores in a certain location. And they have to find things and then they take them to auction. And then they do that for a whole week and see who comes out on top. It's basically competitive shopping. And when I was in the UK, I was completely riveted by the show because I'm like, "This is so right up my alley." I'm not an antiques expert by any means. But, like, I love the, like, just going and being able to spot that thing that's special.
Jim:
There you have it. Three different guests with three totally different deals. Who found the best option? That's up to you, the Frugal Living podcast community. Remember to check the show notes for a link to our blog and you can vote for the winner there. Plus you can see what they found. We have links to the specific products there if you wanna take a closer look. We'll reveal the winner in a few weeks after the votes come in. Special thanks to our three guests, Christina Rivera, Lindsay Weekes, and Casey Runyan, and to our audio editor intern, Genny Blauvelt. I'm Jim Markus.
Jim:
Today's show is also sponsored by Brad's Deals. That's B R A D S D E A L S. You can find it at BradsDeals.com or check out the new YouTube show "What's the Deal" with Chris Rucks. You can find that at YouTube.com/BradsDeals. Chris talks about a lot of interesting subjects. But the one that caught my eye recently, he talks to Mark Jackson. That name should sound familiar if you've been listening to Frugal Living for any amount of time. Mark has appeared on multiple episodes. He always talks to us about travel, but he's the travel and finance expert at Brad's Deals. Chris asked him, "What's the deal with taxes? How do you find a deal on tax filing software? Why do we need to use tax filing software? Do you need to use tax filing software?" All these things are covered in a really good, pretty short episode on YouTube. It's YouTube.com/BradsDeals. Check it out there.
More about Frugal Living with Jim Markus
To hear more episodes about deal hunting, check out the latest episode of Frugal Living. Frugal Living is a podcast for smart consumers. How do you spend less and get more? The show, sponsored by Brad's Deals, features interviews, stories, tips, and tricks. Jim Markus hosts season four, out now.