How I Used Travel Hacks to Save Hundreds on a Trip to Hawaii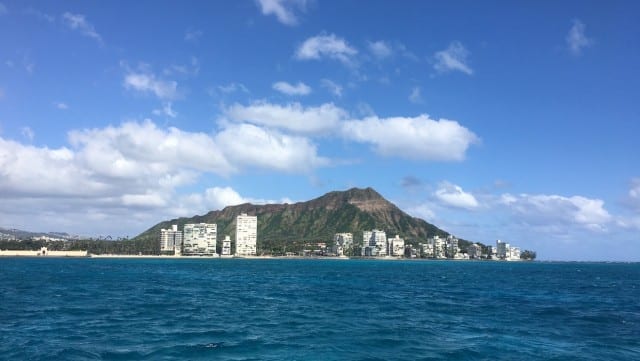 Editorial Disclaimer: Brad's Deals has partnered with CardRatings for our coverage of credit card products. Brad's Deals and CardRatings may receive a commission from card issuers. This content is not provided or commissioned by the issuer. Opinions expressed here are author's alone, not those of the issuer, and have not been reviewed, approved or otherwise endorsed by the issuer. This site may be compensated through the issuer's affiliate program. These user responses are not provided or commissioned by the bank advertiser. User responses have not been reviewed, approved or otherwise endorsed by the bank advertiser. It is not the bank advertiser's responsibility to ensure all posts and/or questions are answered. You can read our full advertiser disclosure:
click here
My wife's family had planned an extended trip to Honolulu based on amazing flight prices from Phoenix to Hawaii for under $350 round-trip. We wanted to join in on the fun, but had limited time away from work. With points, miles, and the new Hilton Honors Aspire Card from American Express, I had the tools needed to get us there and back, with a hotel for three nights on Waikiki, for under $600. Read on to see how I did it.
© Mark Jackson. All rights reserved.
Booking the Flights
We live in Phoenix, Arizona, which has direct flights to all of the islands on American Airlines and directs to Honolulu on Hawaiian Airlines. Since American merged with US Airways, award space has been very tough to come by, and even more rare for direct flights. I thought there was no hope for availability on our Thursday to Sunday dates, even with a connection. Miraculously, there was availability on American, and direct both ways!
Booking on American Airlines using AAdvantage Miles would have cost us 40,000 miles round-trip per person, plus $11.20 in taxes in economy. Luckily, British Airways, a partner of American Airlines, operates on a distance-based award chart for their Avios award currency. So instead, we were able to fly for 25,000 Avios per person, plus $11.20 in taxes in economy. I feature this trick in my post about the best uses for British Airways Avios–check it out!
To book, I used 20,000 Avios remaining from my 50,000 point sign-up bonus from the British Airways Credit Card and transferred the 30,000 remaining from my Ultimate Rewards account. Cash prices would have been $714 round-trip per person at booking, so we got 2.8 cents per point in value. I value Avios at about 1.5 cents per Avios, and Ultimate Rewards at 2.0 cents per point, so we definitely got a great redemption.
Flying to Honolulu
© Mark Jackson. All rights reserved.
We were able to fly on American Airlines' A330 (an old US Airways plane). This plane, normally used for international itineraries due to its size, is a much better pick than our other option for the same mileage: a standard 737. This is important no matter what class you chose to redeem miles to fly. The A330 has lie-flat seats in its first-class cabin, which is great for a seven-hour flight. In economy, we were able to have 33 inches of legroom and seat-back entertainment. Contrary to what you might think, there are no free meals to Honolulu on American–it's treated as a regular domestic flight (that means free soft drinks and Biscoff cookies). If you fly on Hawaiian Airlines (or from DFW on American), you'll get a free in-flight meal.
The seat pitch is very important to me, as someone with long legs. It made the ride much more comfortable, and since we were flying back on a red-eye, I wasn't subjected to as much torture as flying on a 737, with only 31 inches of pitch. None of this quelled my jealousy of those lying flat up in first class, though.
Booking a Hotel in Honolulu

© Mark Jackson. All rights reserved.
With my wife's parents staying at the Hale Koa, a military hotel, we needed somewhere to stay close by to them. I currently have top-tier status with Hyatt, Hilton, and SPG, and wanted to stay at either a Hyatt or SPG hotel for status re-qualification purposes. The Sheraton Waikiki was pretty close by, but the price per night was too much for us. The Hyatt Regency, while it looked nice, would've been too far of a walk, as it was on the other end of Waikiki. The Hilton Hawaiian Village was sold out for our dates.
Instead, we decided to try out the Embassy Suites by Hilton Waikiki Beach Walk, due to a number of factors. We were able to find a rate for a three-night stay for $1,019, using an AARP rate. While I'm not of retirement age, I pay the $15 AARP membership yearly for several discounts, including occasional preferred rates at hotels.
My wife had just received the Hilton Honors Aspire Card from American Express, and that comes with a $250 Hilton resort credit yearly. One can use this towards the room rate (so long as you're staying at a participating resort property) just by charging the room rate to your Aspire card. So, our out-of-pocket cost was going to be just $769 for three nights!
It got better, as there was an Amex Offer that went live a week before our trip for $200 off Hawaiian resorts if you spend $1,000. That knocked our out-of-pocket cost down to $569!
The Hotel
© Mark Jackson. All rights reserved.
While the Embassy Suites brand doesn't usually invoke the thought of "resort," we were very impressed with our stay in Waikiki. Note, the property is one block off the beach, so if you want to stay right on the water, this isn't the hotel for you. However, our room was in a corner on the 12th floor, overlooking the ocean from our three (!) balconies, so we didn't miss being on the beach that much. The resort also does not charge a resort fee, which is very rare in Hawaii.
© Mark Jackson. All rights reserved.
All Embassy Suites worldwide have two-room suites as a standard room, so you already have a larger size than most Waikiki rooms to start. Plus, everyone at the hotel receives free made-to-order breakfast, as well as a two-hour complimentary happy hour each evening. Here, both of those happened near the pool area.
Breakfast featured lots of Japanese cuisine, as there is a large tourist presence from there in Honolulu. There was lots of food, as the hotel was sold out for our dates, and we found it to be decent quality (though nothing five star). Extra points for having a super-cool automated miso-soup dispenser!
Happy hour was very busy, and we found the drinks to be a little strong (and low quality). But, in Waikiki, free drinks are hard to come by, so we didn't complain too much.
Activities on the Island
© Mark Jackson. All rights reserved.
We wanted to relax this trip, and we spent most of our time at the beach. I caught a cold just before departing on our journey, so much of my vacation was spent coughing. However, we did spend our last day driving around the island, visiting Manoa Falls, Hanauma Bay, Kualoa Ranch (aka Jurassic Park), and the North Shore. We used AutoSlash to find a rental car for the day for $51 with taxes, picking up from Waikiki and dropping off at the airport. That saved us close to $30 on an Uber, so it was a no-brainer to have transport for the whole day!
Earning Points
Since I had to pay airfare taxes out of pocket, I used my American Express Platinum Card for 5 points per dollar, since we were booking directly through an airline. While the Platinum Card doesn't have as good of protection as the Citi Prestige or Chase Sapphire Reserve Card, I wanted to earn as many points as possible this trip. Award flights don't earn award points, unfortunately.
Total earned: 112 Membership Rewards Points, or $2.24 in value.
For our Embassy Suites stay, we really cleaned up. Since I am a Diamond Member (free just for having the Aspire credit card), I earn 20 points per dollar for every dollar spent at the hotel, or 20,380 Hilton Points for our stay. In addition, the Aspire Card earns 14 points per dollar spent at Hilton hotels. Since we were using Amex offers and credit-card resort credits, we'd only earn points on the amount after the credits, so 7,996 Hilton points. We also took advantage of 500 free Hilton points for checking in on the timeshare desk.
Total earned: 28,876 Hilton Points, or $144.38 in value.
Summing Up…
© Mark Jackson. All rights reserved.
While three nights in Hawaii may be a bit short for some, especially those on the East Coast, we really maximized our time and felt relaxed after our trip. We loved having three full days on the island, as well as enough time for a luau on our night of arrival. We'd do it again in a heartbeat!