Find Cheap, Authentic Dooney & Bourke Handbags on Sale
Dooney & Bourke has quite the array of colors to choose from for their handbags, but the price tag can be pretty hefty if you don't receive your bag as a gift. If you're looking for my best kept secret …
---
Dooney & Bourke has quite the array of colors to choose from for their handbags, but the price tag can be pretty hefty if you don't receive your bag as a gift. If you're looking for my best kept secret on where to find the best deals on Dooney bags, look no further because it's about to be revealed!
How to Find The Best Deals on Dooney & Bourke Handbags
Shop at Dooney.com and their partner site, ILoveDooney.com
Seriously. I've been price checking them for the past two years and very rarely do I see any of the department stores or Amazon beat them. eBay sellers seem to also struggle to compete with their frequent up to 50% off flash sales.
Dooney Pay
While this isn't necessarily a savings tip, if you purchase directly from Dooney.com you can use a monthly interest-free payment plan for most of the bags on their site. Look for the small Dooney Pay icon on the product page called Dooney Pay.
Here's how it works; you buy your bag and pay a third of the price on the day your bag ships, then the other two thirds over the following two months, interest-free.

Sign up for Email Newsletters
Dooney.com offers 10% off your purchase when you sign up for their email newsletter. Other sites that sell Dooney & Bourke bags offer similar coupons, which are typically advertised on the bottom of the homepage.

For the Latest Releases
If you're looking for the latest releases then you'll want to focus your deal hunt at Dooney.com. In the winter they have their biggest sale of the year called 12 Days of Dooney which includes new styles at up to 50% off. Other times of year, such as just before Valentine's Day and Mother's Day you'll find promo codes for 20% off, which can be stacked with existing sale prices.

Last Season's Styles
If you like a bag with a little pop of color (or a lot) then ILoveDooney is going to be your new favorite site. They tend to get more of last season's styles and colors that are not as popular (purple or lemon satchels anyone?). Because they are a partner of Dooney & Bourke, all bags purchased are still covered by the 1-year guarantee and are authentic. They also ship directly from one of Dooney's warehouses, if that gives you peace of mind.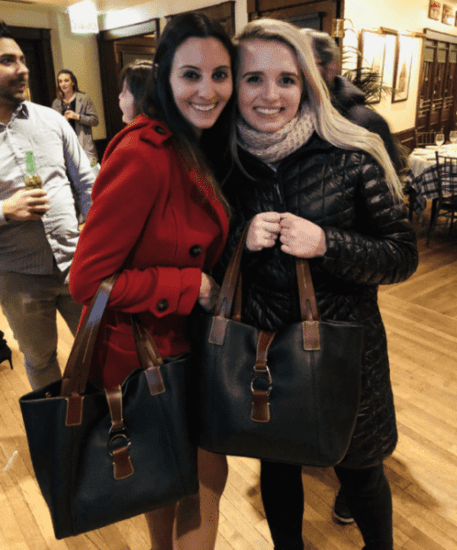 Department Stores
Other retailers that are worth mentioning for Dooney deals are Macy's and Boscov's, which on a few rare occasions have been a few bucks less than purchasing through Dooney & Bourke directly. However, this can easily be fixed with an exclusive deal here at Brad's Deals, which Dooney gives us on the regular so keep an eye on this link for the latest Dooney deals I've cooked up for you!

Get Deal Alerts!
I would hate to see you miss a killer price on your favorite style, so the best way to be the first to find out when we post new Dooney bag deals is to set up a Dooney & Bourke deal alert. These deals are very popular here at Brad's Deals and have sold out in as little as 6 hours! To set up a deal alert for this brand, enter the search term "Dooney & Bourke" into our search bar and then click "Create Alert" either as a keyword or a brand. This will ensure you're always one step ahead of the game.
How to Spot Fake Dooney & Bourke Bags
A popular question readers would ask when we first started finding these crazy good deals was, "Is this bag authentic?" Little did they know that ILoveDooney was a partner of Dooney.com, so I can sympathize with this concern. How do we know that ILoveDooney is legit? Well, check out Dooney & Bourke's sale page – they link directly to ILoveDooney from there, which is about as strong an endorsement as you'll ever get.
Here's a few more tips to help you spot a fake that I found from a article by eBay:
Does it have the Dooney & Bourke logo sewn into the interior seam of the bag?
Did it ship with a Dooney & Bourke guarantee card?
Does it have a price tag attached stating the style number?
What Dooney style are you in love with right now? Let us know in the comments!
Related Dooney & Bourke deals:

Related coupons:
Cover photo: Copyright Dooney & Bourke. All rights reserved.