How to Get To Disney World for Almost Free
Update: We've cut $100 off the plan!
Below you'll find a blueprint for a family of four to go to Walt Disney World for about $100 $1.10, including airfare, 5 nights at a hotel on Disney property and 4 days in the parks. This trip has a street value of $4,000-$5,000 and should take less time to put together than the average Disney-bound family needs to save for their vacation.
I have a daughter who is almost four and a son who is just a little more than a year old, so I'm not quite at Disney World time, but a friend of mine who is recently said to me "Brad, do you know what it was going to cost to take the family to Disney World for a week? $10,000!" I was shocked – that's a ton of money to pay for one of the quintessential experiences of American childhood – but I told him that, as always, there must be a better way to approach Disney, one where you actually get a deal! Fortunately, there is.
I know that a Disney vacation for $100 $1.10 sounds too good to be true to anyone new to travel hacking, but for those that have read Do More, Spend Less, taken advantage of prior deals like flying first class to Hawaii for $285, or have seen how our travel editor Mark recently used some of his Ultimate Rewards points to take a $60,000 Luxury Honeymoon to 5 Countries for $2,500 using many of these same tactics, it won't come as a surprise. When used properly, rewards are a great way to travel inexpensively. If you've never done anything like this before it requires a bit of a leap of faith but you'll soon realize that smart travelers don't merely use Travelocity and Expedia to get slightly better fares, they use free points and miles to pay little or nothing at all.
Before we get started, I want to address five common questions and concerns that people new to travel hacking often have.
1. This will take awhile, and you will have to work for it.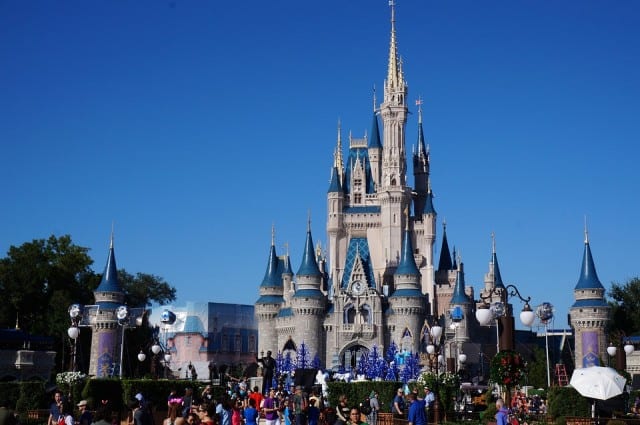 Let's get one thing straight right off the bat: My plan will NOT get you to Disney World next week. It will take up to a year of careful budgeting and credit card management to accomplish, but in the end it will get you a 4-day 5-night Disney World vacation for roughly $100 $1.10. Assuming a $4,000 value, you would have to put away about $308 per month for 12 months to pay for the same trip out of pocket in the same time frame, and many families would find that a daunting prospect. Once you get used to this and build up a nest egg of points and miles, the next trip won't take nearly as much planning or lead time.
2. You and a partner will be applying for multiple credit cards.
Using this plan, you and a partner each will be applying for 3-4 credit cards, each of which has minimum spending requirements which must be met to cash in on the reward. Can you get to those minimum spends quickly? Yes, but we're not advocating that since for most families that means going into debt. This is not about going into debt.
If you follow my plan to the letter, you won't be doing that. You'll be shifting your common everyday household expenses on these new credit cards – expenses you're already paying for, like groceries, gas, pizza Fridays, your morning Starbucks run, your cable and cell phone bills, maybe even your monthly utilities – and paying off the entire balance every month. And once you've met the minimum spend that unlocks the reward that gets you to Disney World almost for free, you can put them on ice.
3. Yes, new applications can affect your credit score, but more credit makes it even stronger.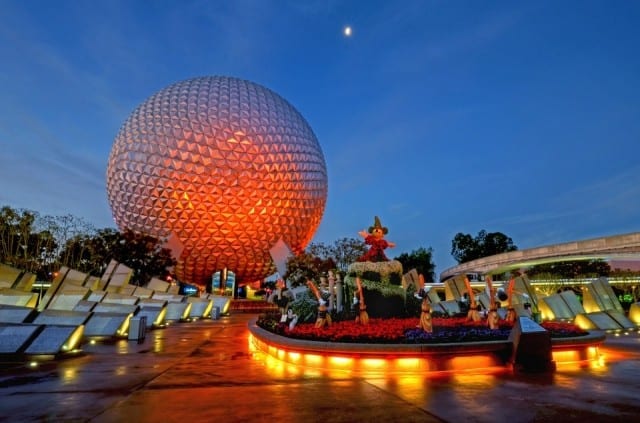 I addressed this in Do More, Spend Less:
I am sure that many of you have read portions of this book and dismissed them out of hand because of concern for your credit score. As the human guinea pig for most of the deals in this book, I am here to tell you that your fears are misplaced; you do not need to worry so much about this. In fact, while you should worry about it a little for a few months, over the middle and long-term the advantage of having more credit greatly outweighs the disadvantage of more inquiries.

Let's take a look at one of the most extreme examples.

Believe it or not, I applied for 17 credit cards on October 27th, 2008. When I woke up that day, I had a Transunion credit score of 722; which is very good but not great (this was a long time ago, before I knew what I know now). My scores with Equifax and Experian were in the same ballpark.

One month later, on November 26h, my score was 684. It had fallen 38 points as a result of the inquiries. By December 9th, it was on the march, back up to 705 as some of the new accounts started to report, lowering my all-powerful ratio of balances to available credit. By February 23rd, it had come full circle and was 741, a full 19 points above where I started. More importantly, I was above 740 and into prime lending territory for the first time since I was a college student.

I did something that most people think would destroy their credit. Why did my score, in practice, only go down a relative little and why did it bounce back to new highs so quickly?

There is no way to say for sure but I believe it was the combination of the inquiries aging plus having all of my new credit – in this case it was over $140,000 of new available credit – on my report. The inquiries initially cost me 38 points but that started to dissipate as they got older. By December, more than half of the lost score had returned. By February, I had bumped them all off my inquiries off my report. Meanwhile, the new credit pushed my scores 19 points higher than when I had begun.
4. Yes, this is all perfectly legal.
The plan definitely takes advantage of several generous credit card sign-up offers, and you may be beating the credit card companies at their own game, but there's nothing illegal or immoral about adhering to the terms and conditions they themselves wrote.
5. Your mileage may vary.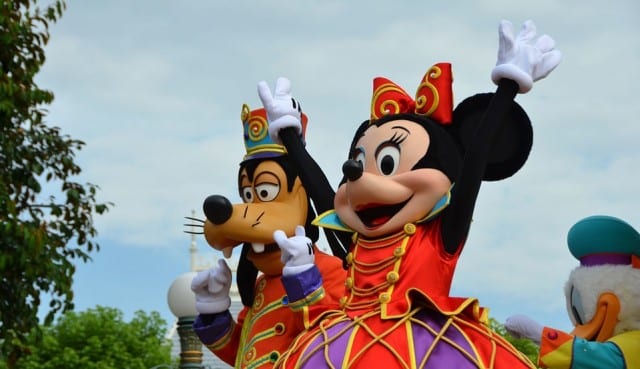 Consider this plan a blueprint. It will work best for a financially disciplined family of four with 2 children under the age of 10, good credit and little existing credit card debt, but ultimately I cannot guarantee your credit card application will be approved at any stage.
Likewise, airfares and credit card offers change daily, and I can only report on what offers are available right now. My airfare estimate, for example, is based on what it would cost a family of 4 to fly from Chicago to Orlando on Southwest sometime in mid-September. But even if you can't get exactly the same deal that I've outlined, you should get pretty far using similar tactics. If any of the credit card offers I mention are expired, see my updated list of the five top credit card signup bonus offers or our favorite credit cards for air travel to find the best options.
On that note, you could easily swap out Disney World and Orlando for Hawaii, London or any destination you like. This is really just as a demonstration of how to use credit card rewards for travel hacking as a general concept.
How to take a family of 4 on a 5-night/4-day Disney World vacation for $1
Hotel: Walt Disney World Swan and Dolphin, $1,220
Step one is to secure 5 nights at the Walt Disney World Swan and Dolphin, located on Disney property next to Epcot. When you stay at the Swan and Dolphin, you'll enjoy benefits including:
Access to Extra Magic Hours at the parks
Complimentary shuttle service to and from Disney Parks and Resorts
Complimentary delivery of purchases made in the parks back to your room
There are also 17 restaurants and lounges, 5 pools, a white sand beach, two health clubs, a spa, tennis courts, and nearby golf. The one drawback is that there's no complimentary breakfast. Taking your morning meal at the Garden Grove is $5-6 for kids (ages 3-9) and $12-$16 for ages 9+. The buffets are well-reviewed but considerably more expensive. I would plan on setting aside about $170 for breakfasts during your stay (assuming 2 adults and 2 kids ages 3-9), and more if you want to splurge on that buffet. My suggestion is to put breakfast on a credit card that offers cash back.
If you're looking for more ways to save on dining at Disney, check out our post on that very subject!
The Swan and Dolphin is a Sheraton property, which is part of the Starwood Hotels rewards program, so you can use their Starpoints to book room. You can get five nights free here if two members of the same household both apply for their own Starwood Preferred Guest Credit Card from American Express. You'll get 10,000 Starpoints for each card with your first purchase. Spend an additional $5,000 per card in the first 6 months ($834 per card per month for 6 months, or $1,667 per month total) to snag an additional 15,000, for a total of 25,000 Starpoints per card, or 50,000 total. In addition to the bonuses, you'll also earn 5,000 points simply for spending $5,000 on each card, so you'll actually have 60,000 total points.
A "Traditional" room (non smoking with 2 double beds) at the Swan and Dolphin for two adults and two children is just 8,000-10,000 Starpoints per night, plus you get the fifth night free when using Starpoints, so just 40,000 of these 60,000 points will cover 5 nights. Yes, you could stay 7 nights if you wanted to. Critical point: You must transfer your Starpoints from one account to another to consolidate them and have enough to book the entire stay under one reservation. You could also just book two reservations, one from each account, but Starwood allows you to transfer points to a family member living at your same address for free so if both applicants live under the same roof, or at least SPG has the same address on file for 30 days, you're good.
I think that the minimum spend of $1,667 per month for 6 months should be easy for most families to hit with nothing more than your usual household expenses.
Estimated time to complete: 6 months
Flight to Orlando: Approximately $1,112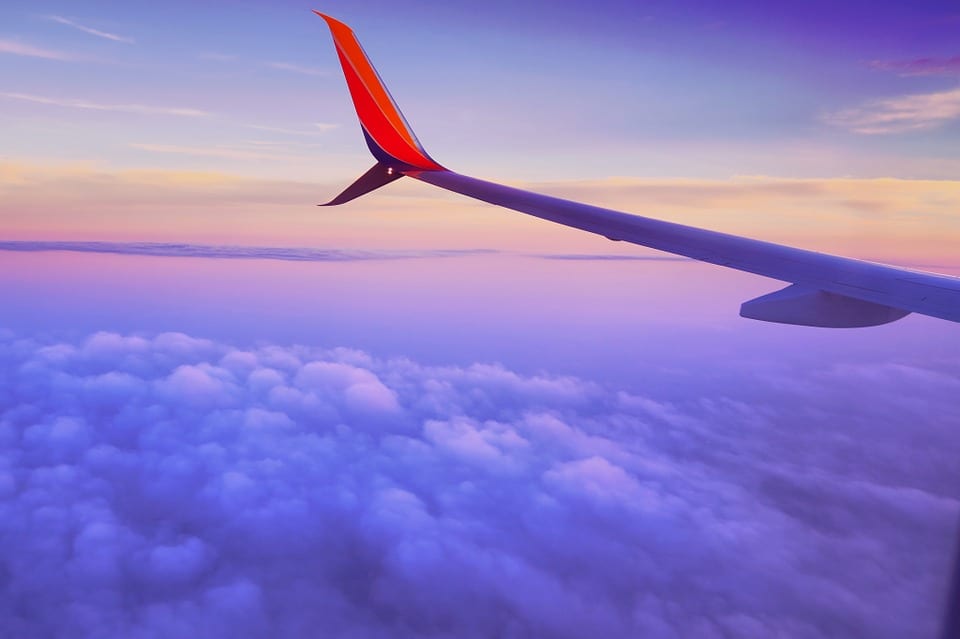 (Value is based on 4 adults flying round trip from Chicago to Orlando)
Option #1:
Each parent applies for the Southwest Airlines Rapid Rewards Plus Credit Card. Spend $1,000 in the first 3 months to unlock a 40,000 point sign-up bonus. Multiplied by 2, that's $2,000 in 3 months for 80,000 Rapid Rewards points. Most round trip flights on Southwest can be booked for 25,000 points or less, especially booking when the Southwest Airlines schedule is released. Bonus: Southwest allows 2 free checked bags per passenger, so that's another expense you can cross off your list.
Estimated time to complete: 3 months
Option #2:
Each parent applies for the Citi Platinum AAdvantage World Mastercard, or one parent applies for both the personal and business card. Spend $3,000 in 3 months to yield 50,000 American miles. Multiplied by two, you will net 100,000 American miles if you shift $6,000 in spending to these cards. You'll have to shift $1,000 per month per card. Many American roundtrip flights can be booked for 22,500 miles. The price is actually 25,000 miles but this card provides a 10% rebate. Bonus: you'll also get a free checked bag for everyone in family.
Estimated time to complete: 3 months
Option #3:
Each parent applies for the Frontier Airlines World Mastercard, which is offering a signup bonus of 40,000 miles after a minimum spend of just $500 within the first 90 days. Domestic round-trip flights start at 20,000 miles, so each card should be good for two tickets. A $1,000 spend should be pretty simple to hit in 90 days if you use the cards to pay for groceries, gas, your phone and cable bills, lunches out – everything you would have spent money on anyway.
I'm including this offer from Frontier simply because it shaves 2 months off the time it takes to pull everything together. Frontier isn't my favorite airline and doesn't really make much sense unless you live near a hub like Denver, but it can be a decent shortcut to get to the goal.
Estimated time to complete: 1 month
Honestly, finding the free flights is the easy part. There are always credit cards with travel reward sign-up bonuses out there. These are just three of the deals currently available, but once they're gone, you shouldn't have to dig too far to find alternatives credit card deals that will do the job just fine.
Disney World Admission: $1,465.44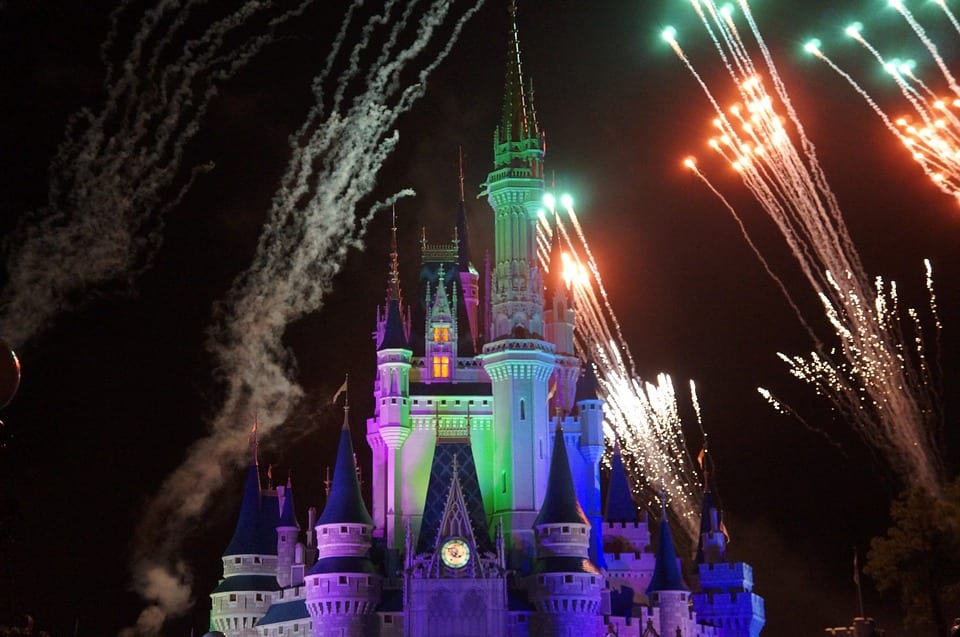 I'm not a big fan of trading points for statement credits since flights and hotel stays are always a much better, more valuable way to use them, but using them here gets the job done.
Option:
If you have a ton of Marriott Bonvoy points stashed away, specifically 382,500 or more, spend 7,500 to book one night at a Category 1 property in Orlando. With the Chase Marriott Credit Card's spending bonus, that's 13 nights! It can be concurrent with your Swan & Dolphin stay. You do need to actually book a room since you have to buy the passes in Orlando from the hotel concierge, but you won't actually be sleeping there. Check in, then redeem 375,000 Marriott points for one $1,000 Marriott gift card and two $200 Marriott gift cards. Use the gift cards to buy your tickets from the hotel concierge and then head over to your much better digs at the Swan & Dolphin. There's no good way to quickly accumulate enough Marriott points to make this option worthwhile if you don't already have them. But if you can pull this off you'll shave 3 months off the time needed to pull everything together and your out of pocket cost for the trip goes to $65.
 Download our printable month-by-month schedule here. (149KB)
What's NOT included above:
Rental car
We didn't include a rental car in our plan because our plan doesn't include leaving Disney property at any time except to go to and from the airport. The plan of 5-nights and 4-days is counting on the idea that you would be spending one day in each of the four Disney Parks. But if you want to spend a day away from Disney, check out our collection of coupons and offers for Enterprise and Avis. My personal experience with Enterprise is that if I book an economy car (which would be perfectly adequate for zipping over to Universal Studios or to the beach for the day), I'm often treated to a free upgrade. Adjust your Park Hopper needs accordingly, and don't forget to put it on a rewards card! The Swan and Dolphin website answers common questions about transportation, including getting to and from the airport.
Spending money (Or how to get $1,000 for $665)
You can also buy Disney gift cards, which are accepted throughout all Disney parks, at Target.com at a 5% discount when you pay with a Target REDcard. Buying $700 worth would cost you $665, saving $35 at checkout. Of course, Disney gift cards won't be good anywhere off property, so take that into consideration if you want to check out anything beyond Disney's borders. We're also pretty sure that the Swan and Dolphin will not accept them since they're part of Sheraton.
If you give my Disney World travel hack a try, I'd love to hear how it goes!
Take the best online coupons and deals with you on the go! Download the newly updated Brad's Deals iPhone app today.