It's National Root Beer Float Day! Here's Where to Celebrate.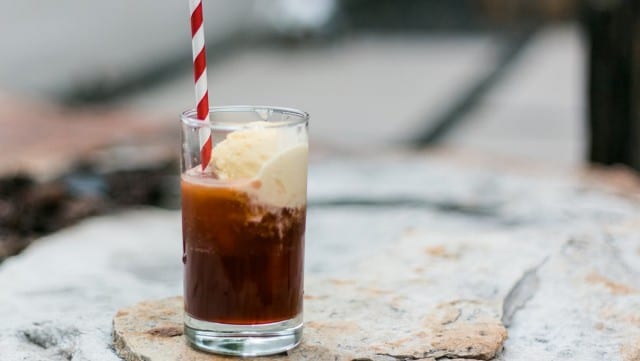 The root beer float was invented in 1874 by a Philadelphia soda vendor named Robert McCay Green. As the story goes, Green ran out of ice on a steamy summer day and was forced to improvise. He bought ice cream from a neighboring vendor, mixed it with his root beer, and a new beverage was born.
Since 1874, dozens of variations have been built on the original concoction, including the Coke float, Boston cooler, and Orange float. Root beer floats and other ice cream – soda mashups have generally been most popular among kids and teens, but that didn't stop some mixologist from blending Guinness Stout, chocolate ice cream, and espresso to make a beer float, also known by its way-more-awesome name, the Shakin' Jesse. Plenty of other variations of carbonated beverage-meets-ice cream exist throughout the country – some booze-filled and some not – but none match the fame of the simple, classic root beer float.
It's not known on which day Robert Green first mixed root beer and vanilla ice cream, but that's not important. National Root Beer Float Day is Tuesday, August 6th, and like National Doughtnut and Hot Dog Days – the holiest of American holidays – free root beer floats can be had.
Founded in California in 1923, A&W is perhaps the first truly successful chain restaurant in American history, and made its name with root beer as its flagship menu item, accompanied by the signature frosty mug. The fast food chain is offering a free small Root Beer Float from 2pm – 8pm on 8/6 (no purchase necessary!) According to their website, they're honoring their company's roots by honoring military veterans. As part of the celebration, A&W will be collecting donations for the DAV (Disabled American Veterans), and donations may also be made online. Cheers!
The burger chain with over 400 nationwide locations has made it into the news for its 3,500+ calorie Monster Burger meal, which was named the "single unhealthiest meal" at the Xtreme Eating Awards (you know it's extreme when they drop the "e"). Artery-clogging combos aside, Red Robin is also known for its bottomless root beer floats, which can be had any time at any of the chain's locations.
Wienerschnitzel
Founded in 1961 by John Galardi with a single location in Southern California, Wienerschnitzel has grown to be the world's largest hot dog chain serving more than 120 million hot dogs a year. This year they are celebrating root beer float's national holiday by offering a free root beer float with any purchase.
Sip it, scoop it, stir in the delicious bubbles. The treat that combines two summer favorites – Root Beer and Ice Cream – is having its own indulgent moment at Sam's Club on 8/6 in celebration of National Root Beer Float Day. To celebrate, Sam's Club is serving up full-size 99 cent floats in its café all day. So get there, and sip yourself happy!
MENU HACK ALERT! You might not have known it, but you can get a root beer float at McDonald's, although it's not on the menu. Not every McDonald's store has root beer, but you can swap it out with Coke if yours is root beer-less. McDonald's isn't giving away a free or half-price float on Tuesday – probably because it's not on their listed menu – but still, getting a secret menu item is almost as cool as getting something for free.