Details on the Marriott and SPG Program Merger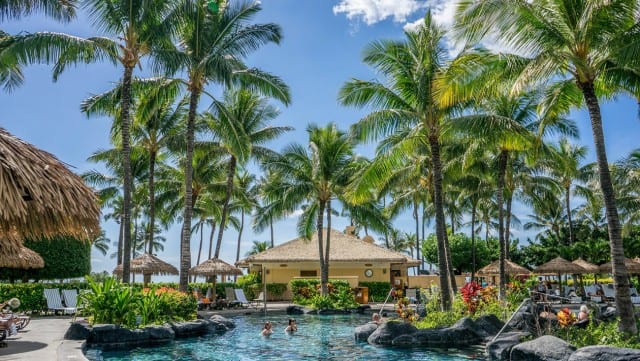 Marriott and SPG loyalists were cautiously anticipating the Monday, April 16th announcement from Marriott regarding the future of their loyalty program. Marriott has been operating SPG and Marriott separately for the past two years, and the time has finally come to merge the two programs together. It's a sad day for me, as SPG was the first program I really started looking at closely when I began my journey in the points and miles world. Here are all the details you need to know about the newly combined program, premiering August 1st, 2018.
Details on the Marriott and SPG Program Merger
I'll go through all the details, based on a number of important topics for elite members.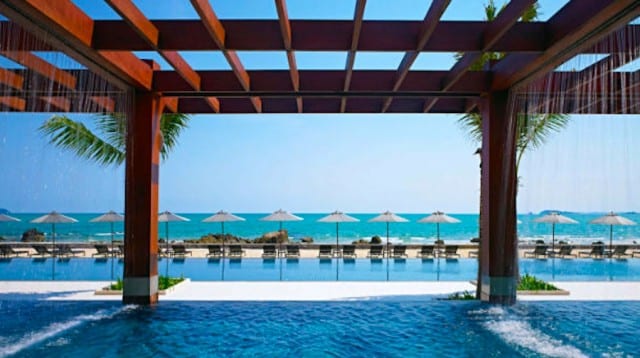 Points Earning under the New Program
Starting August 1st, all SPG points will be converted to Marriott Rewards points, at a 1 SPG Point: 3 Marriott Rewards Point ratio, which is inline with the current transfer ratio between the two programs. The new program name will be revealed at a later date, so I'll be using the term "new Marriott" throughout this article.
Largely, the SPG program was great for having aspirational properties to redeem your points on (hello, St. Regis!) but difficult to earn points through on-property spending. The inverse was true for Marriott- good earning on hotel spending, but not as many "nice" properties to redeem them for. Now, we're seeing an improvement for legacy SPG members in the new program- a base member will earn 10 points per dollar on all hotel spending (5 points per dollar at Residence Inns, TownPlace Suites, and Element hotels.) That's great news, as SPG members would earn only 6 Marriott points per dollar under their old program for hotel spend.
In addition, all brands will earn base points on incidental spend while on-property, which wasn't the case for brands like Courtyards in the past.
Elite Status
This area is likely most important for frequent guests- how will I earn status in the new program? Marriott provided this chart to see how new status earning will work, compared to both of the old programs.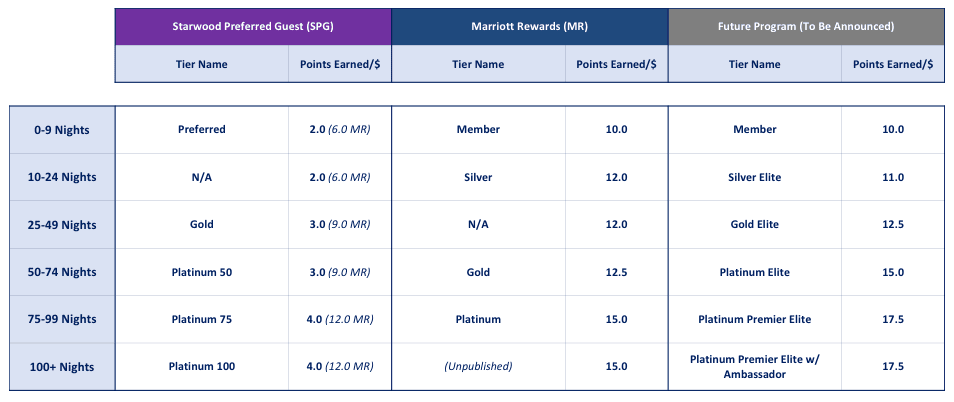 As you can see, status earned through stays, rather than nights, has gone away. This was possible in the SPG program, where 25 stays per year would get you top-tier status with the program. This was gameable, as one-night stays counted. That loophole is now gone. The new program will now award status based on nights, and in the case of the highest tier, spend as well.
At the Silver Elite level, earned after 10 nights stayed, you'll earn a 10% bonus on base points, or 11 points per dollar. You'll get a dedicated reservation line, guaranteed room availability, and priority late check out. So, largely, the benefits are minimal at the Silver level. This is in line with Marriott's old Silver level. SPG didn't have an equivalent level.
At the Gold Elite level, earned after 25 nights, you'll see the most changes if you're used to either of the old programs. You'll get a 25% bonus on base points earned, so 12.5 points per dollar (a significant increase in points earned for former SPG Gold members, which was only 9 points per dollar converted to the new currency.) You'll also get 2 PM late check out, which is worse than the 4PM that SPG and Marriott Golds have, and only based on availability, not guaranteed as under the old programs. You'll get a welcome gift of points, which is the same as before. Finally, you'll be upgraded to preferred rooms, which is the same as previous programs.
The biggest difference for former Marriott Golds is the lack of lounge access. However, the "old" Marriott Gold status required 50 nights, which the "new" Platinum status requires, which does feature lounge access. Essentially, "old" Marriott Gold is the new Marriott Platinum.
At the Platinum Elite level, earned after 50 nights, you'll earn a 50% bonus of points earned on property, or 15 points per dollar. You'll get guaranteed 4PM late checkout, lounge access, complimentary enhanced internet, and guaranteed room type.
You'll also get to choose between a welcome gift of points, breakfast for your stay, or an amenity. This is inline with how SPG handled their elite benefits- Marriott Platinum members currently get a welcome gift of points and breakfast. One major annoyance I have with the current Marriott program is its handling of breakfast- you currently don't get free breakfast at resorts, or a number of excluded brands. Now, members will receive breakfast at resorts and Courtyard properties (why this was ever excluded is beyond me), but still no free breakfast at Ritz-Carltons, Editions, Gaylords, Marriott Vacation Club, Design Hotels, and Marriott Executive Apartments.
Finally, you'll receive suite upgrades if available at check in, and receive 5 suite night awards at qualification. This is a devaluation for current 50-night SPG Platinums, who received 10 suite night awards in the past.
At the Platinum Premier Elite level, earned after staying 75 nights, you'll receive a 75% boost in points earned, or 17.5 points per dollar. That's another huge jump in earning for both SPG and Marriott members. You'll also receive 5 more suite night awards. Finally, at this level, you'll earn the United RewardsPlus complimentary Silver status, which is in-line with current Marriott benefits. There's also a 48-hour room guarantee, similar to before. The "Your24" perk that was a part of 75-night SPG elites, which allowed someone to stay in a hotel room for 24-hours, regardless of check-in time, is no longer a part of this level. Rather, it's a part of the next level now.
At the Platinum Premier Elite 100 Nights level, earned at 100 nights and $20,000 in yearly spending, you'll receive Ambassador service, like SPG's 100 night level, and Your24. The $20,000 in spend is certainly insane, as that works out to a $200/night average, and penalizes you for using points for an award stay, but it does include incidental expenditures on property. The spend threshold won't be in place until 2019's qualifying year.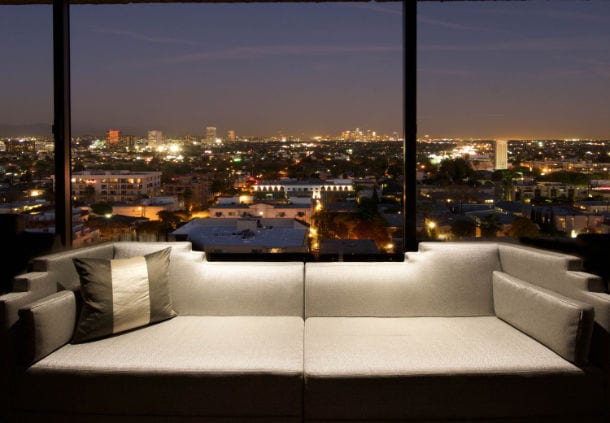 Credit Cards
Currently, SPG has the personal and business versions of its cards, while Marriott has the personal and business versions of its own brand. There's also a Ritz-Carlton personal card with a $450 annual fee. This all will change, starting as soon as May.
The former Chase Marriott Rewards Premier Card is now closed to new applications, but if you already have the card, you can keep it open. You'll keep your benefits, like automatic Silver status and 15 yearly elite night credits. If you'd like, Chase will upgrade you to the new…
Chase Marriott Rewards Premier Plus Card, which offers Silver status and Gold status if you spend $30,000 on the card in 2018 ($35,000 in 2019.)
The benefits of the SPG Amex cards (both business and personal) are being aligned with the new Chase card, offering Silver Elite status in 2018 and 15 elite night credits in 2019, as well as the same Gold spending thresholds. You'll also be getting an annual free night award (for hotels up to 35,000 points.) The bummer is earning on the card will be staying the same for hotels, but dropping by 1/3 for non-bonused spend. You'll only earn 2 points per dollar on that going forward. The Sheraton Club access benefit from the business credit card will also be going away.
There's a new Amex SPG Luxury Credit Card coming out, with a $450 annual fee, earning automatic Gold status and Platinum status if you spend $75,000 in a calendar year on the card. You'll also receive 15 elite night credits in 2019. And, you'll receive a free night (up to 50,000 points) after renewal each year.
The Ritz-Carlton Rewards Credit Card has no changes announced at this time, besides its $75,000 spend benefit. Previously, you earned the 75-night Platinum version of status after hitting that threshold. Now, you'll be earning the 50-night version of Platinum, which doesn't come with the 75% points earning (only 50%,) nor the United Silver status, which is a big devaluation in my eyes.
One thing to note- elite night credits are limited to one 15 night credit per member, so no stacking across multiple cards! This makes Platinum a bit more attainable, as it will only require 35 nights after you account for the elite night credit.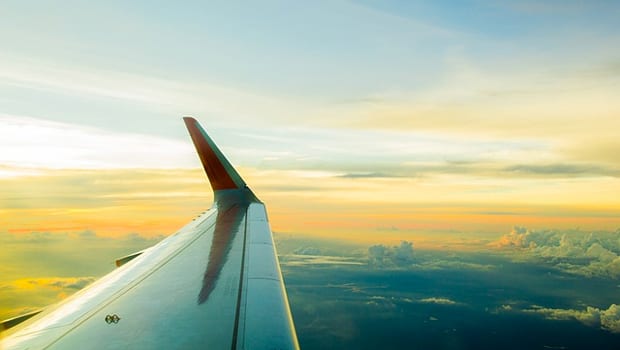 Airline Partnerships and Transfers
The United RewardsPlus program is here to stay, as I expected. Delta and SPG's Crossover Rewards program will be paused on July 15th, and Emirates and China Eastern's will not allow new sign ups after July 15th. I believe that the new Marriott program, given its higher bargaining power, will attempt to re-negotiate old contracts with these airlines.
The greatest news of this whole announcement has to do with airline transfers, which was one of the best features of the SPG program, and something I thought for sure would disappear. In fact, the transfer ratios are staying the same, and they're even adding a few new airline partners. Marriott will be adding Aegean, China Southern, El Al, Hainan, Thai, and Virgin Australia as transfer partners to their already long list of 39 partners.
The New Award Chart
One other major change is a new award chart, with 8 categories and "off-peak," "standard," and "peak" levels.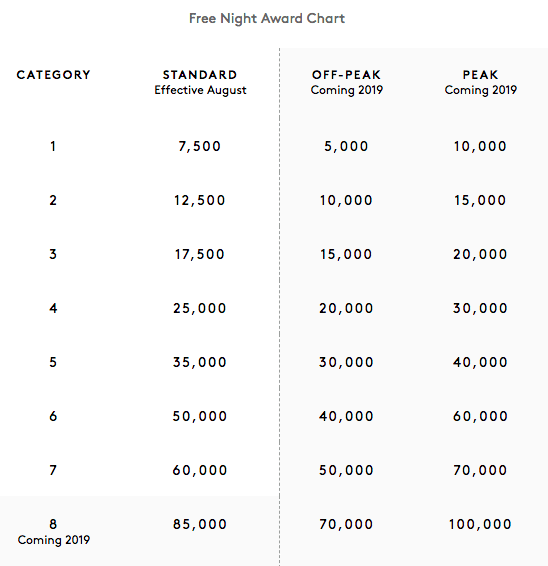 The good news, for now, is off-peak and peak rates won't go into effect until 2019, nor the top-tier category 8. Other good news is that for SPG elites who like to stay at top-tier properties will likely see themselves using less points. The bad news is we have no idea at this time where hotels will fall in these new categories, nor how prevalent the seasonality will actually be when that aspect of the program goes live. Suites-only properties, like the St. Regis Maldives, will have their own redemption rates, and they'll likely be sky-high.
Any guessing of where properties will inevitably fall is purely speculation at this point, so we'll have to wait until June 2018 when the new categories are announced. The new chart goes into effect August 1st.
Overall
Overall, I'm actually surprised at how generally positive this all is. I knew that elite qualification by stays would be going away, but am gleeful airline transfers are here to stay. However, with the new points earning being so easy, my gut instinct is telling me Marriott is going to significantly devalue hotels in their award chart when it comes time to assign them. Ditto for when peak season pricing comes out in 2019.
The other aspect that I find interesting here is a little switcheroo on Marriott's part with the elite levels. The "new" Gold is a devalued SPG Gold, while the "new" Platinum is essentially old Marriott Gold. People hear the same phrase they're used to, but getting less for their status levels.
The other area that I see as a brilliant ploy by Marriott is giving us all the good news now, delaying what, in my eyes, will be pretty bad news in June regarding how many points we'll need to redeem at our favorite properties. Even that news will be somewhat diluted, because the worst parts of this announcement, higher tier levels and peak pricing, don't go into effect until 2019.
But, it could've been way worse! Any questions about the changes? I'll be answering them in the comments! Goodbye forever, SPG.