How to Spend a Weekend in Vegas for Almost Nothing
Vegas, baby! Sin City is a year-round destination for gamblers, convention attendees, bachelor parties and families who want to spend a few days relaxing in one of the 62,000 hotel rooms that line the city's infamous Strip. Luckily for would-be …
---
Vegas, baby! Sin City is a year-round destination for gamblers, convention attendees, bachelor parties and families who want to spend a few days relaxing in one of the 62,000 hotel rooms that line the city's infamous Strip. Luckily for would-be vacationers, all this demand means that Vegas is home to lots of amazing deals.
I went to college in California and graduate school in Arizona, so over the years, I've taken my fair share of weekend Vegas trips on a student's budget. You don't have to gamble away your home to get a free room, here are my tips for saving money in Las Vegas!
How to Get There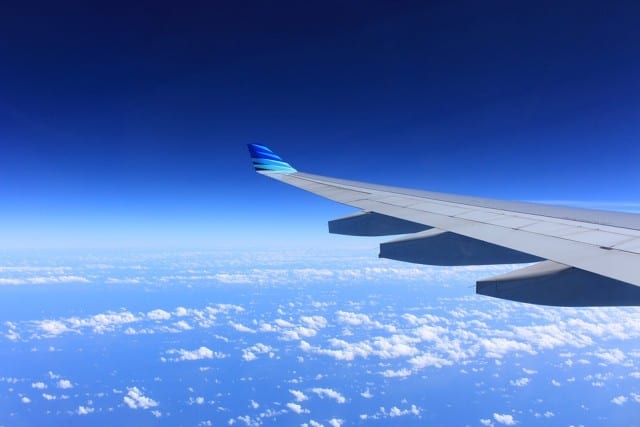 You have two choices: fly or drive. The closest Amtrak station is in Kingman, Arizona, and you'll have to take an additional three hour and 20-minute bus ride from the train to finally make it into Vegas. If you're within about a five-hour drive from Las Vegas (think Los Angeles, San Diego, or Phoenix) and you have a big group you can cram into your car, driving is the most economical option. If you drive, you can bring your own provisions which will save you big time on the overpriced liquor that's sold at stores near the Strip. Of course, driving takes a lot more effort than flying, and the threat of traffic always looms over your trip home (and your hangover).
However, keep in mind that in 2016, MGM Resorts added parking fees. Caesars Resorts followed suit in 2017. If you're looking to avoid parking fees, stay at the Sahara, the Venetian/Palazzo, Wynn/Encore, or off-Strip. Parking fees now run $15-$24 per day for vehicles.
For flights, I recommend a few options. Southwest Vacations often has great deals on Las Vegas, and those include flight and hotels. JetBlue Vacations are a similar story, especially when JetBlue is running a fare sale. Flights from West Coast cities to Las Vegas get discounted most frequently. If you'd rather book just a flight, Southwest and JetBlue are still great options, especially if you can catch them on a sale day, which happens several times a year. Finally, Spirit and Frontier, both ultra-low budget carriers (think paid carry-on and no free drinks), both fly frequently to Las Vegas, and often for less than $50 round-trip.
If budget airlines aren't your thing, you can fly over 30 other airlines direct to Las Vegas. If you have some miles to redeem, Delta, United, and American fly direct to Las Vegas from their major hubs. Most domestic carriers require 25,000 miles for a domestic award ticket, so 50,000 miles will get a couple to Las Vegas for a romantic weekend away.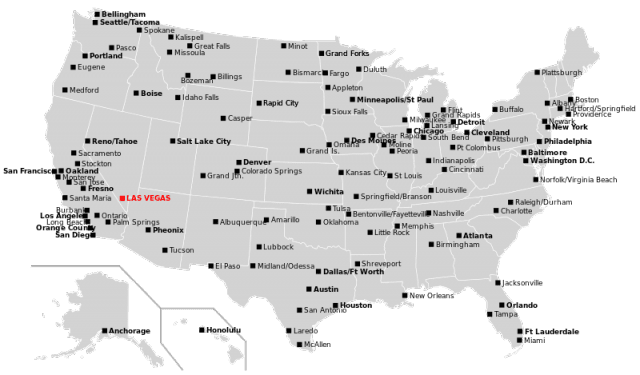 Another option is to use British Airways miles. Since both British Airways and American Airlines are in the oneworld alliance together, you can redeem British Airways miles on American Airlines flights. The advantage here is that British Airways does not price award flight by region, but rather, by distance. This means that if you live less than 2,000 miles away from Las Vegas, you will be paying 7,500 miles each way on an American flight using British Airways miles. In 2016, American actually matched their chart with this short distance opportunity, and you can use MileCalc.com to see how long an itinerary would be. Just type in the airport codes of your journey, and a one-way and round-trip distance will appear. In 2019, I used AA miles to fly an economy "web fare" award ticket, for 5,000 miles one-way from Vegas to Phoenix.
Where to Find Hotel Deals
This is my favorite subject of all. Since most of my Las Vegas trips have been one or two-night excursions, I've developed a few tools that I like to use to find the cheapest room possible. There are several ways to do this: blind-buy websites, points, and directly with the hotel.
Blind-buy websites:
There are two major websites in this category: Hotwire and Priceline. They each operate a bit differently, but the principles are the same: pay less for a hotel's excess capacity in exchange for not knowing what the name of the hotel is when you book. You'll still get a hotel in the area of town that you want, but you may not get the exact view or bed selection you'd prefer.
This might freak out the hardcore planners in your group a bit. Why would you ever leave those things to chance, especially on vacation? You actually don't have to!
There are online tools that let you hack the system and see EXACTLY which hotel you're bidding on. BetterBidding.com is an online forum that allows people to post which hotel they received when they bought blind through Hotwire or Priceline. Search by city, then through the forum for hotels that match the description the blind bidding site is giving you for your potential hotel. I've used this tool with supreme accuracy in Las Vegas, because so many of the Strip hotels are easy to guess.
For example, you're able to choose between North Strip, Mid-Strip, and South Strip hotels in your search on Hotwire. As room rates start low in Vegas, I like to choose a 5-star hotel when I visit. When looking at some of the attributes of your particular hotel, pay close attention. If there's no casino mentioned, it's easy to narrow down, because there aren't many hotels in Vegas without one. You're probably booking at the Vdara (next to the Aria) or the Trump (technically off-strip, but a short walk through the Fashion Show Mall to the Wynn). You can pick up on more tricks like that at BetterBidding, so if this is an option you're thinking about for your Vegas trip, check them out.
Using points:
It used to be that the only way to get a free room in Vegas was to spend way too much money at a casino, and have the staff reward you with a free night for your trouble. But these days, comps (as this practice is called) are few and far between unless you're a heavy gambler, and those systems favor the slot machines, which have worse odds than the gaming tables like blackjack. We won't be focusing on the points-earning aspect of any of those programs, but we will show you how to get status with them without gambling a dime!
As recently as two years ago, finding a Vegas hotel that partnered with a loyalty program was difficult. When I was in college, the only options were the Planet Hollywood, which was partnered with SPG, and the Las Vegas Hilton, which was so far north on the Strip it wasn't worth looking at. But today, several of the major hotel loyalty programs have joined forces with casino companies to offer reciprocal benefits, and most importantly, points redemption options.
Hyatt was the first to do so about four years ago when they partnered with MGM Resorts, which owns nearly every hotel on the southern end of the Strip (Mandalay Bay, MGM Grand, Aria, Bellagio), as well as some on the north end like the Mirage and Park MGM. Basically, you'll receive reciprocal status within MGM's "mLife" loyalty program if you have status in Hyatt's "World of Hyatt" program. Complete details are here, but we'll touch on a few key benefits of this partnership. For one, you'll be able to
redeem Hyatt points at most of MGM's resorts (including the Bellagio and Aria). You can redeem 12,000 Hyatt points for the Luxor on the low end, or 25,000 points on the high end for the Mandalay Bay or the Bellagio.
Furthermore, if you have Explorist Status with Hyatt (which is what you get automatically just for holding the The World of Hyatt Credit Card), Pearl mLife status and points/elite credit for your stay. If you're a regular Hyatt customer with top-tier Globalist status, you'll be granted even more benefits, like bonus mLife status points and more. You'll also save on parking!
Marriott used to be difficult because they have only three branded hotels in the Las Vegas, and only one near the strip. The Westin Las Vegas is located a few blocks off the Strip, but isn't anything special like the mega-hotels close by. Plus, as a Category 5 Marriott property, it will cost you between 30,000 and 40,000 points, depending on the season. With the reasonable rates available at other hotels on the Strip, I don't see much value in redeeming for this property (though it could offer reasonable rates itself). The Cosmopolitan is a far better option, though 40,000-60,000 points per night currently. Use the Chase Marriott credit card's spending bonus to cover your stay.
Hilton has two options on the Strip: the Tropicana, which will cost you 35,000 Hilton HHonors points per night to redeem (Hilton points are easier to earn, hence the higher redemption rates) or the newly rebranded Waldorf-Astoria Las Vegas, which can range from 58,000-80,000 points a night. I recently stayed at both, and with my Diamond status, I was upgraded at the Tropicana to a one-bedroom suite, complete with hot tub, dry sauna, and steam room!
Direct-booking hotel rates:
As Vegas has so many hotel rooms, room rates at the resorts on the Strip are often reasonable enough not to use points on. I've occasionally seen rates as low as $99 at the Wynn in the off-season, so it's best to check all of the options in this post before booking a hotel.
But how do I stay for free?
Well, if you're already playing the points and miles game, redeem your points on a number of properties mentioned above.
Or, you can always do it the tried-and-true way: bet big on Hard Six on the craps table and get a comped suite from the pit boss. Sometimes, that doesn't work so well, though …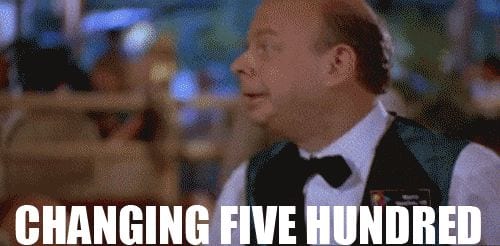 Good luck!
Related Las Vegas vacation deals:
Points.com: Buy Points for Your Program
Related coupons: