What's It Like To Stay At A Timeshare During COVID?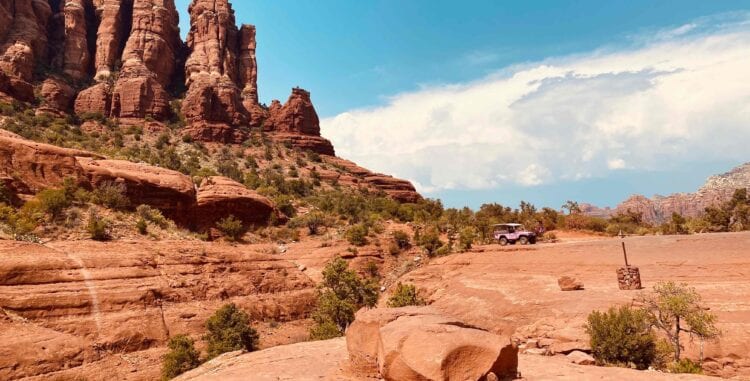 This weekend, my wife and I needed to escape the record summer heat of Scottsdale, Arizona. We decided to see what it's like staying at a timeshare during Covid. We've had over 30 days of 110-degree temps, and thankfully, there are a few places in Arizona that we can escape to for more reasonable temperatures. With Sedona just a two-hour drive away, we settled on the Hyatt Residence Club Piñon Pointe, which had a two-bedroom residence at a discounted rate so that we could fit other family members in for our weekend away.
QA:
A Review of the Hyatt Residence Club Piñon Pointe
We decided to stay at the
Hyatt
because we wanted to earn World of Hyatt points. With their current 3x points promo going on for paid stays, a Globalist like myself is getting 20.5 points per dollar spent on property when using my
World of Hyatt credit card
, which I value at about 41 cents per dollar back in value! Residence sizes include studio, one-bedroom, and two-bedroom configurations. The studio is available for 15,000 points per night, or $200/night, during our stay. The studio rooms connect to the one-bedroom configuration to form a two-bedroom. Check out our room tour and property tour in the video below. Since we were staying during a pandemic, there were a number of precautions in place to protect guests and staff visiting the Hyatt Residence Club Piñon Pointe. For one, only one guest was asked to check-in, reducing the number of people that may be in the lobby. Housekeeping wasn't available for our stay, but during normal times, timeshare properties don't offer daily housekeeping anyway. The pool complex was limiting capacity, and the hot tubs, gym, and activity center were closed and Hyatt has a brand-wide policy requiring masks in all indoor areas at their properties. Otherwise, you wouldn't have noticed a difference in staying on property.
Why Stay at a Timeshare?
We like staying at timeshares from time to time because of the space they give to their guests. In this example, our room had a full kitchen for preparing meals, as well as a full laundry for washing clothes after a long hike. We also love the fact that the Hyatt Residence Club Piñon Pointe is in one of the best locations in town, right off the main street in downtown Sedona. Timeshares can often be a bad deal for owners, especially if they buy one directly from the hotel brand. However, staying at one on a per-night basis by paying cash can often be cheaper than a hotel, with more space to spread out for families.
What to Do In Sedona That's Socially Distanced
Sedona has some of the best vistas in the entire world, with travelers coming from all over to view the beautiful red rocks. There are dozens of hiking trails in and near the city. We elected to hike a popular one, Devil's Bridge, on our first morning in Sedona. The four-hour hike was fairly busy, but nothing that overly concerned us, as we were in the open air. Check out the embedded video above for more vistas of the hike. We also took a Pink Jeep Tour, which takes guests through 4x4 trails outside of town to some incredible views and sights, and is the most popular tourist attraction in town. The jeeps seat about 7 normally, but for our group of 3, we were seated with just one other couple. The company had constructed their Jeeps with see-through tarps to separate groups from each other and from the driver. The Jeeps themselves are fully open to the elements, so we thought it was a safe enough activity to do. Overall, we had an absolute blast, and our guide Chris made it even more fun. The video above shows some of the sites we saw.
Overall
Sedona is yet another Southwest destination that allows visitors to feel safe during pandemic times. Everyone was following state guidelines when it came to wearing masks, which made us feel at ease. Overall, I wouldn't hesitate to take a trip to the Hyatt Residence Club Piñon Pointe again and do some more socially-distanced hiking to get out of the house during the pandemic and escape the heat.