10 Ways to Save on Dining at Disney World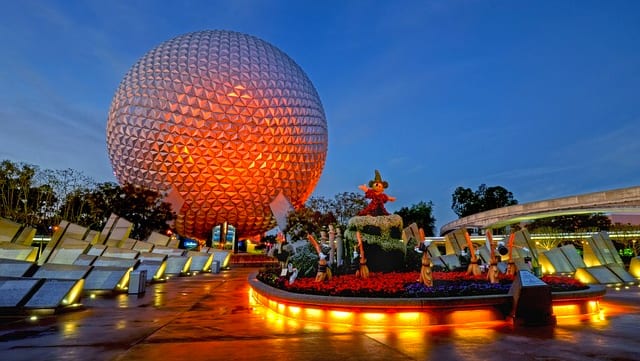 Today's guest author, Orlando travel expert Ashley Dickey, shares her best secrets about saving money on meals and snacks in the parks during your Disney World vacation. 
---
Do you like to save? Me too. You might think this is hard to do while eating at Walt Disney World, but it is possible. Follow my budget dining tips to make the most of your money at a place that's designed to capture your cash.
1) Bring a Refillable Water Bottle
Nothing irks me more than have to dole out $3 or more for a bottle of water. On scorching Orlando days, you need to stay hydrated. Bring your own refillable water bottle and fill it up at fountains throughout the park. Save your money for actual meals and souvenirs.
2) Still Thirsty?
There's no such thing as a true freebie at Disney World. But, you can score a free cup of ice water at any counter service restaurant. At Epcot, visit Club Cool to sample Coke products from around the world.
© Disney, Courtesy of Reserve Orlando
3) Consider a Sit-down Meal at Lunchtime
This trick worked better in the past, as some table service restaurants have all day menus now. You can still save at Disney restaurants by choosing lunch over dinner. Popular choices like Be Our Guest Restaurant and Cinderella's Royal Table are not only cheaper at lunch, they're also easier to get a reservation for that time.
4) Book a Breakfast Character Meal
If you're traveling with kids, a character meal is a must (just ask them, they'll tell you). Opt for breakfast, and you'll save yet still have the same memory-making experience. Some of the best Disney character breakfasts are Winnie the Pooh and Friends at Crystal Palace (Magic Kingdom) and Donald Duck's Safari Breakfast (Animal Kingdom.) The food is above-average for a buffet. Fill up and replace lunch with a light snack.
© Disney, Courtesy of Reserve Orlando
5) Know Before You Go
Believe it or not, there are budget-friendly places to eat at Disney. With a few pre-picked options in mind, you can save not only money but time. My budget friendly favorites include Flame Tree Barbeque at Animal Kingdom, Tangerine Café at Epcot and Columbia Harbour at Magic Kingdom. Each serves delicious dishes for around $10 on average.
6) Eat at Downtown Disney (Soon to be Disney Springs)
Two of the best Disney dining deals — Wolfgang Puck Express and Earl of Sandwich – are located at Downtown Disney. At Wolfgang Puck, order a gourmet pepperoni pizza for only $13.50 and split it. At Earl of Sandwich, seriously delicious stacks like the Holiday Turkey and Chipotle Chicken Avocado are only $6.49.
7) BYOF: Bring Your Own Food
Pack a lunch — it's the best way to save on eating at Disney World. The Orlando theme park does let you bring a cooler (must be smaller than 24″ long x 15″ wide x 18″ high), and you can rent a large locker to store it for only $10, which is much less than you will spend if you purchase food at the park.
8) Pack a Snack
All of the street vendors and kiosks brimming with treats will tempt you. Pack a snack like granola bars, dried fruit and crackers. For the kids, bring Disney-themed gummy snacks and candy from nearby stores like Super Target (3200 Rolling Oaks Boulevard) or Winn-Dixie (11957 South Apopka Vineland Road). This way, you can still provide a Mickey-esque snack for less.
© Disney, Courtesy of Reserve Orlando
9) Be a Kid Again
Order off the kid's menu at quick service restaurants. At many eateries, the menu items are similar to adult options at half the cost. Note: You are not able to eat off the kids' menu at table service restaurants.
10) Sharing is Saving
Split a meal at Disney and the savings add up quickly. A lot of entrees have large portion sizes, easily shareable. Tell your server, and they'll bring an extra plate or split it for you before being served. Not only will you save money, but you'll have room for dessert too!
These are the best budget tips for dining at Disney World. Put them to good use and watch the savings add up.
---
Ashley Dickey is Reserve Orlando's travel expert, visiting Orlando to find the best travel tips, money-saving deals and insider information. With over 10 years of experience in first-hand-travel adventures, she shares her stories, advice, and current events to help you stay in the know.