The Best Things to Buy in February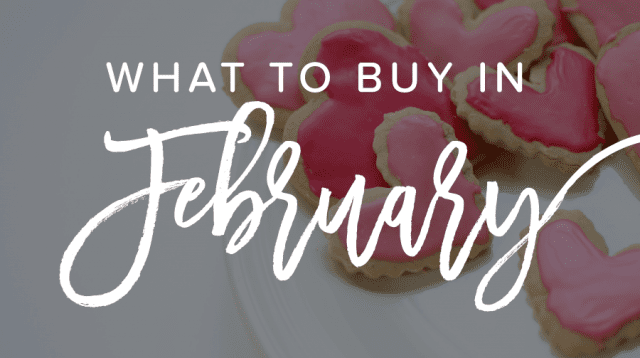 Still recovering from the holiday spending hangover but know your snow boots won't last another day? February have some of the best prices since Black Friday so read on for our list of your best buying bets.
Mattresses
Because of the aforementioned holiday, mattresses are one of the big ticket items retailers will put on sale, simply because they know a lot of folks have an extra day off of work and will have time to decide on a higher priced item like this. While you'll likely see these discounts again at Memorial Day, this is the best month until then to finally bite the bullet and get your next mattress.
Chocolates
Even if you're not a fan of the Hallmark holiday, there's no better time to score on a good box of chocolate. As soon as the clock strikes midnight on February 15, prices could be slashed as much as 50%, with the discount likely increasing as the month goes on. Just remember that if you do need to get a gift in time for February 14, the earlier you buy in the month, the better. If you wait until a few days before, expect to pay inflated prices.
Winter Apparel
With March being the official start to spring, this is the month retailers are throwing their metaphoric Hail Marys to rid their shelves of coats, boots, hats, and all things winter in order to get people in the mood to shop for summer gear. And don't forget about winter sports equipment like ski goggles and ice skates, which also take a sharp dip this month.
Patagonia Nano Puff Jacket $89 Shipped
>Moosejaw: Up to 40% Off North Face
Humidifiers
Since humidifiers help cure the dry skin and cracked lips that come along with winter, this is another good snag in February as merchants make way for their warm-weather items.
Snow Blowers
Did you swear off shoveling after that last snowstorm? Even though February means a couple more months of snow, it also means you can get snow blowers on the cheap. This is the month they go on sale, so it may be the best time to take the plunge.
Presidents' Day Sales
What would a federal holiday be without sales at your favorite shopping locales? Look for the bigger department stores to have competitive prices on a number of items but it's the household items like appliances, furniture, and electronics you should paying attention to the most. Presidents' Day falls on February 18 but expect those sales to likely start the week before.
What deep discounts do you like to dig up in February? Let us know in the comments below.