The 7 Best Things to Buy in February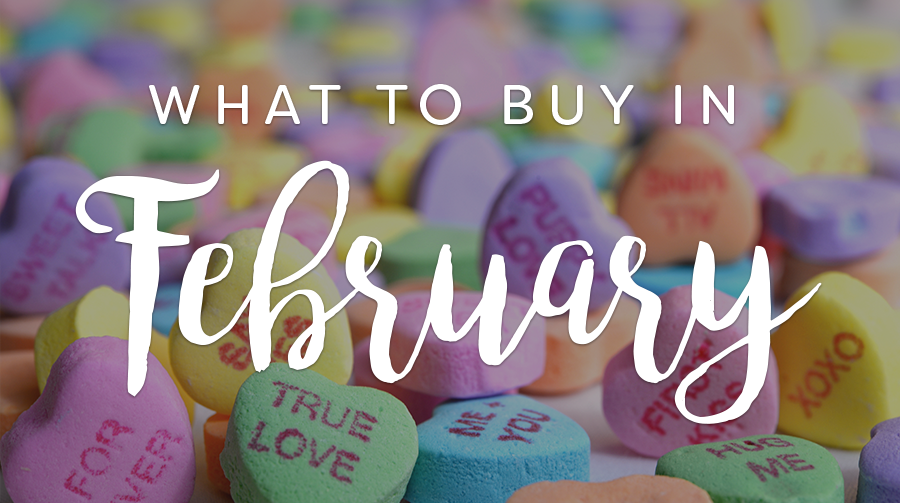 The month of February typically boasts strong sales on many items, which are often at their lowest prices of the year. We pulled together tips from our expert team of deal editors, so you'll know everything you should stock up on in this next, snowy month. 
Bedding.
According to Brad's Deals editor Laura, in February we are going to start to see great discounts on last year's bedding set styles, which are typically pretty similar to the new season patterns. We also expect strong sales on sheet sets and bath towels during this month from department stores like Macy's, Kohl's, and Bon-Ton.
Winter apparel and boots.
While size selection and color choices may be limited at most retailers, we're going to see the last of the strong discounts on winter apparel items leftover from January's sales trickle into the month of February. Right now you can browse a cold weather collection to see what our experts are finding this month!
TVs.
Our tech expert David noted that early February can be a great time to buy a TV (if you missed your shot at Black Friday and Cyber Monday sales), because retailers will be getting rid of 2016 inventory and running promotions in time for the final games of football season. In addition to the regulars like Amazon and Best Buy, check out retailers like PC Richard & Son, BuyDig, and even Dell for some great offers.
Valentine's Day-themed gifts and goodies.
Once we get past February 14th, you'll see discounts on anything Valentine's Day themed both online and in retail stores. If you're a fan of M&Ms and don't mind snacking on a pink and red theme, head to your local Target or Walgreens to stock up at discounts usually around 50 percent starting February 15th.
Brad's Deals editor Lindsay noted that online retailers like The Popcorn Factory and Cheryl's Cookies have offered a post-holiday sale on their Valentine's Day themed gifts in the past, and usually offer additional discounts with a coupon code. It might pay to skip the 14th and celebrate your love on the 15th -- just saying!
Mattresses.
We're not entirely sure why retailers chose President's Day weekend to have the strongest mattress sales of the year, but that's just how the cookie crumbles! President's Day is February 20th, so expect to see strong sales from Sears, 1-800-Mattresses, US-Mattress and Overstock, as well as mattress pads and sheet sets on sale at a variety of department stores. We also expect to see a variety of other home goods on sale, including home improvement items from Lowe's and Home Depot.
Tax software.
Our finance deal expert, Mark, recently found a 20 percent off discount from Turbo Tax on their software programs for those who file by February 19th. We predict this same software will likely only be offered at 10 percent off in April, so it literally pays to not procrastinate on your taxes this year.
Custom class rings.
This might just be a hit here at Brad's Deals, but every spring we get an incredible discount on custom class rings from Limages Jewelry that our readers love. The prices don't even compare to the options you'll find from your local high school partner, and this year they start as low as $65 shipped with our coupon code BRADCLASS through 2/28!
What will you be shopping for in February? Let us know in the comments!