What Is It Like to Visit Zion National Park Right Now?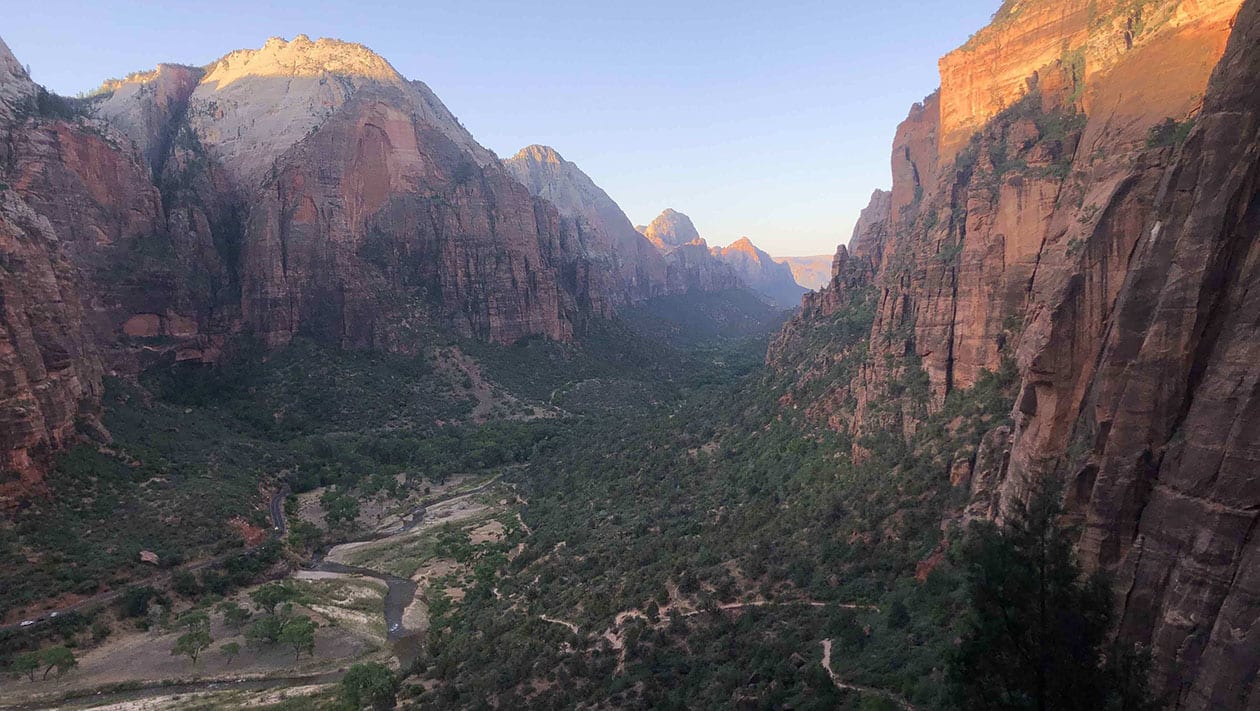 Editorial Disclaimer: Brad's Deals has partnered with CardRatings for our coverage of credit card products. Brad's Deals and CardRatings may receive a commission from card issuers. This content is not provided or commissioned by the issuer. Opinions expressed here are author's alone, not those of the issuer, and have not been reviewed, approved or otherwise endorsed by the issuer. This site may be compensated through the issuer's affiliate program. These user responses are not provided or commissioned by the bank advertiser. User responses have not been reviewed, approved or otherwise endorsed by the bank advertiser. It is not the bank advertiser's responsibility to ensure all posts and/or questions are answered. You can read our full advertiser disclosure:
click here
This past weekend, my wife and a few friends of ours decided to get out of the house and travel to some of Utah's national parks to enjoy a long weekend. We've been itching to travel since the pandemic began, and found that a road trip to do some outdoorsy activities was within our comfort zone. Here's how our trip to Zion National Park went, and how some hotels and attractions are responding to the coronavirus pandemic.
A Review of Zion National Park and the Cliffrose Springdale Hotel
Since there were six of us traveling, we decided to rent a SUV from Hertz, which sadly filed for bankruptcy during our trip. We've all been quarantining to a respectable standard during the last few months, and keeping our public exposure low outside of our group, so we felt comfortable sharing a vehicle and accommodations during our stay. Please look at our tips for traveling during coronavirus. Personally, I was comfortable driving to this specific vacation, but still don't feel comfortable flying anywhere just yet.
A Brief Stay in Page, Arizona with a Deserted Horseshoe Bend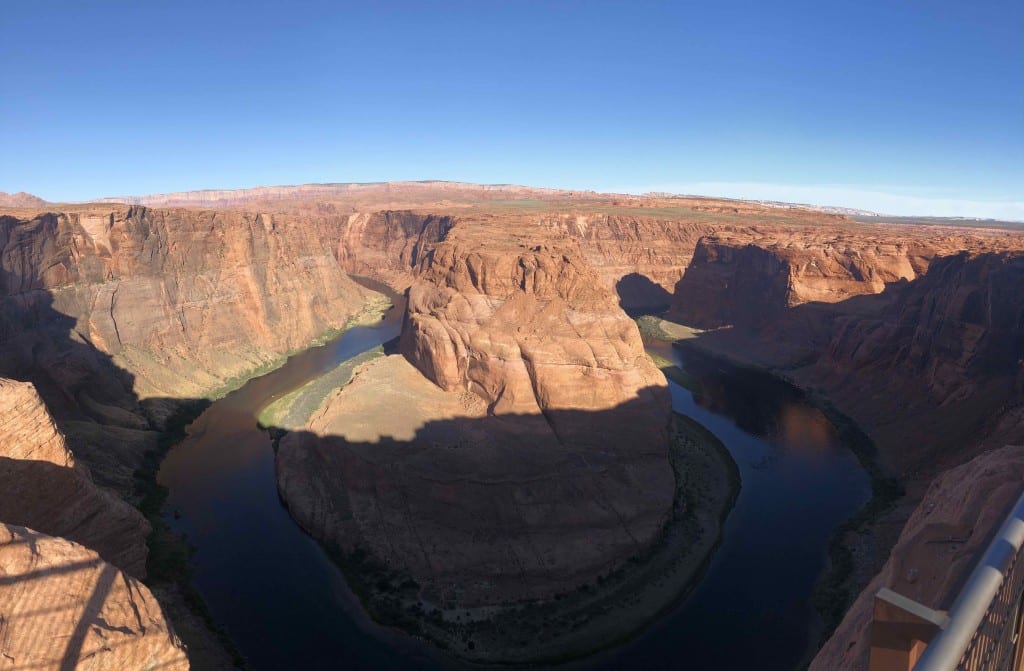 Since Zion National Park is about a 7 hour drive from Scottsdale, we decided to drive after work on Thursday to Page, Arizona. This small town is home to Lake Powell, the famous Antelope Canyon, and Horseshoe Bend. Antelope Canyon is still closed, but Lake Powell and Horseshoe Bend are still open to visitors.
We stayed one night at the Hampton Inn Lake Powell, Page, which was only $106 with tax per night. Hilton is also running a Points Unlimited promotion, which nets me 2,000 bonus Hilton points per stay, plus 10,000 bonus points for every 10 nights stayed during the promotional period. Due to the pandemic, Hilton recently extended the promotion through September 7th, 2020.
As this was my first hotel stay since March, I was very curious to see how the hotel was handling guests in the new world we live in. I parked in the dedicated Diamond parking spot, which was right next to the entrance to the lobby.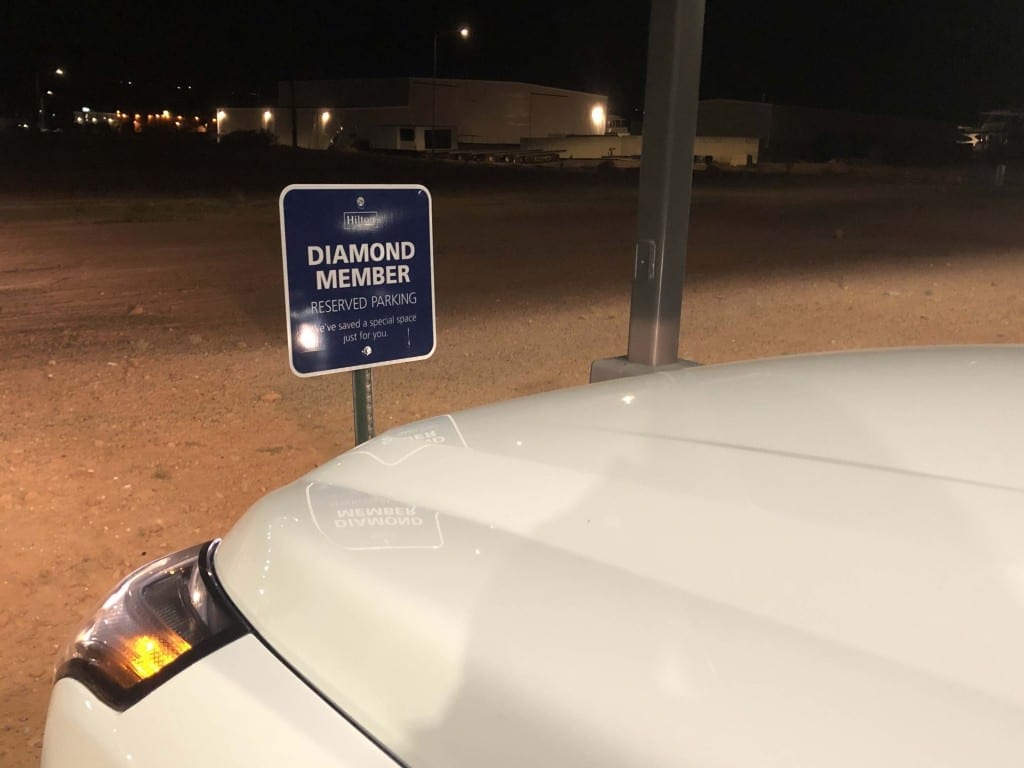 Once we entered the hotel, wearing masks, we saw that much of the front desk was barricaded off and behind plexiglass to limit contact. While we did do online check in, with Hilton's seamless digital key technology, I still stopped by the front desk to collect my Diamond welcome amenity of waters, and two snacks from their selection. If you're concerned with human-to-human contact still, avoid this step.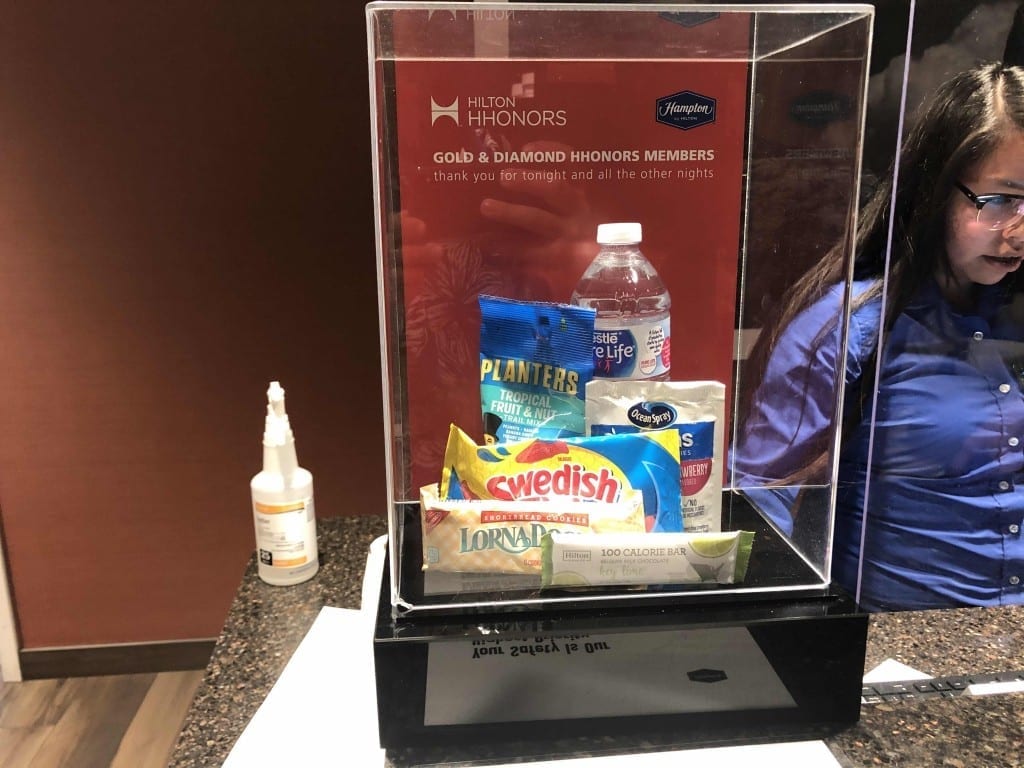 With Hilton's digital key, I was able to open my door with my phone. The room itself seemed very clean and new (the hotel opened in 2018). It's important to note that Hilton has unveiled a comprehensive brand standard cleaning program, but that doesn't officially launch until June.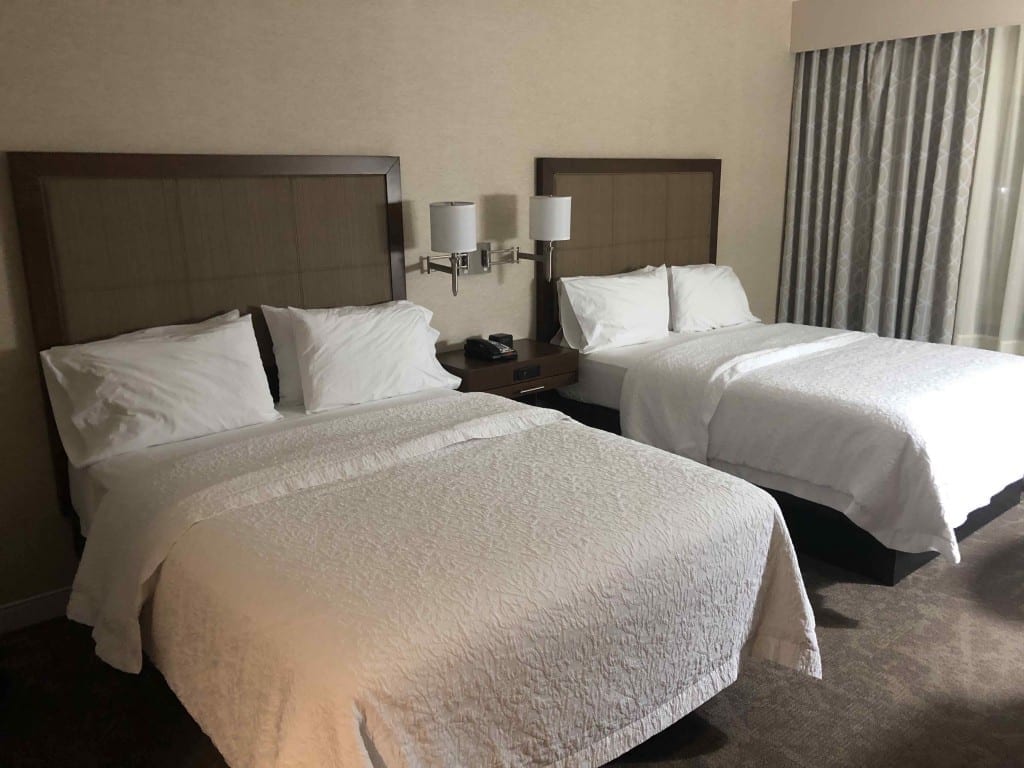 The hotel itself is a typical Hampton, if a bit newer feeling. Under normal conditions, they'd have a gym, indoor pool, and outdoor BBQ area open, but those were closed during our visit for obvious reasons.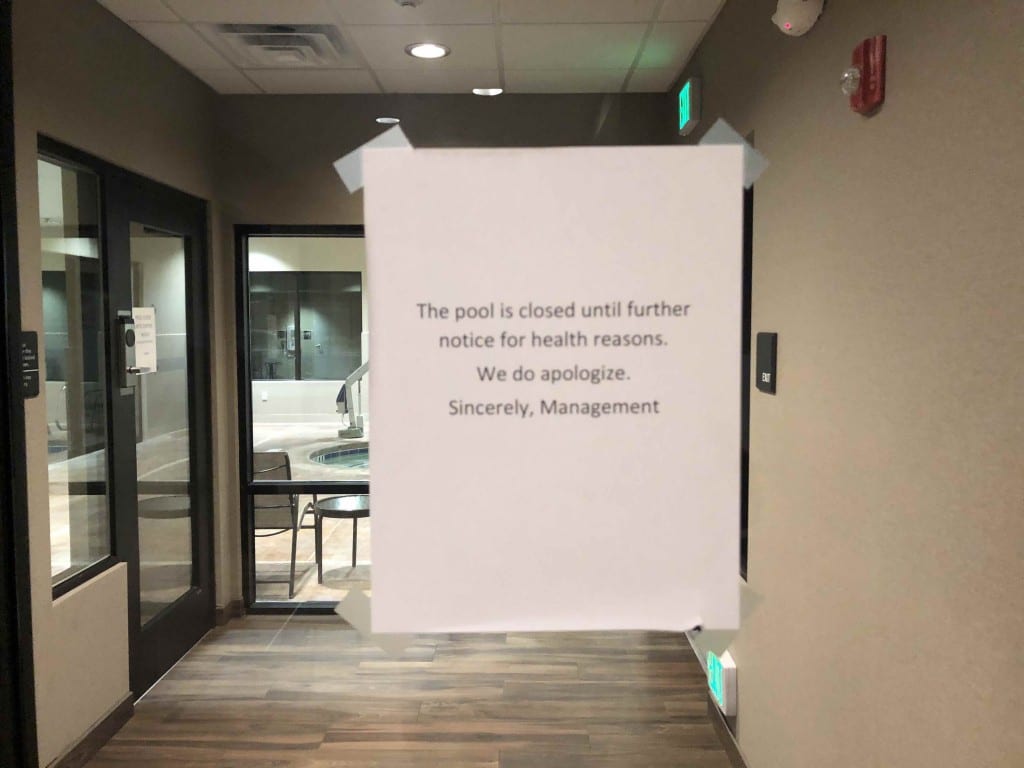 Hampton's Pantry was open, but you couldn't browse the items on your own.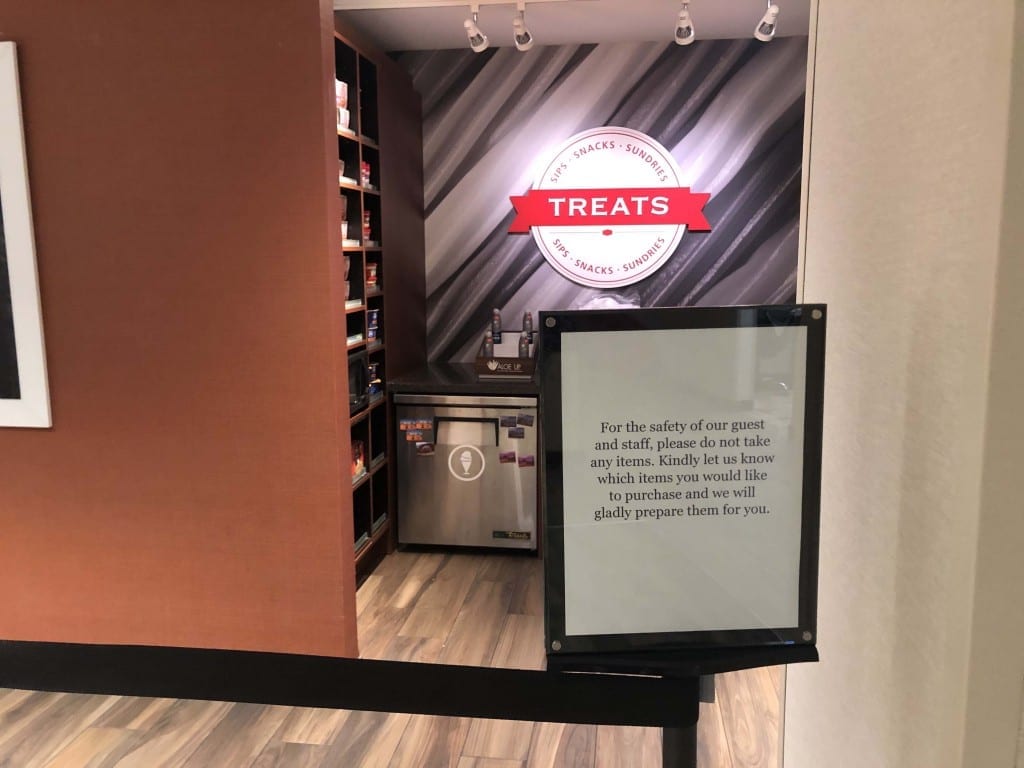 After a great dinner at State 48 Brewery (the Cowboy Burger is my favorite), we got up early to check out Horseshoe Bend, one of the most instagrammed places on the planet. Normally, Hampton Inn would have a carb-heavy spread, including waffles, for guests in the morning, but it was very "grab-and-go" at this location. Coffee was available, as well as some yogurts and fruit.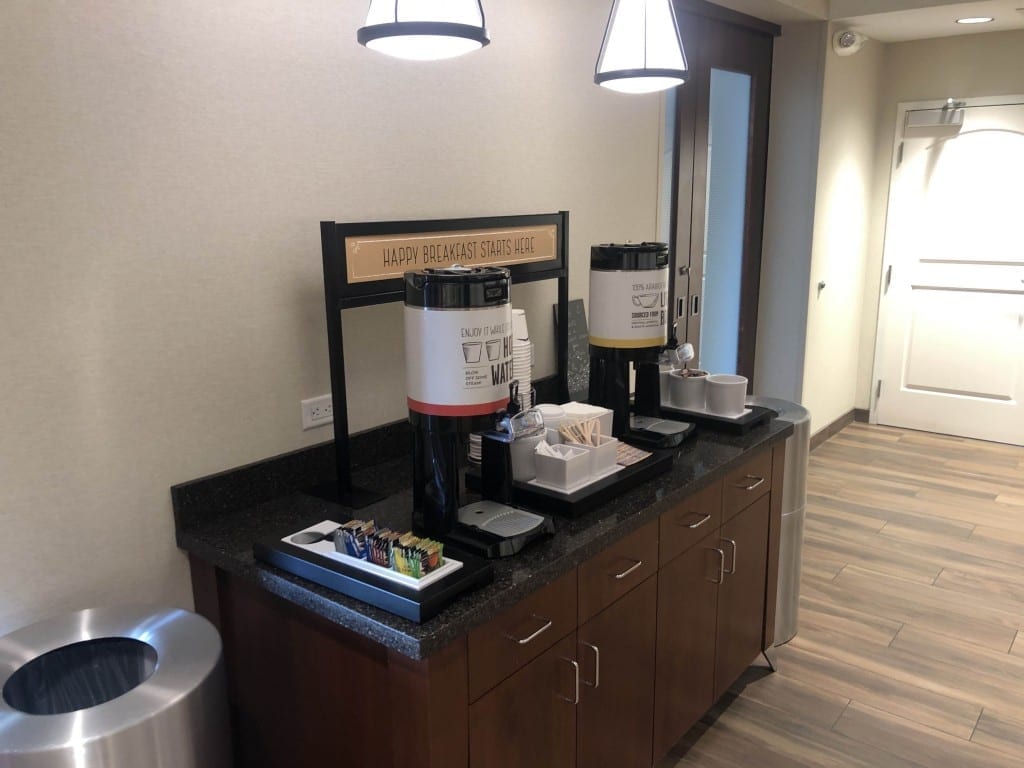 The bagel station seemed empty.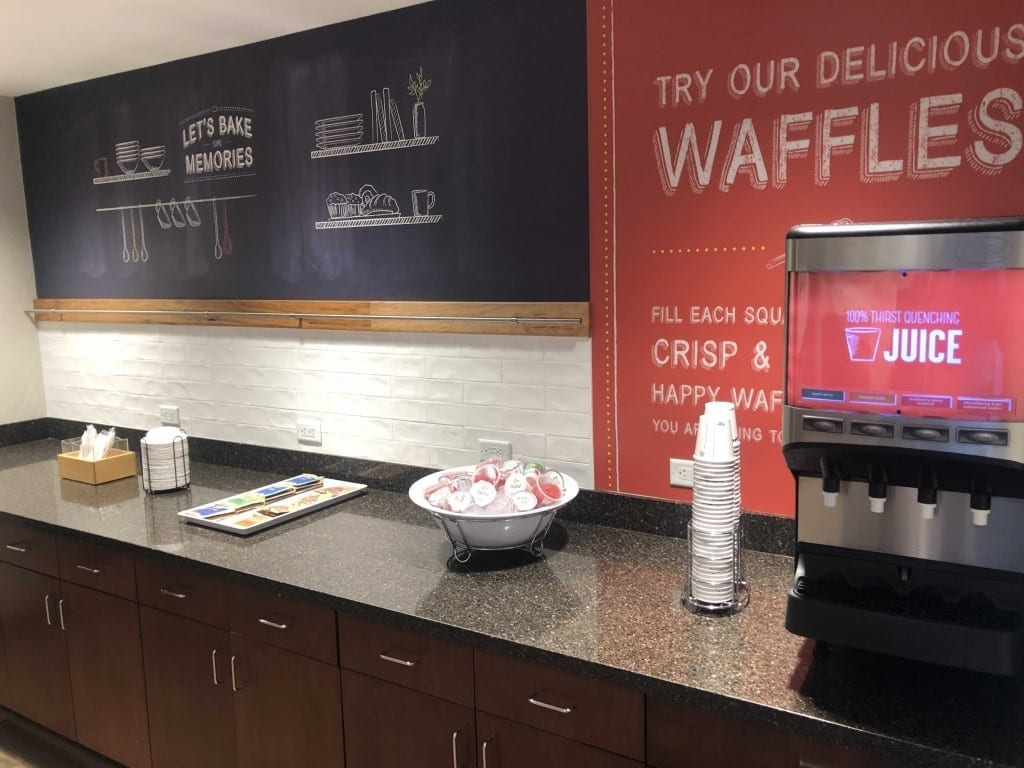 All in all, I was happy with my stay. I used my Hilton Aspire card to earn 14 Hilton Points per dollar, in addition to my 20 Hilton points per dollar spent for being a Diamond member. With the points promotion going on, I earned 5,356 points for my stay, which by my valuation of Hilton points (half a cent per point) is $26.78 worth of points.
A Quick Stop in Horseshoe Bend
Arriving at Horseshoe Bend was quite a shock- we've visited in the past, and were greeted by thousands of tourists, including many tour buses. When we arrived and paid our $10 parking fee, we were one of three cars in the parking lot.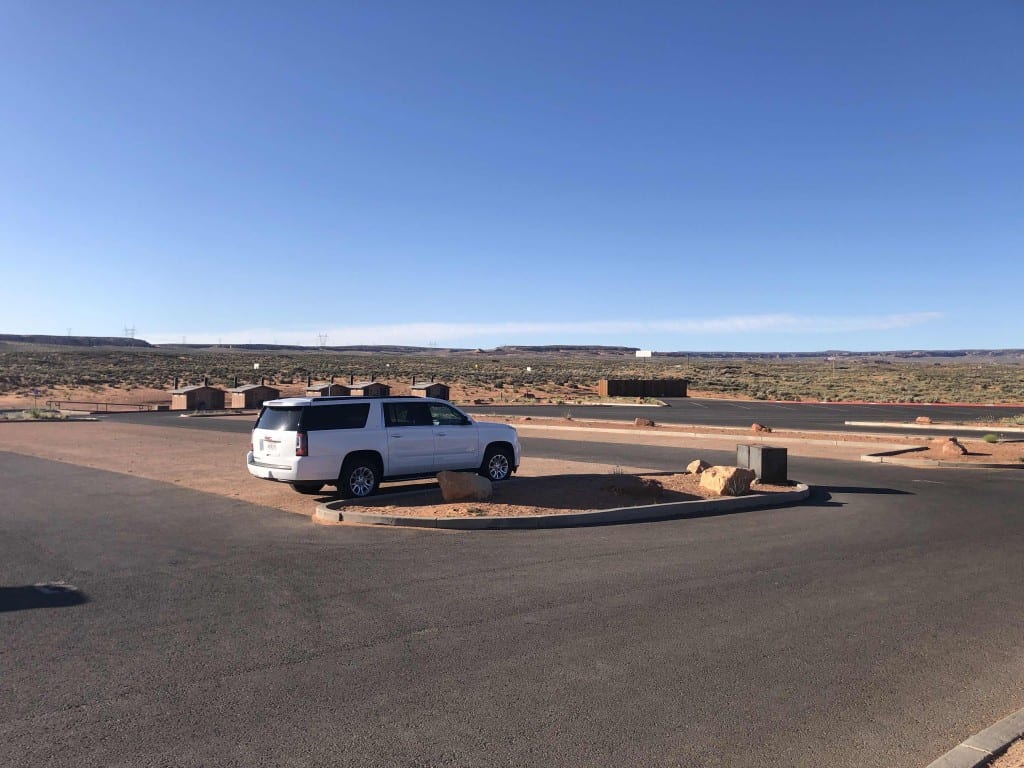 This was an entirely surreal experience, and I guess you could say a "benefit" of traveling during this time. However, as things begin to open back up, I feel like Horseshoe Bend will return to being extremely popular again.
Bryce Canyon Hiking Excursion
After Horseshoe Bend, we drove about 2 1/2 hours to Bryce Canyon National Park, which had recently reopened to visitors. Entry is $35 per car, and your entry is good for 7 days. We opted to purchase the $80 annual park pass, since we get so much use out of it during the year. During our day at Bryce Canyon, we hiked the 8 mile Fairyland Loop, which had some spectacular views.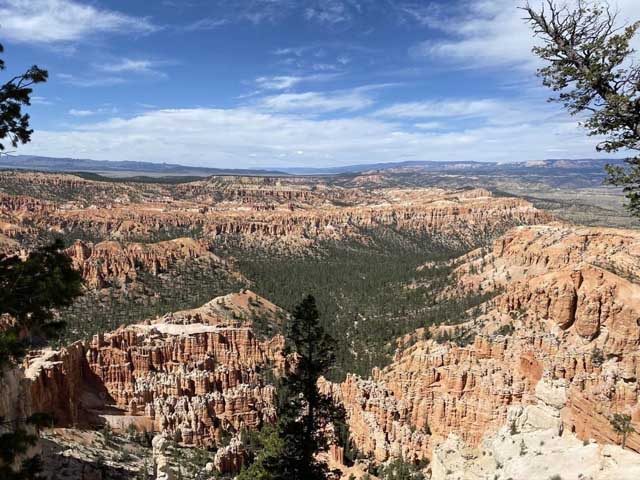 Hiking a slightly longer trail in the park gave us more seclusion- we passed only 15 people during our multi-hour hike.
As a frequent visitor of the national parks, I was happy to see that the visitor center was open, though most of the services were outdoors. The park rangers are a big part of what makes the national parks great, so I hope more parks will continue to adapt their offerings to make visitor experiences great!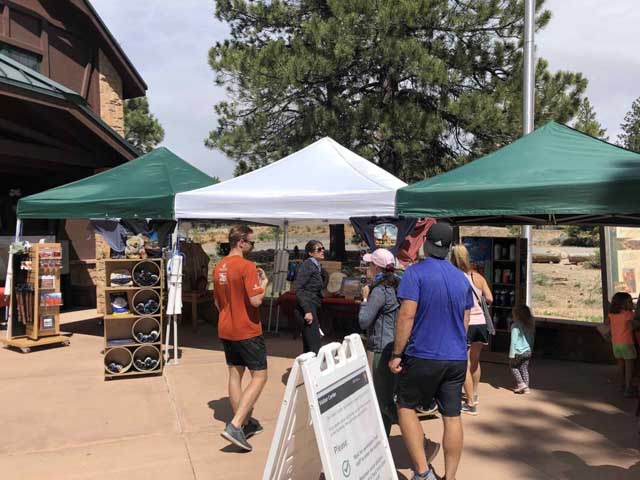 A Review of the Cliffrose Springdale, Curio Collection by Hilton Hotel
We had a two hour drive from Bryce Canyon to Springdale, Utah, which is right outside the south entrance of Zion National Park. To get there, we took the incredibly scenic drive from the east entrance. We arrived at the Cliffrose Springdale around 7 PM, and easily found a parking spot near what happened to be our room.
Location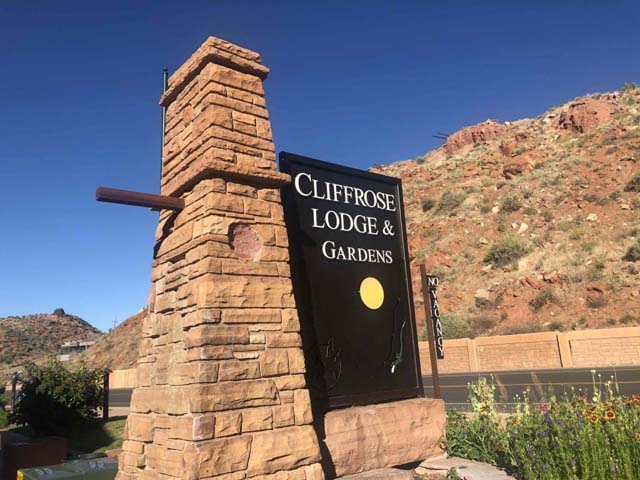 The Cliffrose is a fantastic full-service property, managed by Hilton's Curio Collection, located walking distance from Zion. While you'll need to take a shuttle (if they're open at the time of your visit) to visit the most popular areas of the park, you can also walk to several hiking trails, as well as the visitor center, in less than five minutes. Since the park was soft-opening due to the pandemic, the Scenic Drive was only open to 400 cars per day, which meant an early wake up call. The close location to the park was much appreciated during our stay!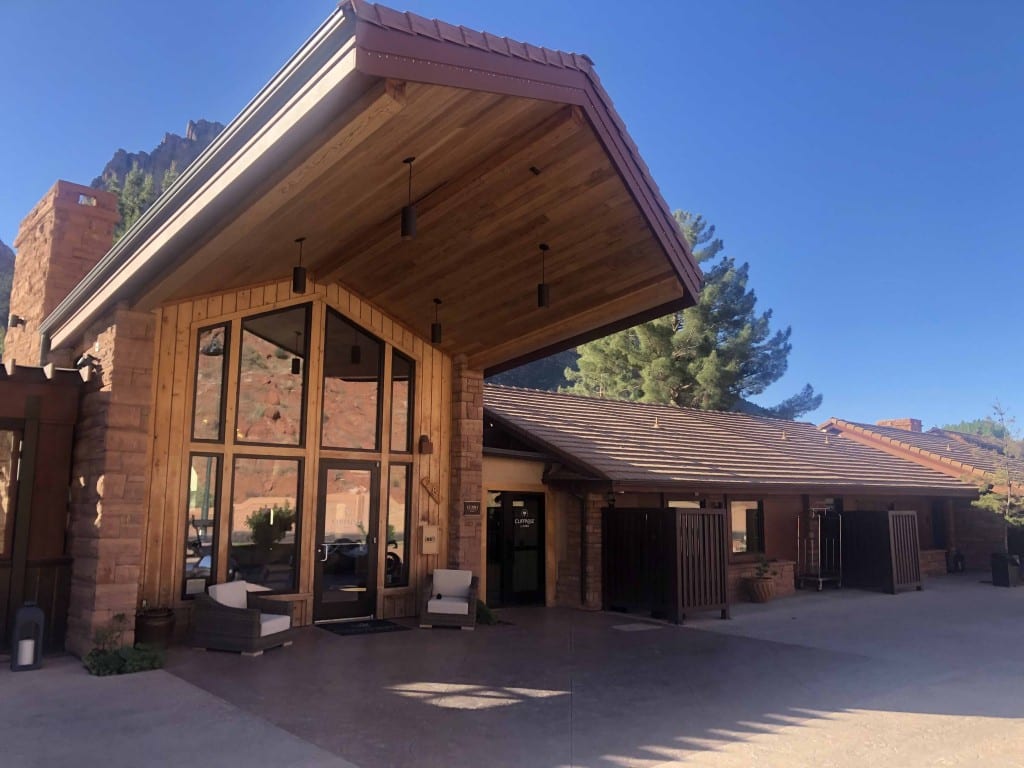 Check In
We were checked in by Arnold, the concierge at the hotel, who had an amazing amount of up to date information for us, as well as some stellar restaurant recommendations. The property doesn't offer digital keys, so we were given physical ones during our stay. The property seemed to be pretty "business as usual," which we found a bit odd. For instance, the front desk didn't appear to have any modifications to promote social distancing. I was wearing a mask during my interactions, so I wasn't too worried, but it's worth noting for readers.
We booked the hotel because it featured a 3-bedroom villa with full kitchen for about $500 a night over Memorial Day weekend, which was an absolute steal. I saved by using my AARP discount, and paid for my stay partially with my Platinum Amex to take advantage of a $50 off $300 Amex offer. The rest was paid with my Aspire card. While the property had a resort-like feel, it is not considered a resort by Hilton, so you won't be able to use your Aspire card resort credit here. Thankfully, the Cliffrose doesn't charge a resort fee, despite their amenities. Overall, I earned over 50,000 Hilton points for my stay, which is worth $250 by my valuation.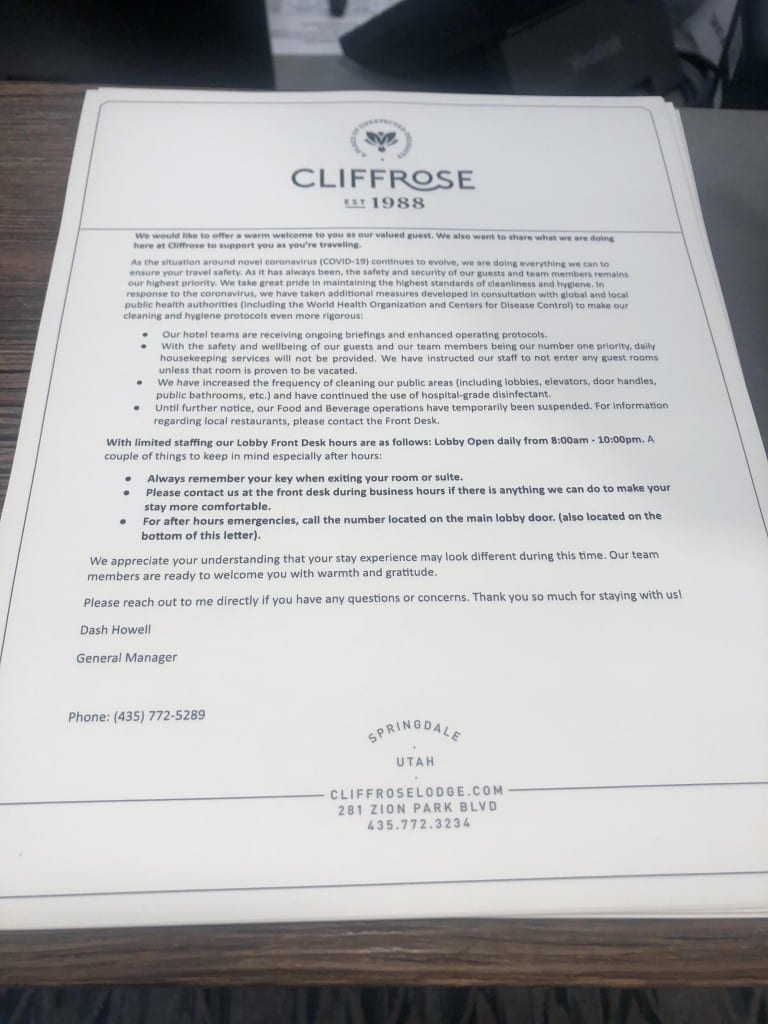 The major change at the property was their limited front desk hours, as well as their restaurant closure. Since I receive daily breakfast for two as a Diamond member, the hotel offered breakfast next door at Café Soleil. We were able to choose a breakfast entrée as well as coffee. My croissant sandwich was excellent!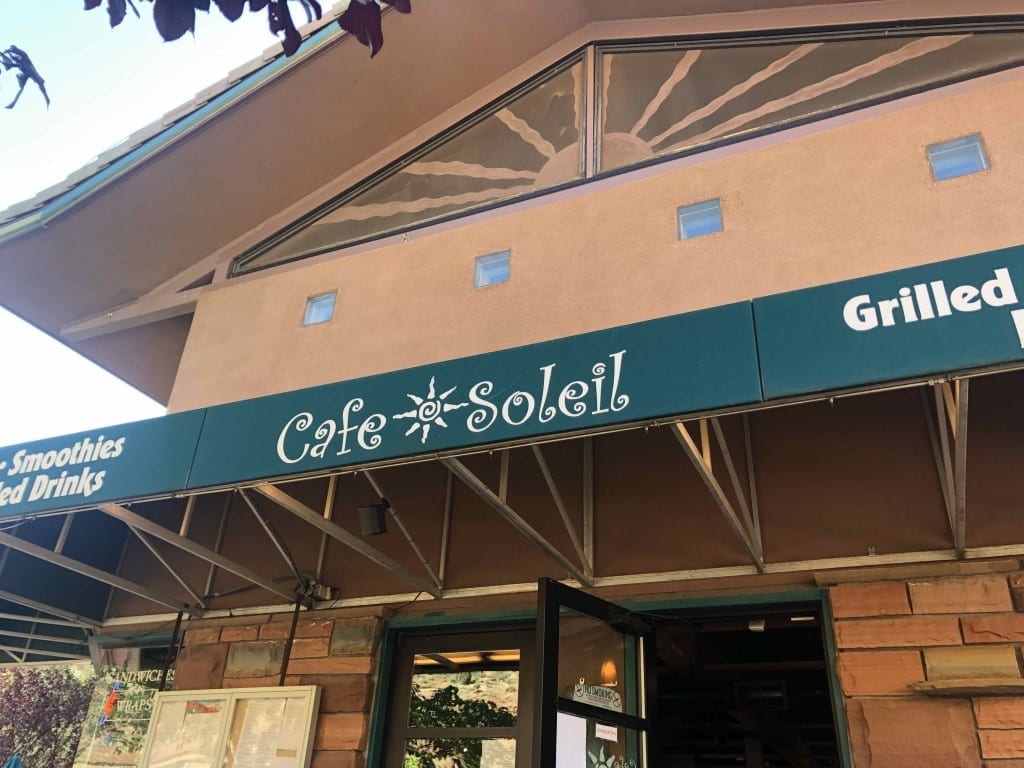 The Room
We were all very impressed with our room. Each bedroom was essentially the same, though only one had a king bed. That means you could squeeze 10 into this room if you need to!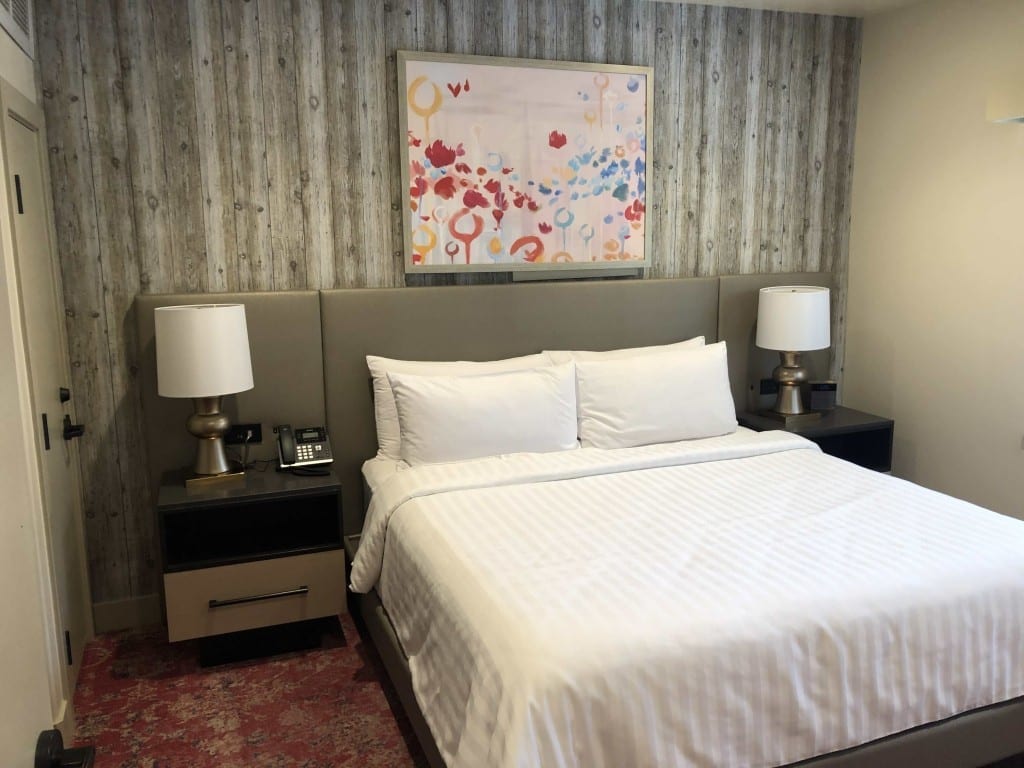 Bathrooms featured a sink, shower, and separate bath.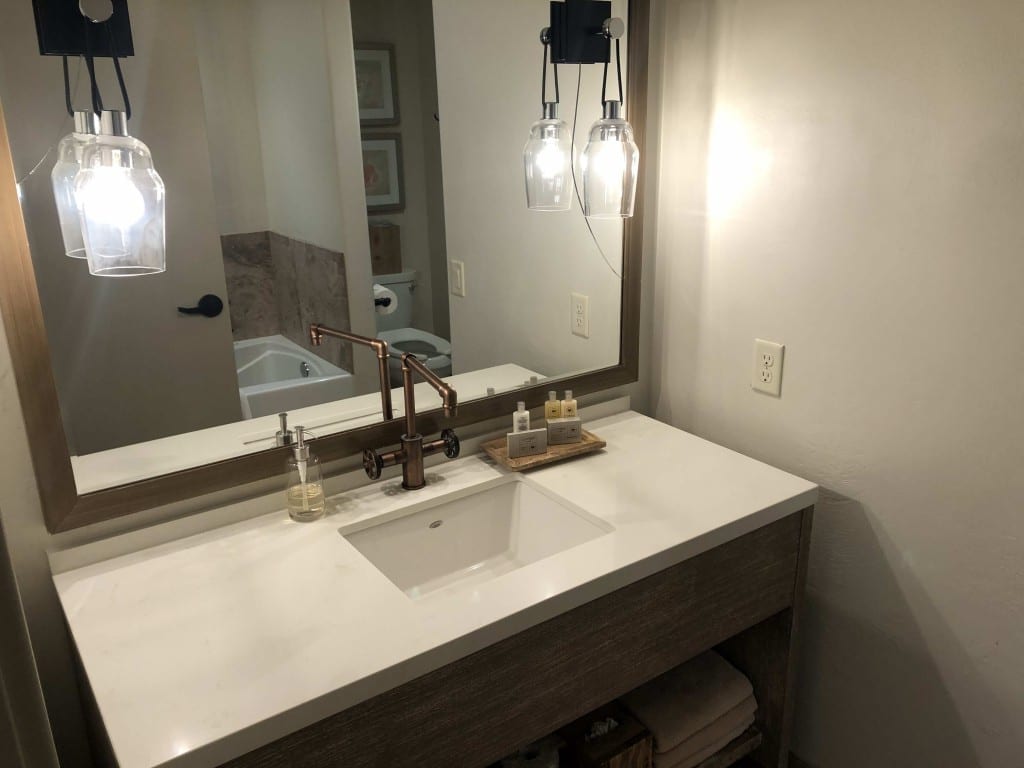 I felt that the shower needed to be a little bigger- it was a tight squeeze.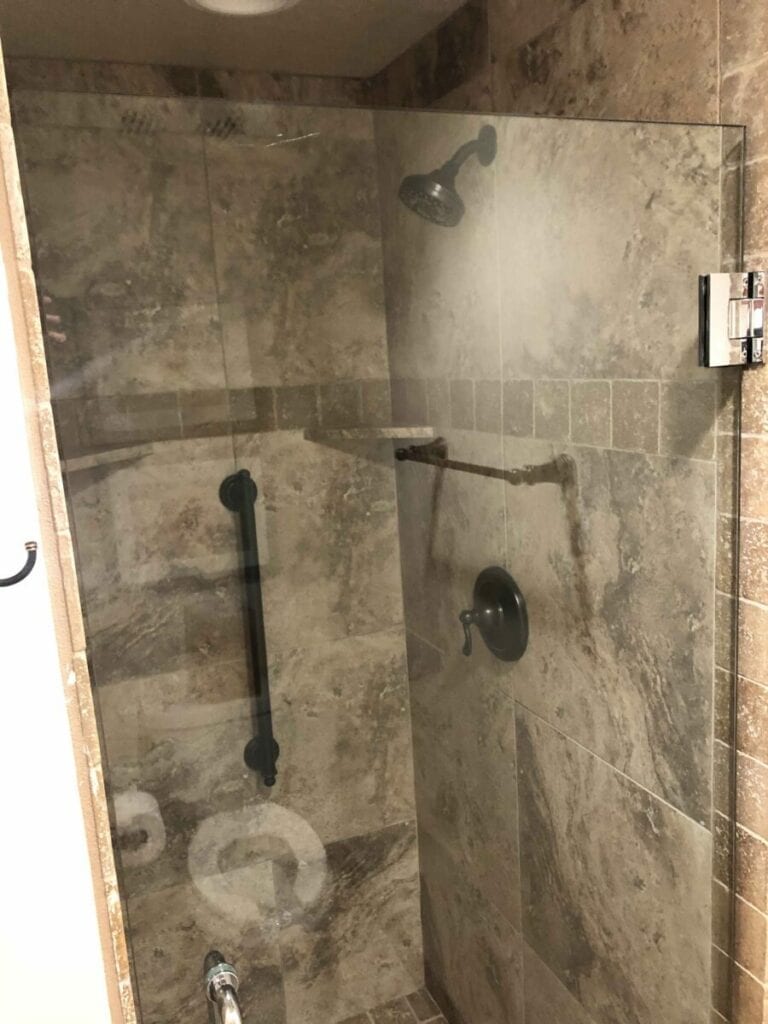 The full tub wasn't used, but after a full day of hiking, I imagine many would appreciate it being available.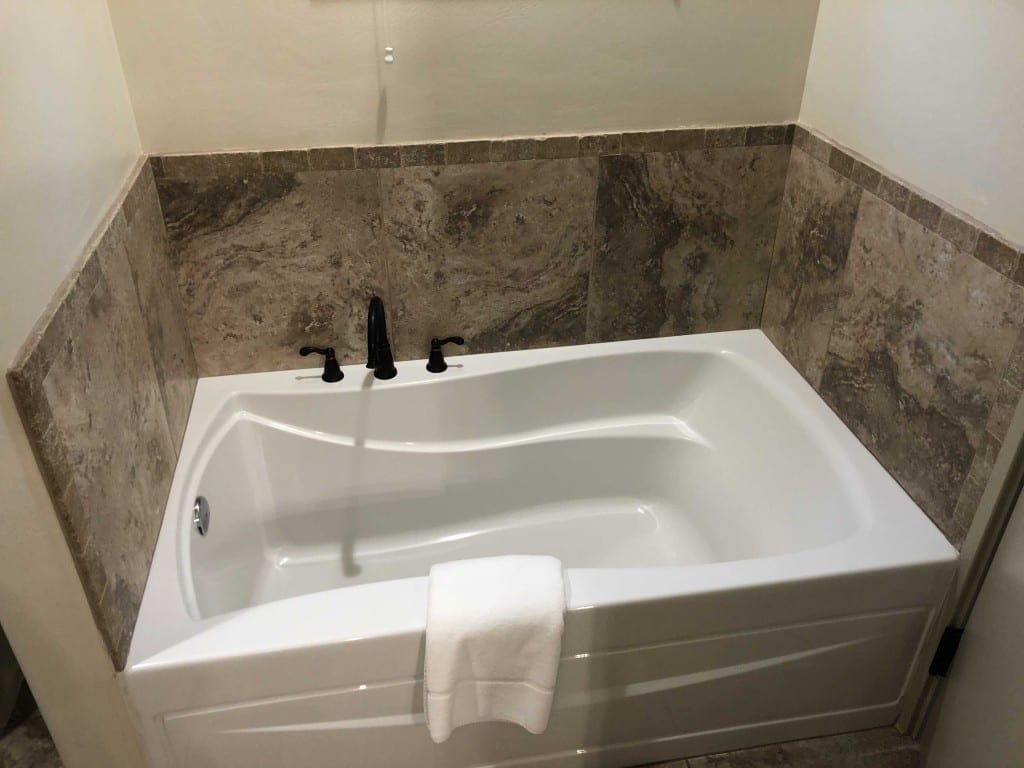 The kitchen came fully equipped with dishware, cookware, and a full fridge. We walked into town to provision, and cooked a few meals during our stay, saving us money and potential exposure to the virus.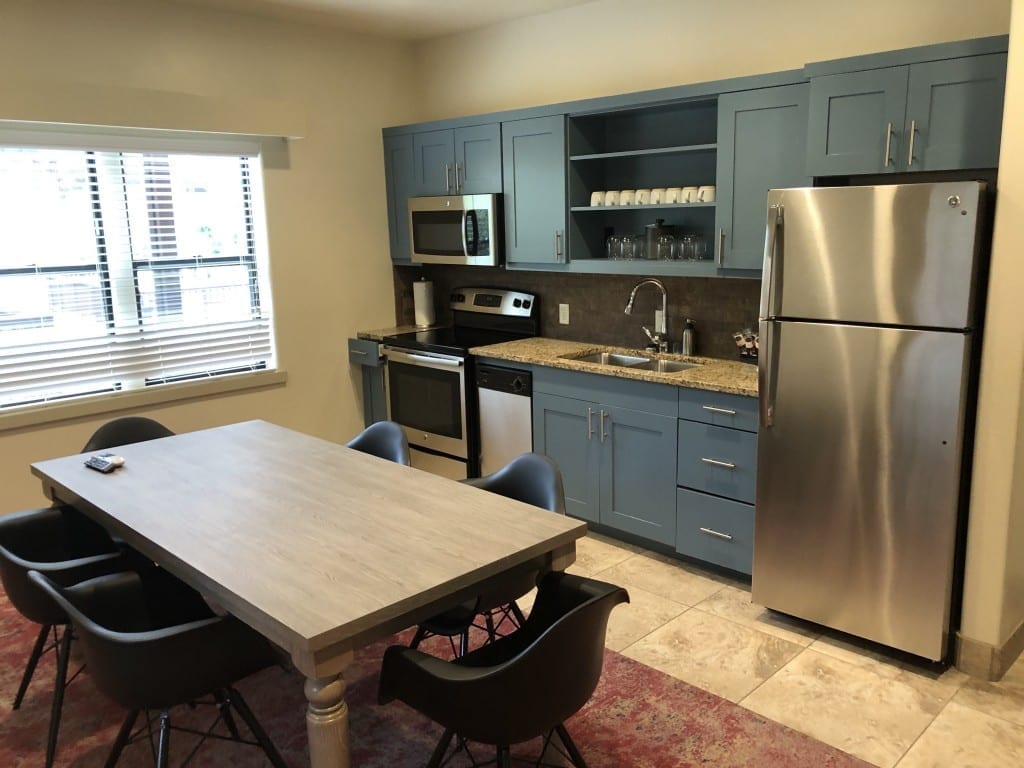 Dining could be done inside or outside, with a full table on one of the patios. Each bedroom had a private patio as well.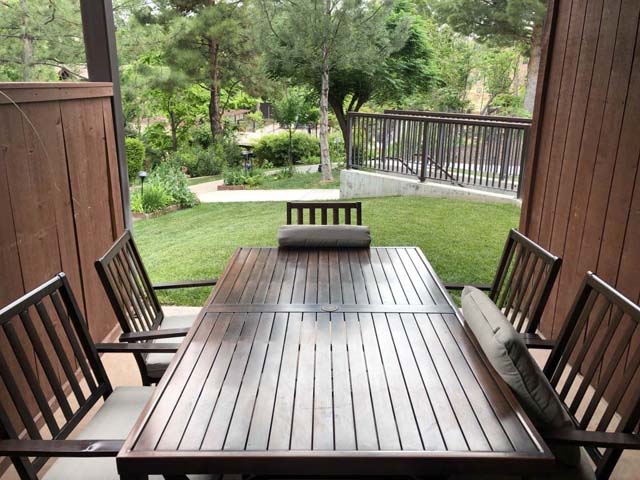 You could even do a cookout on the provided grill, though ours was a little dirty from previous guests.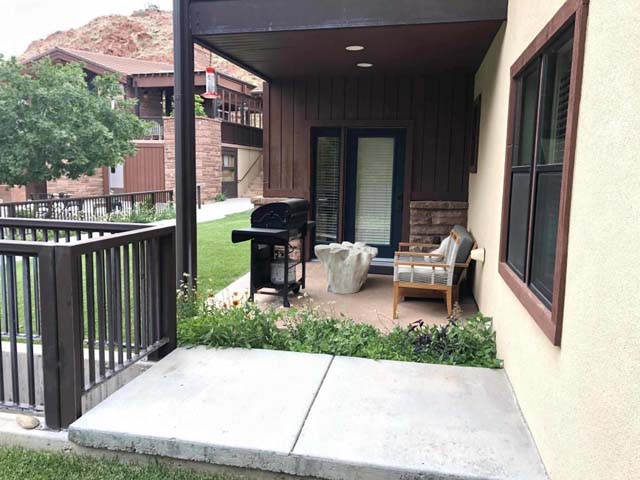 We loved our room, and it definitely was great to have for our group. We did wish there was more of an indoor living space to hang out in, but we enjoyed our time hanging out around the outdoor table as well.
The Cliffrose Springdale Property
The Cliffrose Springdale featured a number of amenities for guests. The lobby had free coffee from 8 AM- 10 AM each morning, though our room came with a Keurig machine as well.
They also had two pool complexes, with one hot tub each. One hot tub was 24 hours, which is a great feature! The entire complex is situated in Zion canyon, so the views are some of the best I've ever seen from a hotel property.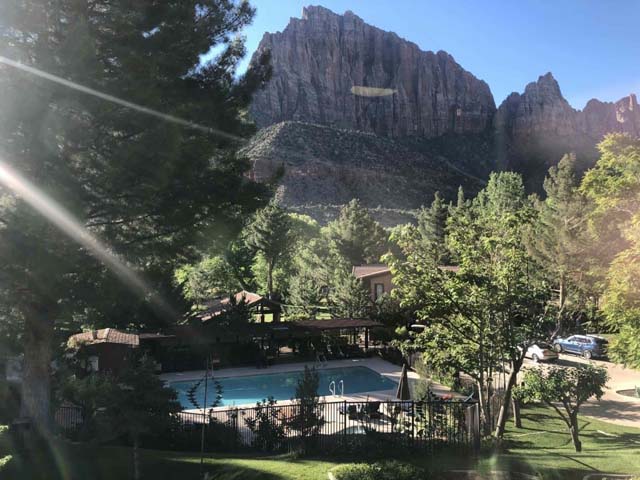 There were cookout areas, a small playground for kids, and since the hotel was situated on the Virgin River, they even had a small "beach" for you to play and swim on, or just admire the beauty around you.
Laundry facilities ($2/load) were also available, as well as a business center.
Overall, I loved my stay at the Cliffrose Springdale, Curio Collection by Hilton. I think it provided a safe, clean stay near Zion National Park, and certainly beats camping!
Hiking Zion
The main reason for our trip was hiking Zion National Park. While several trails are closed, including the famous Angel's Landing, the park was still busy for Memorial Day. It required us to arrive early and leave early, so that we didn't come into contact with too much of the public. Doing so award us with unspoiled views like this: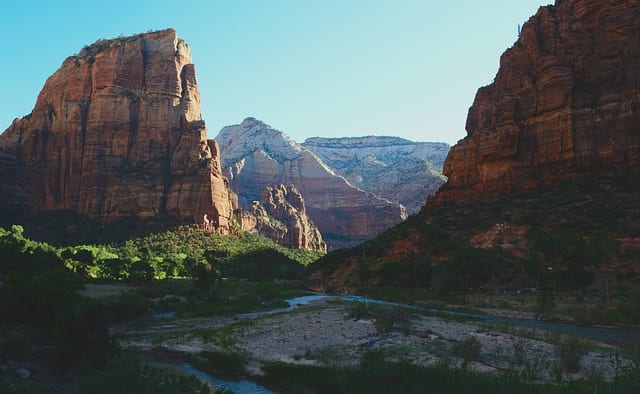 Would I recommend visiting national parks if one was close by? Absolutely, but bring the appropriate gear to protect yourself and your family. We wore masks or bandanas when entering any indoor area, and when we passed others on the trail. Hiking early beat much of the crowds.
Driving Home Through Las Vegas
One interesting part of the trip was the drive home through Las Vegas, where we drove down the absolutely deserted Las Vegas Strip. To see no one on the Strip during Memorial Day was eerie, though there was a political rally/car parade driving down during our visit. We were able to pop out to the famous "Welcome to Las Vegas" sign to take a few pictures.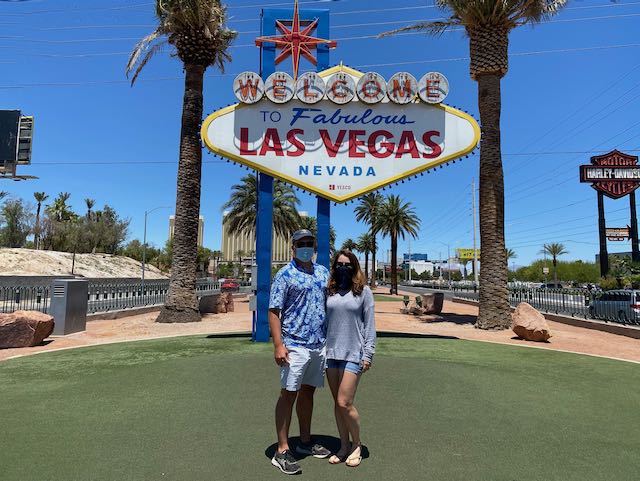 I hope you enjoyed reading, and let me know in the comments if you plan on doing a road trip of your own soon.