Expect Better TV Deals this Black Friday
Our team expects stronger deals on some electronics this shopping season. Here's how to find the best Black Friday TV deals in 2022.
---
Let's talk about TV deals. Inflation abounds this year, but that doesn't mean we should expect higher prices on all electronics. We've talked before about how supply chain issues can result in better deals for consumers. Here's what to expect from Black Friday TV deals in 2022.
Supply Chain Issues Deliver Stronger TV Deals This Season
With most consumers pulling back on discretionary spending, many electronics manufacturers are left with a surplus of inventory and few buyers. For example, Samsung reportedly reduced the number of LCD panels on order from their suppliers. This is an atypical move for this time of year, as normally we'd see manufacturers bolstering their stocks in preparation for the holiday shopping season.
However, with new 2024 TVs already in production, extreme measures would need to be taken to free up warehouse space. That gives us a strong indicator. Our prediction? Expect steep discounts on Samsung TVs in the next few months.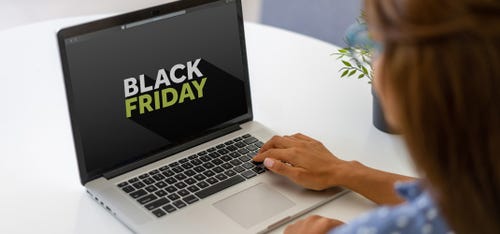 Expert Predictions for Black Friday 2022
The Culprit: An Overabundance of LCD Panels
Overall, the price of LCD panels used in TVs has been in a steady freefall for most of the year as demand for TVs has stagnated. According to the financial publication Nikkei Asia, "The wholesale price of semi-finished products without backlight fell around 6 percent from May to around $90. The price has been declining for 11 consecutive months, continuing to rewrite the record low since the survey began in 2006. The price of 32-inch products for small-size TVs also dropped by 15 percent, setting a new record low."
While Samsung is the first major manufacturer to take measures to actively reduce their inventory, their position as an industry leader may cause a cascading effect that would see their competitors making similar moves.
What to Expect from TV Deals This Season: Recap
LCD inventory means steeper discounts likely
Some clearance deals will run out of stock
Expect record-low prices on some models
Shop Samsung for the initial price drops
Find the Best Value at Brad's Deals
We'll be covering more supply chain issues, clearance sales, and all of the best Black Friday deals. Also, if you're looking for something specific, set up deal alerts. That way, you'll be notified as soon as we find something that fits what you're looking for. For deals on the go, download our free app.