What It's Like Staying at a Ritz-Carlton After Reopening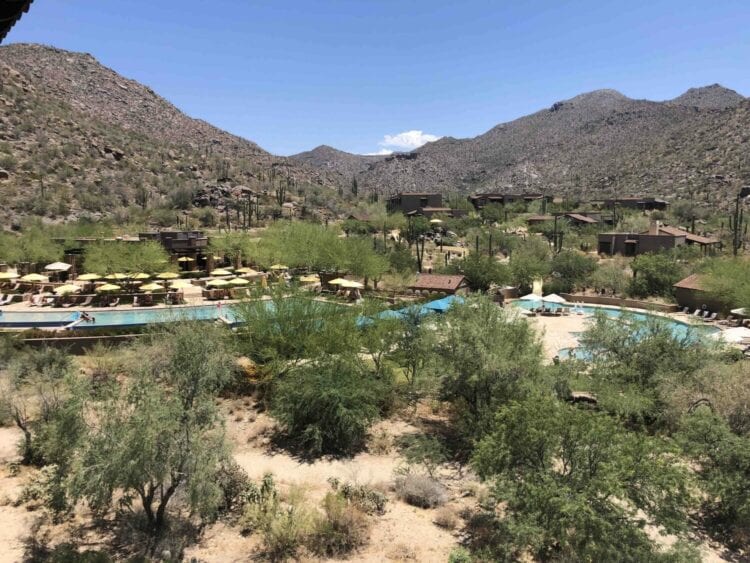 I've been incredibly curious about how the travel industry would respond to reopening after many weeks of lockdowns from the coronavirus pandemic. I live in Arizona, which has reopened a little faster than other states (perhaps too fast), and many luxury resorts are open for business, albeit with operational adjustments. To celebrate a friend's birthday, we spent one night at the Ritz-Carlton Dove Mountain outside of Tucson, Arizona, to both take advantage of a great deal and to see how a luxury hotel is handling the new normal.
A Stay at the Ritz-Carlton, Dove Mountain After Coronavirus Reopening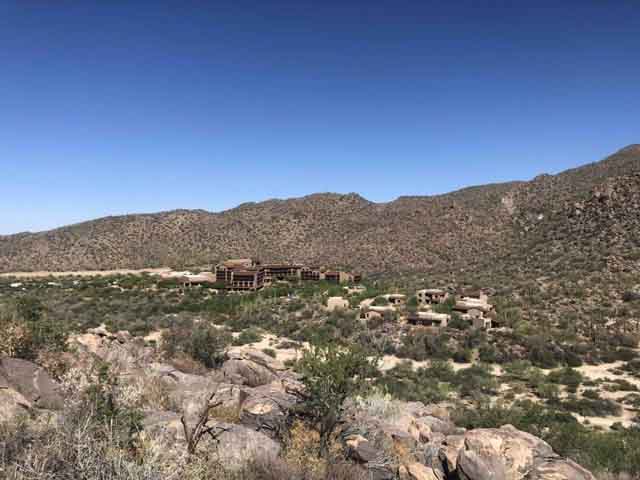 Booking
Rates to book were around $230 plus taxes and resort fees ($50), matching the rate I found through Amex Platinum's Fine Hotels and Resorts, which offered the following benefits:
Noon check-in, if available
$65 breakfast credit
$100 resort credit
4 PM late check out, guaranteed
One-category upgrade, if available
This is in addition to benefits from being a Marriott Bonvoy Platinum member, which at Ritz-Carlton doesn't get you much (1,000 points at check in, a non-suite upgrade if available, and 50% bonus on base points). For example, while nearly every other brand gives Platinum members free breakfast, Ritz-Carltons are annoyingly excluded. This makes booking through Fine Hotels and Resorts very attractive.
Check In
We drove the 1 1/2 hours to Dove Mountain from Scottsdale, arriving around 11 AM. The resort is tucked in nicely in Wild Burro Canyon in the Tortolita Mountains. Valet and self-parking are included in the resort fee, so we self-parked to socially distance a bit from the valet. At check in, the desk featured plexiglass to separate guest and employee, who was wearing a mask.
Luckily, our room was upgraded to a mountain view and was ready for us. Overall, the check-in experience was relatively normal compared to other Ritz-Carlton stays I've had over the years.
The Room
The Ritz-Carlton, Dove Mountain features 253 rooms, including several stand-alone casitas above the pool complex. We were upgraded to a mountain view, which had a great view of the pool as an added bonus.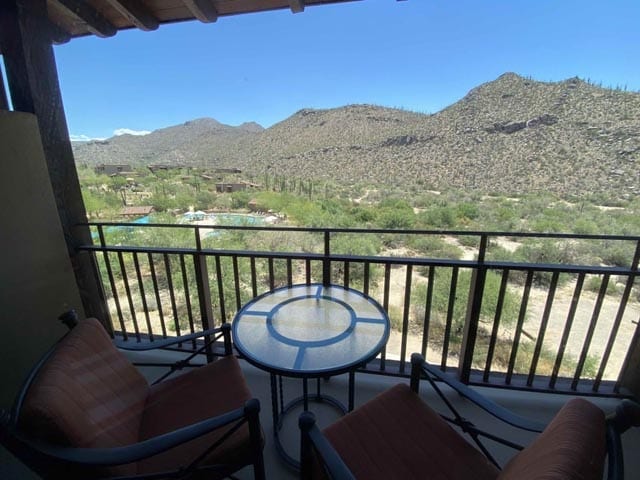 The room itself was pretty large, with one king bed, and a spacious bathroom with a separate tub and shower.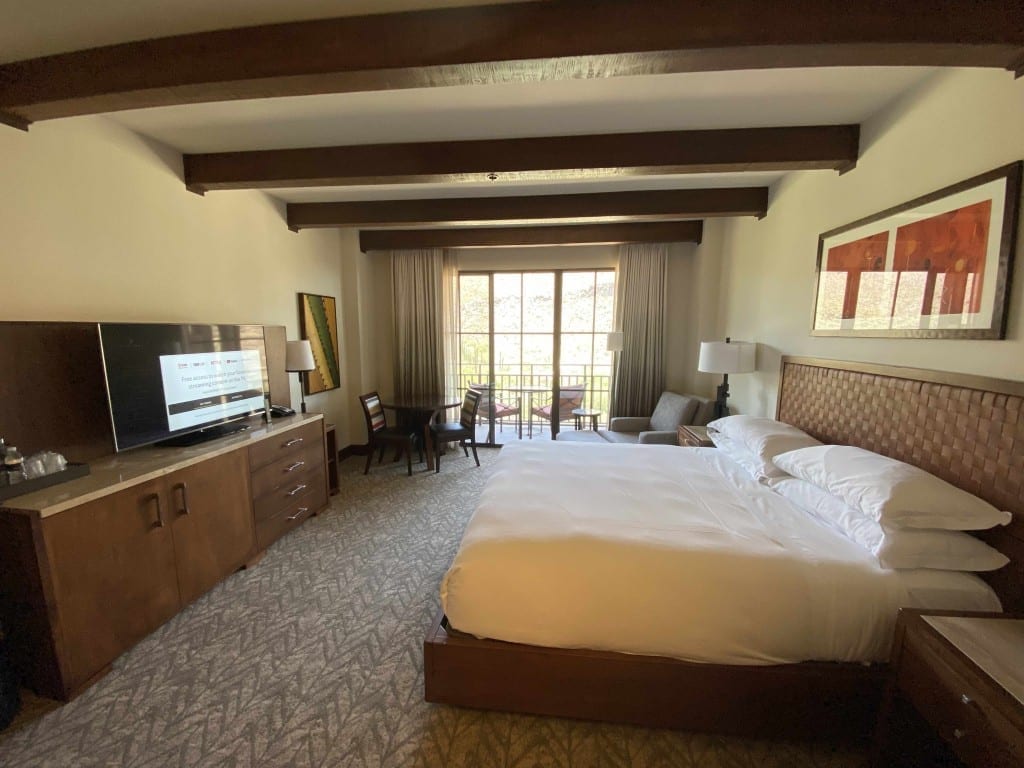 I like that many Marriott properties have smart TVs with the ability to stream Netflix from your account.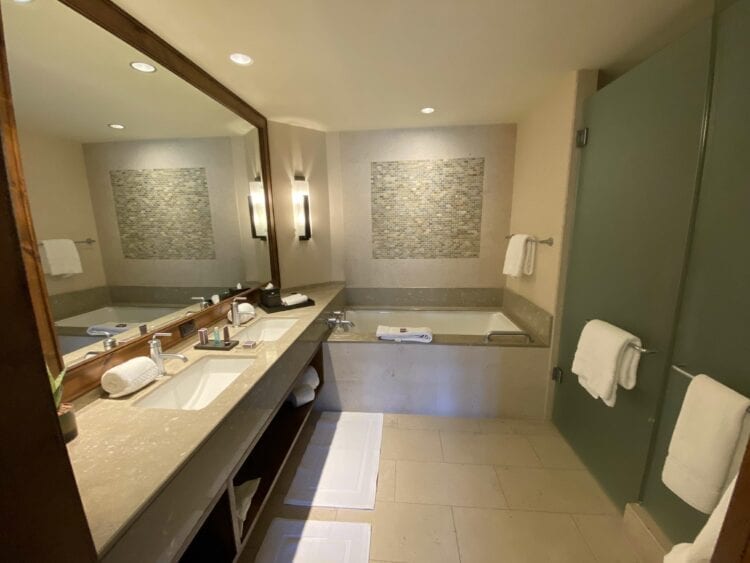 Ritz-Carlton also feature some of my favorite hotel toiletries, provided by Asprey. They were in individual use containers. Before the coronavirus, hotels were moving to eliminate these, but I don't think that trend will continue.
The Property
There is plenty to do at the Ritz-Carlton Dove Mountain. We spent most of our time at the pool complex, which has two large pools. One is an infinity pool facing the main resort, with some loungers in the pool itself. The second pool features a 225 foot waterslide (an absolute 10 out of 10 in my opinion), which makes it the de-facto family pool.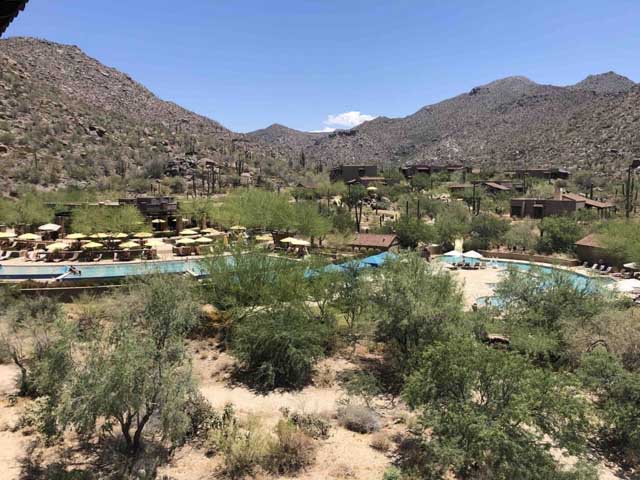 Being in a canyon, there's plenty of wildlife in and around the resort. We saw lots of roadrunners, and the resort even has a few tortoises on a hill near the main staircase for guests to view. There are over 8 miles of trails directly at the resort, so hikers who are looking to socially distance while exercising on vacation can do so. We walked a few miles up the hill to check things out.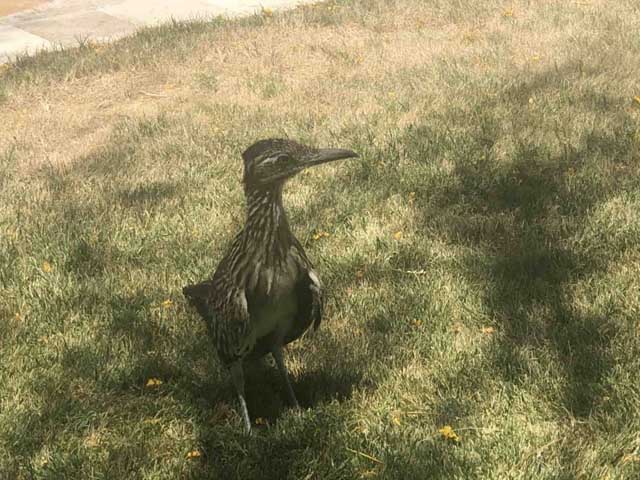 During our stay, the spa was closed due to coronavirus, though we would've likely not visited. The gym was open, but limited to 6 guests at a time. The property had an attendant there managing the flow of people, and even offered to call me when there was a spot open. They would wipe down after every guest as well.
The main restaurant at the property, CORE, was closed, but Ignite was open for dinner service outside, which we took advantage of. For breakfast, the buffet was sadly closed, but we were able to use our $65 credit at "TO|GO," their coffee shop, which got us plenty of food. Lunch was served poolside at Turquesa, their Mexican restaurant. There was also another restaurant at the resort's golf shop open, Clayton's Burger Bistro, which we didn't dine at. The golf course was open for business.
Overall
The resort was a whole lot of fun to visit, and while nearly no guests were wearing masks during their stay, I do think the resort is managing things well during the coronavirus pandemic. I would like to have seen more hand sanitizers, like my stay in Las Vegas. There appeared to only be a few in the lobby and at the pool entrance. I think there should be some on every elevator shaft, where a lot of contact would be occurring.
To me, I feel comfortable enough staying at a resort and spending most of my time outdoors during the pandemic, so long as I maintain my distance from other guests. I wouldn't feel comfortable dining indoors for an extended period of time, or getting a spa treatment, for example. Think about your risk tolerance for your travel behaviors until we can find a vaccine or treatment to help deal with the crisis. Let me know your thoughts in the comments!