What a Strong Dollar Means for Holiday Travel
The dollar ranks strong in global currencies this year. Here's what that means for holiday travelers.
---
A strong dollar this season means holiday travelers get more value out of international vacations. While inflation remains high in the United States, smart travelers are looking overseas for some of the best values on hotels and vacation packages.
We found several ways to maximize the value of your spending–and your time–when you travel this holiday season.
Consider a European Vacation this Winter
The dollar finally reached parity with the euro. That means American travelers no longer expect to pay a premium with this foreign currency. You'll get more for your money now when you book a holiday vacation in Paris, Barcelona, Santorini, and other popular destinations.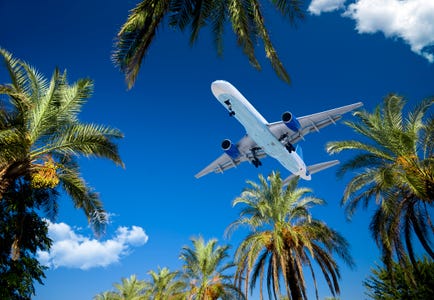 Avoid These Surcharges on Holiday Travel
Pay with the Local Currency
Our travel experts advise paying with the local currency whenever possible. Exchange rates are often most favorable when your bank makes the conversion, rather than when a local merchant offers to make the conversion at the point of sale. You can also avoid foreign transaction fees on many travel credit cards.
This advice applies during every season. . . not just the holidays. With a travel-friendly checking account, you skip the trip to the bank and pull your local currency directly from the ATM. Just remember to check with your bank to make sure your credit card doesn't charge extra, beyond the conversion rate, to save on extraneous fees.
Book Direct Flights During the Holidays
With frequent flight delays and cancellations, travelers may consider (more expensive) direct flights instead of flights with multiple legs. We also recommend reviewing your rights as a passenger. In some cases, airlines offer accommodations on competitor flights.
If you choose to go with lower-priced flights instead of direct flights, consider the flexibility of your tickets. For example, Southwest Airlines doesn't charge change fees. You just pay the difference if your new flight costs more than your original booking.
Find the Best Holiday Hotel Deals
Use travel credit cards to score loyalty bonuses at your preferred hotels. Our team reviews these deals regularly, and we often find automatic loyalty bumps as signup bonus offers. We found ways to visit Disneyland for (almost) free, and how to visit Vegas with reward points.
Whether you stay around town or book an international vacation, our team can help you find the best deals for your holiday season. Download the free Brad's Deals app on iOS or Android for all the latest offers this year.
Why Is Travel So Expensive Right Now?