How to Save on Your Disney World Vacation With Hilton Honors Points
Walt Disney World is likely on every family's travel bucket list. With new offerings like Star Wars: Galaxy's Edge, the reasons for visiting have never been stronger. A Disney vacation has never been cheap (unless you've used our tips to visit …
---
Walt Disney World is likely on every family's travel bucket list. With new offerings like Star Wars: Galaxy's Edge, the reasons for visiting have never been stronger. A Disney vacation has never been cheap (unless you've used our tips to visit for almost free), and hotels can be a major part of the cost. Thankfully, many non-Disney hotels are nearby both resorts, and staying at a Hilton property may be the best option using points. Here's why using Hilton Honors points makes sense for your family's Disney Vacation.
How To Rack Up Hilton Points Quickly
First, if you're not familiar with the nuts and bolts of Hilton's program, we have a handy guide to get you up to speed. Our best advice to rack up Hilton points quickly is taking advantage of one of Hilton's credit card sign up bonuses. Once you're on property, any on-property expenses will earn a lot of bonus Hilton points, depending on the card you hold. Many of the cards below offer Gold or Diamond status, just for holding the card, which gets you free breakfast and bonus points while on property, among other benefits.
American Express Hilton Aspire Card
The Aspire card has a 150,000 point sign up bonus, and earns 14 points per dollar at Hilton properties. It also gives cardmembers top-tier Diamond status, just for having the card, and earns 14 Hilton Honors points per dollar.
American Express Hilton Surpass and Hilton Honors Business Cards
The Hilton Honors American Express Surpass Card and Hilton Honors Amex Business card both currently has a 125,000 point sign up bonus (that's 25 nights at the properties below!) and earn 12 points per dollar at Hiltons. They also give you Gold status for holding the card.
American Express Hilton Honors Card
The Hilton Honors American Express Card has a 75,000 point sign up bonus and earns 7 points per dollar, and gives you Silver status for holding the card.
American Express Platinum Card
The Platinum Card by American Express only gives you one Membership Reward point per dollar (worth 2 cents) for your Hilton spending.
If you and your significant other both received the top-tier Aspire card bonus, you'd have 300,000 points, enough for potentially twelve nights at the cheapest points property below!
Hilton Properties at Walt Disney World
Walt Disney World offers its on property guests a number of benefits for staying at their resorts. Disney owns and operates a number of properties, in the value, moderate, deluxe, and deluxe Disney villa categories. Guests of those resorts receive free transportation from Disney's Magical Express from Orlando airport, Extra Magic Hours for more time in the theme parks, Fastpass+ advanced reservations 60 days from your trip, package deliveries, and more.
Other hotels are considered "Official Disney Hotels," and located in the Disney Springs and Bonnet Creek areas. These hotels come with a few perks as well, most importantly Extra Magic Hours and Fastpass+ reservations. There are five Hilton properties that qualify for these extra perks, which we detail below.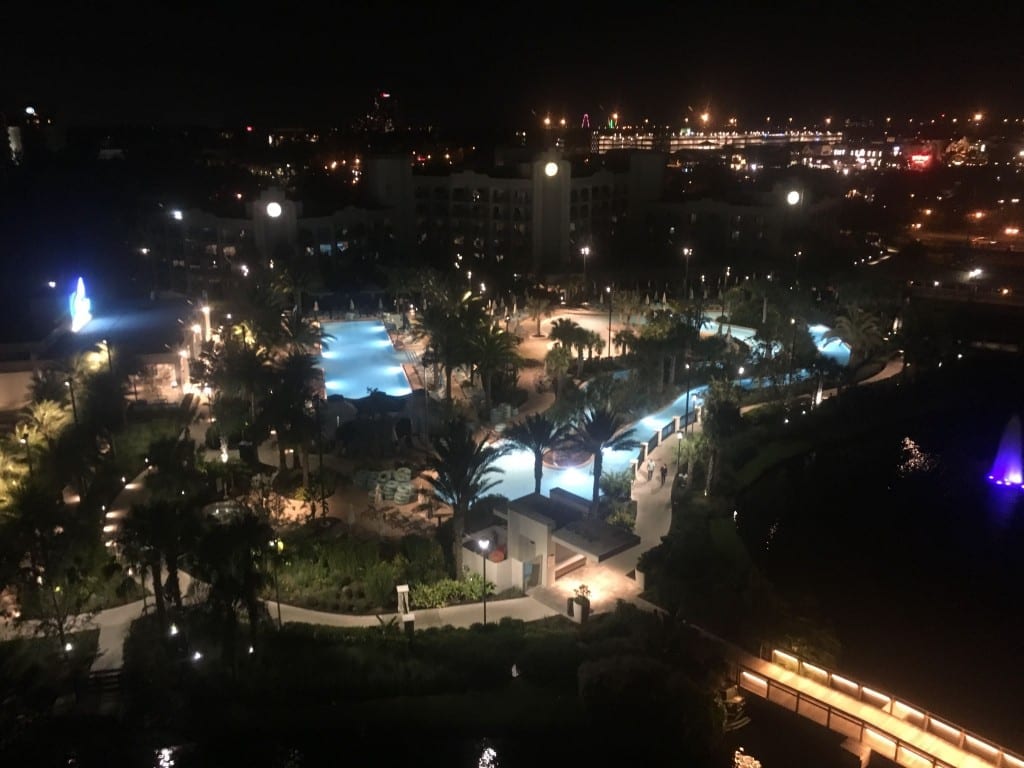 This is the only property on our Walt Disney World list that I've stayed at, albeit for a short one-night stay. As a Diamond member, I received 1,000 bonus points at check in, an upgrade to a pool-view room, and free breakfast at their grab-and-go market in the morning (though restaurant was also available for those dining during its opening hours). Continental breakfast is free, and full breakfast a $10/person upgrade.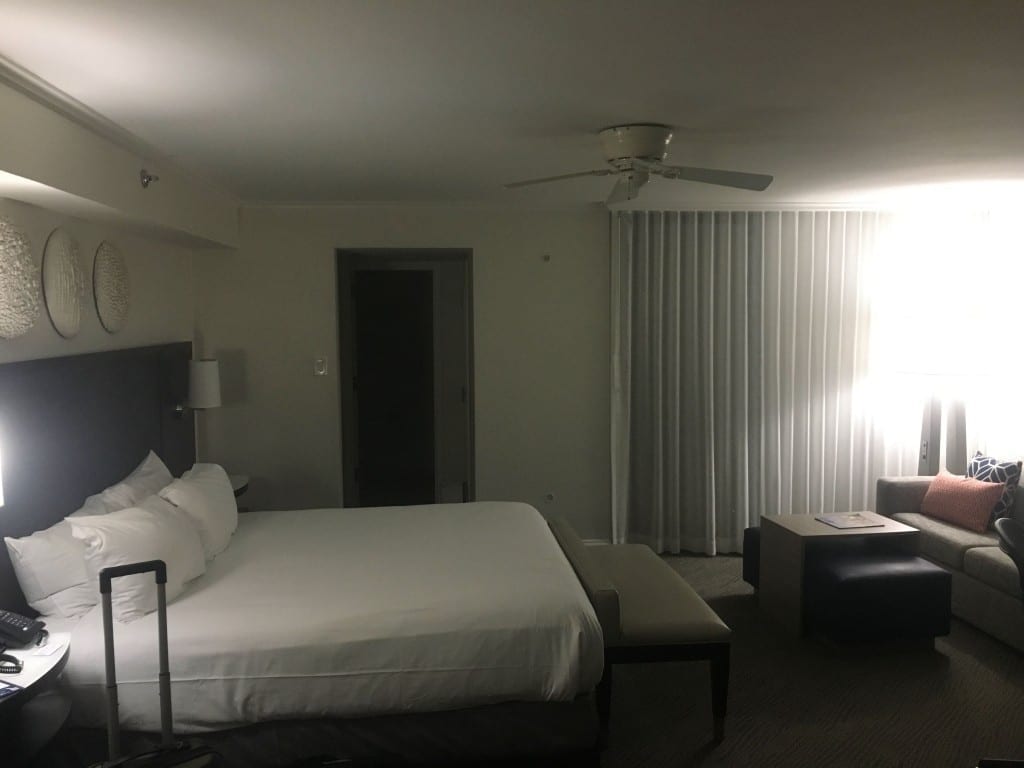 As you can see, I checked in late, and left very early for the parks (to take advantage of Extra Magic Hours), so my photos were only at night, but the resort featured a very nice looking pool area with lazy river, which is great for families taking a break from the parks. The room itself was fine, with a king bed and pull out couch, which would fit a family of four, but it would be a tight squeeze.
The resort charges a $35/night resort fee. However, if you are staying on points, all Hilton Honors award reservations worldwide are not subject to this. So, while I've seen rates at this property consistently under $150 per night, the $35/night fee may make an award night make more sense. Remember, we value Hilton points at .5 cents per point, so at the 36,000 point level, you'll want to use points when the rate is above $180 per night, with resort fees and taxes included in your comparison.
Another Hilton property located close to Disney Springs (an easier walk to the shopping district than the above property, which took about 30 minutes when I was there), the Hilton Orlando Lake Buena Vista – Disney Springs Area has all the resort amenities you'd expect from a family resort, albeit not as exciting as the Hilton Buena Vista Palace's pool complex. There are reports that there is an Executive Lounge, but it's currently under renovation, so Gold and Diamond breakfast is served in the restaurant. This resort also has a $35/night resort fee, so consider using points for per-night rates after taxes and resort fees of $160 or more, based on our valuation.
The cheapest hotel of this list (at the low end of its dynamic redemption chart, at least), the DoubleTree Suites by Hilton Orlando – Disney Springs Area is only a 15-minute walk from Disney Springs. One nice thing for families at this hotel versus the others on this list, is that every room is a two-room suite. One other perk? There's no resort fee. Continental breakfast is included for Golds and Diamonds, but a hot breakfast upgrade is $5/person. Use points for reservations over $145/night after taxes and fees.
The first hotel that's in the Bonnet Creek area on our list, the Hilton Orlando Bonnet Creek is in the same complex as the Waldorf Astoria Orlando below. There's a gigantic pool complex with lazy river for families. You'll also get free continental breakfast for Golds and Diamonds, and upgrade to a hot buffet for $10/person. With the nicer amenities comes a larger per-night resort fee, of $45/night.
Waldorf Astoria Orlando (75,000-80,000 Hilton Honors Points per night)
The nicest property on this list, the Waldorf Astoria Orlando is also the priciest with points. Also featuring a $45 resort fee/night, the Waldorf Astoria shares the lazy river with the Hilton Orlando Bonnet Creek, but has its own pools as well. I'd argue the deal here is to stay at the Hilton next door, as it'd be cheaper for your family, but others will enjoy the nicer amenities that Waldorf Astoria is known for. Keep in mind, this property also has free continental breakfast for Golds and Diamonds, and a $15 upgrade for the full buffet.
Things to Know Before You Book
If you have kids that absolutely need the full Disney experience, from the moment they arrive in Orlando until they leave, then the properties above may not be for you. Some do have character breakfasts a few times a week, but there won't be as much theming as staying at a Disney-owned resort.
Additionally, transportation can be an issue. They do run shuttles to the parks, but the schedule can be a bit unreliable. When Disney vacations are planned months in advance, the potential for plans to fail due to a late shuttle bus can be a major stress. I'd factor in at least one Uber a day to get to your first Disney destination, and using the free resort transport after that, or walking to Disney Springs and using Disney transportation from the beginning.
Further, Disney's Magical Express is only for Disney's own resorts- you won't be able to take advantage with these Hilton properties.
Finally, if you do plan to take advantage of the Fastpass+ reservations 60 days out, a major perk of these hotels, make a reservation at least a week beyond that threshold, as it takes a few days for Disney to link your reservation. Know that you'll need to have tickets purchased already as well- we recommend Undercover Tourist for the best deals. In my own experience, reserving exactly 60 days out is the only way to reserve some of Walt Disney World's most popular attractions before your stay.
Save on Your Disney Vacation with Hilton Honors
With multiple properties to chose from, and a little extra planning, you'll be able to save big on your Disney Vacation after taking advantage of the various ways to rack up Hilton Honors points.
Are there other ways to save on a Disney Vacation or rack up Hilton Honors points that you've found? Let's us know in the comments below!