4 Ways You Lose Money by Relying on Price Trackers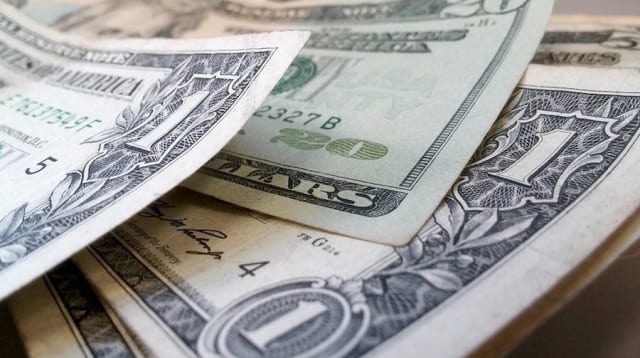 As helpful as price trackers and services seem on the surface, they are rarely showing you the best deal. And isn't that what you're really after? You don't want the lowest price at Target, you want the lowest price, period.
We took a look at several popular price trackers, including Slickdeals, Nifti, Camelcamelcamel, and TrackIf, and quickly realized that consumers who rely on these services are often spending more money than they should.
Our examples below use the Slickdeals Price Tracker and one of our favorite items, a KitchenAid Artisan 5-qt. Stand Mixer. I'll give you one spoiler up front: The price trackers got it wrong by up to $180 in missed savings.
Problem #1: Price trackers track URLs, not items.
If you're looking for the lowest price on that stand mixer, a price tracker will not tell you where to find it. The closest we could get to actually monitoring for the lowest price was to feed the tracker a bunch of different URLs for the same item at different stores. We chose five which came up in a Google search – Amazon, Macy's, Target, Bed Bath and Beyond, and Kohl's – and this was the result: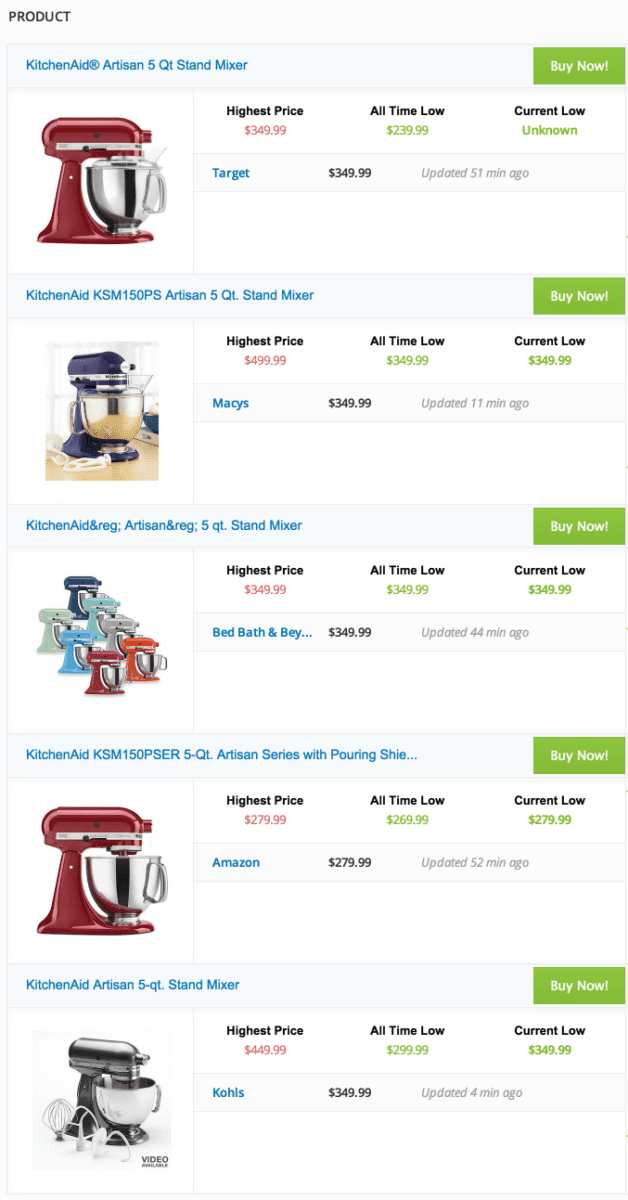 So where is the lowest price? If all you have to go on is this list, then it's impossible to tell. Of the stores listed above, it appears to be Amazon (which could be wrong for a number of reasons I'll get into later), but we're only looking at five stores. A price tracker only will alert you to a price drop in the places where you told it to look, and those may not be the best places to be looking. Is our list of five stores exhaustive? No, not by a long shot, so if you take this approach, you're putting in a lot of legwork to cover as many stores as possible. At that point, you've done everything you wanted the price tracker to do in the first place.
Problem #2: Inaccurate prices.
Looking at our screenshot above, you can see that the price of the stand mixer at Target is listed as "Unknown." It's puzzling that the price tracker was unable to figure out the price of a common object at a common store.
Looking at Target's KitchenAid Mixer listing, the answer becomes clear: Target has replaced the price with "See Low Price in Cart", and the price checker doesn't know how to navigate around that.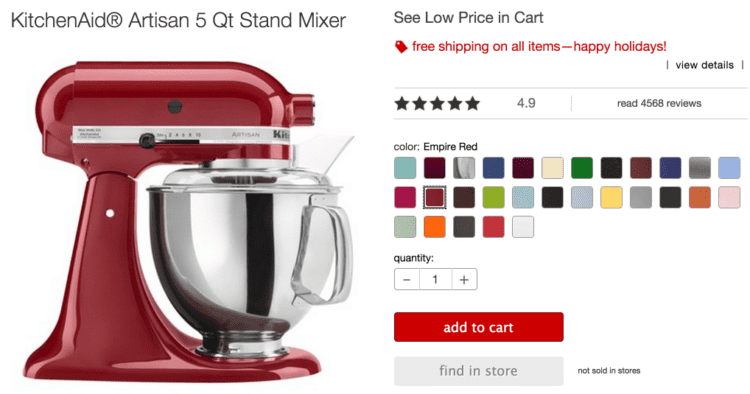 By the way, as of the date I'm writing this article, the answer is $262.49, a rather sizable price drop that the price tracker completely missed.
But even more odd is the result from Amazon, which lists the mixer at a current price of $279.99, and that does seem to be accurate at first glance. Exploring the different color options, however, we realize that the price can vary from one color to the next. Some run over $300, and the lowest price we found was $269.99 for the Contour Silver model. The price tracker missed the actual lowest price by $10.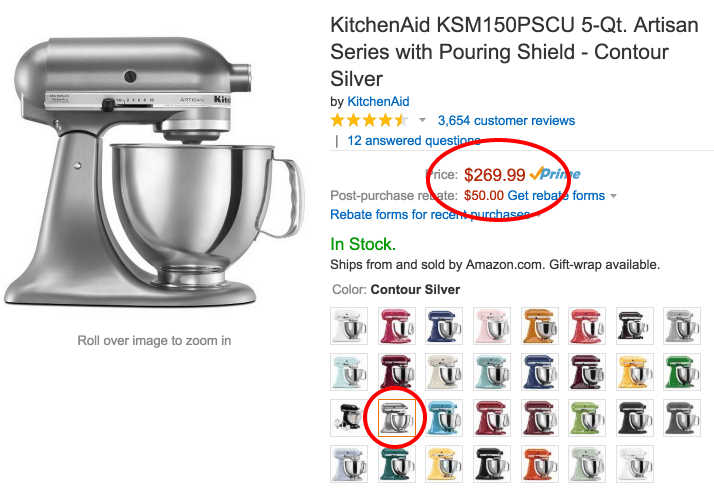 In fact, when I first entered the Amazon URL, it listed an even more wildly inaccurate "current low" of $233.71, though it updated to $279.99 with a browser refresh. Bottom line: The pricing shown in your price tracker cannot be trusted.
Problem #3: They don't dig deep enough.
What's that note under the price at Amazon?  The price tracker completely missed the $50 mail-in rebate that KitchenAid is offering, which means the effective price of the Contour Silver model at Amazon is actually $219.99.
Price trackers don't consider rebates as part of the net price, which means that if the retail price doesn't drop but the rebate amount increases, you'll never know about it. In fact, you probably won't know about the rebate at all since the price tracker ignores it entirely.
Problem #4: Price trackers don't account for coupons, either.
So it looks like the best price on that KitchenAid Artisan Stand Mixer is going to be the Contour Silver at Amazon, right? Well, no, because here's the last dirty little secret about price trackers: They don't take available coupons into account.
Checking back in with our initial list at the top, Kohl's has the mixer listed at $349.99. (Not including that rebate we mentioned that the price tracker couldn't find, of course.) That does at first glance seem to be accurate, but you can nearly always take a generous chunk off your total with Kohl's coupons, and you earn $10 in Kohl's Cash for every $50 spent. Once again, the price trackers completely failed to take these additional savings into account. Let's walk through the math on a deal that we have on Brad's Deals today. This is our shopping cart at Kohl's: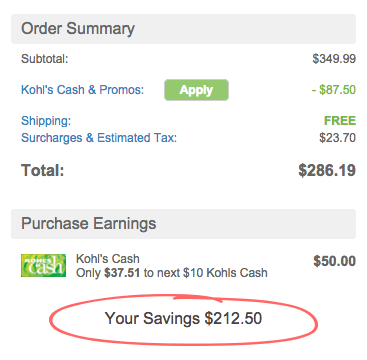 We added the mixer to our cart for $349.99, applied Kohl's promo code VIXEN to take an additional 25% off, which lowers the price to $262.49. Add a shipping surcharge of $7.50 to get to $269.99. That's your in-cart total before tax. Now subtract out the $50 rebate to arrive at $219.99, and an additional $50 which you earn back in Kohl's Cash with this purchase. Sales tax adds roughly $20-$25, but a cost of $245 with $50 Kohl's Cash earned back is a much better deal than you'll get at Amazon where you'll probably also pay sales tax we didn't account for above.
Perhaps the most shocking revelation is that the price tracker is missing $180 in savings for that mixer at Kohl's.
(For future readers: Totals and codes will vary, of course, but the principles remain the same – always check for a coupon and consider the extras.)
Be a smarter consumer.
Of course, the end goal of all of this is to be a smarter shopper, and we can help with that.
Check to see if it's on Brad's Deals. If it's a popular item, like the KitchenAid Artisan Stand Mixer we used in our example, then we almost always have a deal posted that is the actual lowest current available price, vetted by our team of human editors. We only post a deal if it's the best you can get online. We do the math for you and walk you through all of the steps to get that price.
Always look for a coupon or promo code. The price you see on a price checker, or even on the merchant's website, is often not the lowest price you can get with a well-applied coupon. We maintain a database of active online coupons and promo codes for more than 4,000 of the most popular stores on the internet. The chances are good that we'll have one for you today.
The extras matter. Whether you're collecting Kohl's Cash like we did in the example above, or Rewards R Us points, or Best Buy rewards, and so on, those points and cash back dollars all have value above and beyond the listed retail price.
Cover photo: Flickr / Peasap