You Have Until Sunday to Get These Early Best Buy Black Friday Deals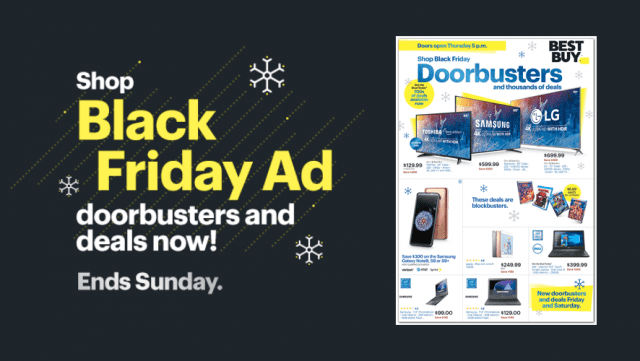 Through Sunday 11/11, these's no need to wait if any of these Best Buy Black Friday deals are on your list. (And they're pretty good!)
It's not your last chance ever, of course. They'll be back on Thursday November 11/22 (a/k/a Thanksgiving Day), and My Best Buy members will get an early crack at the sale from 11/18-11/20 depending on your membership level. But honestly, why wait? The deals wont get any better than they are now, and you'll miss the rush entirely.
Early Access: Best Buy Black Friday Deals
Early access prices below are good through Sunday November 11, 2018.
This is not a complete list of the early Black Friday deals you can get now. There are tons of TVs, electronics, appliances, and more to consider. You can click here to shop the entire Best Buy Black Friday early access sale.
Related: 2018 Best Buy Black Friday ad
On a personal note, I actually bought the 55″ Toshiba 4K TV mentioned above, picked it up yesterday, and while I can't say that I'm a tech expert (I'll leave that it our tech editors), I'm pretty impressed with it.
More Best Buy deals you can get right now:
3pk Sengled Smart Bulbs + Echo Dot $100