Use These Credit Cards to Get Elite Status, Freebies and Upgrades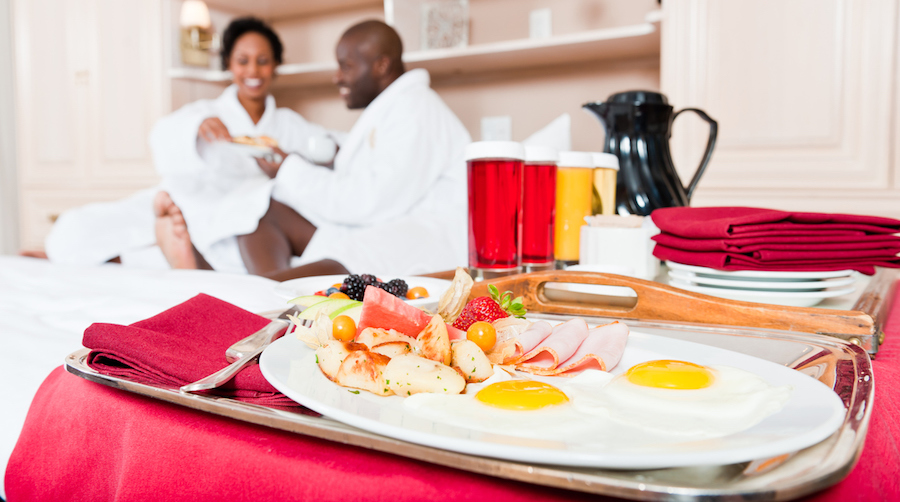 Disclaimer: This content is not provided or commissioned by the issuer. Opinions expressed here are author's alone, not those of the issuer, and have not been reviewed, approved or otherwise endorsed by the issuer. This site may be compensated through the issuer's affiliate program. These user responses are not provided or commissioned by the bank advertiser. User responses have not been reviewed, approved or otherwise endorsed by the bank advertiser. It is not the bank advertiser's responsibility to ensure all posts and/or questions are answered.
Everyone loves flying first class and staying in lavish hotel suites, but unless you have endless cash on hand, these things can be hard for the average person to swing. Luckily, there are ways to hack your way to a luxurious getaway without having to pay a cent out of pocket. Gain elite status by signing up for the right credit cards, and you'll increase your chance for upgrades and freebies by a mile.
We've done the research. If you want to gain elite status for travel and hotel perks, check out these credit cards.
The Best Credit Cards for Elite Status in 2018
| Brand: | Credit Card Options: |
| --- | --- |
| Delta Airlines | |
| United Airlines | |
| American Airlines | |
| Marriott/SPG | |
| Hilton | |
| Hyatt | |
| IHG | |

Delta Airlines
Delta Airlines requires not only "Medallion Qualifying Miles" (MQMs) for status qualification, but also "Medallion Qualifying Dollars" (MQDs). This means that in order to earn Delta status each year, you'll need to both fly and spend a certain amount on Delta flights. However, if you have a Delta co-branded credit card, you don't need to book trips every other weekend in order to gain elite status. If you can rack up $25,000 in spend on a co-branded Delta card in a year, your spend requirement on Delta flights is waived.
There are three co-branded Delta credit cards, each with business versions:
The Platinum Delta SkyMiles card offers the ability to earn MQMs with spending. You'll earn 5,000 MQMs for spending $1,000 in three months as a sign up bonus (in addition to 50,000 redeemable miles), as well as another 10,000 redeemable and qualifying miles after $25,000 in spending. That's close to Silver status with the card!
The Delta Reserve card offers up to 25,000 MQMs in the first year with $30,000 in spend. These are all combinable into your SkyMiles account, so if you have a lot of yearly spend (say with a business), you can get top-tier Medallion status without ever flying.

United Airlines
Like Delta, United Airlines offers spending waivers if you spend $25,000 on their credit card products annually. The United MileagePlus Card from Chase offers such a waiver, as well as the MileagePlus Presidential and Club Cards. However, unlike Delta, these cards won't get you any "Premier Qualifying Miles" towards elite status.
One good way around this is through Marriott's RewardsPlus program, which offers Marriott Bonvoy Titanium and Ambassador members United Silver status. See below on how to acquire Marriott top-tier status through credit cards.


American Airlines
Unfortunately for American Airlines members like myself, the airline instituted Elite Qualifying Dollars in 2017. Luckily, there are opportunities to earn Elite Qualifying Miles. The Citi AAdvantage Platinum Select Mastercard offers 10,000 EQMs when you spend $40,000 in a calendar year. The Barclaycard Silver Aviator card offers 10,000 EQMs for $40,000 in spend as well, so you'll be only 5,000 EQMs short of Gold status.


Marriott Bonvoy
Marriott is now called Marriott Bonvoy, which is the combined program name for Marriott, SPG, and Ritz-Carlton Rewards.
The Marriott Rewards Premier Plus Credit Card offers 15 elite nights automatically, just for having the card, which is good enough for Silver status. You'll also get Gold status when you spend $35,000 in a year on the card. Unfortunately, this version of the credit card does not allow you to earn additional nights for spend, unlike in the past.


Hilton
Hilton offers several credit card products that earn you automatic Hilton Gold status- the Hilton Honors Ascend Card and the Hilton Honors American Express Business Card, as well as the American Express Platinum card. However, their best card, the Hilton Honors Aspire card, offers top-tier Diamond status just for having the card!


Hyatt
Hyatt offers one co-branded credit card for status, and unfortunately, it's only lowly Discoverist status for owning the card. However, recent changes to the card now allow you to earn two elite nights per $5,000 in spend on the card, allowing you to receive top-tier status all from credit card spending!


IHG
IHG's co-branded credit card with Chase, the IHG Rewards Club Select Credit Card, offers automatic Platinum status with the program, which is great, though there aren't a ton of perks associated with the membership level.
What are your favorite credit cards for gaining elite status? Let us know in the comments!