Everything You Need to Know About Buying and Selling Discounted Gift Cards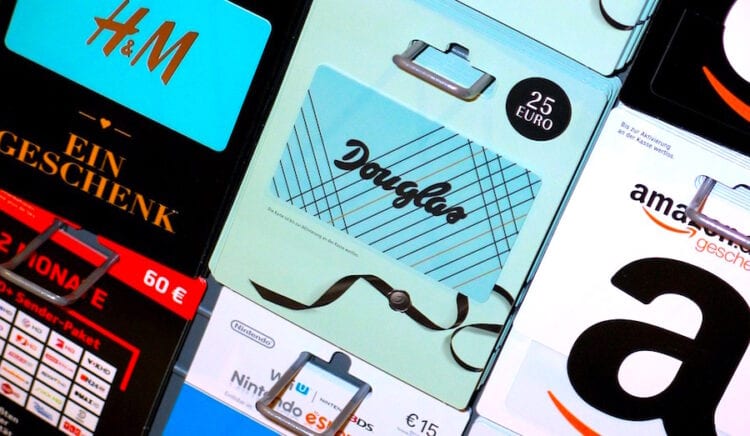 Every year, an estimated $2.5 billion in leftover gift card credit gets unused. Instead of letting your unwanted gift cards sit in the bottom of a drawer, with the invention of gift card exchanges, you can sell them for cash or trade them for cards you'll actually use. And as a buyer, you can get these cards for up to 35% off what you'd normally pay. Here's how gift card exchanges work and what you need to know:
Why should I use a gift card exchange?
There are two purposes for using a gift card exchange. First, by purchasing gift cards, you can save a decent amount of money by buying discounted gift cards for less than what they are worth.
Second, you can sell or trade any unwanted gift cards to earn cash. It's a great solution when you've received a gift card to a store or restaurant that you're not interested in or isn't near you or simply put, if you'd just rather have the cash instead. Also, with gift cards subjected to inactivity fees or if you're someone who always ends up spending much more than amount on the gift card, selling it may be a better option. Some gift exchanges include store credits as well, so if you exchanged something only to receive a credit, you may be able to turn it into cash or a different gift card.
How does this all work?
Each company works a little differently. Here are three examples of current gift card exchange programs and how they work:
CardCash
Claiming to be the largest gift card exchange in the world, CardCash boasts gift card inventory from up to 1,100 retailers, which you can buy with a credit card, through Paypal, or even with Bitcoin. Physical gift cards ship free and arrive by mail within 7 days, while digital cards are usually available to download and print within a few minutes of purchasing. CardCash also guarantees their gift cards for 45 days, a fantastic consumer protection against the fraud which sometimes makes it into the news. Best bets include 14.53% off Banana Republic gift cards and 17.37% off PetSmart gift cards.
Cardpool
Sell unwanted gift cards either electronically or ship them for free, and get a check within a few days after they receive your card. Each card sells for a specific percentage of the actual amount. Buy gift cards for up to 35% off their current value. All orders include free shipping with USPS First Class Mail in 3 to 7 days, and they guarantee your card is valid for the amount you're purchasing it for. If you are unsatisfied with your purchase, you can return it for a full refund. You can only sell or buy gift cards with no fees or expiration dates. Current best bets include 12% off L.L. Bean gift cards and 17% off Pier 1 Imports gift cards up to $280.
Raise
Unlike the other services, when you are selling a gift card on Raise.com, you name the price you want to sell it for. Opposed to them buying it flat out like the other sites, you'll need to wait for a buyer, which may never come. An added bonus for this site, is you can list gift cards from any brand or any restaurant, even local businesses. Gift card balances are insured and covered for 60 days, and like the other sites, they offer free shipping. Right now, we like Home Depot gift cards for up to 8% off and Hotels.com gift cards up to 7.1% off.
What should I know before I start?
Return policy
Before you purchase, you should know if they will refund you if there is a problem with the card and what is the time limit for a refund. Also, some return policies may not apply to electronic gift cards or mobile gift cards.
Price of accepted gift cards
Some sites have a minimum or maximum amount for cards you are selling.
Fees
Understand additional fees for listing your card or what is the percentage the company takes once your card sells.
Type of accepted gift cards
Most websites will no longer accept any gift cards with an expiration date, and some do not accept any with inactivity fees. There are also various stipulations on paper gift certificates and electronic gift cards.
Payment method
Websites offer various payment methods including a check, deposit to a Paypal account, or Amazon gift cards.
How can I avoid scams?
Use a credit card for purchases. Purchasing with a credit card can make it easier to dispute charges.
Scope the website's reputation. Read the website's policy for refunds, payments, and fraudulent cards. Check to see if they are accredited by the Better Business Bureau or a Google Trusted Store. While doing your research, if you find there is a lot of negative reviews on the website, it could be a red flag.
Trust your instinct. Don't buy or sell any gift cards if you are unsure of the particular website you're using. Instead, you can attempt to get cash back from the retailer or save that card to purchase a gift for someone.