Visiting Star Wars Land at Disney For Less
Arguably the biggest theme park opening of all time is happening this summer on both coasts. Yes, the Walt Disney Company is finally opening Star Wars: Galaxy's Edge at both Disneyland and Walt Disney World. Crowds will be astronomical, lines …
---
Arguably the biggest theme park opening of all time is happening this summer on both coasts. Yes, the Walt Disney Company is finally opening Star Wars: Galaxy's Edge at both Disneyland and Walt Disney World. Crowds will be astronomical, lines long, and stress levels high. Why stress about the price? Here's our guide on how to save at Disneyland and Disney World this summer, so your younglings and padawans have an amazing vacation for less.
How To Save Money On Star Wars: Galaxy's Edge
Disneyland Opening Details
First, the details. Star Wars: Galaxy's Edge is opening first at Disneyland on May 31st. Unique to this park will be a reservation-only system from May 31st to June 23rd, 2019. This will allow Disneyland to control crowds a bit. Reservations are free but are limited in nature. If you'd like to make a reservation, they become available on May 2nd, 2019 at 8:00 AM Pacific Time here.
One way around this reservation system is by booking one of Disney's three on-site Disneyland resort hotels. Guests at Paradise Pier Hotel, the Disneyland Hotel, or the Grand Californian hotel will have one guaranteed reservation per registered guest to Star Wars: Galaxy's Edge during their stay.
Keep in mind, theme park admission is still required beyond these free reservations, and only one of the main attractions, Millennium Falcon: Smuggler's Run, will be running this summer (the flagship attraction, Star Wars: Rise of the Resistance, will open later in 2019).
Saving Money at Disneyland
There are four main costs for your trip to Disneyland: flights, hotels, admission, and food.
For flights, there are five major airports in the Los Angeles area within an hour's drive of Disneyland (LAX, Burbank, Ontario, Long Beach, and John Wayne/Orange County). American, Delta, and United serve all five airports. Southwest has a major presence at LAX, Burbank, Ontario, and John Wayne, while jetBlue has a major presence at LAX and Long Beach. You can always review our list of airline credit cards for ways to earn points to get your flight for free as well.
For hotels, there are several strategies at play here. If you're able to secure a free reservation, it would save you more money to stay off-site. There are plenty of hotels still available the first weekend of June between $100-$200 a night on Expedia. You can also use points at a number of hotel brands, like Hilton, Hyatt, and Marriott. I particularly like the Hyatt Regency Orange County, with its soaring atrium, bunk bed suites for families, and Mickey Mouse waffles in the morning. Check out our list of best hotel credit cards for ways to rack up points before your stay, too.
If you don't win the lottery and a reservation to Galaxy's Edge, you still can make a reservation at one of the Disney on-site hotels. One thing to note is that you do not have to book directly through Disney to qualify. That means you can book through Hotels.com with our 8% off code and save on the final price! I'll warn you, though, prices are sky high at the Grand Californian- over $750 a night!
For theme park tickets, you won't find discounts for one-day tickets, minus trying your luck on eBay (which is risky). Multi-day ticket discounts can be had, however. If you're a Costco member, it's worth looking at local ones in Southern California for discounts. Otherwise, Undercover Tourist is my go-to for multi-day discounts. You can also use a flexible points credit card, like the Barclaycard Arrival Plus card, to purchase tickets and wipe away charges with your awards balance.
Food in the park is expensive, but is arguably a part of the experience. Keep in mind, real penny pinchers can pack a lunch and bring it into the park. Keep in mind, ice is now banned from the park, so use ice packs.
Saving Money at Walt Disney World
Walt Disney World's Star Wars: Galaxy Edge experience is identical to the Disneyland version, though located in at the Hollywood Studios park rather than the Magic Kingdom. In addition, the opening is happening on August 29th, and there are no reservations needed or available for this Galaxy's Edge land.
Much of the same advice applies to Walt Disney World as it does to Disneyland. You'll save money by using points for flights into Orlando, though consider Tampa's airport, only an hour or so drive from Orlando, if fares are sky high.
There are dozens of on-property Walt Disney World hotels, but the official ones are often much more expensive than off-site or non-Disney hotels. While traditionally, Disney theme parks offered early admission to those staying at their own hotels, lately we've seen other hotels extend the offer. Prices are much lower for hotels like the Hilton Lake Buena Vista Palace, which is next door to the Disney Springs entertainment district and a short ride from many of the parks.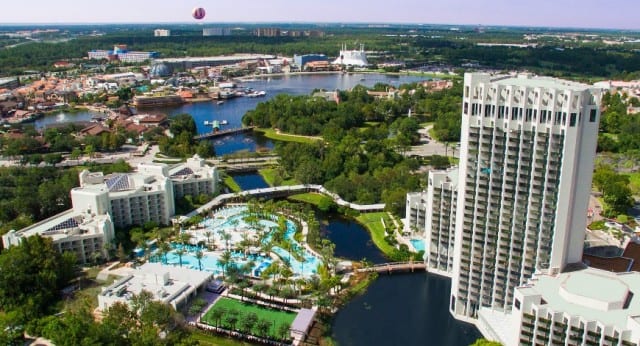 Keep in mind that if you are staying at a Disney hotel or a hotel with early admission access, you also receive the privilege of making Fastpass+ reservations up to 60 days before your visit, further guaranteeing you'd get to ride your favorite rides during your visit.
We'd also recommend Undercover Tourist for your theme park tickets, as multi-day tickets are more common here as there is more to explore!
Finally, keep in mind that Disney World offers more package deals than Disneyland does. You can definitely save by taking advantage of some of their promotions, like one now for a free dining plan package if you book a 5-day stay and hold the Disney Visa credit card.
Conclusion
Overall, it's going to be very busy at the theme parks this summer. Personally, as a Disney and Star Wars fan, I couldn't be more excited. However, I do want to wait until the entire land is fully open (rumored to be sometime in October). If you can't wait, we hope this guide saves your family a little bit of money this summer.
Related coupons: