5 Affordable Designer Collaborations That Live up to the Hype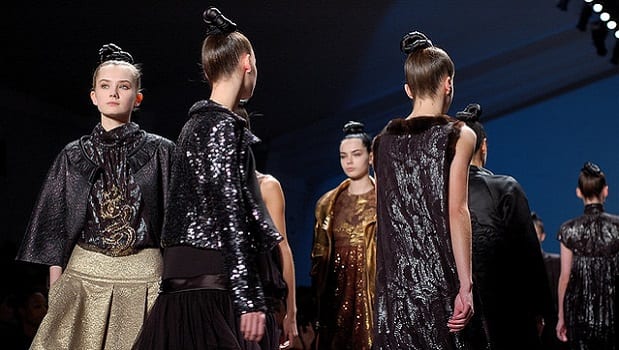 I love finding steals on high-quality, fashion-forward items that I'd never be able to afford at full price, and with the help of the rest of the Brad's Deals team, I've gotten pretty good at it. But plenty of designers carry price tags that are still out of our reach, no matter how many coupons I stack over a holiday weekend sale. Luckily for frugal fashionistas like me, a handful of designer collections have found their way into our favorite department stores, and they're totally affordable. Take a look at some of our favorite designer collaborations, along with their pricey counterparts.
Adam Lippes for Target
Target launched a killer 50-piece collection in collaboration with American fashion designer Adam Lippes on September 27th, and we are totally in love with the bold plaid knits, outerwear, and accessories. The Adam Lippes Tailored Coat on the left goes for a whopping $3,800, but you can snag the Plaid Mohair Coat on the right at Target for only $69.99. Just don't wait too long to purchase – Target designer collaborations are notorious for selling out early. You'll get free shipping on your purchase of $25 or more, and you can use your Target REDcard to save an extra 5%.
Uniqlo and Lemaire
Hermes designer Christophe Lemaire has teamed up with Uniqlo to offer sophisticated essentials for your everyday wardrobe. Lemaire is known for his tailored and versatile pieces in comfortable fabrics and neutral colors, making him the perfect fit to add a luxury appeal to Uniqlo's affordable basics. The men's Mohair Wool Maxi Coat on the left goes for about $1,815, but you can get the Wool-Blend Coat on the right for just $169.90 at Uniqlo. Plus, you'll get free shipping, and you won't have to wait for it to arrive from France.
Thakoon for Kohl's
Thai-American fashion designer Thakoon Panichgul produced an exclusive fashion line for The Gap in 2007, and now he's teaming up with Kohl's to offer a line of whimsical dresses, tops, and outerwear pieces for women in vibrant hues and bold plaids. The Addition Tartan-Paneled Sweater is out of my price range at $550, but the Thakoon for DesigNation Plaid Flannel Vest on the right is already reduced from $120 to $70. Plus, you can use coupons to bring down the price even further, and choose store pickup to avoid shipping fees where available. Check out these coupon codes, and don't forget a dress with that vest!
Nicole Miller at JCPenney
Best known for her modern cocktail dresses, Nicole Miller also designs an extensive line of fashion-forward apparel for JCPenney. Her Embellished Forest Top on the left will set you back $510. We know, it's cute, but so is the Printed Surplus Top on the right, which is reduced from $50 to $29.99 at JCPenney. You'll also get free shipping to your local store with a $25 purchase, so you can try it on to make sure it's just as fabulous in person. Before you check out, try these coupon codes to save even more.
GQ x Gap
We've seen it before, and now it's back and better than ever. The fourth iteration of GQ's Best New Menswear Designers in America collects trademark pieces from four top menswear designers. You won't be able to use coupon codes on these items, but you'll still enjoy huge savings in comparison to items from these high-end designers' own collections. We love the David Hart Wool Zip Cardigan on the right, and at $168, it costs a fraction of the David Hart Cowichan Sweater on the left, which has a sale price of $825 at Gilt.
What do all of these collections have in common? You can wear them without selling your car. You deserve to look like $1,000 bucks, and with such similar designer looks available for less, no one will know you're not a big spender. Although, if you're anything like the fashionistas on the Brad's Deals team, you may be inclined to brag about your great find.
Related coupons:
Cover photo via Flickr/maxtm