What Brad's Deals Editors Are Buying on Prime Day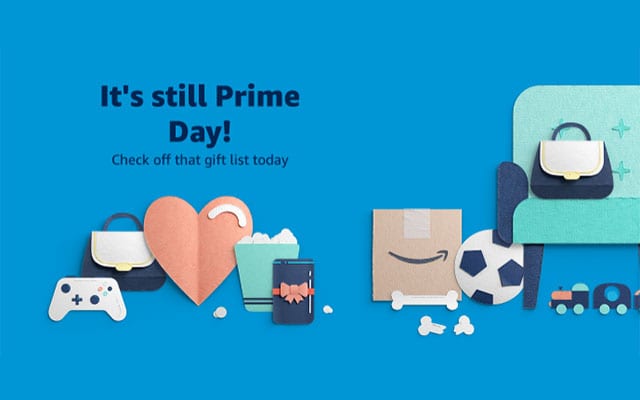 Our deal editors are researching, comparing prices, and looking through pricing history every single day as part of their job. They know a truly good deal at first glance and know when to pass on a deal because it's just not worth the hype. While finding deals for our readers during Amazon Prime Day, it's inevitable that they'll find something for themselves during the search. Read more to find out which Prime Day deals Brad's Deals editors consider to be worth their own hard-earned money.
$10 Credit for $40 in Gift Cards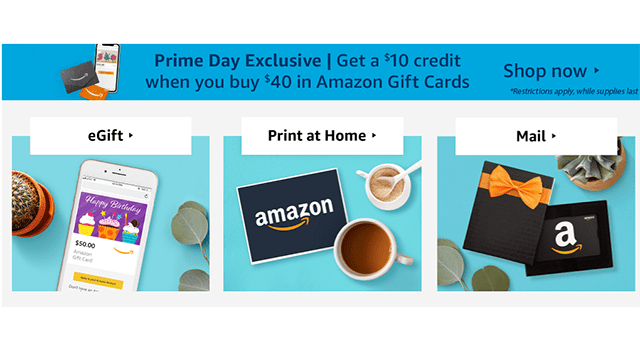 Casey, our managing editor, couldn't pass up this deal because as she puts it, "It's free money." Buy a gift card for a store you shop frequently (so you can just use it next time you shop there) and get the $10 credit to treat yourself to something special! This credit can only be earned once per Prime account.
See Gift Card Deals: Shop Now
Discounted Streaming Services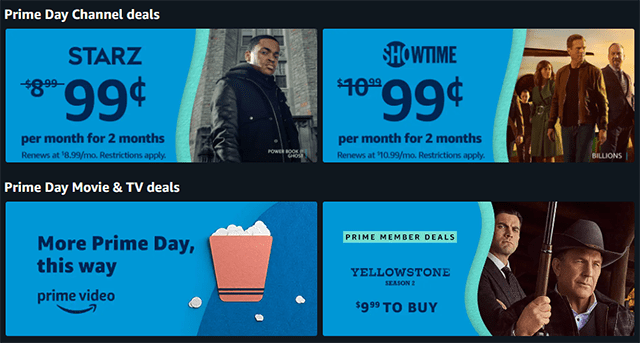 One of our editors, Jim, loves to snag Prime Day deals on some of his favorite streaming channels or videos during Prime Day. This year, he scored two months of Starz for $2, two months of Showtime for $2, and several digital HD movies for just $4.99 each.
More streaming and Prime video deals: Shop Now
Kindle Deals and Audible Subscriptions
Jim has also been an Audible subscriber for nearly a decade now and he recommends this 1-Year Audible Subscription for $100, which is normally $149.50. If you prefer a Kindle e-book to an audiobook, Prime members can get a 6-month subscription to Kindle Unlimited for $29.97, which is 50% off!
More Kindle and subscription deals: Shop Now
Tech Accessories
Our editor Chris picked up one of these Anker PowerPort Cubes that features 3 outlets, 3 USB ports, on a 5-foot cord for charging phones, laptops, or other electronics. This deal was only $16.14 as part of a Lightning Deal on 10/13 and it is 100% claimed now. But, you can get this similar BULL Surge Protector Power Strip for $20.78 (with an additional 5% off coupon if you check the box) during the Prime Day sale.
More tech and accessory deals: Shop Now
Food and Grocery Deals
Julie, another one of our wonderful editors, was able to snag a 72-count of Panera Bread K-Cups for $26. That's less than $.37 per cup and a great deal for one of Julie's favorite coffee brands (that also helps keeps her caffeinated for Black Friday and Cyber Monday).
Lindsay also took advantage of the food & grocery deals and ordered a 40-count of individual SunChip bags for $12. She also used her $10 credit from shopping small businesses on Prime and ended up paying only $2 for this deal. That's $.05 per bag! Jim didn't pass up the chip deal either! He snagged a 40-count pack of individual bags of Ruffles chips for $12.
More Food and Grocery Deals: Shop Now
Toys and Kids Deals
Marisa, a deal editor and a mom of three, bought this Ultimate Sand Art Set for $14 for her kids. She noted that this is a Top Holiday Toy for 2020 and this is very likely the same price that we'll see on Black Friday. This one has since sold out but there is another kit available for $9.97.
More Toys and Kids Deals: Shop Now
Home & Garden Deals
Managing editor Casey also scored this Set of 6 Ceramic Succulent Plant Pots for jus $16.08. Working at home has been a challenge for all of us and Casey has been trying to make her home office more organized and decorative.
Our deal editor AJ bought this Bentgo Lunchbox as a Lightning deal yesterday for $12 and it sold out very quickly, but it's back today! Hurry and snag one for yourself.
More Home & Garden Deals: Shop Now
Fitness and Apparel Deals
AJ also purchased these Letsfit Resistance Loop Bands for $7.98 (plus an additional 5% off coupon if you check the box. And Lindsay managed to score a deal on these Amazon Brand Core 10 Leggings for only $20.30 as a lightning deal.
More Fitness Apparel Deals: Shop Now
Our Thoughts on Amazon Prime Day 2020
With the move from July to October this year, we didn't quite know what to expect for Prime Day. But we've been pleasantly surprised. Amazon has made shopping and browsing their Prime Deals easier and faster this year and we were able to share quite a few great deals before they sold out. Having it in October has also gotten us really excited for Black Friday and all the holiday sales still to come!