11 Places to Find the Best Cheap and Stylish Swimwear Deals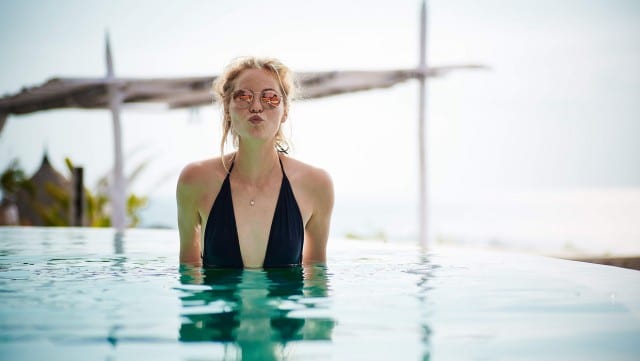 Not keen to pay $100 for a swimsuit that's just going to get dunked in the local lake? Neither are we. We polled our editors for their favorite swimwear deals and there's definitely a swimsuit deal for everyone in here.
Some of our favorite stores for swimwear deals are perennial teen favorites. Others are department stores you might associate more with dressing up than with diving boards. So we'll start this off with some advice: Don't assume that because some stores have a particular reputation that it means there's nothing there for you. We're betting that you may be surprised by where you find your perfect poolside look.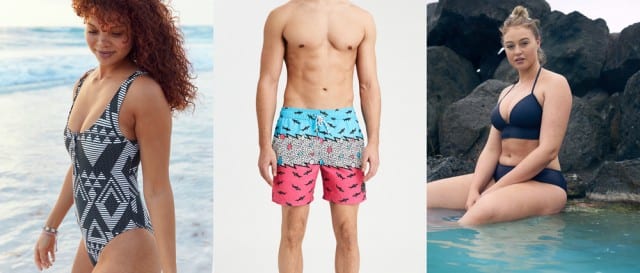 One of the best parts of shopping for swimwear at Aerie is that they use bodies of all sizes and types to model their suits – which makes the experience a lot less intimidating for the body conscious swimsuit shoppers among us. (Isn't that basically everyone?) It also doesn't hurt that the prices are fantastic. As of our publication date, the selection of suits marked down to $20 or less is excellent.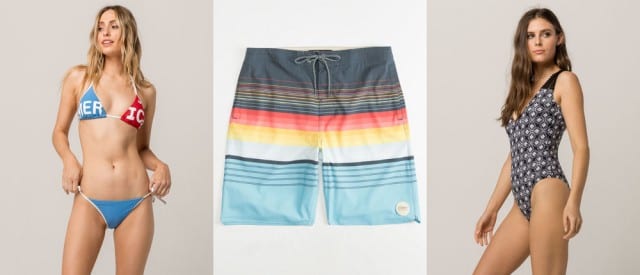 Summer swimwear deals are pretty common at Tilly's, which mostly caters to teen fashion. While we were putting this list together, Tilly's was running a "buy one, get one 50% off" sale on women's swimwear with plenty of bikini inventory to choose from. If you're looking here, we recommend sticking to the sale section.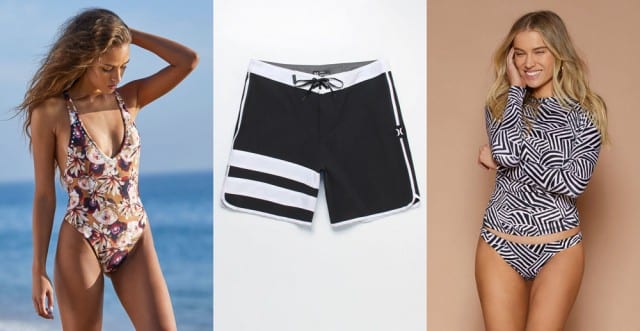 The key to finding a swimwear deal at PacSun is to dive into the sale section. PacSun's entire brand aesthetic revolves around sun and surf, so there's no shortage of deals to choose from, and savings of up to 50% off is common.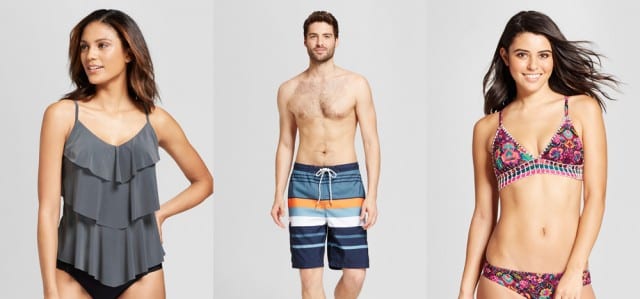 Target has been the source of my own bargain swimwear for the last few years – even if it's mostly because there's a Target down the street and I needed it fast. But it's still a good stop, with name brands like Converse on the rack, along with super trendy bikini sets and tankini tops that I can mix and match.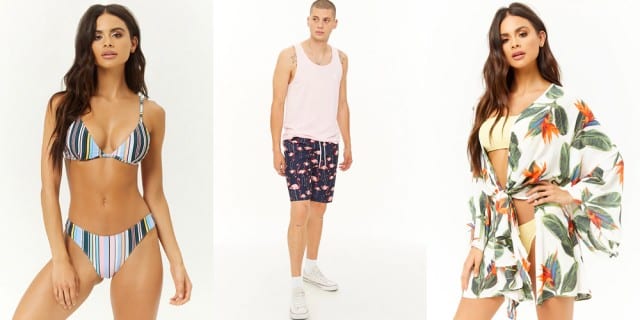 With lots of crocheted bikinis and other items that are probably more at home at music festivals, it's hard to call much of  this "swimwear." However, there are some gems to be found and the cover-up game is super strong. All of it is priced to sell, so it's well worth a look.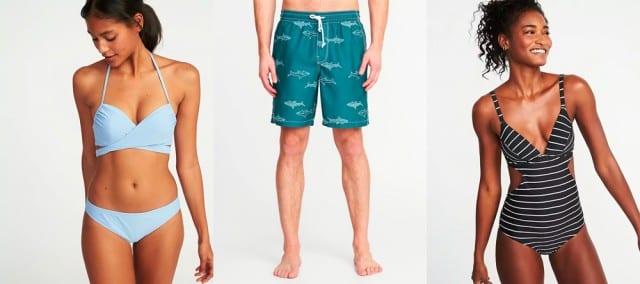 When it comes to balancing price versus style, Old Navy seems to hit the sweet spot. The styles here are youthful, fashionable, and affordable. It's easy to mix and match styles and colors to suit your sense of style, and there are plenty of cover ups and rash guards to complete your swim look.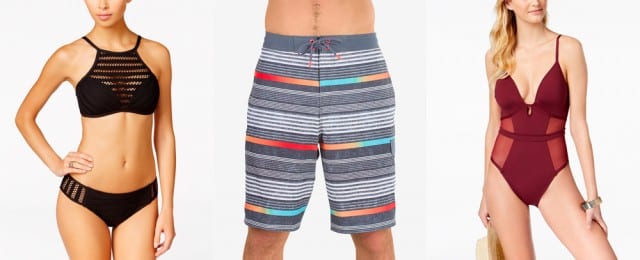 It's not unusual to see swimwear on sale for up to 40% off at Macy's, even during the summer months. It's definitely worth taking a scroll through the swimwear sales here to find more advanced features like tummy control or designer styles marked down to a more palatable price point.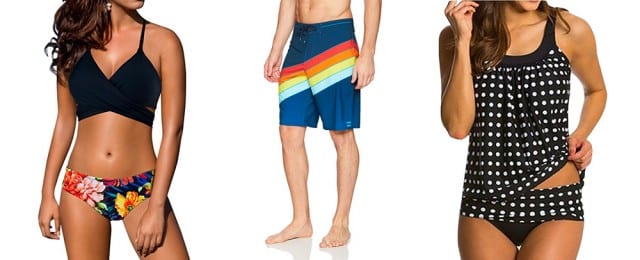 "For dudes, you can get a lot of low prices on a lot of brands at Amazon for swim shorts," says Brad's Deals editor David Dritsas. The options for women and kids are plentiful and affordable as well, though many appear to be drop shipping goods from China – so be sure to read reviews carefully and choose a seller who's shipping from Amazon to be extra sure that you get what you're expecting.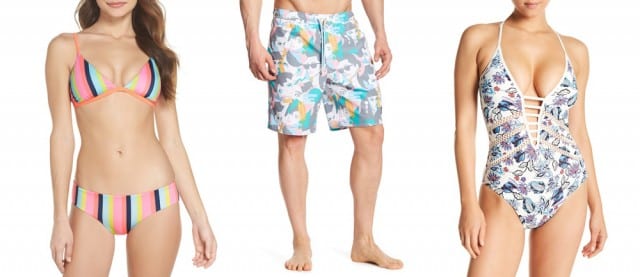 The outlet versions of higher end stores rarely disappoint when it comes to clearance racks, and Nordstrom Rack is a great example. We see swimwear for up to 85% off here, and the styles available range from teen to mature.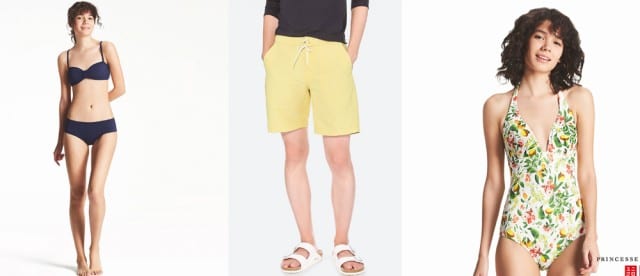 Deal editor Jason Fabeck lists Uniqlo as a favorite stop for affordable swim trunks. We've seen bikini bottoms for as little as $3.30 at Uniqlo, and one-piece suits marked down to $14.90. Most items stick to the basics and lack slimming features, leveraging solid colors and classic silhouettes that won't look dated several seasons from now. We also spotted suits for the kids on sale for $9.90.

Daily Steals often sells multi-packs of items like swim trunks at rock bottom prices – the catch is that you don't get to choose which patterns you get. It's basically grab bag of random colors. But when they're working out to $5 and under per article, the chance is worth taking.