What to Buy in May: Star Wars and Beyond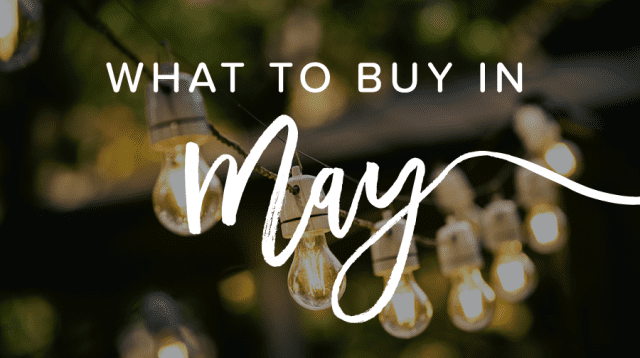 Mother's Day, graduation season, and the start of summer create a perfect shopping storm in the month of May. We're here to let you know where to find some of the deepest discounts and help you kick off summer with a not-so-empty wallet.
Home Items
With new refrigerators and vacuum models coming out in the summer, May – particularly during Memorial Day sales – is the best time to snag lower prices on household appliances like these. And with graduation season upon us, and a number of high school or college graduates looking to soon live on their own, look for stores to promote home items like cookware, glassware, and utensil sets.
Mattresses
Big box stores and department stores love a three-day weekend as much as the rest of us, so like home items, mattresses can be another bargain buy around Memorial Day. This is especially true if you are open to a number of different brands.
Star Wars Memorabilia
According to starwars.com, the saying, "May the Fourth Be With You" was coined in 1979, but only recently has May 4th become the unofficial holiday "Star Wars Day." Feeding off of the world's everlasting love of the franchise, a number of retailers will promote and discount their Star Wars memorabilia. Maybe this will be the month you give in and purchase that life-size Storm Trooper you've been eyeing for the last 15 years.
A tip for the super fans:
To get best deals on Star Wars gear year round, search for "Star Wars" on our site and create a deal alert.
Spring Apparel
Retailers have had spring clothing on their shelves for a couple of months already, so by the time May hits, they are ready to put out their summer gear. Look for your favorite spring staples (think light jackets, rain boots, etc.) to drop, especially at the end of May.
Thrift Stores
Spring cleaning typically starts in April and ends in May, so head to your local thrift store or consignment shop to turn someone else's trash into your treasure. There will be a large supply and you'll be able to find everything from clothing to furniture to jewelry at deeply discounted prices.
Patio Furniture
Especially now, with Memorial Day sales happening almost everywhere, there's no better time to deck out your patio for less! We are always on the lookout for great deals, but we see great deals on patio furniture at retailers such as The Home Depot  and Target.
What do you wait until May to buy? Let us know in the comments below!