7 of the Best Customer Loyalty Programs and How You Can Use Them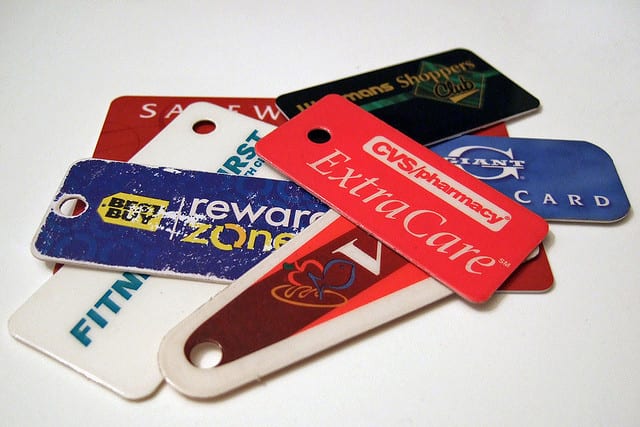 We've been asked the same question, over and over and over, from nearly every cashier we've encountered upon checkout: "Would you like to sign up for our rewards program today?" In a bit of classical conditioning that would impress even Pavlov, we've trained ourselves to turn down the clerk's proposition, often before they can even finish reciting their oft-rehearsed sales pitch.
And why wouldn't we? We, the well-informed customer, have come to realize that the majority of these loyalty programs exist solely to collect and store your valuable personal information and spending habits. That's not to say there aren't some great loyalty programs worth giving up that information for, but sorting the worthwhile from the worthless can require time, effort, and an exhaustive (and expensive) amount of trial and error.
Well, no one wants to toil away in a customer loyalty program that doesn't effectively reward their loyalty (read: continued spending), so we've endeavored to cut out the time, effort, and trial and error that it takes to figure out which programs are worth committing to for you. We scoured the web, sorted through all of our key-chains, and pulled all the membership cards out of our wallets in order to find the best loyalty programs available today.
In the end, we highlighted programs because of their simplicity and ease of use, the value of their rewards or benefits, the purchasing power they grant customers, and for the mobile accessibility of their account management. From programs that reward you with points that you can use to save up to 20¢ per gallon at the pump, to those that grant you points for taking steps toward a healthier lifestyle, we've found some of the best and most worthwhile rewards programs out there.
Bloomingdale's Loyallist allows customers to earn multiple points on every dollar spent (in-store, online, and at their outlets), no matter what you buy, and no matter how you pay (cash, credit, etc.). A simple and hassle-free program, Loyallist gives you exactly what you want from a rewards program: the ability to earn points every time you shop, then turn them around and easily use them to save money no matter what you buy.
For every 5,000 points you accumulate, Bloomingdale's will present you with a $25 gift card at checkout (5,000 points = $25 Bloomingdale's gift card). You get double points on cosmetics and fragrances, 3 points per dollar if you use a Bloomingdale's Store Card, as well as bonus Power Points on select and specialty qualifying purchases. Should you come to spend more than $3,500 in one calendar year with Bloomingdale's you'll automatically achieve Top of the List status, allowing you to earn four points per dollar and free shipping with no minimum purchase.
Bloomingdale's also has an excellent suite of mobile apps, like the The Big Brown Bag app for iPhone, and an online Loyallist profile management tool; each designed to help you track your points balance and the rewards cards you've accumulated over time.
With Balance Rewards and their new Steps initiative, Walgreens has gone above and beyond the standard points-per-purchase model by encouraging and rewarding customers who commit themselves to a healthier lifestyle. Their rewards points scale is rather standard: you can begin to redeem points once you accumulate 5,000 points, with 5,000 points = $5, 10,000 points = $10, 18,000 points = $20, 30,000 points = $35, and 40,000 points = $50. Upon checkout, you'll be asked if you'd like to redeem all of your points, only some of them, or you can choose to continue rolling your points over towards a greater reward.
You'll earn 500 points for each prescription filled and another 500 with every immunization, 10 points per $1 spent on over-the-counter items, and bonus points on featured items and special offers (which you can find online and in their weekly print ad). In addition to earning points on your regular spending in-store and online, Walgreens' Steps with Balance Rewards program lets you earn even more points for becoming more health-conscious and physically active.
With Steps, you can garner 250 points for setting a healthy goal, 250 points for linking a digital fitness device (from pedometers to scales), 20 points for every logged mile you walk or run, 20 points for every time you track your weight, and another 20 points for checking in at frequent physical activities (like yoga or spin class). Thanks to the Walgreens mobile app for iPhone and Android devices and the Steps dashboard online automatically tied to your Balance Rewards account, you can track the progress of your goals and the number of points you've earned no matter where you are.
At a big box electronics store like Best Buy, it's not very hard for your spending to add up quickly. Whether you're spending thousands of dollars on a brand new HDTV and entertainment system or $60 on a single video game, Best Buy's Rewards Zone program helps you rack up savings and rewards almost as rapidly as you spend. Once you sign up in-store upon checkout or enroll online you'll start earning 1 point for each $1 spent, with every 250 points = $5 reward certificate. Should you end up spending $2,500 in a year in their program, you'll automatically become a Premier Silver member.
Premier Silver membership grants you 25% more points (1.25 points for each $1), free expedited shipping and delivery, and one free house call from a Geek Squad agent to help you with everything from setting up your TV to an hour of personalized training with any devices you purchase. $2,500 may sound like a lot, but keep in mind that you may very well spend that much, if not more, on any new appliances or HDTV in a single trip to Best Buy, netting you at least $50 in rewards certificates AND Premier Silver status. And with the Best Buy mobile app for iPhone and Android you can easily track your Reward Zone points, redeem them for reward certificates, check their weekly ad for featured sales and deals, all on the fly.
As gasoline prices seemingly increasing with each successive trip to the pump, Safeway and Dominick's have created a way for customers to turn the money they spend on groceries into savings on their next trip to the gas station with their Rewards Points program. Simply use your Safeway Club Card or Dominick's Fresh Values Card at checkout to earn 1 point for every dollar spent on groceries and in the pharmacy, or 4 points for every dollar spent on qualifying gift cards. You can then convert your points over into discounted fill-ups, with 100 points = 10¢ off per gallon and 200 points = 20¢ off per gallon at Safeway and Dominick's gas stations, as well as most Mobil stations. All you have to do in order to redeem your points is punch in the telephone number you have paired with your Rewards Points account at the pump.
Starbucks – My Starbucks Rewards
If you're someone who can't start their day without a coffee or tea fix in the morning, My Starbucks Rewards is tailored towards you. Think about their program like it's the punch card's tech-savvy big brother: all you have to do is register a Starbucks Card online or download the free Starbucks mobile app to start earning 1 "star" per purchase. 1 star = 1 free drink or food on your birthday.
Earn 5 stars and you garner "Green" status, meaning that on top of the free birthday reward you'll also get free refills. 5 stars = free refills. If you accrue 30 stars in 12 months you earn "Gold" status, granting your one free drink for every additional 12 stars and exclusive offers and coupons that they'll send via mail, email, or text message. After 30 stars, every 12 stars = 1 free drink or food item. The easiest (and my preferred) means of using My Starbucks Rewards is with their mobile app, Starbucks for iPhone and Starbucks for Android, both of which give you access to their entire menu, the ability to track and manage your rewards, a scan-and-go payment feature, and a GPS-based service that helps you find the Starbucks nearest to you.
There're a couple reasons National Car Rental's Emerald Club have once again won Executive Travel's Leading Edge Award for "Best Rental Car Company Loyalty Program," namely speed, simplicity, and choice. Emerald Club membership facilitates an expedited rental process in the form of counter bypass and Drop & Go service with eReceipts, eliminating the need to wait to enact any transaction with an agent when you pick up or drop off your car, and the Emerald Aisle.
All you have to do when booking your rental is pay the reserved midsize car rate then select whichever rental car you'd like from their Emerald Aisle and drive straight off the lot. Members can also receive EmeraldAlerts, texts or emails that remind you of key rental information such as your scheduled arrival and return times, the availability of specific cars, as well as alerts about members-only discounts. Another benefit is the inclusion no second-driver fees, granting family members and business associates the ability to get behind the wheel without incurring any additional charges. Emerald Club status also gives you a multitude of choices when it comes to redeeming rewards; whether you select free rental days, free hotel stays and rewards, or choose to convert your rewards into frequent-flyer miles is completely up to you.
How about a little something for the ladies (and gentlemen trying to keep so fresh and so clean)? Sephora's new Beauty Insider program doesn't limit you to a points-based rewards system, although the benefits of that portion are considerable. Sign up for Beauty Insider and for every dollar you spend at Sephora.com, Sephora retail stores, or in Sephora inside jcpenney locations, you'll receive one point for your Beauty Bank (1 point for each $1 spent). Amass enough points, and you can then use on sample sets of products, access to special products, and free limited-edition insider-only handpicked sets.
Once you earn 100 points = your choice of one Beauty Insider deluxe sample. Accumulate 500 points =  free, limited-edition set selected for Beauty Insiders only. Both of these rewards can be claimed at checkout in-store or they'll ship them to you with your online order. Membership also entitles you to a free birthday gift, free in-store Sephora University beauty classes, select seasonal promotions, as well as access to special products and insider-only curated beauty sets. Beauty Insiders may also receive invitations to Beauty Insider VIB (Very Important Beauty Insider) or VIB Rouge only events, granting you exclusive pre-release access to specialty products.
Related coupons: