Create the Perfect Home Office on a Budget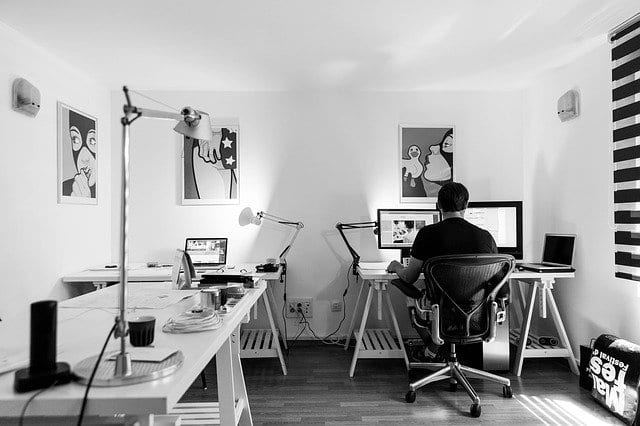 According to a recently published article, close to 4 million people in the United States work from home. Each year, that number continues to go up, as remote working capabilities continue to increase. If you are a member of the growing population that works from home, you need to have a home office; however, the idea of setting up a home office might sound expensive. The good news is that there are a few helpful tips that you can follow to get your home office situated on a budget.
Get an Ergonomic Office Chair
One of the first tips you should follow is to find an ergonomic office chair. Some of the features you should consider include:
Adjustable height and depth
Added lumbar support
A strong backrest
Enough padding on the seat
Even if your budget isn't huge, you can still find adjustable desk chairs for a reasonable price with coupons from stores such as Staples and Best Buy. Don't forget to add a second or third chair if you anticipate having visitors in your office.
You'll Need A Sizable Computer Desk
You need to make sure you have enough space on your desk for your computer. While the desk might look big at first, remember that a significant amount of space will be taken up by your computer. Once you add other materials to your desk, it might start to feel small.
Some desks can be very expensive; however, this is a great way for you to save money by checking places such as Overstock. Remember that almost any wood surface will get the job done, but real wood will last longer. If you have a bit of extra room, look for a desk with adjustable legs. This allows you to adjust the height to your ideal comfort level.
Office Lighting Is Important
Good office lighting is important for any home office. If the lighting is too dim, you might have trouble staying focused. Remember that there could be days when you need to work late and your lighting will be doing the heavy lifting.
Desk lamps and floor lamps are often enough to get the job done, so check places such as Home Depot. Lamps are often a cheaper option than trying to install additional ceiling lights. They come in a variety of sizes, wattages, and styles, allowing you to tailor your lighting to meet your needs. Warm white bulbs are recommended instead of bright white lights because the latter often makes the room feel sterile.
 Office Electronic Equipment
You'll need powerful electronics for a proper home office. This is often where people's eyes start to pop on the prices; however, there are still ways to save money.
First, make a list of some of the items you will need. This could include:
A phone and accompanying phone line
A laptop
A desktop computer
Additional monitors, if needed
A printer and/or scanner
It is possible to wait for many of these items to go on sale with helpful promo codes and online deals from Amazon. You might also be able to find last year's model, which still works as well, but could be marked down. Finally, if you are able to get many of these items from the same place, you might have the option to bundle and save with coupons from Best Buy.
Storage Space
You can never have too much storage space in your office. There are a few great ways for you to save both space and money on your storage needs. Think about installing floating shelves above the desk. This will save floor space for larger items while also saving money. Built-in cabinets are expensive and floating shelves can accomplish many of the same tasks.
In addition, try to store items in binders or books instead of filing cabinets as another way to save money. It is important for you to make sure you have a defined area for all of your work documents and office supplies. Remember that the more you can store electronically, the less storage space you will need.
High-Speed Internet Access
If you are working from home, you need to have high-speed internet. You could be required to attend video conference calls, which require a powerful internet connection. In order to save money on internet:
Think about combining your personal phone plan with your business internet connection as a way to bundle and save from providers such as AT&T.
Instead of renting a modem and router, look for coupons and purchase your own.
When you speak to a potential internet provider, quote competitor prices and online deals to get a better deal.
Always read your bill carefully and look for charges that don't make sense.
Setting up a home office is no easy task. But these tips can help you create a beautiful home office on a budget, saving you time and money.
Do you know any home office tips that we forgot to mention?  Let us know in the comments below!