Yes, You Really Are Seeing the Same Black Friday Deals Every Year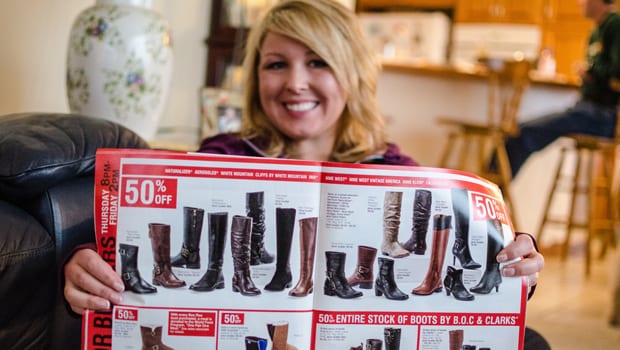 From one year to the next, the bulk of the Black Friday sales are more or less the same as they were the year before. And before you get upset, this is actually not a bad thing—if we know that certain items and categories will be marked down by the same amount every year, it makes it a lot easier to make up a holiday shopping list and realistic budget.
The doorbusters can vary, but they're also exactly what you'd expect. You can count on bargain TVs, Beats headphones, iPads paired with store gift cards, etc. You may even hear rumors of Black Friday's white whale, the elusive, semi-mythical 32" television for $99. But since doorbusters are usually constrained by limited inventory that also limit the window opportunity along with the reduced likelihood that they'll be available to purchase online, chances high are that you won't be able to get them.
No, the bulk of Black Friday's sales, the real meat of them, the stuff we actually get excited for, lies beyond the doorbusters. Look beyond page 1 of the ads and you'll find plenty of genuine deals on just about everything under the sun, even if they are more than a little predictable.
Last year's Black Friday deals are this year's Black Friday deals.
This is our third year covering this side of Black Friday, and as usual, never is this predictability so obvious as when you actually compare the ads side by side. Many major retailers only make superficial changes to the ad itself, often reusing the same layout and even the same product photos year after year.
Target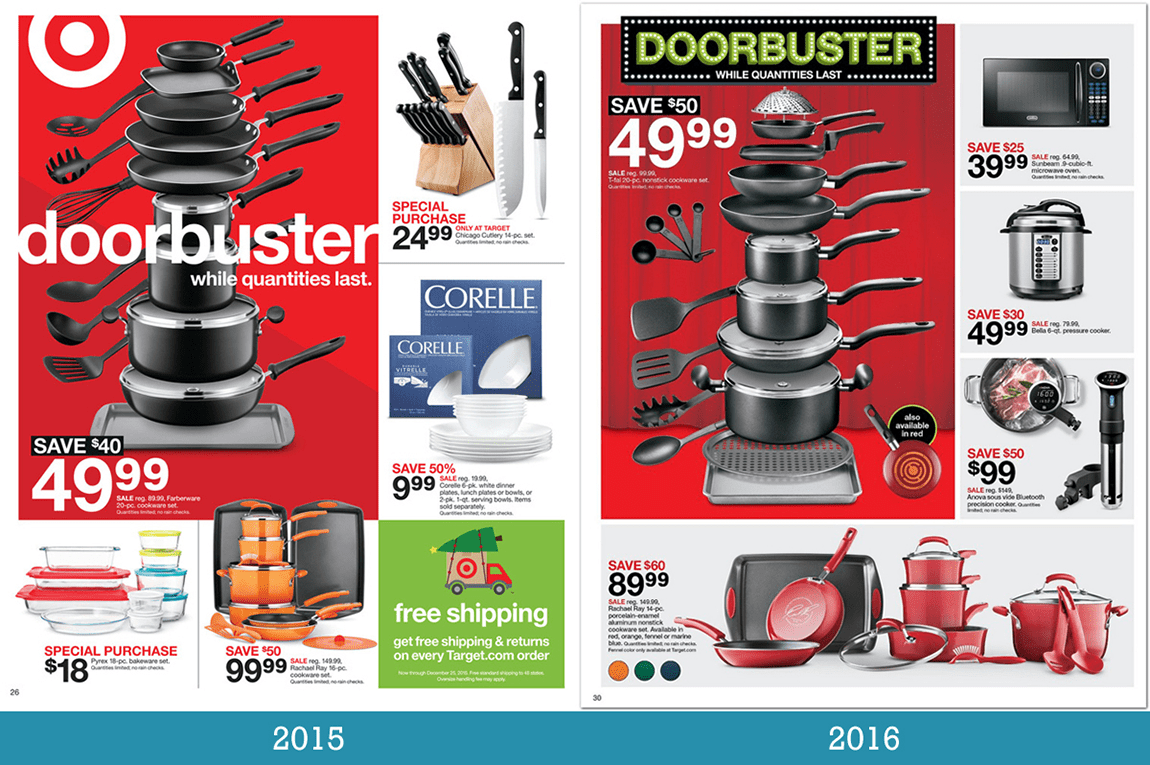 From one year to the next, Target is one of the most reliable Black Friday ads for finding repeated deals. Their clean signature layout makes them easy to spot. You can almost always count on a T-Fal or Farberware cookware set for $49.99, styled and photographed in exactly the same way even when the brands switch. It's a good bet you'll find Rachael Ray cookware as well, though a slightly larger collection of pans and utensils added $10 to the price in 2016. And that Pyrex set on the 2015 page above? It's on the next page in 2016 and has been $18 on Black Friday for several years now.
See more: Target Black Friday Predictions for 2017
Walmart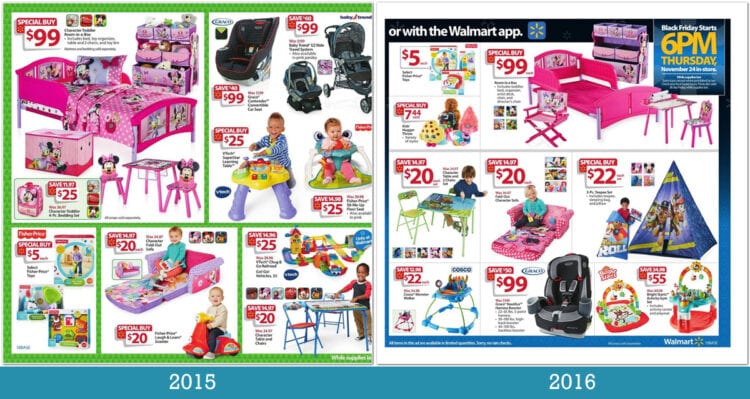 For the past two years, we've highlighted the repeats on small kitchen appliances at Walmart, but this year we were particularly struck by the similar layouts of these pages highlighting furniture for very young children. We see the same Minnie Mouse bed-in-a-box for $99, character folding table and chair sets for $20, and fold-out character sofa for $20. This page also listed a $99 car seat in both 2015 and 2016, though the model changes from one year to the next.
See more: Walmart Black Friday Predictions for 2017
Kohl's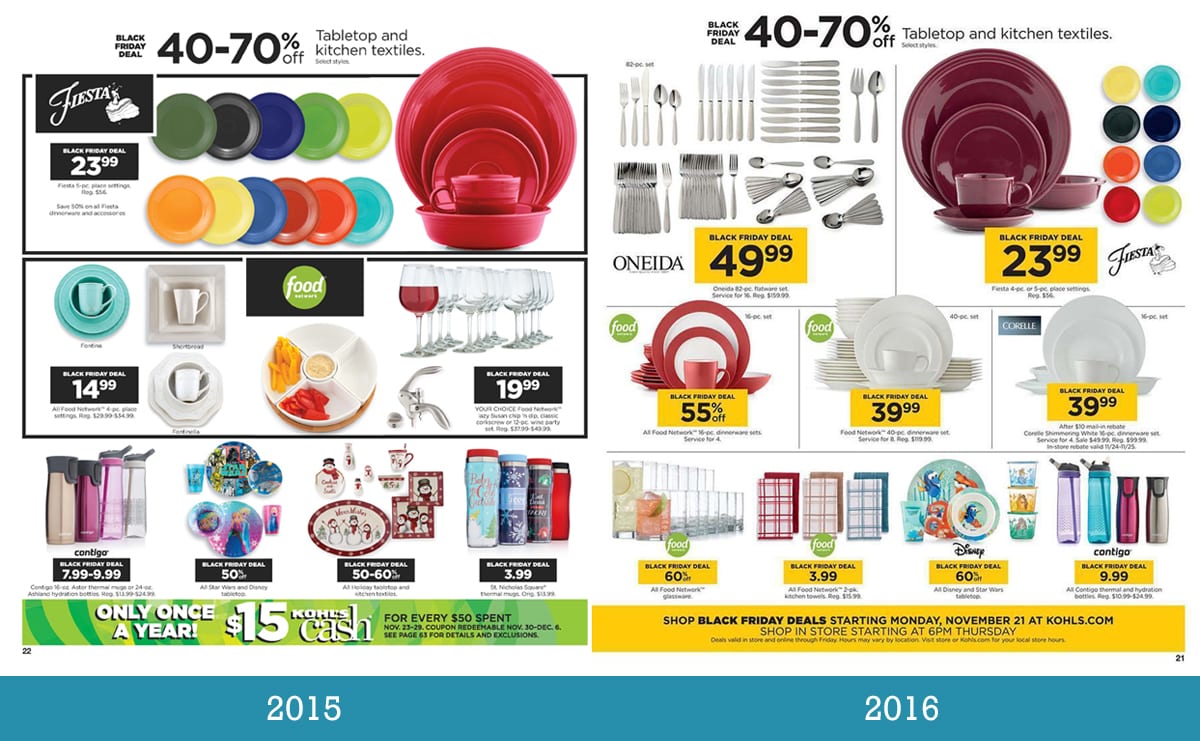 Kohl's is consistent with its annual promotion of giving $15 Kohl's Cash for every $50 spent, up from the $10 per $50 that you get throughout the rest of the year, and we always look forward to it. Also, Black Friday is one of the best times to buy Fiesta dishes, with this same set going for $23.99 for at least the last four years. Plus, note the same Food Network dishware and Contigo bottles on both ads. We don't expect to see any big changes.
Macy's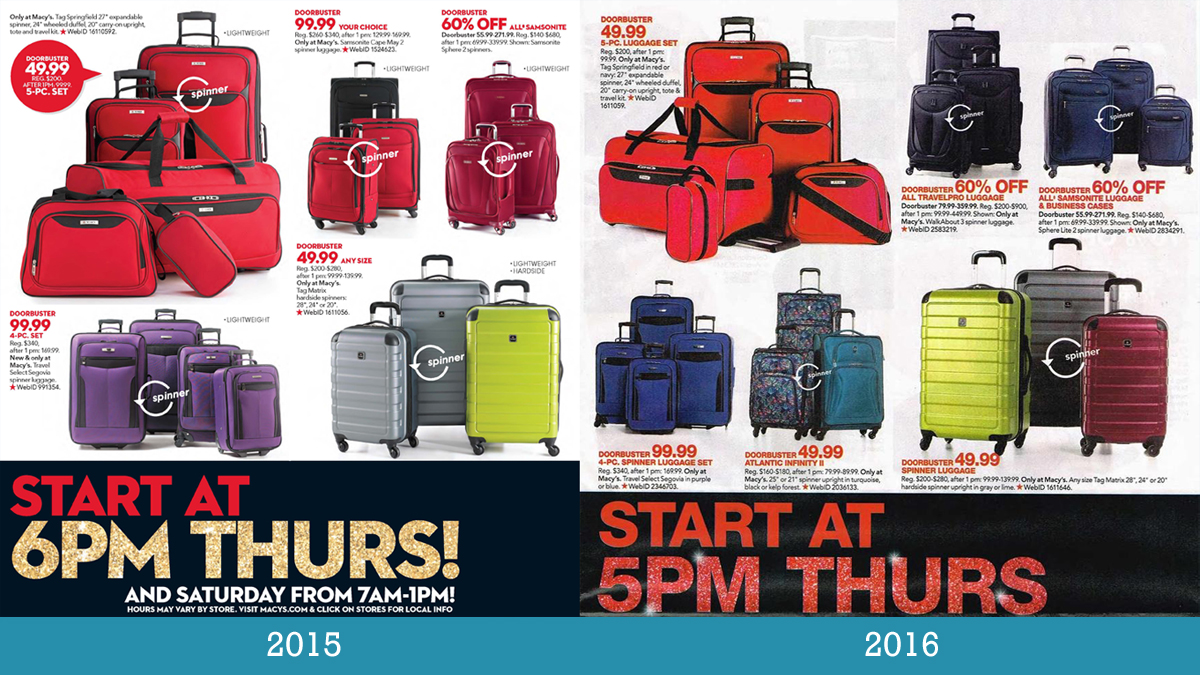 For this luggage from Macy's, the ad features the same luggage at the same prices using the same layout as in 2015. That red 5-pc luggage set in the upper left corner has been $49.99 since 2010, when it shared the page with some mattresses.
For what it's worth, Black Friday really is consistently a great time to buy luggage.
JCPenney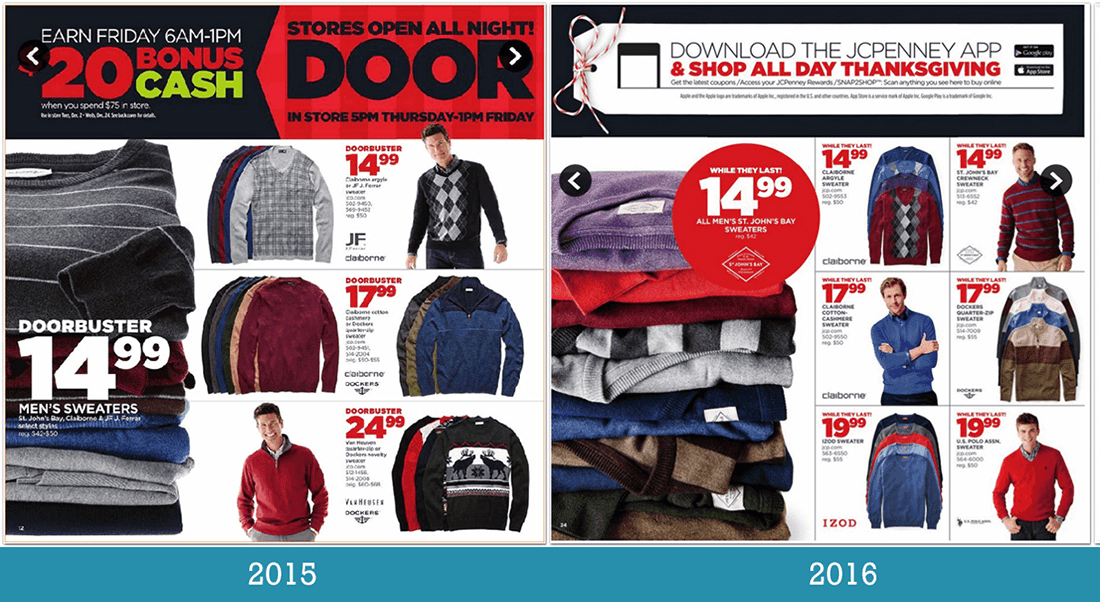 The styles and colors of these men's sweaters get tweaked ever so slightly year after year at JCPenney, but otherwise there isn't much that changes – not even the layout.
This is generally true for sweaters from most Black Friday retailers, by the way. You can always count on $39.99 cashmere sweaters from Macy's and Bon-Ton, for example.
What Else Can You Expect from Black Friday?
As the holiday shopping season gets closer, we'll be posting more detailed analysis of what you can expect both from your favorite stores and items like televisions, gaming bundles, travel, and more—and yes, the iPhone 8 and iPhone X deals are on our radar, too!
Be sure to bookmark our Black Friday shopping guide and become a Black Friday Fan on Facebook for all of the latest coverage.