Yes, You Really Are Seeing the Same Black Friday Deals Every Year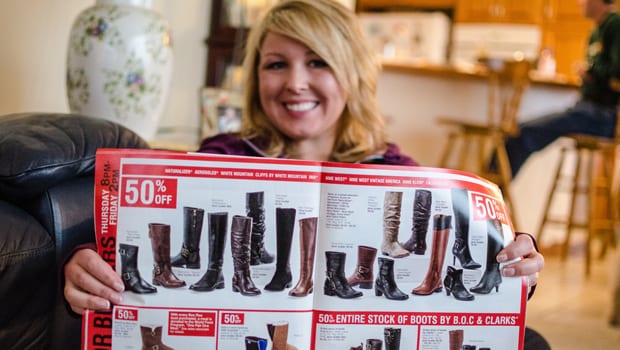 From one year to the next, the bulk of the Black Friday sales are more or less the same as they were the year before. That means that once you know what to look for, figuring out what to expect from Black Friday 2019 is a piece of cake.


Before you get upset at the notion that you've been getting excited about the same deals every year, we want to emphasize that this is actually not a bad thing–if we know that certain items and categories will be marked down by the same amount every year, it makes it a lot easier to make up a holiday shopping list and realistic budget.
The doorbusters can vary, but they're also exactly what you'd expect. You can count on bargain TVs, Beats headphones, hoverboards, and Instant Pots. But since doorbusters are usually constrained by limited inventory that also limit the window of opportunity along with the reduced likelihood that they'll be available to purchase online, chances high are that you won't be able to get them.
No, the bulk of Black Friday's sales, the real meat of them, the stuff we actually get excited for, lies beyond the doorbusters. Look beyond page 1 of the ads and you'll find plenty of genuine deals on just about everything under the sun, even if they are more than a little predictable.
How will the pandemic affect this year's Black Friday prices?
We don't expect a huge difference in prices this year for Black Friday sales, but we do expect a much different holiday shopping season in general. Rather than a single day of sales, we think that it's very likely that Black Friday could be spread out over a few days and could very well start earlier than usual.
Most deals will probably be offered online, including doorbusters, to control store capacity and allow shoppers with health concerns to take advantage of the deals from the safety of their homes. The stores that do offer in-store Black Friday deals will most likely have guidelines in place that discourage long lines and crowds and will have very strict rules on masks and social distancing.
Last year's Black Friday deals are this year's Black Friday deals.
From one year to the next, the bulk of the Black Friday sales are more or less the same as they were the year before. Many major retailers only make superficial changes to the ad itself, often reusing the same layout and even the same product photos year after year.
Keep scrolling to see examples of Black Friday ads that haven't changed much, along with a handful of deals that haven't budged, either. We'll go out on a limb here and predict that most of these will be back in 2019 for the same price, or very close to it.
Walmart Black Friday Predictions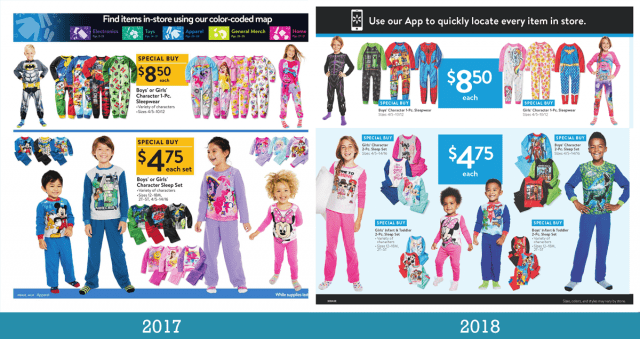 Walmart is extremely consistent, rarely varying its core Black Friday inventory pricing by more than a few cents. The $19 wireless printer and $4.75 kids pajamas are particular favorites that are often found on our annual round-up of the best Black Friday deals.
Wireless Printer
2014: $29
2015: $19
2016: $19
2017: $19
2018: $19
2019: $19
Hotel Style 1,100 Thread Count Sheet Set
2016: $25
2017: $24
2018: $24
2019: $24
Electric Griddle
2014: $9.77
2015: $9.72
2016: $9.76
2017: $9.88
2018: $9.96
2019: $9.96
Fruit of the Loom Fleece Sleep Pants
2015: $4
2016: $4
2017: $4
2018: $4
2019: $5
Boys' or Girls' Character Sleep Set
2014: $4.50
2015: $4.75
2016: $4.75
2017: $4.75
2018: $4.75
2019: $4.75
Check it out: Walmart Black Friday Ads
Target Black Friday Predictions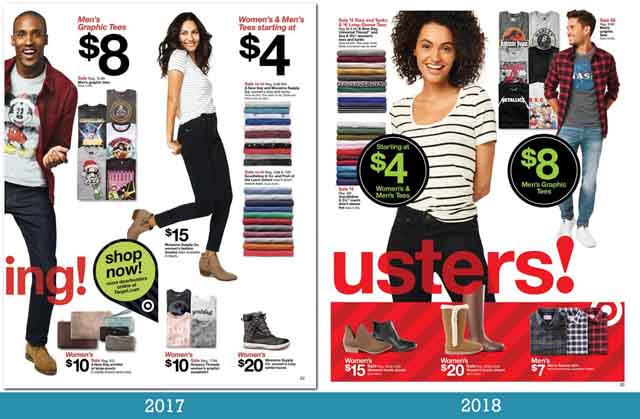 From one year to the next, Target is one of the most reliable Black Friday ads for finding repeated deals. Their clean signature layout makes them easy to spot. You can almost always count on a T-Fal or Farberware cookware set for $49.99, styled, and photographed in exactly the same way even when the brands switch. It's a good bet you'll find Rachael Ray cookware as well, priced at $89.99 for several years now, and Pyrex sets that have been $18 on Black Friday for even longer. Even in our side-by-side view, the models are photographed in the same colors and similar clothes.
Skullcandy Ink'd Wireless Earbuds
2016: $24.99
2017: $24.99
2018: $24.99
Barbie Bundle: Closet, Car, Barbie & Ken
2015: $29
2016: $29.99
2017: $29.99
2018: $29.99
2019: $29.99
Skyline 5-pc Luggage Set
2014: $49
2015: $49.99
2016: $49.99
2017: $48
2018: $49.99
2019: $55
Foldable Kick Scooter
2014: $19
2015: $18
2016: $18
2017: $18
2018: $18
2019: $18
Pyrex Food Storage Set
2014: $18
2015: $18
2016: $18
2017: $16.99
2018: $18
2019: $17.99
Check it out: Target Black Friday Ads
Kohl's Black Friday Predictions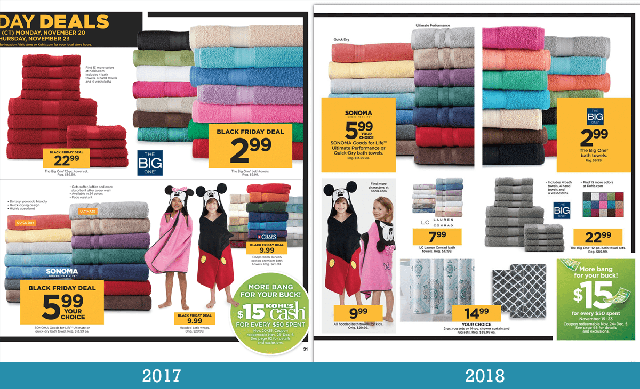 Kohl's is consistent with its annual promotion of giving $15 Kohl's Cash for every $50 spent, up from the $10 per $50 that you get throughout the rest of the year, and we always look forward to it. There's also usually a 15% off coupon that runs during Black Friday week that drops many prices even further.
You'll want to read the fine print, however – many items are not eligible for additional discounts, including some that were coupon eligible just last year. For example, a foldable gaming chair has been $39.99 and coupon eligible for years, but in 2018 coupons could no longer be applied, stealthily raising the lowest price you could get by 15%.
Garmin Drive 50LM GPS
2014: $79.99
2015: $89.99
2016: $89.99
2017: $89.99
2018: $89.99
KitchenAid Artisan Stand Mixer
2014: $299.99
2015: $299.99
2016: $279.99
2017: $279.99
2018: $279.99
2019: $279.99
Samsonite Carry-On
2014: $95.99
2015: $95.99
2016: $94.99
2017: $94.99
2018: $94.99
2019: $84.99
Fashion Boots
2014: $19.99
2015: $19.99
2016: $19.99
2017: $19.99
2018: $19.99
2019: $16.99
Columbia Fleece Jacket
2014: $29.99
2015: $29.99
2016: $29.99
2017: $29.99
2018: $29.99
2019: $29.99
Check it out: Kohl's Black Friday Ads
Macy's Black Friday Predictions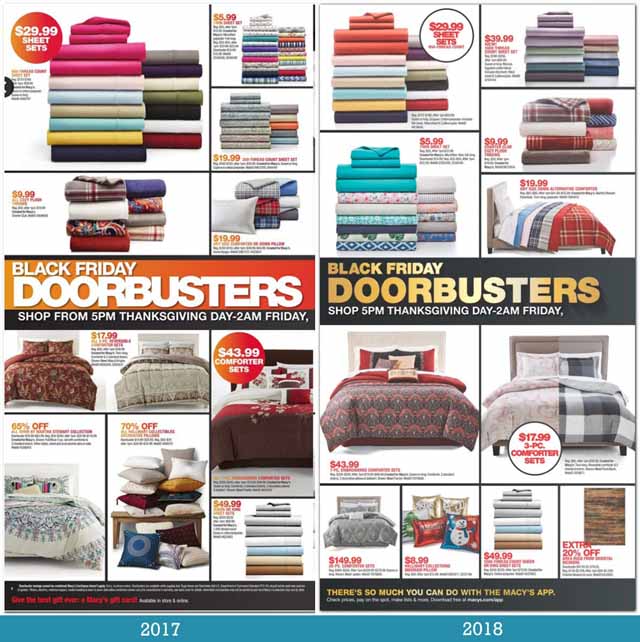 Cashmere sweaters are at such a great price point on Black Friday at Macy's that they've more or less earned a permanent spot of our list of the top Black Friday deals. Macy's rotates merchandise in and out of their Black Friday ad more often than some other merchants, but we still found plenty of consistency year over year on highly giftable brand names like Ninja and North Face.
Ninja Mega Kitchen System
2017: $129.99
2018: $129.99
3-pc Reversible Comforter Sets
2014: $19.99
2015: $19.99
2016: $17.99
2017: $17.99
2018: $17.99
2019: $19.99
Tag Matrix Luggage, Any Size
2017: $49.99
2018: $49.99
2019: $49.99
Charter Club Cashmere Sweaters
2014: $39.99
2015: $39.99
2016: $39.99
2017: $39.99
2018: $39.99
2019: $39.99
The North Face for Kids
2017: $99.99
2018: $99.99
Check it out: Macy's Black Friday Ads