Walmart Announces Black Friday Plans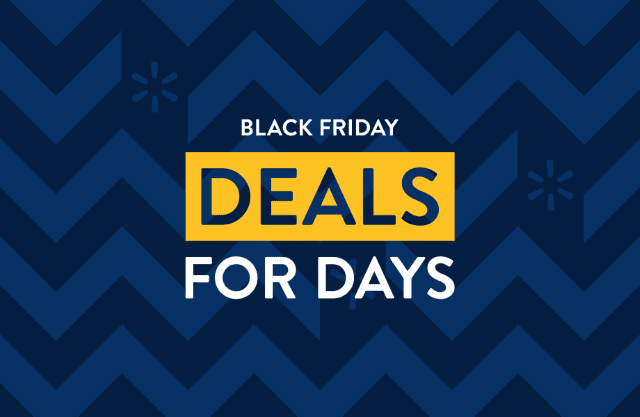 With the announcements that Home Depot and Target would be extending their Black Friday sales through November, we were curious as to what Walmart would be doing this year for their Black Friday sale. They announced on Wednesday their plans for the after-Thanksgiving sale and will host a three-part event called Black Friday Deals for Days throughout November. Keep reading for details on Walmart's Black Friday deals, store hours, shopping guidelines, and more.
Arguably the biggest name in Black Friday shopping, Walmart is changing its approach to the most anticipated shopping day of the year. Rather than a one-day sale, they will be hosting a three-part event for their Black Friday shoppers this year. All three events will take place in the month of November and will have deals available both online and in-store for shoppers.
To best address the safety concerns of their shoppers, this year they'll have their biggest deals and doorbusters available online. Each of the three events, detailed below, will kick-off online to allow shoppers to snag deals from the safety of their own homes.
For those looking for an in-store experience, Walmart will be taking extra precautions to keep shoppers safe. Customers will form a single-file line to enter the store, which will have capacity restrictions. They will be given a sanitized shopping cart and they will be directed to shop the right side of the aisles to ensure proper social distancing. Masks will be required for in-store shopping.
Walmart released some information about their Black Friday Deals for Days events, and we've got the details for you below!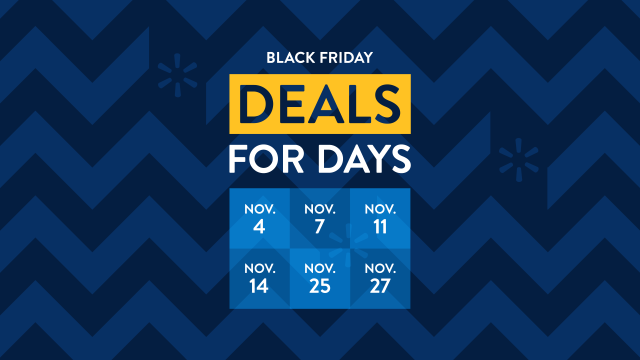 Event 1 – November 4 to November 7
The first deals event from Walmart will start online beginning November 4 at 7 p.m. ET. In-store deals included in the first event will begin starting November 7 at 5 a.m. ET and will follow the shopping guidelines outlined above. You can also expect some new deals to hit Walmart.com on November 7 at 12 a.m ET as well. Shoppers can expect deals on toys, electronics, and home products.
Deals to expect online on November 4:
42-inch UHD Roku TV from Walmart's onn. brand – $88
Deals to expect in-store on November 7:
Magic Bullet Blender – $15
New Bright 1:6 scale RC Truck – $40
Walmart's Tire Event – From November 7-13, customers will get $20 off per tire and free lifetime balance service from Walmart Auto Care Centers for modular Goodyear tires.
Event 2 – November 11 to November 14
Walmart's second Black Friday sale will begin online the evening of November 11 at 7 p.m. and in-store will be available November 14 at 5 a.m. and new deals will be added online at 12 a.m. ET. Tech lovers will love this event as they'll feature deals on electronics, like TVs, computers, and tablets. They'll also drop prices on movies, music and items in apparel, hardlines, home and more.
Deals to expect online and in-store on November 14:
Walmart will have its biggest ever wireless phone sale with deals on iPhones and Samsung smartphones.
Event 3 – November 25 to November 27
The final set of Walmart Black Friday deals will begin online on November 25. You can expect even more deals on electronics, toys, and gifts across apparel and home, as well as seasonal décor for your holidays at home. Deals start online at 7 p.m. and in-store deals will begin at 5 a.m. on November 27, with more deals being added online on the 27th at 12 a.m. ET.
Our Thoughts on Walmart's Black Friday Plans
We're excited now that we know what to expect from Walmart's Black Friday sale this year. With the announcement that the biggest retailer in the Black Friday game will be offering their best Black Friday deals online this year, we think you can expect more retailers to follow suit. For those of you concerned about having to shop in-store to get the best deals, fear not! You'll be able to get their best deals online. As always, we'll be posting their best Black Friday deals so you'll know which deals are available and when.
If you'll be shopping in-store, keep an eye on your local Walmart's guidelines to see if they change and plan for a very organized and socially distant Black Friday shopping experience this year. Stay safe and shop smart!