6 of the Best Things to Buy in October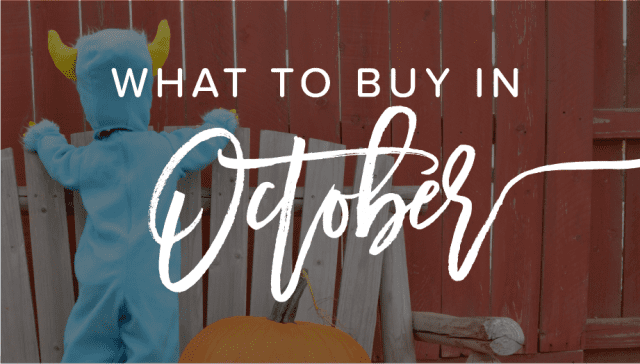 Now that you've done your best to squeeze out the last bit of summer in September, it's finally time to admit October is here and embrace fall. That means colorful trees, cozy sweaters, pumpkin-this, pumpkin-that, and oh yeah – great deals! Read on to find out the best of the best discounts happening this month.
Grills and Outdoor Furniture
With Labor Day being the last official backyard barbecue holiday of the year, retailers are starting to focus on the indoors and doing their best to move outdoor gear out of their doors. Keep an eye out for great deals on patio tables, chairs, umbrellas, and even grills.
Find more in Patio, Lawn & Garden
Camping Gear
Want to find deals on items you can still use this year? Well then check out outdoor stores putting their best camping gear on sale. With October being that sweet spot in the year between low chances of snow storms and low chances of heat waves – and stores discounting things like tents and sleeping bags – your best camping trip of the year may be right around the corner.
Find more in Camping Gear
Jeans
At this point school has been back in session for weeks and retailers are eager to get rid of the leftover clothing inventory that they brought in for their back-to-school sales. Jeans are especially discounted this time of year.
Find more in Jeans
Air Conditioners
With consumers finally ready to give in to the cold and cozy up next to the fireplace, retailers know cooling off is not a priority for their customers. So what's a merchant to do? Give their air conditioning units hard-to-resist prices! And it's not just the price that makes October an ideal month to buy. For those buying window units, it's easier to carry up four flights of stairs and install in cool October, rather than on the first steamy June day. And for those buying a central AC system? There's less demand in October, which means a faster response and install time from your local HVAC contractor.
Find more in Air Conditioners
Halloween Costumes
If you're not dead set on being an Incredibles or Black Panther character, and are open to something more evergreen, then wait until a couple of days before Halloween to get your costume. This is one of the few items retailers don't have much use for beyond October. But be sure to have a Plan B, or C, or D just in case they don't have what you're looking for.
Find more in Costumes
Cars
In addition to the end of spring, October is another good time to get the best price on a car. Next year's models arrive in the fall and salesman are eager to make a deal on the 2019 models.
Find more in Automotive
What do you like to buy in October? Tell us in the comments below.