The Best Stores for Lilly Pulitzer Sales and Deals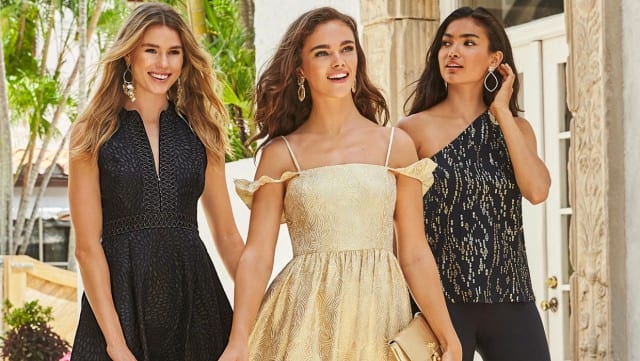 If your fashion goals include getting pretty in pink gingham and florals, wearing more patterned dresses, and generally appearing ready to walk from the beach directly to brunch, then you've probably already looked longingly at a rack of Lilly Pulitzer apparel in your favorite department store or browsed online while bawling over the steep prices. 
While many women would love to have a wardrobe furnished in Lilly Pulitzer hats, handbags, swimwear, and dresses, the coveted brand can be tough to find on sale, which makes it difficult for us frugal fashionistas to get our fix. Dresses start at a whopping $98, and a pair of leggings from their activewear collection will set you back even more than that. The scarcity of Lilly Pulitzer deals means our editors jump for joy when they find a deep discount – it's like finding a needle in a haystack, if that needle was printed in pastels.
Luckily, we've discovered a few tips and tricks along the way for finding Lilly Pulitzer items on sale. There are some go-to retailers that carry Lilly Pulitzer deals almost year-round, and others that have sales you'll need to watch for. But if all of that sounds like too much effort, you can also set an alert for the brand or browse our current selection of deals at Brad's Deals.
Best places to find Lilly Pulitzer on sale
Discounts on Lilly Pulitzer at Nordstrom come few and far between throughout the year, but you'll usually find a few items reduced up to 40%, and shipping and returns are always free. You're more likely to find a better selection of discounted items during Nordstrom's big sales, like their Anniversary and Half Yearly Sales, as well as around shopping holidays like Black Friday.
Occasionally, you can find a Lilly Pulitzer item at Saks for up to 60% off. Like Nordstrom, it's best to shop at Saks during big sale events and around holidays, when you'll find the best selection of discounted items.
6pm, the discount division of Zappos, takes the cake for the best year-round prices on Lilly Pulitzer apparel and accessories. During the time of publication, we found discounts of up to 50%, which means you can snag a pair of the coveted Luxletic leggings for just $54, or get a pair of summer-ready espadrilles for only $44. Even items that are new to the discount site are reduced up to 50%, so you can grab them on sale while there's still a great selection and the styles are still fresh. Also keep an eye out for 10% off coupons from 6pm, which will save you even more.
Amazon offers discounts of up to 50% year-round on Lilly Pulitzer, but you'll have to keep your eyes peeled while browsing, since you can't sort the sale items from the full-price merchandise. Occasionally, we've seen Amazon coupons for Lilly Pulitzer items, and Amazon has also offered "deal-of-the-day" sales with unbeatable discounts on the brand – up to 75%!
LillyPulitzer.com has the largest selection of goodies from the brand, but you won't see a sale section on their website all the time. Instead, you'll want to shop the After Party Sale, the site's largest annual shopping event. This year, there were shorts and tees available for just $24 and dresses as low as $39. With discounts of up to 60% on a huge selection of items, this sale is not to be missed.
The discount chain often carries Lilly Pulitzer items, but since you can't search for brands on their website, you'll just have to keep your eyes peeled online and in-store.
Use Google Shopping
At any time of year, you can always do a quick Google Shopping search of the item you're looking for and sort by price to see the lowest price available for that item online. But keep in mind that Brad's Deals often features exclusive discounts and coupons not found on Google, so you may want to check our site first. You should also beware of disreputable sellers that may come up in your Google search.
How to Spot a Fake Lilly Pulitzer Item
Another way to find deep discounts on Lilly Pulitzer is to buy used items on sites like eBay, ThredUp, and Tradesy. But if you're going to go this route, it's best to be well-informed on how to spot a counterfeit Lilly item. Ask the seller plenty of questions and request additional pictures before you make your purchase, so you won't be tasked with having to fight for a refund if your items is fake.
Check the labels. This may seem obvious, but make sure the seller includes a picture of the label. Keep in mind that after 2000, the ™ was changed to a circled R.
Check the buttons. Authentic Lilly Pulitzer items have details that set them apart from counterfeits, such as the signature Lilly buttons, which have a "Lilly" engraving on them.
Check the workmanship. Lilly Pulitzer dresses are extremely well-made, and almost all Lilly dresses are fully lined and include hem lace. Sleeveless dresses have satin straps under the shoulder designed to keep your bra hidden. The zippers are easy to use and are typically from the YKK brand.
Buy from a reputable seller. Check the seller's location and feedback ratings before purchasing. Avoid overseas and first-time sellers.
Ask yourself if the deal is too good to be true. Last-season and used items are going to be available at a discount, but if they're marked down to practically nothing, you've probably encountered a fake.
Take the item to a Lilly Pulitzer Signature Store. If you're still unsure about the authenticity of an item you purchased online, it's a good idea to take the item to a Lilly Signature Store, find a knowledgeable salesperson, and ask their opinion on whether the item is fake.
Related coupons: