Practice Self-Care this Month with Women-Owned Businesses on Amazon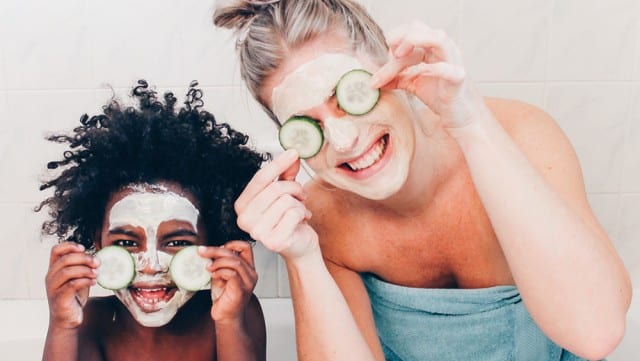 We're well into March and International Women's Month and to celebrate we've started our S-H-E Shop where you can support some of the women-owned businesses we partner with. We've also seen that Amazon is featuring some wonderful women-owned businesses and wanted to highlight some of our favorites.
As we turn the corner into a full year of this pandemic, some serious self-care is necessary. There is a light at the end of the tunnel, but many of us are still working from home, parenting 24/7, teaching our school-aged children, and missing our friends and family.
Take a few moments for yourself this month. Do something that brings you joy or peace, or even both. Many of the women-owned businesses Amazon has been featuring offer some great self-care options. These include skincare, food & drinks, and home decor. See some of our favorites below and shop Amazon's Women-Owned Business Collection for even more ideas.
Table of Contents

Sometimes treating ourselves to new, natural products can help improve our mood. Try a new skincare line, slather yourself in a fragranced body balm, or dab a little fragrance on just for the commute to your home office.

Bolden is an affordable skincare brand that has excellent reviews on Amazon. Their products are clean paraben- and sulfate-free and they do not test on animals. Our favorite products include their Sulfate-Free Cleanser, $16.49, and their Skin-Brightening Toner, $19.49.

Black Woman-Owned business, Grace of Melanin, sells fragrance oils for men and women. These oils are 100% Grade A and are custom and handmade by the owner Grace. The fragrances are alcohol-free and come in a rollerball applicator bottle. Our favorite scents are Champagne Nights for women and Suit N' Tie for men, all scents are $12.50.

A natural line of skincare with a huge variety of products, Ora's Amazing Herbal offers self-care buys for men, women, and children. All of their products are synthetic-free and made in the USA. Our favorites are the Anti-Aging Peppermint Body Butter, $34.97, and the Hair and Beard Oil, $17.97.


Our environment plays a big part in our overall mood. Be sure to surround yourself with things that make you feel calm and happy.

The women behind Serene Spaces Living want to help you create a space that reflects who you are. Each of their pieces, ranging from candles to vases to decorative accent pieces, are packaged and delivered with care. Our favorite pieces are the Set of 6 Bud Vases in 8 color options, $22, and the Handmade Mercury Antique Silver Cylinder Vase, $24.

Keep your space organized with Three by Three Seattle. They create desk and drawer organizers for your office, kitchen, or kids' room. They also have stationery, office supplies, dry erase boards, and more. Our top picks are the Classic Color 5-Piece Drawer Organizer Set, $17.20, and the Magnetic Strip Bulletin Board, $16.25.

A unique and well-reviwed small business, Lunda Sundara, sells Palo Santo smudging sticks from Peru, along with jewelry, ceramics, and essential oils. Smudging is a ritual through which we cleanse the energy of physical space, object, or person and their Palo Santo is sustainably harvested. Our top picks are the Palo Santo High Resin Smudging Sticks, $9.99, and the Palo Santo Handmade Cleansing Bracelet, $14.99.


Treat yourself from the inside out with some things that taste good and some things that are good for you. Herbal teas, chocolates, and a healthy nutrient-rich drink can help you feel your best even on these last gloomy days of winter.

Self-care should always include chocolate! Kanda chocolates are non-GMO and use fair trade Ghana cocoa beans for a creamy, and perfectly sweet chocolate taste. Kanda was one of Diane Von Furstenberg's picks in the women-owned products on Amazon. Our top picks are the Kanda Chocolates Trio, $21 and the Extra Dark Chocolate Minis, $21.99.

The nutrient-rich tables from 8Greens pack a powerful healthy punch. If your idea of self-care doesn't include sitting down to a steaming bowl of broccoli, consider drinking a glass of water with one 8Greens tablet. One tablet contains as much Vitamin C as 6 oranges, Vitamin B5 as 15 cups of broccoli, Vitamin B6 as 6 cups of spinach, and more. Choose from several flavors like Melon and Blood Orange, each $14 for a 10-tablet tube.

Blended and packaged in Indianapolis, IN, Nelson's Tea sells teas in a variety of delicious flavors. Try their teas hot or iced and since they're loose leaf teas, you can even play around with mixing your own varieties. Our favorites are the Orange Chocolate Truffle Rooibos Tea, $11.98 and the Mango Passionfruit Black Tea, $19.98.

Do you have a favorite woman-owned business? Let us know in the comments!