How to Find the Best Outdoor Furniture and Patio Sets to Buy
Outdoor furniture is a great addition to any home, and it's important to choose the right type so that you can enjoy it for years to come. In this guide, we will walk you through the best types of outdoor …
---
Outdoor furniture is a great addition to any home, and it's important to choose the right type so that you can enjoy it for years to come. In this guide, we will walk you through the best types of outdoor furniture, what to look for when shopping, and how to get the best price.
We will also answer some common questions about patio furniture. Will metal furniture rust? Are patio furniture covers worth it? Which type of material is most durable? A patio set is an easy way to make the most of your backyard space, and with the right information, you can find the best set for your needs and budget. We'll walk you through everything you need to know before making your purchase, including what to look for and how to save money.
Outdoor furniture is a popular addition to any home, and with good reason – it can completely transform an outdoor space, making it more comfortable and inviting for gatherings of all sizes. But with so many options available, it can be difficult to know where to start when shopping for patio furniture. That's where we come in!
We know it's spring and you're probably itching to get outside, but don't forget about buying patio furniture at the best time of year. To help you get started, we've put together a few tips on finding the best patio furniture deals this year.

Best ways to find patio furniture deals are:
Check the internet.
Many furniture retailers offer online specials in March. If you want to buy online, you can find good deals from reputable retailers like Wayfair or Overstock. We also love to check patio deals at Kohl's and Tanga.
Join a patio furniture mailing list.
Many retailers offer coupons and bargains via email. If you have a favorite store, you can sign up for a mailing list and get alerts when they have good patio furniture bargains. Kohl's is a great example. Keep an eye out for emails letting you know about Kohl's Cash earning schedules, this helps drive down the cost of outdoor furniture.
Check for patio furniture clearance sales.
Many retailers offer the best sales on patio furniture usually in March. While it's a little early for some to start shopping for outdoor furniture, it's when you can find the widest selection of in-stock availability.
When to Shop for the Best Patio Deals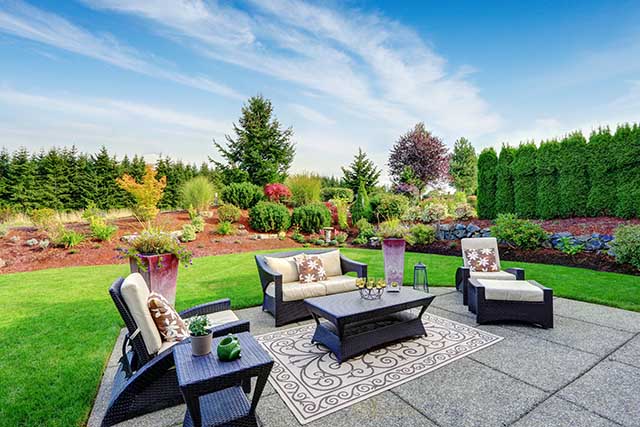 When the sun starts to shine and the days get warmer, we all start thinking about the patio furniture we are going to hang out on for the next few months. We're going to want to be out there on our patio furniture, enjoying the sun, the weather, maybe a nice cocktail or some ice-cold beer. If you happen to be a summertime patio furniture lover, then you may start thinking about the cooler months when you are looking for patio furniture deals.
To get the best patio furniture deals for the spring and summer months, you should always shop early. This is the best time to shop for patio furniture deals because the patio furniture sales are at their height. For example, many retailers offer patio furniture sales in March, April, May. Look for patio furniture sales during the early months before sets begin to sell out or prices go up in the peak of summer.
Shop Now: See all of our patio deals.
How to Find the Best Spring Patio Deals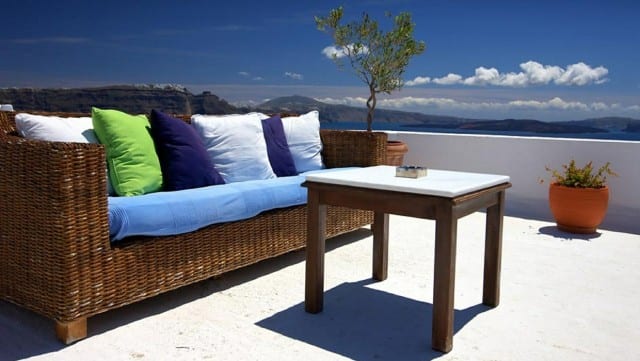 First, we recommend planning out your patio remodel. If you're planning a complete overhaul, we found that a good time to do so is during winter or early spring. Just looking to update your patio furniture? We think that now is the time to do so. If you are looking to keep things pretty simple, an update can be done later in the summer.
Seating and Bistro Sets – We expect to see some great bistro and seating sets at a fair price, so we recommend looking for them now. These sets usually offer a small table and two coordinating chairs. We see great deals at Wayfair and Walmart.
Outdoor Dining – If you're looking for some outdoor dining options, we suggest shopping early. We think that patio furniture is a good investment for a homeowner, and if you're looking for a good deal, we think that now is a great time to buy. Check Home Depot, Lowe's, and Target for deals on outdoor dining sets.
All-Weather Durability–Outdoor Furniture Must-Have Materials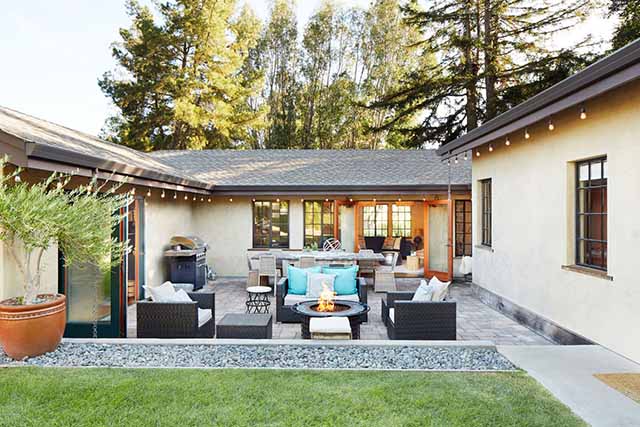 Below is a quick overview of the best outdoor furniture materials and the top benefits of each.
Water Resistance–Prevents Stains, Rust, and Mold
Many outdoor furniture materials are made of wood and are naturally susceptible to water stains and rust. Because all-weather furniture is made to be outside, it should be coated with a protective coating to prevent these problems. Also, you want to be sure that the material you're looking at can be cleaned and maintained easily, without leaving behind a stain or leaving a slick residue.
When choosing your outdoor furniture materials, you want to invest in materials that will last for many years and are made to withstand the elements. Some of the best outdoor furniture materials include:
Waterproof–Waterproof Furniture Prevents Water Damage
No matter what kind of outdoor furniture set you choose, making sure that the furniture is waterproof is a must.
UV Resistance–Prevents Colors from Fading
It's easy to fall for the latest and greatest outdoor furniture material, but it can be pricey to replace all of your furniture over time. Investing in outdoor furniture that is UV-resistant will help your furniture last longer and keep your investment in top condition.
If you're in the market for new outdoor furniture, keep in mind that UV-resistant materials are especially important for leather furniture. For leather furniture, look for outdoor furniture with a UV-resistant finish or coating. This will help prevent fading and staining from the sun, and it's a great way to keep your furniture looking new for years to come. UV-resistant materials are also great for outdoor furniture that's made from other soft-surface materials that can fade over time.
Weight–Determines Wind Resistance & Ease of Arrangement
If you're looking for lightweight furniture that's easy to move around, consider buying furniture with a lower weight-to-size ratio. The lighter a piece of outdoor furniture is, the easier it is to move around and store. If you're looking for something that's easy to transport to backyard parties, you should opt for a lightweight, portable set instead of a heavy, cumbersome one. The Costway brand at Tanga is a great option for this.
Weighing your furniture options before you buy is important in order to make sure you're getting the most bang for your buck. While lightweight furniture is usually cheaper than heavy-duty pieces, you get what you pay for. A heavy-duty piece will be more durable and sturdier than a lightweight model. As always, make the best decision based on your own backyard needs.
Temperature Resistance–Keeps Your Furniture Comfortable & Stable
You can't just buy a new outdoor furniture set without considering your local weather. It needs to be comfortable to sit on, even if it's hot outside. And if you're purchasing it for a hot summer, you'll want it to be stable and not wobble, so you don't have to worry about it falling over after a few minutes.
If you're looking for outdoor furniture that can withstand the elements, you'll want something that can withstand rough surfaces and a little abuse.
Keeping your outdoor furniture looking new is simple with fiberglass. Fiberglass is an easy to wash and clean material that's weatherproof and durable, making it a great choice for outdoor furniture.
Easy to Clean–Helps Furniture Last Longer & Look Better
No matter how you choose to arrange your outdoor furniture, you'll want to make sure it's easy to clean. Just like you wouldn't want to clean your living room furniture every day, you don't want to have to clean your outdoor furniture every day either. Choose materials that make cleaning easy. Most outdoor fabrics are easy to clean and won't get smelly or dirty over time. The key here is to look for patio cushions that have removable covers or spot cleaning capability.
Stain resistance–helps furniture stay as new & look better. Stains happen, but no one wants to see a bunch of stains on their furniture. Look for outdoor furniture that boasts stain resistance or Scotchguard which helps protect against water-based spills before they stain.
Best Metal Materials: Aluminum, Steel, & Wrought Iron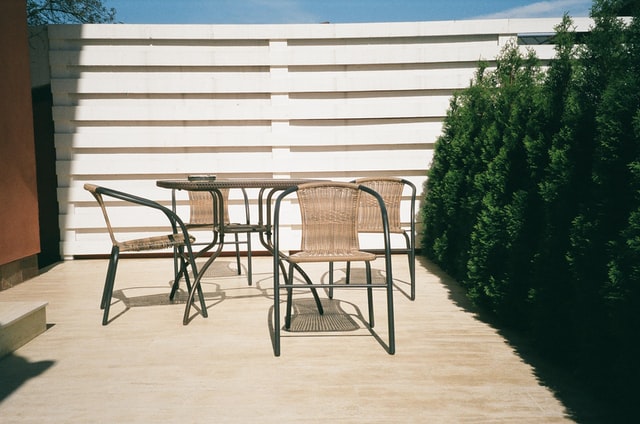 Metal is one of the most durable outdoor furniture materials. Depending on what type you choose, you can get furniture that's resistant to rust, scratches, or chipping. Aluminum is the most common type of metal used in furniture because it is lightweight and durable. But you can also get furniture made from steel, iron, and other metals. Just be conscious of rust if you live in a wet or rainy area.
Best Wood Patio Materials: Teak & Eucalyptus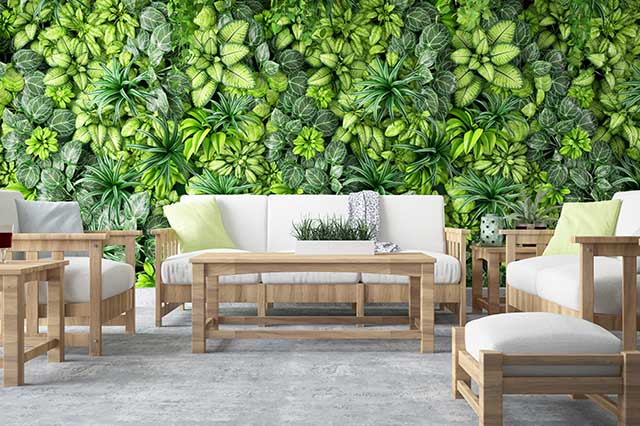 Teak is not only one of the strongest woods, but it also has natural insect repellent. Many teak pieces are hand-carved to perfectly match the grain and color of their natural surroundings, so they look great for many years.
Eucalyptus is a strong, lightweight wood that is also highly resistant to weathering. It can be stained or sealed to give it a natural look or a modern, sleek finish.
Plastic & Synthetic Resin Patio Furniture Materials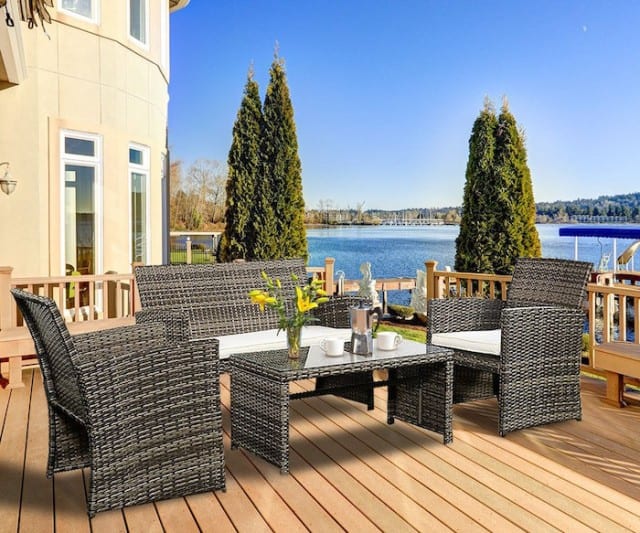 Inexpensive, durable, and strong, plastic is a great choice for outdoor furniture. It's easy to care for and a great addition to any outdoor space.
Best Outdoor Fabrics: Sunbrella, Olefin, & Polyester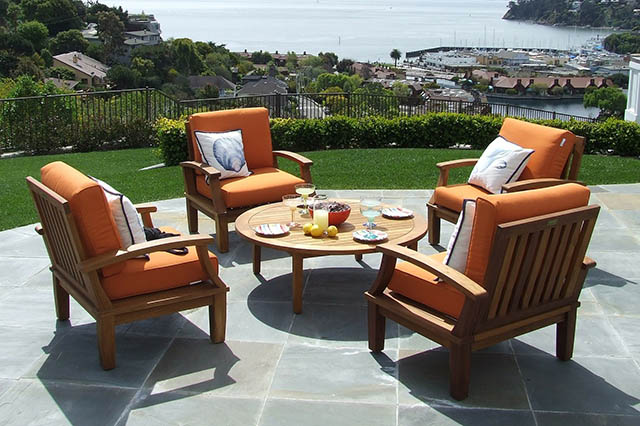 Fabric outdoor furniture is harder than you might think!
With fabrics being made from natural fiber and the different resins, polyurethane, and other chemicals, outdoor furniture can be made strong and durable. But also very flexible and bendable as well. So where would you place your outdoor furniture? This depends on your climate.
Sunbrella is a popular line of outdoor fabric that is both weather resistant and UV resistant. It's made from fiberglass and acrylic polyester, which is both UV and weather-resistant, and then treated with stain-resistant and water-repellent coatings.
Trending Outdoor Furniture: Concrete
Concrete is a great choice for backyard furniture. It is a natural material that can be found in a variety of colors and textures. Concrete is extremely easy to work with and can be stained, painted, or sealed like any other outdoor material. Concrete furniture is great in the backyard because it's easy to keep clean and it's durable.
What Should You Consider When Buying Patio Furniture?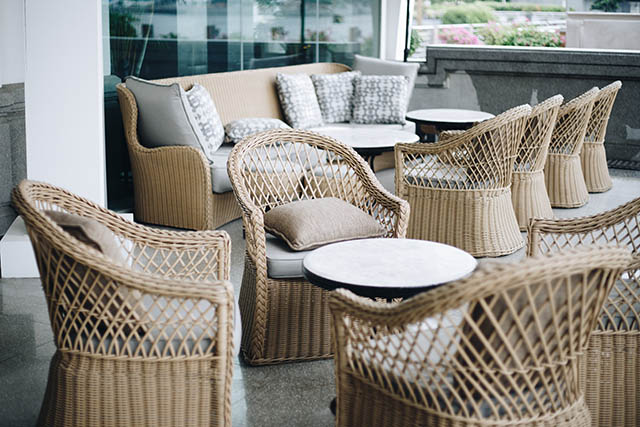 Choosing the right patio furniture is no easy task. You may want to choose furniture that suits your outdoor space, style, and budget. Here are a few things that you should consider before buying your next piece of outdoor furniture.
Inspiration
The inspiration for our outdoor furniture comes from around the world, but it all starts with the Nordic forest, and the way people want to spend time outdoors. We believe that great outdoor furniture needs to be attractive and functional, with timeless design.
Think about what design speaks to you. Do you like clean lines and wood materials? Are you a fan of rustic wicker? Browse online catalogs to get inspiration and a sense of what patio styles you prefer.
Budget
We also want our readers to enjoy the best outdoor furniture for a given budget, no matter what that means to you. Consider how you can get what you want for less. If you're hoping for a big patio dining set, consider buying a high-quality wood table with some less expensive chairs.
Outdoor Dining Sets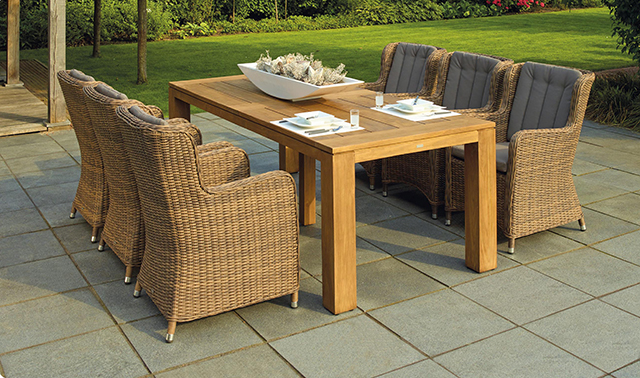 If you have a large space or want to eat outside, top patio set retailers offer a variety of dining sets. Whether you are looking for a small, medium, or large outdoor dining set, you can have a table or chairs for everyone without spending a fortune.
Many furniture stores also have a variety of outdoor benches, tables, and chairs with and without ottomans, outdoor storage options, and everything to make your outdoor dining space complete. For a large outdoor space, you can choose from outdoor dining sets with additional seating like benches and chairs, or an outdoor dining set with a table and four chairs for your dining area. You will be able to create a perfect dining space on a small balcony or patio if you go with a bistro dining set.
Patio Chairs and Other Outdoor Seating Options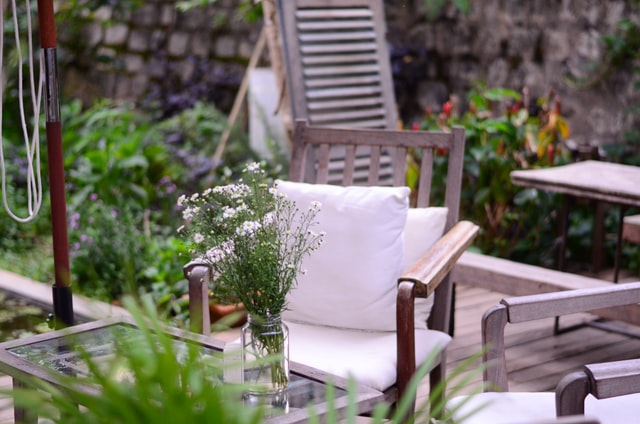 A patio chair is a must-have for your outdoor space. Choose comfortable and durable outdoor patio furniture that will last for years to come. There is always a great selection of patio chairs and patio seating options that are crafted from a variety of materials as we described above. Patio chairs and patio seating are the perfect way to unwind and enjoy the outdoors with family or friends.
Outdoor benches are a great way to enjoy the fresh air, whether it's an afternoon on the patio or an evening out. You can dine on a bench if you're having friends and family over or use it as a resting spot to read a book or grab a cup of coffee. Many leading US retailers sell a wide variety of outdoor benches ranging from bench seats with arm rests to benches with ottomans for added comfort. Outdoor chairs and seating are the perfect way to enjoy the nature out on your patio!
Patio Tables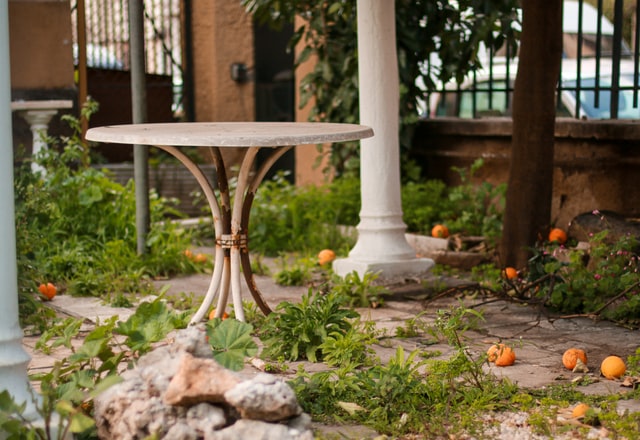 There are a variety of options to match your outdoor space from dining to breakfast, from casual to formal. Outdoor dining tables come in a variety of sizes and styles. Outdoor tables are made from powder-coated aluminum, steel, eucalyptus, and acacia wood, and are designed to withstand the various weather conditions. Choose your materials based on your own outdoor space and climate.
Outdoor Patio Cushions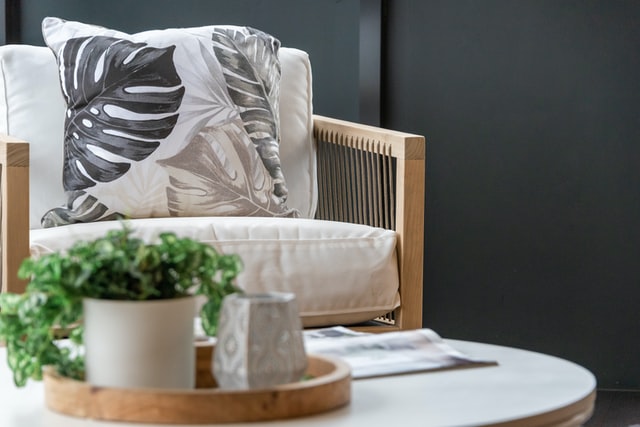 You can also add cushions to your patio furni
ture. Cushions are a great way to add comfort to outdoor furniture and can be used year-round. There are a variety of cushions for outdoor furniture that are made of different materials. Choose from plastic, foam, cork, wicker, and woven or knitted fabrics. You can also buy cushions separately or as a set. The cushion covers are removable and washable but special care should be taken when cleaning.
Plants and Planter Designs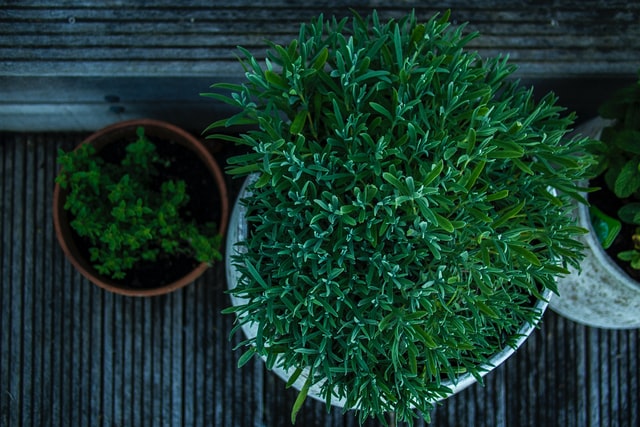 If you have a balcony or patio, you can use it to grow beautiful plants and add a touch of nature to your space. There is a variety of outdoor plants, flowers, pottery, planters, and more available with many leading retailers. You can choose from a variety of planters that come in different sizes, shapes and heights. Choose the right size planters for your plants and make sure there is ample drainage for the soil.
Umbrellas and Privacy Screens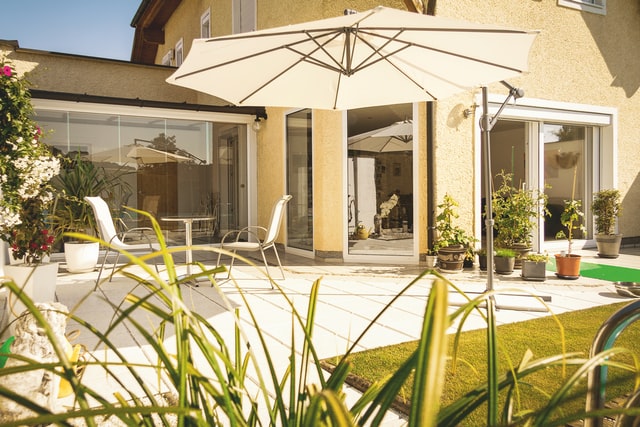 Outdoor umbrellas are a must for your patio, especially during the warm summer months. Depending on the size of your patio, a large patio umbrella is a good choice for shading your entire space. But if you're looking for privacy and just want a little shade, there are many different patio screens to choose from, as well. With a wide variety of sizes, designs and colors, you can pick one that will fit your space and style.
Other Accessories to Complete Your Patio Set:
Outdoor fireplaces
Whether you're looking for a decorative fireplace, a decorative outdoor fireplace, a fireplace with real logs or a fireplace with built-in lights, you can have it all. Outdoor fireplaces are a perfect way to enjoy the fresh air without having to go inside. Look for the fireplaces that can fit in your backyard and also have a great look.
Outdoor cookers
What's the best way to enjoy the outdoors? A great way to do that is with a perfect grill. There is a variety of options available from basic grill, to a grill with extra features like a warming rack, or smoker. You can also get a propane grill and use the same propane for your grill that you do for your outdoor fireplace.
Where did you buy your outdoor furniture? Let us know in the comments!