The Best Target Shopping Tips for Saving Money
We know that getting out of Target with only what you came for is some kind of superpower that many of us mere mortals have not experienced. Here are a few of our favorite tips for saving money at Target …
---
We know that getting out of Target with only what you came for is some kind of superpower that many of us mere mortals have not experienced. Here are a few of our favorite tips for saving money at Target to help take some of the sting out of those impulse purchases. (And trust me, we're all guilty.)
Target Circle
Target Circle is Target's loyalty and discount program. Being a Target circle member gets you 1% back on purchases, discounts of 5% up to 50% on select items and categories, a 5% birthday discount, gift cards with minimum purchase amounts, and more. My favorite perk to being a Circle member is that every few months they offer $20 or $30 back when you hit spend thresholds. So, you can earn $30 if you have three $100 Target trips during the promotional period. We do Target runs weekly, so we very often snag those rewards!
You can manage your Target Circle account on the free Target app. Just select the Circle offers you want in the app, fill your cart, then check out online. Or, if you're shopping in-store, just enter your phone number at checkout and your discounts will be automatically applied.
Target REDcard Discount
Pretty much the only compelling reason to sign up for a Target REDcard or its debit card equivalent is to take advantage of the 5% discount on every purchase. Not only do you get that discount, but you also get free shipping when shopping online. Just be sure to pay off the entire balance every month so that the interest doesn't wipe out your savings. Better yet, opt for the debit card to avoid all the messiness of credit cards entirely.
Target Price Matching & Price Adjustments
If you find a lower price on a qualifying item at select online competitors or in a competitor's local ad, ask for a price match. You can do this at the time of purchase or within 14 days after you buy.
Here's a list of online competitors that Target will price match:
Amazon.com
Apple.com
BedBathandBeyond.com
Bestbuy.com
Barnesandnoble.com
Buybuybaby.com
Chewy.com
Costco.com
CVS.com
DicksSportingGoods.com
Gamestop.com
HomeDepot.com
JCPenney.com
Kmart.com
Kohls.com
Lowes.com
Macys.com
Newegg.com
OfficeDepot.com
Petco.com
Petsmart.com
SamsClub.com
Sears.com
Sephora.com
Staples.com
Ulta.com
Walgreens.com
Walmart.com
Wayfair.com
Photo courtesy of Target
Target Coupon Stacking
Target will accept multiple coupons on the same item on the same order. Here's a quick rundown of Target coupon stacking. You're limited to the following offers for any item:
1 manufacturer's coupon, threshold coupon (requires a minimum spend), or category coupon (like cleaning supplies)
1 Target store coupon
1 Target app offer
Shop Target Black Friday Sales
Target has become a major player in the Black Friday shopping space. We often see them with the best deals on some of the year's hottest products. While their prices might match competitors' pricing, they often offer gift cards with purchase, making them the better deal. Check for the Target Black Friday ads to start being released in October and their Target Deal Days to begin at the end of October or the very first week of November.
Pick up seasonal decor after the holiday
This is pretty good advice for just about any retailer that's desperate to clear out their seasonal stock after the holidays have passed. Some best bets are wrapping paper, strings of Christmas lights, and next year's artificial tree. While we recommend this tip in general, Target usually has a big selection of their seasonal decor online that you can scoop up even if the shelves are bare at your local store.
BYOB – Bring your own bag
If you're like me and have an entire cabinet stuffed full of canvas bags and you have no idea where they came from or how on earth your collection got so big, grab a few before you head out to shop at Target. You'll get a $.05 discount for every bag you bring. Plus, in some cities that are actually charging for plastic grocery bags, you end up saving even more than a nickel!
Rain Checks
If a sale item is sold out in-store, ask for a rain check. The rain check entitles you to the sale price for the next 30-45 days (varies by state), and can be used at any Target store. Target can't guarantee product availability and does not provide notifications when the product is available. However, substitutes are offered whenever possible. You can ask a store team member for help.
Gift Cards with Purchase
We see some of the best Target gift card bundles on Black Friday and Cyber Monday, but we see them frequently throughout the rest of the year, too. We often take advantage of $20 gift cards with the purchase of $100 in baby items! You'll find all of the latest gift card with purchase offers in our collection of Target coupons.
Fill your prescriptions at CVS Pharmacy at Target to earn $5 off
Target partners with CVS Pharmacy and you can get a $5 Target coupon after collecting 10 credits as a CVS ExtraCare and Health Rewards member. It's mostly by filling prescriptions, but there are other things you can do to get you to that coupon faster, too. Check out this list of how to earn credits:
Fill or refill a prescription (1 credit)
Fill or refill a 90-day prescription (3 credits)
Receiving a flu shot, COVID-19 vaccination or other vaccination from a CVS pharmacist (3 credits)
Add prescriptions to your CVS.com account (3 credits)
Enroll a family member or pet on your ExtraCare card in the ExtraCare Pharmacy & Health Rewards program (1 credit per enrollment, limited to 5 per ExtraCare card)
You can earn up to $50 in Target coupons per year. Get all the details with the CVS ExtraCare Terms & Conditions.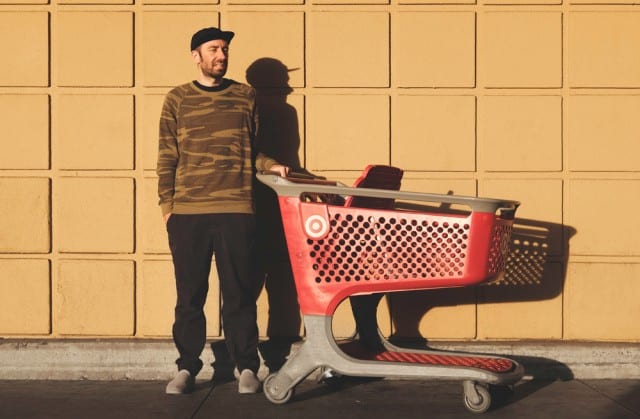 Load up on discounted gift cards
Target gift cards are a steal when you can get them with a discount. Around Christmas time they offered 20% off Target gift cards! I was able to get gift cards for all of my girls' teachers for 20% off. Plus, if you have a Target purchase in mind, you can buy yourself a discounted gift card, use it for that purchase, and essentially get 20% off.
You can also look for discounted Target gift cards on gift card exchanges like Raise.
Shop from home and behave yourself
You only went to Target for some paper towels but you know you're walking out with a cute throw pillow, a 3-pack of leggings, two bottles of wine, six scented candles, and a shower curtain. Okay, so all of those things are awesome, but they're not necessarily in your budget. The best way to avoid the temptation? Stay home. Shop online at Target.com instead and you'll never again be lured off mission by yet another endcap.
Our Favorite Target Deals
Cruxgg Ceramic Grill and Griddle $48
Threshold Loveseat $240 Shipped
What are your favorite things to pick up on a Target Run? Do you have any other money-saving tips for us? Let us know in the comments!