13 of the Best Things to Buy in July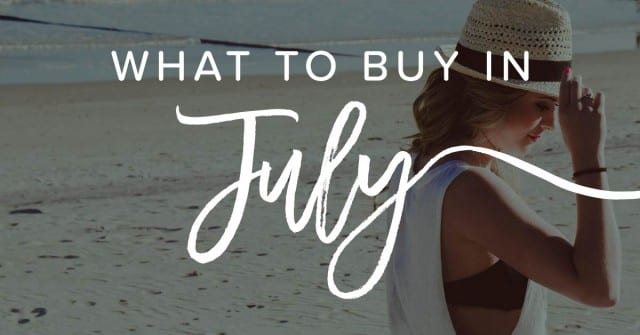 July is turning into a deceptively great time to find bargains. The month starts out with Fourth of July sales, serves up Amazon's Prime Day and its copycats about a week later, and takes only a short breather before diving headlong into back-to-school sales. 
Because timing is everything this month, we've broken July's best buys out by beginning, middle, and end of the month.
The Best Deals in Early July
The first week of July will be stuffed with July 4th sales, but not everything will be a great deal. We'll keep a running tally of the best deals to help you sort through the clutter.
Summer Apparel
With most stores putting out their summer apparel as early as April and May, that means July is already time for them to get rid of it and stock up for Fall. Look for discounts on swimsuits, shorts, and sandals.
See more:
Tools
Once you get past Fathers Day, the tools that weren't snapped up as gifts for Dad get the discount treatment. Just in time, too, since many DIYers will be taking advantage of the long weekend to catch up on home improvement projects.
See more:
Paint
Yep! It's a good time to paint the house! Or your bedroom, since you can leave the windows open while it dries without getting frozen out of the house. Check out Home Depot and Lowes for some of the best prices on cans of paint that you'll find while still in a season when you can actually use it.
See more:
The Best Deals in Mid-July
All signs point to Prime Day landing the week of July 10th, but no retailer in their right mind is going to let Amazon have the day all to themselves. By all means, check Amazon out, but don't overlook all those best-of-season sales from all of your favorite stores.
Amazon Prime Day
Prime Day is the day Amazon Prime members can find thousands of deals across the site, with new deals posted throughout the day and for just a limited time. Many feel this is the best bargain-finding day after Black Friday. Some of last year's best deals included an Amazon Echo for $89.99 and a Ninja blender for $70. Big department stores know their customers will be shopping online that day more than usual, so look for significant discounts at places like Macy's, Target, and Walmart. Prime Day 2019 is slated for a 2-day event on July 15-16.
See more:
Swimwear
Once everyone has gotten "Fourth of July at the beach" out of their system, swimwear gets discounted for fall clearance. So hold out until after the holiday if you can, and give our list of the best places to find cute, cheap swimwear a look.
See more:
Artificial Christmas Trees
What blasphemy is this when the sun remains so high and hot in our northern sky? Trust us. Buy your tree-in-a-box now, stash it in the basement until December. We promise not to tell anyone you're already thinking ahead to Christmas.
Set up a deal alert:
Furniture
Now that the living room has a fresh coat of paint, replace your ratty sofa and finally get the comfy chair you always wanted. New inventory tends to hit stores like Crate and Barrel or Joss and Main in August, which means July is the month for them to clear out the old. If you can't stand the sight of that stained couch any longer, now could be the time for a replacement. Look for these discounts especially around Fourth of July, another popular holiday retailers use to promote big sales.

See more:
Jewelry
There are no do-or-die jewelry holidays in July. This is good news for bargain hunters, since it means that jewelers slash their prices to keep their sales from getting too sluggish.
See more:
Stage Shows
Heading to a big city like New York or Chicago this summer? Try to squeeze in a play since this is a slow time for the theater. You can find tickets to some shows for as much as half off.
See more:
Bikes & Camping Equipment
With the summer travel season half done, outdoor gear goes on sale. Buy now and you'll get some enjoyment out of it before you have to pack it away for the winter.
See more:
The Best Deals in Late July
Tired of sunny days by the pool yet? Neither are we, but back-to-school sales will start counting down the days beginning in late-July whether or not you're ready for it. Confidential to Tennessee, Alabama, and Mississippi: You have tax free shopping weekends coming up in late July when you can fulfill many of your back-to-school needs without also shelling out for sales tax. Check locally for your dates.
School Supplies
Already? Seriously? Yes, seriously. With most kids going back to school as early as mid-August, parents are starting to get their ducks in a row by end of July. Look for sales on supplies like backpacks, markers, notebooks, and lunch boxes. And with college kids heading to school even earlier than other kids, keep an eye out for sales on bigger ticket items like bedding, small appliances, and laptops.
See more:
Fall & Winter Clothes
Will they be at their best prices ever? No, but that doesn't help you if you need sweaters and coats right now. We can promise, however, that there will be discounts on these things in late July and into August as retailers go all in on their back-to-school sales.
See more:
Laptops
Again, these aren't the absolute lowest prices we'll see all year, but we also know that many students and their families can't exactly wait to replace a busted laptop with school starting up long before the best sales arrive. But you'll save at least a little with the upcoming sales, and we definitely recommend checking out your discount options through the Apple Education Store too. If all of that is still too high for your budget, check out our article with everything you need to know about buying a refurbished Macbook.
See more:
What's on your shopping list for July?