Brad's Deals Cares about the U.S. Virgin Islands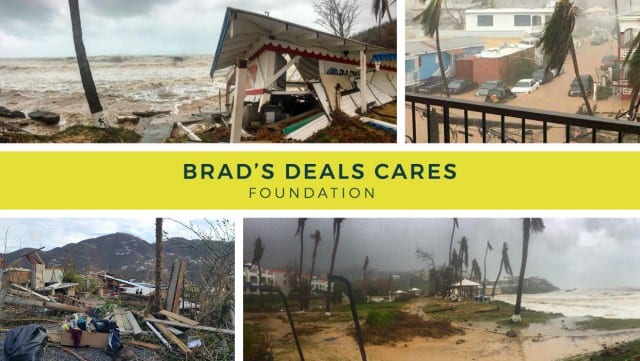 The United States Virgin Islands have been devastated by the unprecedented wrath of two Category 5 hurricanes in 12 days. The islands are very close to our hearts at Brad's Deals. They are home to over 100,000 US citizens who are often overlooked or forgotten since they live in a territory rather than a state. It will take years for the islands to rebuild and there are many dire needs in the very short-term simply to stabilize the situation.
That is why today I'm launching Brad's Deals Cares, a foundation focused on the ongoing hurricane recovery effort in the U.S. Virgin Islands.
How Brad's Deals Cares will help with hurricane recovery
After Irma, I traveled to St. Thomas and St. Croix with relief supplies – including food, water, diapers, tampons, chainsaws, batteries, generators, tents, and medicine – and saw the destruction there firsthand. My team and I have personal connections to the Virgin Islands, and many of our friends there have lost nearly everything.
We're in constant direct contact with people on the ground in the islands so that we can hear directly from them what their needs are at any given moment. As our regular readers know, we have a knack for finding and negotiating great deals – a skill we're now applying to the provision of vital supplies to victims of Hurricanes Irma and Maria.
How you can help us
We've set up two ways that you can contribute to hurricane relief in the U.S. Virgin Islands through Brad's Deals Cares.
1) Make a cash donation to Brad's Deals Cares.
When you donate to Brad's Deals Cares, we take nothing for administration costs. 100% of your money will go towards providing immediate aid to those who need it most on St. Thomas, St. John, and St. Croix. Brad's Deals will match 100% of your donation, up to $250,000.
2) Purchase supplies from our Amazon Wishlist.
Just choose "Brad's Deals Cares Amazon Registry" as your shipping address during checkout. We'll take care of getting your items into the hands of those who need them most.
So far we have provided V.I. Montessori School with chainsaws to clear debris and generators to provide backup power to the entire school so that they can open today (Monday 9/25), an amazing feat. Schools are foundational institutions. Getting them cleared, repaired and open are a vital first step to having a functioning and populated Virgin Islands. They allow parents to participate in relief efforts and children to regain a small sense of normalcy amongst chaos and devastation.
We are also providing medicine to doctors, food and generators to various distribution centers, and communications equipment to telecom and internet providers. We will continue this effort over the months and years ahead.
Brad's Deals Cares will help repair and rebuild lives and communities in the U.S. Virgin Islands. I hope you'll join us. We are extremely grateful for your support.